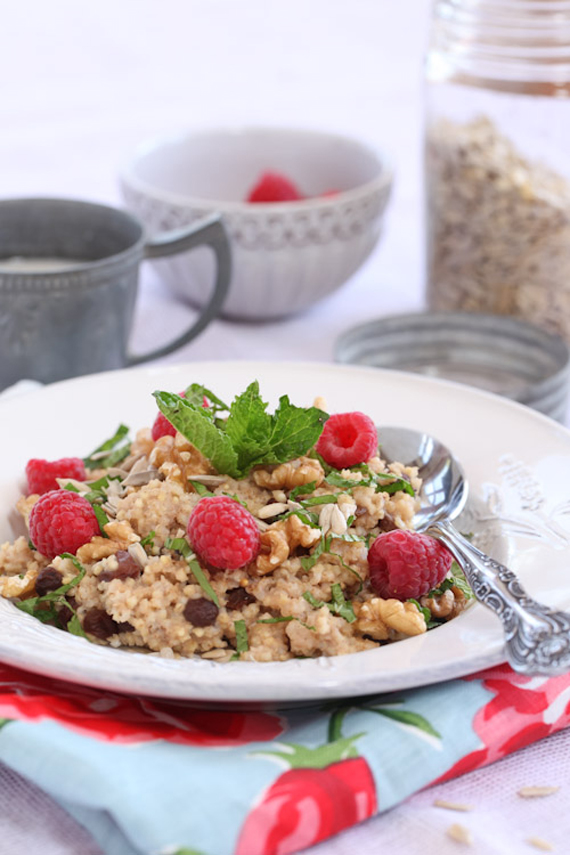 Oh how I love pretty!  I can't resist pretty!  Playing with healthy food and making it look divine has become an obsession I can hardly control.  From style props to fancy cameras and gorgeous flowers, it's certainly an addiction or better said, a passion.  No matter what I cook or which shop I may be browsing in from Target in Utah to Liberty in London all I can think about is food and props and the almighty shot I might take, could take or should take!  Am I crazy?  Does anyone else have this kind of obsession?
Sometimes I wonder…. how do I turn this thing off? -just for a while, so I can focus on other very important things like one on one time with my 5 year old making daisy chains or homework with my 9 year old.  Perhaps the novelty of an obsessed healthy food blogger will wear off-but then again, when it does, will I still want to be a blogger?  Will I still want to keep doing this thing I love right now?
Is it because I was born an Aries or is it just because I'm an all or none kinda gal? Whatever it is, I am grateful to have a meaningful passion that makes me lose my mind, how many people can say that? I just have to get creative in finding ways to tame the lion–balance my time and make darn sure that I get my priorities straight.  My precious younger kids are only little for so long.  I have a 19 year old son to know full well how fast time flies, thus the choices I make now will forever be engraved in my life and theirs.  Thankfully I have freed up time for this passion by closing my retail store and can give more time and attention to this blog and still find ways to balance family and personal life.  I am grateful for this time in my life where I can really make the choices that will bring me joy and build strong relationships and memories.  Are you crazy about something new in your life right now? How do you balance it all? Any hints or tips you can share?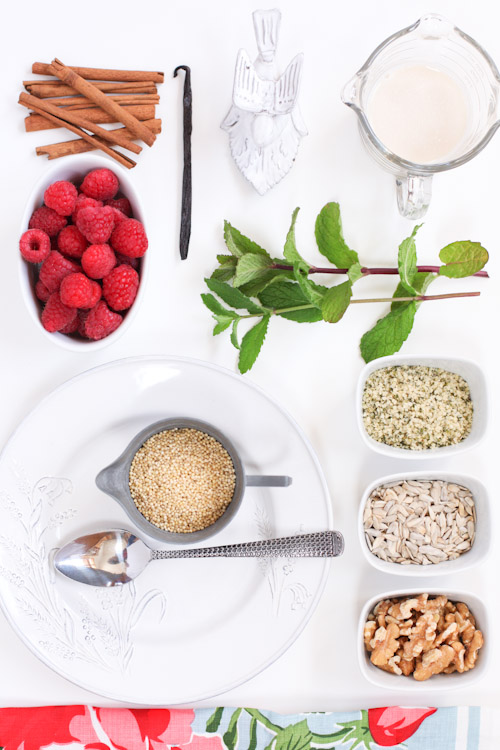 Millet & Raisin Breakfast w/ Raspberries & Fresh Mint
Yield: approx 3 cups
1 cup millet
2 cups filtered water
1/3 cup organic raisins
1/4 tsp cinnamon
1/4 tsp alcohol free vanilla
1 cup unsweetened almond milk + 1/2 cup
3 drops stevia
1/2 tsp agave syrup-optional
sunflower seeds
chopped walnuts
raspberries
fresh mint
hemp seeds-optional
Method
Place millet and water in medium sized sauce pan and bring to boil.  Add raisins and reduce heat to low, place lid on pan and simmer for 10-15 mins until water is fully absorbed. Turn off heat and let stand for 10 mins.  Add 1 cup almond milk, cinnamon, stevia, agave and turn heat back on for 1 min until almond milk is absorbed and heated thru and mixture becomes a little creamier.  Place lid on pan once again while you prepare toppings.  Spoon portions into open bowls and sprinkle with nuts, seeds, raspberries and chopped mint.  Serve with almond milk.
Psst. this is great warmed up with a little extra almond milk for your next days breakky!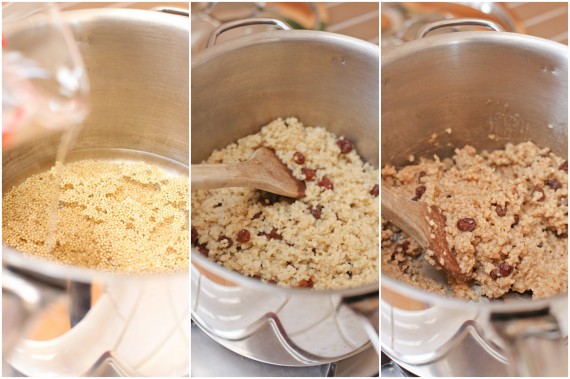 It's a personal preference as to how much chew there is to your millet.  I like a little but not too much so I am not crunching my breakfast.  However the more water and the longer you cook the millet the softer and creamier it will become.  It's your call.   Experiment a little and find your favourite way to enjoy this healthy seed.  Read my previous post here for the health benefits of millet.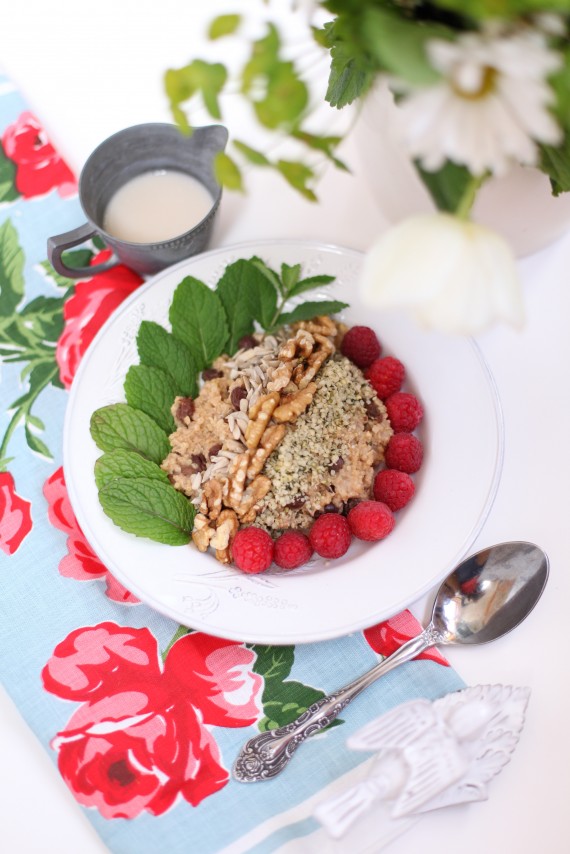 The last week has been so great for me as I had an opportunity to facilitate a friend on her first ever juice feast!  She will be soon blogging about her experience and I can't wait to direct you to her site when she's ready.  Of course I had to join right in, since I was juicing for her, so I juiced for two.  It feels sooo good to do a spring body clean.  She said she couldn't quite put her finger on exactly what she felt but it was much much better than when she started and in 3 days she lost 5 pounds!  You know what that is, don't you? Well just in case you don't, it's your body giving up it's baggage, your colon…. letting go of toxic storage.  Most of us are walking around with excess baggage that is weighing us down and also has the scary potential of developing into something dangerous like IBS or serious colon issues.  If you've never cleaned house I highly recommend it.  You'll feel different and you'll also find it easier to knock some bad habits like sodas, sugars, and too much caffeine.  Making super clean choices to keep your body clean will become a priority for you and that can only set you on a path to greater health, energy and longevity.
I'm not saying it's an easy 2 or 3 days that you endure to clean up years and years of debris (by which the entire job is no where near finished yet) but it is a very effective way to begin if you are determined to change your health journey.  Mild symptoms of caffeine withdrawal with headaches and some tummy upset can accompany this journey as can nausea but in comparison to potentially lethal brewing diseases in your system, that you can sidestep, it's no contest.  Alkalizing your body is a sure fire way to minimize or eliminate disease and flush built up toxins that fester and weaken your bodies ability to maintain a healthy state.  A juice feast is 2-7 days of concentrated fresh veggie juices that alkalize, flush while nourishing your nutrient craving body.  If you are keen to give it a shot I've written an extensive post with recipes here for you to experience.  If you are not so keen to dive right into a juice feast, I recommend reading Kris Carr's Crazy Sexy Diet as she has a 21 day cleanse that is a slow entry into a clean, healthy, alkalizing lifestyle that incorporates solid foods.
Either way you just can't lose.  Nourishing your body has never been more important especially in our current world where it is  near impossible to escape toxins in our environment, chemicals in our food and impurities in our water.   Our toxic reservoirs are overflowing, showing us the signs with symptoms, if we are in tune enough with our bodies to notice.  Now is a good time to flush your system just before summer arrives, a plentiful time when eating clean fresh produce is easy and you will really feel the benefits of your efforts.  What do ya think…. could you commit to a juice feast in the next 4 weeks? or a 21 day feast with Kris Carr? Or how about just adding another huge salad to your daily routine and adding lots of extra water? Why not eliminate or reduce a toxin you shouldn't really be having? Anything that you change will make a difference even if you don't quite feel it right away.  Changing  your diet isn't like taking a pill.  You need to give it some time and be patient.  But the rewards are gigantic! Things like a higher quality of life, more energy, longevity and a lifespan to enjoy your grand children.  How about the sheer satisfaction and peace of mind,  knowing that you are consciously aware of how to nourish your body in a manner so it can defend itself from disease.
It's your choice.  Only you can change your journey.  I encourage you to love yourself enough to make the changes that you know you need to make and give your self the best chance for a healthier life, free from the fear of disease.
On a side note, I have one last thought, about traveling as a mom.  Have you ever been away from home when the inevitable accident happens to one of your children? Phew…. at least it wasn't terribly serious this time but it was enough to make me think I shouldn't leave home..ever!  Calling home is always necessary while away for peace of mind but god forbid there is a conversation over "what happened while mom was out of town".  So,  it was my 9 year old son, and the long board.  Yup, the brand spanking new long board, with him innocently just sitting on it, not moving, no helmet as he hadn't planned to ride, he was just sitting.  He lost his balance, tipped over, hands no where in sight to stop him (don't know if they were temporarily removed from his body or what) from hitting the pavement face first, scraping is face and badly chipping his two front teeth-eeek!  I felt sooo bad for him.  I also just cringed at the instant thought of the number of times in his life now that we will be faced with fixing those two chipped teeth-ugh!  He's terrified of needles and he was instantly fearful when he realized what had happened as he worried about what the dentist would have to do to fix them.  Until this was clarified he was a mess.  However, I was pleasantly surprised that the process was incredibly painless and simple.  Yesterday, in less than one hour, he marched out of the dentist's office with perfect, brand new teeth, that you would never, ever know had been chipped.  Thank goodness for today's dental technology.  He's as good as new and no worse for wear.  He's learned his lesson about the helmet and the long board, riding or not.  And apparently these new caps are incredibly strong with no likely hood of chipping any more so than your own teeth might.  What a relief.  But isn't it Murphy's law that these things happen when mom is NOT home? The good things are:, he's fine, dad had an opportunity to manage a mayday-which he did extremely well I might add, and I survived another guilt trip for not being home!  How about you-have you had a near miss situation with your family while you were away? What I've learned is to Not beat myself up because I was away.  I've done everything I need to do to keep them safe and the rest is out of my hands.  I'd be a nervous wreck if I didn't learn to let go and just have trust.
Thanks for listening, I'd love to hear and learn from your stories too!
Lets hope for fabulous weather for this long May Day weekend, that is if you live in Canada to enjoy this nice break.  I hope to get some veggies planted and some pretty container gardens. What are your plans for the weekend?
Julie
Style Props
Rose T-towel– Cath Kidston, Marlylebone High Street, London, Uk
Ceramic Bird- Astier de Villatte, Paris, France
Cereal Bowl- Pottery Barn, past collection, no longer available
Vintage Metal Creamer- Personal collection

Pin It