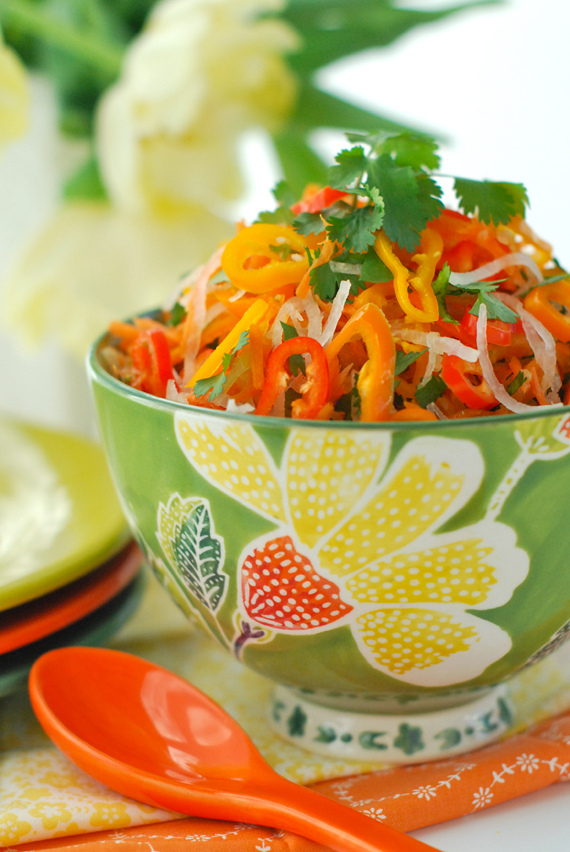 In case you missed this recipe on Mint, here's a delicious slaw that you can enjoy as a meal in itself or along side another dish.  The mini sweet peppers really make this dish nice so if you see them in the market, nab some and whip this up cuz you won't be sorry.  These bright orange & yellow coloured veggies are a great source of beta carotene which is a significant antioxidant for the body, helping to lower LDL or the bad cholesterol, also acting as a weapon against cancer all at the same time increasing the good cholesterol.  I found this informative colour wheel of fruits and vegetables highlighting the health benefits of each with more on how carotenoids (alpha and beta carotene) function in this article here.  I've sweetened this dish with a little bit of agave to enhance the peppers but of course this is optional or you can use stevia drops to replace some of the agave or even some fresh apple juice.  There's a little chopping involved but the time is well worth it and rather therapeutic with some good tunes playing in the background, right? Currently, I am away with my family for some "good bonding time" so if this is a repeat recipe for you I apologize but just know I'll make it up to you down the road with a bonus here and there.  I'm working on a nice interview & recipe that I think you'll enjoy, hopefully it will be ready for next weeks post. Here's the guest post as it appeared on Mint Design blog a couple weeks ago.  Enjoy:)
I've been thinking about concocting another coleslaw recipe cuz I love crunchee, tasty salads either on their own or as an accompaniment.  Upon testing out this combination I even received the nod of approval from my nine year old-now that's success!  This pretty slaw packs a lot of flavour with a bit of heat, depending how heavy you are with the cayenne-which is soooo good for your heart and it also cleans your blood- see this previous post for further cayenne pepper information.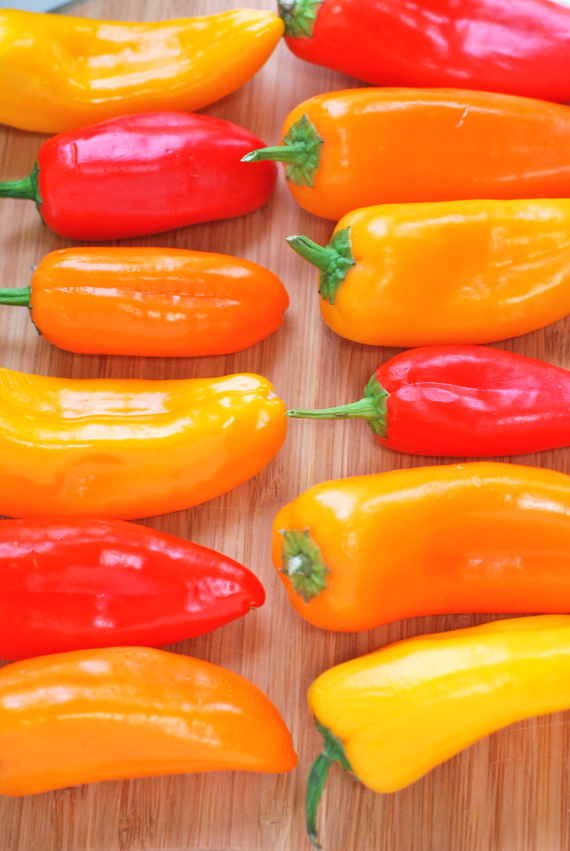 When I came across these adorable organic peppers in the market I couldn't resist them, and then…. couldn't stop trying to figure out how to include them in some yummy recipe–have you seen these before? They slice up so pretty and hold their crunch with a nice sweet flavour that's rather addictive, all on it's own, let alone in a tasty slaw like this.  You can use regular sweet peppers instead, but I found these to be even nicer.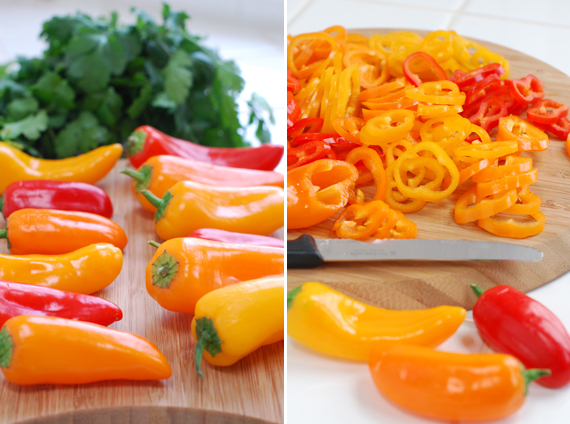 Because I prepare sooo many veggies I like to find ways to pretty them up and also to make them taste differently.  For this recipe you can easily use a box grater or even a food processor to shred the veggies, but instead I used the kyosera wide julienne slicer to achieve thin but slightly longer pieces.  The other handy kitchen tool is the herb scissors that make chopping herbs a real cinch, and very quick indeed.  Some might argue that it may crush the herbs but I find that it brings out the fragrance and the flavour, in turn, enhancing the dish.  They are also fun for crafts–making paper fringes!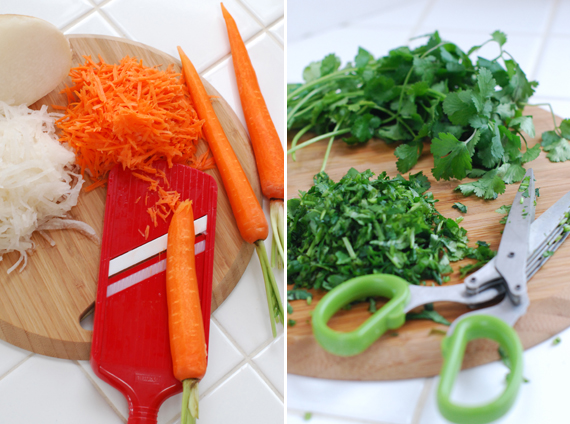 Carrot, Jicama & Sweet Pepper Slaw
Yield: approx 5 cups
6 carrots, peeled & shredded
1 small jicama, peeled & shredded
12 mini sweet peppers thinly sliced, or reg. sweet peppers
1 cup cilantro, chopped or snipped
juice of one lime, approx 3 tbsp
1/4 cup extra virgin olive oil
2 tbsp agave syrup
1 large clove garlic, crushed
1/2 tsp cumin
1/4 tsp cayenne or to taste
1/8 tsp sea salt
Method
To allow flavours to mingle, prepare dressing first by combining lime juice, olive oil, agave, garlic and spices.  Stir well and set aside.  Prepare veggies and place in large bowl tossing to combine.  Pour dressing over veggies and toss again.  Garnish with cilantro sprigs and serve immediately, being sure to gather settled juices with each serving.  May be served as a main luncheon salad, adding a bed of greens if desired, or alongside another dish, or even tucked inside a wrap with greens.  If you have left overs they will keep overnight but may not be as crunchee the next day, thus if you make more than you can eat, dress the veggies only as needed, storing the dressing separately.  Also, if you wish, the agave can be replaced partly or completely with approx 1/3 cup fresh pressed apple juice as a sweetener.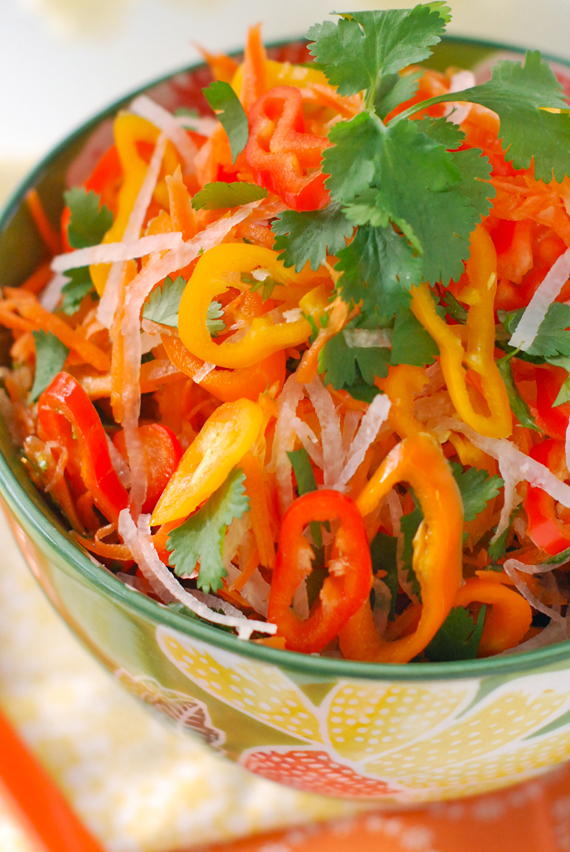 As I poked thru my prop stash I squealed with delight as I came across this bowl that I carefully carried home from NYC in January.  I knew I'd find some recipe that would make it just sing.  Isn't it the prettiest bowl you ever did see?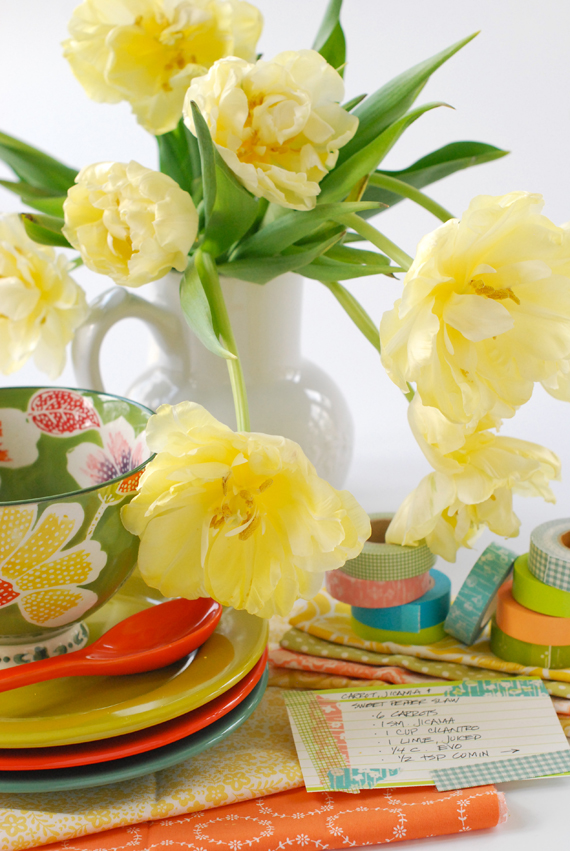 This is why I love what I do sooo much, since having trained as an Interior Designer, I have always had a love for gorgeous accessories, thus leading me to opening a retail home accessories & furniture shop 19 years ago.  Currently, I am winding that store down, with excitement over my new journey right here on my blog, anticipating "who knows what will happen" next, but following my passion any way.  You just never know where these roads will lead unless you take the turn.  I appreciate your readership and your sharing of the alkaline lifestyle.  It's my passion to inspire others and knowing that I am making a difference in peoples healthy choices fills me up immensely!  Thank you for stopping by!
Where to source my Styling Props:
flame leaf bowl, Anthropologie
spoon anthropologie, spoon orange,  but no longer available
fabrics, precut bundels, Purl Soho NYC
coloured plates, fish's eddy, NYC

Pin It