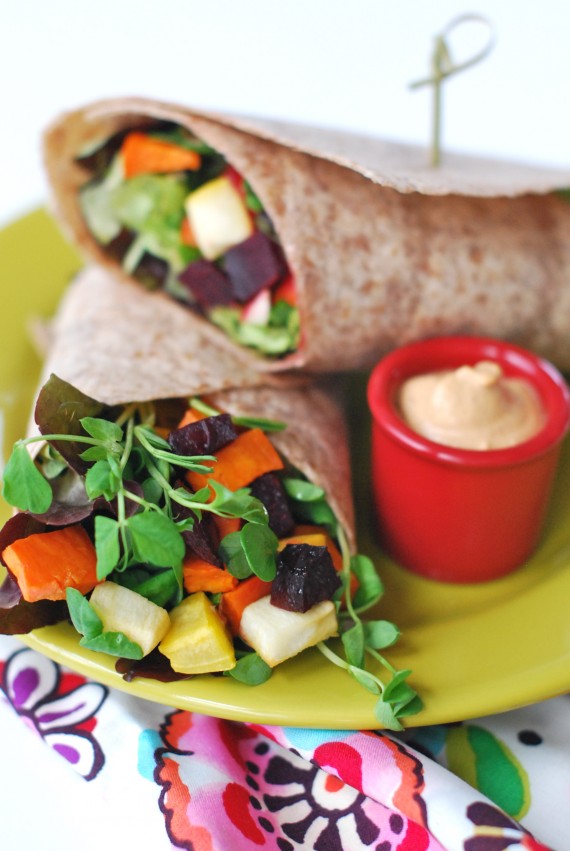 Is it just me or has January flown by?  Often it creeps slowly by as we agonize in cold blustery weather but some how it has snuck by and February is upon us, yay!  That much closer to spring!  Spring means a whole new crop of veggies in season that we can get excited about!  You know how I love my veggies, I even get a little insecure when I am not fully stocked up!  Crazy I know but it serves me so I keep on doin' it!  How about you?  Are you a veggie lover too?  Does the sight of a local market sign make  you weak at the knees? Even in Paris I was halting the cab driver to let me race over to the street market, I just can't help myself.  So the fact that we are headed for Spring and Summer is kinda on it's way, I get juuust a little excited.  For those of you who live in warmer climates, good on you for choosing to live there.  One day, in my dreams, I will live within walking distance to a year round green market!  Now THAT would be amazing!
In the meantime, I visit our local groceries stores, which I have to say, are slowly 'getting' this whole organic movement.  I pretty much insist on only buying organic so it's nice that I can get a whole lot more than I used to be able to just one year ago.  There are just a few things from the least offenders list that I choose to buy conventionally grown but I'm a bit of a stickler.  It's because my Amelia is only 5 years old and if anyone will be affected by pesticides she's the first to pay for it with her small frame.  You might want to check out the updated list of the dirty dozen–worst pesticide laced veggies, and the clean 15–the best non-organic choices.  I even have an app called Harvest on my iPhone that will assist me at the market when I can't recall the lists as it shows the pesticide level and I can then decide if it's worth the risk.  Nice that we have such great tools available, right?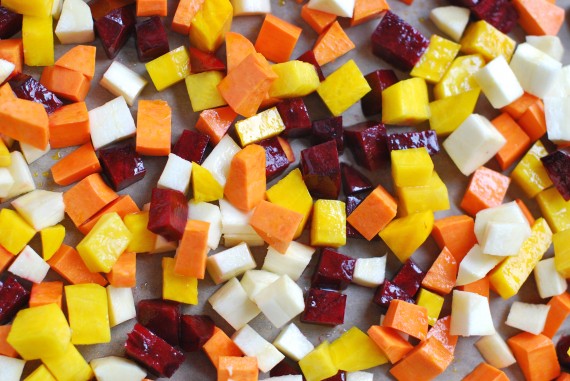 I've been itching to try this root veggie combination for a while.  I've roasted lots of roots this winter but hadn't put it all together as a wrap with this yummy chipotle dressing.  I think you'll agree it's a tasty combo.  Don't fret if you don't have wraps or if you only eat raw, just use your choice of some large leafy green leaves for wraps or create a salad using torn greens and pile the roots on top and toss with the dressing–I just had that for lunch and it hit the spot perfectly!  However, making this as a tortilla wrap is a great take away lunch but I'd keep the dressing on the side to avoid sogginess.
Keep in mind that the combination of the greens with the roasted roots is intended to provide live enzymes to promote good digestion of the cooked roots and the sprouted grain tortilla.  Be generous with the greens in order to gain a good alkaline balance for this meal.  The root veggies are nutritious but we have sacrificed some of their nutrients for a roasted treat.  Try to roast the veggies just until they are 'al dente' kinda like pasta where they have a little bit of a tooth left and are not soft right thru when you bite into them.  This way they aren't completely dead food for your body.  Sounds harsh but the heat really does a number and the cooked food becomes just a filler for your tummy and is a bit of a burden to digest when the enzymes are not present.  Don't get me wrong, cooked veggies are still by far the better choice over processed or junk food or even animal proteins but you still need a high percentage of raw foods for optimal health, so mixing the two is a good compromise.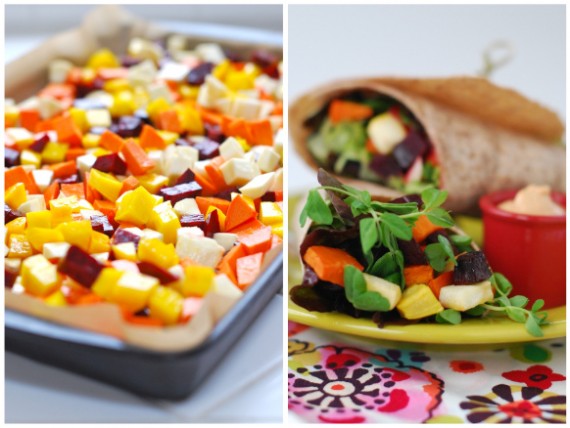 Sprouted Grain Wrap w/ Roasted Roots, Greens & Chipotle Dip
Yield: 4-6 wraps
1 parsnip, peeled and diced small, approx 1/2 inch for all or smaller, not larger
2 medium beets, peeled and diced small
1 large sweet potato, peeled and diced small
1 yellow beet, peeled and diced small
3-4 tbsp olive oil
1 tsp sea salt
4-6 sprouted grain tortilla wraps
mixed greens
fresh pea shoots
Chipotle Dip -see below
Method
Toss all veggies except with oil and salt keeping the red beets separate.  Spoon all veggies on to large parchment lined baking sheet and sprinkle red beets on the top last.  This stops the beets from bleeding on all other veggies so they look prettier!  If you aren't fussed by this then just mix 'em all together.  Roast in preheated oven at 350 degrees for 20-25 mins until just barely tender.  Remove from oven and allow to cool to luke warm or room temperature.  Lay a generous layer of mixed greens over wrap, spoon roasted roots down the center.  Spoon Chipotle dip generously on top of the roots and lay pea shoots on top.  Fold the bottom 1/3 up and then wrap from left to right.  Place a toothpick in top to hold in place.  You may cut the wrap in half or leave it whole.  Serve with extra dip.  Optionally, I add sliced avocado to this wrap which is delish too!
Chipotle Dip
Yield: Approx 1 1/2 cups
1 cup raw almonds, soaked 30-60 mins if you have time
1/4 to 1/2 tsp chipotle pepper spice, the more, the hotter
1 1/4 tsp smoked paprika
1 clove garlic crushed
3 tbsp fresh squeezed lemon juice
1/2 cup filtered water
2 tbsp olive oil
1/2 tsp celtic sea salt
Method
Combine above ingredients in blender and combine til creamy and smooth, adding 1-2 tbsp additional water for consistency only if needed.  Use as spread inside wraps and serve extra along side cuz it's sooo yummy!   This makes a nice salad dressing if you thin this a wee bit more with either almond milk or additional water.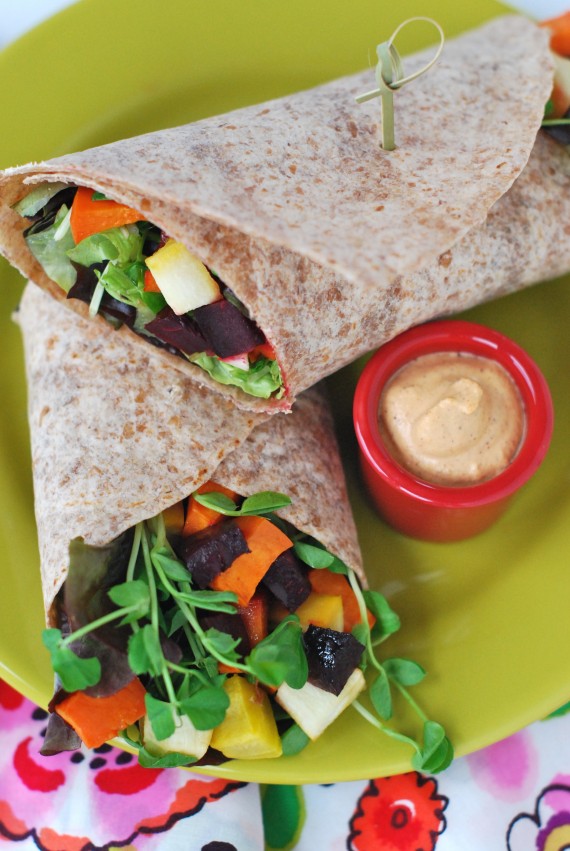 If there's just one or two of you dining on this recipe you'll find that there's plenty of roasted roots for left overs or for a couple of lunches as well as plenty of dip to pack too.  The roots keep well in the fridge and are actually tastier when they aren't so cold out of the fridge.
I often use the sprouted grain tortilla wraps but sometimes they are tricky to find. Do check your local health food market and even try the freezer section as they freeze quite well.  Other wise choose the multi-grain wraps or whole wheat for the healthiest option-but READ the label, you'd be surprised what they jam in those thin little wraps!
I'd love to know what your 'go to' recipe is for lunch.  When you are packing a lunch every single day it can become mundane and taste rather boring.  What do you make to mix it up? I was hoping to inspire a dish that would lift your lunch to yummy and to something you looked forward–put the skip back into your walk to the lunch room!
Hope  you have a week full of yummy lunches!
Julie

Pin It