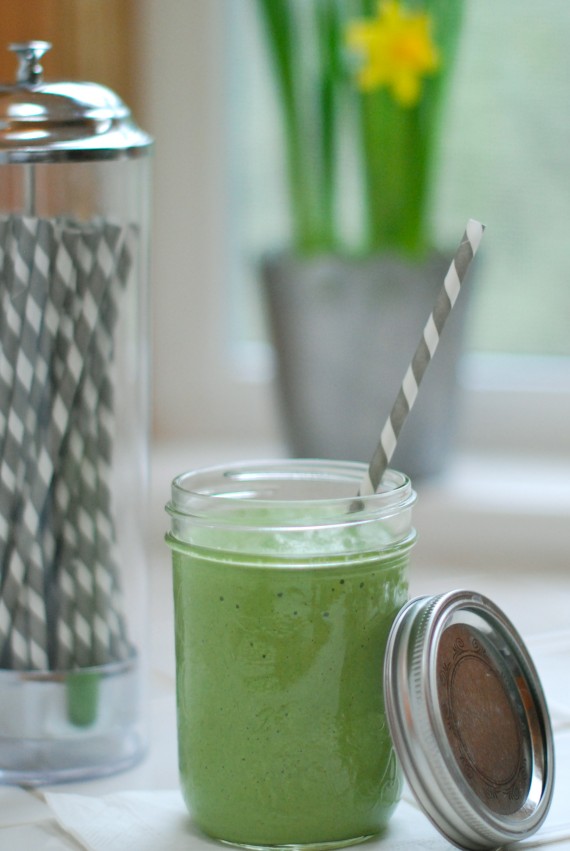 You might ask, "What's healthier than a green smoothie?"  Well… there's green smoothies and then there's Alkaline green smoothies!  Green is all the rage but you can get caught up in the hype of green and still not be doing yourself a very big favour.  Many of the green smoothie recipes are jammed with super sweet fruit and just because they are green, people are thinking they are optimally healthy.  They taste divine and it helps to mask the green business but is it a good idea? I say 'No' because I believe in minimizing your sugar intake, even fruit sugars especially the high sugar fruits like pineapple, bananas, mangoes and oranges, as they are acid forming and they elevate blood sugar just like any other sugar. The alkaline food chart is here if you want to take a peek at the alkalinity of various fruits.   I have other ways to make the green taste yummy and actually the green itself doesn't taste bad in the first place.  You might say, "Well, fruit is healthy"- and yes it can be but moderation is key.  Many people don't do moderation and who knows how many of these so called healthy green smoothies they have in a day or every morning.  I say mix it up and have the odd tropical fruit sweetened green smooth, but adapt the knowledge and the understanding of how healthy an alkalizing green smoothie is and then alternate or eventually switch to the better choice.
Even if you take a look at the franchises that offer smoothies and fresh juices you'd be surprised at the sugar content in those so called healthy smoothies and juices that people are replacing meals with.  If you have diabetic tendencies, any inflammation in your body, or perhaps yeast over growth or candida symptoms (check here to see if you have any) you will want to steer clear of high sugar at as this just exacerbate the problems.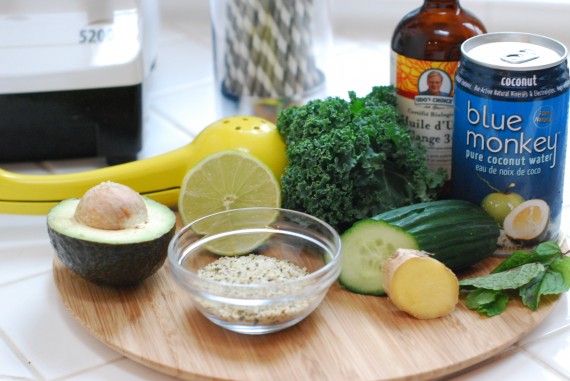 Getting your daily greens at every meal is the best way to be optimally healthy.  Green plants are the building blocks of red blood cells and are naturally rich in alkaline minerals, vitamins, amino acids, proteins, and most of the essential resources your body needs.  Jason of Vital Living explains further how important green plants are for us- take a peek at his recent post here.
Adding an alkaline green smoothie to your daily routine is a fantastic way to further alkalize and an easy way for your body to assimilate the nutrients and the fiber as the blender breaks it down making it easier on your digestive track to absorb.  I am passionate about making sure I get my greens in as many ways possible as I crave the healthy feeling I get but sometimes I'm not in the mood to chomp a salad so I just blend my greens up.
Alkaline Green Smoothie
yield- 1 smoothie approx 12-16oz
6″ piece of cucumber
3 medium Kale leaves, torn
5 stems fresh mint
3 stems fresh parsley
1″ piece fresh ginger
1 avocado
1 cup coconut water
fresh juice of one lime
1-2 tsp udo's oil
1-2 tbsp hemp seeds
2-3 drops stevia
Method
Place all ingredients into high speed blender and mix until smooth, adding a little filtered water if needed for consistency.  Enjoy!
Optionally, I sometimes add 1/2 cup frozen berries–blueberries, raspberries or strawberries as they are low sugar fruit that is healthier to add than the super sweet fruits.  However, you may find that you like the smoothie as is above.  The lime, the ginger and the mint are really nice together.  I have discovered that the coconut water is quite hydrating and I like the flavour it brings to the smoothie but it does contain a little natural sugar.  You might like to use almond milk in place if you want to avoid the sugar all together as it will still taste nice.  If I can actually find a young coconut in the market to open up so I can extract the juice and the meat, it's a good day!  I love how fresh it is and the meat makes the smoothie just divine.  The bottled coconut water is okay but because it has been pasteurized the nutrient levels are considerably less, but still beneficial.  Just be sure to buy the unsweetened, unflavoured version.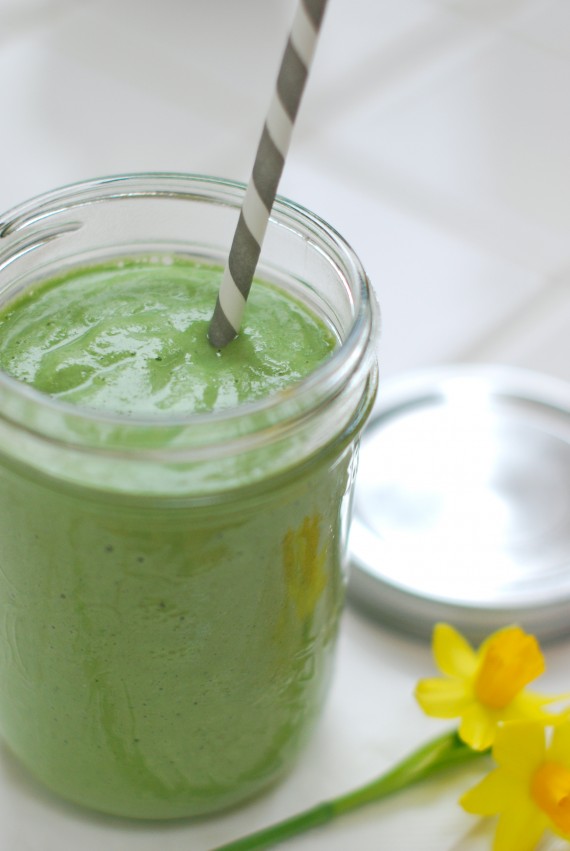 I hope this smoothie becomes your "go to" recipe that you can play with for a variety of flavours.  I am actually wishing I could make one right now since I am tucked away in my New York City hotel room as the snow storm over takes the city but I didn't pack the blender-dang!  But the good thing is that I am only blocks away from a few fabulous establishments that are raw and offer incredible smoothies, juices and delicious meals if I choose to brave the cold snow and winds.  I flew in for a special seminar with Seth Godin and have another 48 hours here but oh my, word the snow!
As a little surprise for you I have planned to share about a couple of these healthy food entrepreneurs of New York in my upcoming posts with an interview or two so do stay tuned–that is if I get out of this town with the near state of emergency snow storm that is happening out there RIGHT now!
Hope you have a great week.  Wish me luck with this storm!
Julie
ps.   I should mention that a good rule of thumb is to be sure your smoothie's "green content" is more than 50% so that if you do choose to add sweeter fruits you will still end up with a good balance of alkaline benefits.

Pin It