It's about time I made somthin' with the enormous canister of millet I've had in my pantry forever, it seems.  I shop with the greatest of intentions and then I don't know what happens-I fall back on my old favourite recipes-sound familiar at all? Do you do this too? As much as I want to cook with new ingredients the fear of a failed attempt or the dish being unpopular at the dinner table, I end up with the tried and true dish.  However, today I was inspired to try a new recipe where I could substitute millet, during a chance meeting with a sweet lady in Planet Organic who was determined to zap the yeast in her system, (more on yeast symptoms and diet here) but was perplexed by the seemingly limited options for her to create tasty meals.  We chatted and found a handful of items that she could make and millet was one of them.  Most people think of millet as bird seed.  Years ago we had sweet finches and they loved to nibble on a branch of millet.  What I know now, is that I should have been eating it all along with our two birds, Russell and Maybell, cuz it's sooooo good!  It fluffs up just like nice rice and can be slightly al dente with a bit of a tooth to it or it can be cooked to almost a mashed potato consistency.  I have a lot of experimenting to do with millet since it's a wonderful slightly nutty but rather neutral tasting seed that works well with many, many flavours–aaand it's sooo easy to prepare.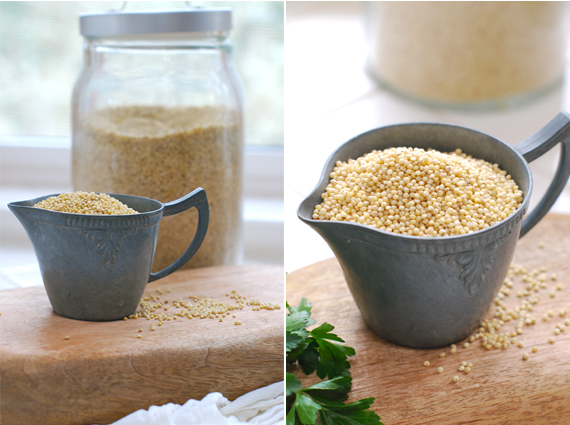 Tabbouleh is the perfect recipe for millet as it even resembles the small pasta used for the authentic version.  What I love about tabbouleh is how fresh tasting it is because of the volume of freshly chopped herbs, especially the mint.  I like to ensure a good ratio of 60/40-raw veggies to cooked millet-by adding lots of chopped herbs, cukes and tomatoes so this recipe makes a nice large salad that should leave you with some left overs–which always taste even yummier.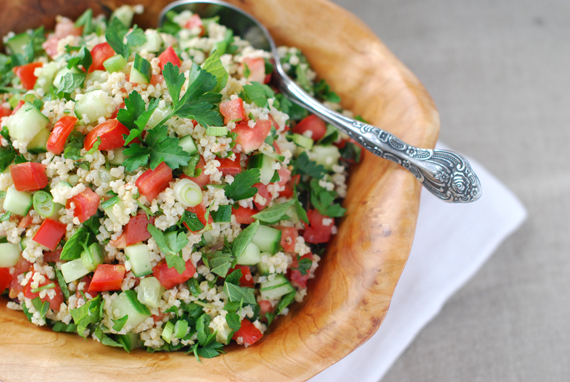 Millet Tabbouleh
Yield: Approx 7 cups
1 cup millet, rinsed
2 cups filtered water
1 tsp celtic sea salt
1/3 cup extra virgin olive oil
juice of one lemon
1 large garlic clove, crushed
1 1/2 cups roma tomatoes, diced small (3-4 romas)
1 1/2 cups English cucumber, diced small (almost 1 cuke)
3 green onions, sliced finely
1 1/2 cups fresh parsley, chopped small
3/4 cups fresh mint, chopped small
1/2 tsp Maldon sea salt flakes
Method
In a medium sauce pan bring water to boil, add millet and then reduce heat to low, simmering with lid on for 18-20 mins.  Remove from heat, and fluff with fork and allow to cool with lid off for 30-60 mins.  Texture should be firm but not crunchy and neither mushy.  Combine olive oil, lemon juice and crushed garlic and allow to stand.  Meanwhile chop veggies as per above descriptions and place in a large bowl.  Add millet when it is completely cool and then pour dressing over mixture and toss well seasoning with sea salt to taste.   Garnish with parsley or mint and serve at room temp or chilled.  Flavours will become more pronounced after resting–but who can wait?–not I!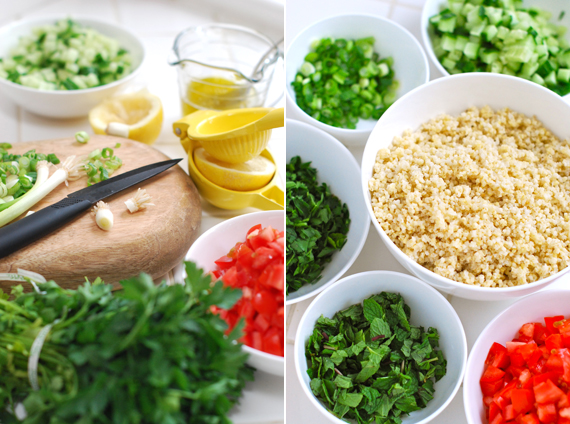 Benefits of Millet, why eat bird food? Well… "because it's good for you" your mom always said, right? It's actually more than good for us, it is one of the six most important grains in the world and sustains 1/3 of the worlds population as a significant part of the diets in China, Japan, Manchuria and some areas of Russia, Africa, India and Egypt and it has an amazing 10,000 years of cultivation history in parts of East Asia.  Who knew?? In our part of the world it's an obscure ingredient that some of us are just discovering and learning to cook.  Millet is an excellent source of manganese, phosphorus, and magnesium all of which are key minerals required for optimal health that you won't find in white pasta.  The phosphorus mineral content of millet is very beneficial as it plays a key role, helping in the formation of the mineral matrix of the bone and is also an essential component of ATP (adenosine tri-phosphate), which is the energy currency of the body that keeps us alive.  When this electricity is cut, we die, the power is out.  Phosphorus also plays a vital role in maintaining the cell structure of the human body as well as participating as building blocks of our genetic code.  Also, an essential phytonutrient called Lignans, present in millet, are very beneficial to the human body as they assist in fighting cancer not to mention millet is a high source of good fiber.  It's no wonder Russell and Maybell instinctively loved it!
Millet is an excellent gluten free option.  Because it cooks up fluffy or as a soft mash it is a versatile ingredient that can replace a variety of grains in recipes.  Keep your eyes peeled (on this site of course) cuz there's gonna be more ideas and recipes where this came from!!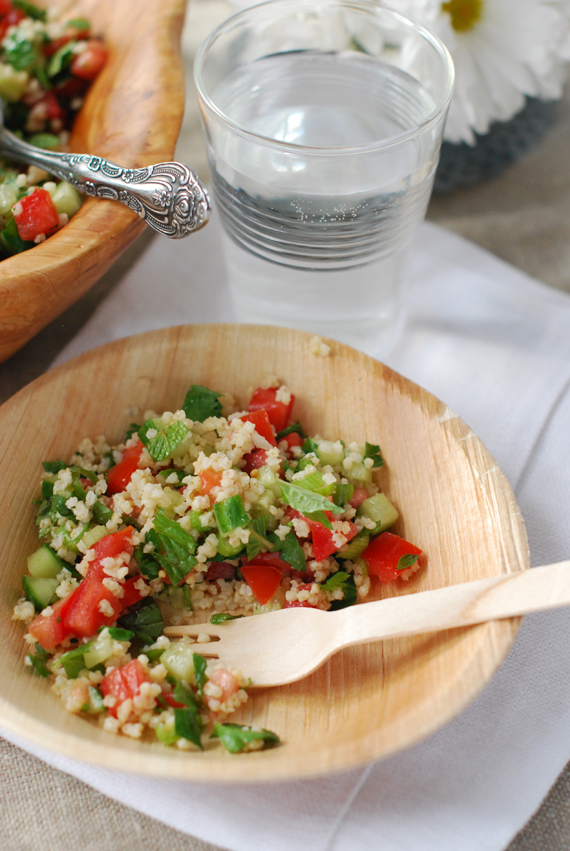 I had a comment the other day asking where I get such beautiful organic produce at this time of year.  I must say that as much as I love the local farmers markets in the summer and miss them dearly in the winter, I've found that my local grocery markets, Planet Organic, Dan's Market, Lifestyle Markets and The Market at Millstream and even Thrifty Foods & The Red Barn have made more efforts to offer organics and have helped me thru this winter with my veggie needs fairly well–but of course I always yearn for more!  However, if I were trying to be all things, organic, alkaline, eco conscious AND buy locally all year, I would have lost my ever lasting mind running from store to store and digging desperately for small local farms offering winter vegetables that my young family hasn't developed a taste for, unfortunately, all in an effort to be choosing sustainably, all year long.  You have to pick your battles.  If I lived where the sun always shines, I'd skip happily to the local market every single weekend to find most of the veggies my gang would easily enjoy.  As it is, I do travel to a many of the markets I mentioned, every week, to find the lovely fresh veggies we enjoy.  I relish in finding gorgeous produce cuz I'm a veggie fanatic you know, but sometimes life doesn't permit the time, let alone choosing those products that are only local, and then only being able to offer my already sometimes choosy kids, limited options.  I think I do a pretty good job most of the year as once the local farms are producing from spring thru late fall, I hardly set foot in a grocery store.  And when I shop in the winter I read labels of origin and make the best possible choice I can, or I choose not to buy the product if I can live with out it.  What about you, do you find it tricky and how much effort do you make to choose organic and local?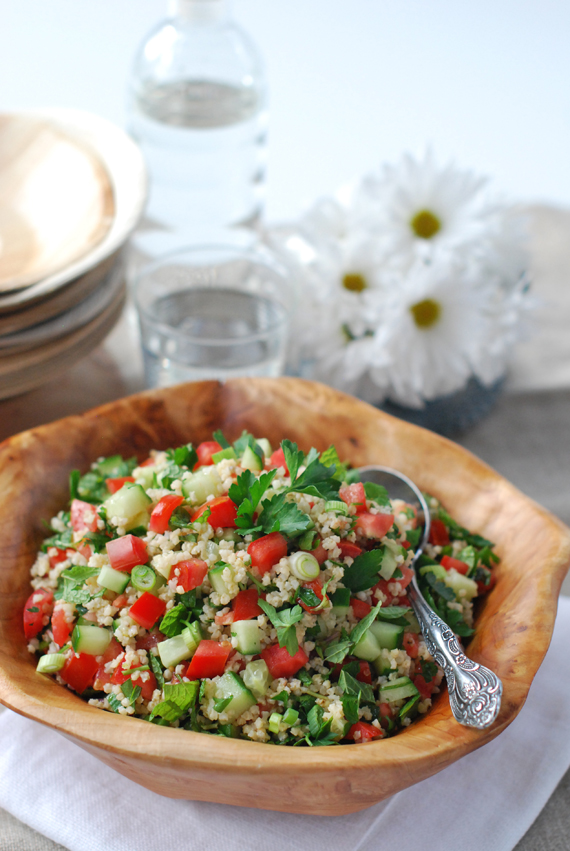 Well I'm getting a little growly, think I might just have to dig into this tasty lookin' bowl of goodness!  Except… no ones home, and it's an enormous bowl!  Oh well, more for me–this week.  If you're in the neighbourhood…..!
Have a great week.
Julie
ps. send good thoughts and prayers to the folks in Japan.  My heart aches for the suffering and pain caused by mother nature's great force.
pssst. Tomorrow Yvonne and I will be exhibiting at the Healthy Living Planet Expo in my neck of the woods so it you live close by, stop in and say Hi and see the Expo!
and ooops I forgot to mention the props-sheesh so much to share today!
Wooden bowl– Target Stores, LA, but I couldn't see it on-line, maybe they still have it in store, do check, it's a cool bowl!
Banana leaf disposable bowls–Green Village Eco Shop, Sidney BC  (you could use them more than once)
Linens–Daylesford Organics, London, UK, this shop made me lose my mind- from produce to Yummy meals and excellent kitchen purchases!
Eco Water Bottle and Glass–Indaba Trading is the supplier- you would need to contact them as to which retail stores stock this glass ware

Pin It