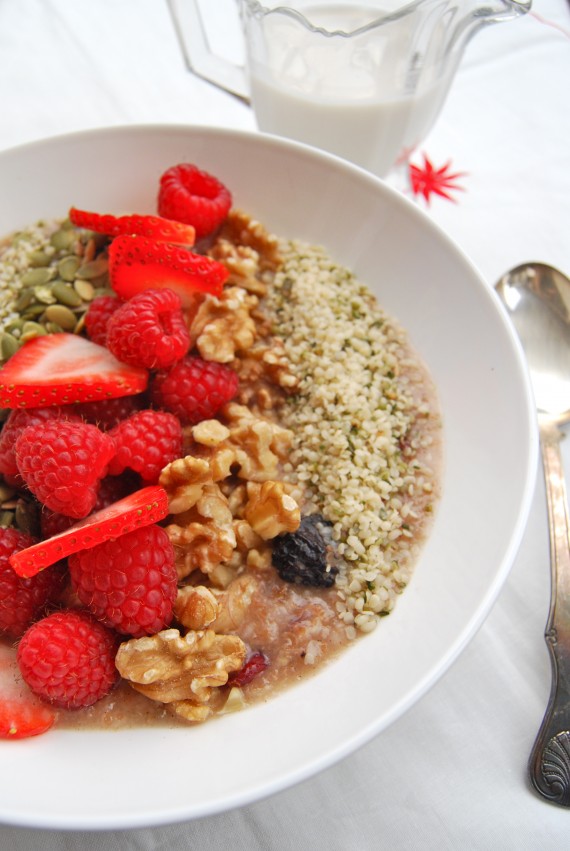 It's funny how for years I thought I needed coffee and a muffin for breakfast- it was my ilixer to have a latte.  Can you relate?  This was my biggest fear of eating alkaline — missing my oh, so, yummy dairy lattes!  Well….Guess what?  I survived!  I more than survived!  I got beyond the whole coffee milk latte in the morning thing so well that now I could never imagine not juicing for breakfast and then enjoying a hearty bowl of hot spelt porridge with all the fixin's!  I still enjoy the occasional decaf almond milk latte for a treat (esp the one from Urth Cafe in LA when I visit a friend-yum) but there is no craving or need for a pick me up because I no longer suffer from the sugar highs and lows that I used to.
I bet you are wondering what's so dang healthy about spelt porridge?  Well… spelt is not a stored grain like most other main stream grains and the benefit to this is that the likelihood of it having the degree of molds from storage in grain elevators for months or years is minimal. If you can get your spelt from a local source you are rockin!  It is also beneficial if you add all the fixings like the hemp nuts and seeds that will supply you with omegas, proteins, and a wealth of nutrients to give you the energy boost for the day.  Ideally one has juiced and consumed a large serving of vegetable juice (I will feature this recipe soon) before digging into this tasty bowl of goodness providing your digestion with the needed enzymes to process this mildy acid recipe.  So there, I had to show you what I get excited about in the morning!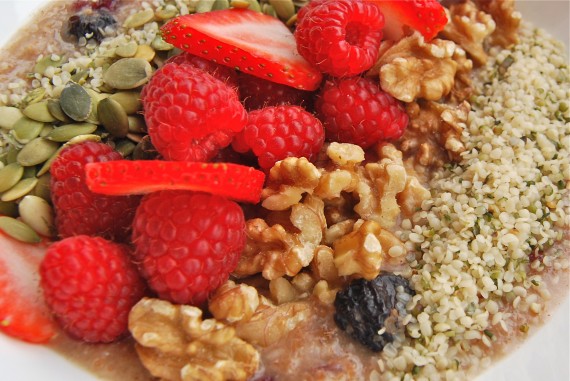 Look!  Look, how yummy this is!  I don't have it everyday but when I do it makes me very, very happy.  I often mix it up with different seeds and berries but any which way, it tastes divine!  Here's the recipe!  Each time I make it for a friend they rave– I wish I could just serve you up a bowl right now!
Spelt Porridge
Yield: 1 serving
1 cup filtered water
1/3 cup thin flaked spelt ( the thick oatmeal like flakes take way longer to cook and are not creamy like these thin, partially powdered flakes so keep looking til you find them- you won't regret it)
cinnamon to taste
powdered stevia  or agave syrup to taste
1/4 tsp alcohol free vanilla
2-3  tbsp dried cherries or cranberries
Toppings
raw nuts, seeds, hemp nuts, fresh raspberries, blueberries, blackberries or strawberries
1/2c unsweetened almond, hazelnut,  hemp or rice milk
Method
Combine the first 6 ingredients and simmer for 3-4 mins over medium heat and then pour into a nice broad shallow bowl. This allows you to sprinkle lots of goodies on the surface and gives it an opportunity to cool easier than in a smaller, deeper bowl.  Pour a non dairy milk on top (my fave is almond or even hazelnut if you can find it and this will further cool it and make it even tastier!  Then dig in!

Pin It