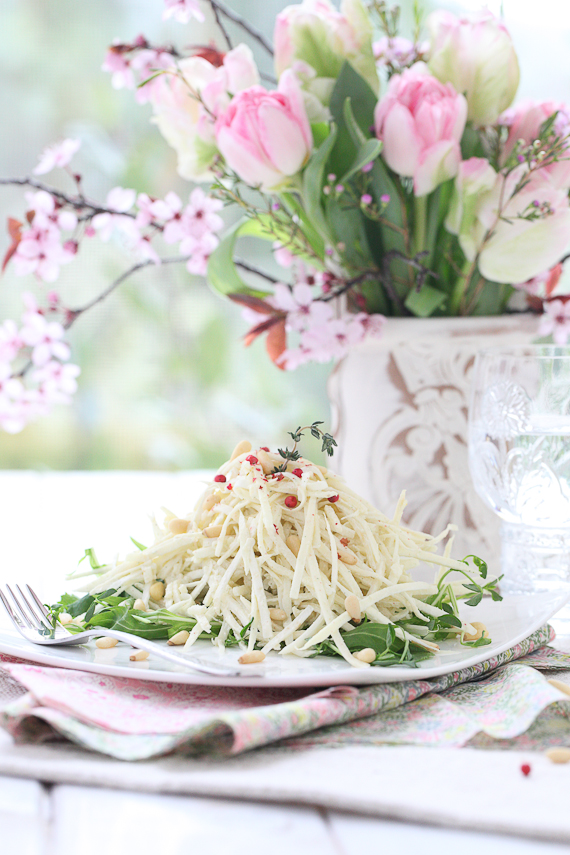 The prettiness of Spring is what really inspires me in so many ways from the fresh citrus greens, soft pink blossoms, fresh air, crisp bright twinkling sunny days right down to spring pea shoots.  It's a merging of seasonal produce with a few winter veggies still available and sprouting spring crops.  If my timing is right here, you should be able to get all the goodies that this simple salad requires depending upon where you reside, of course.  Here in Canada on the west coast it is still possible.  However, I can see jicama as an alternative and perhaps even some thinly shaved fennel.  It might even make for a nice dish at your Easter meal or a spring feast accompanying some other yummy dishes perhaps like this and this.  But do let me know if you make it as I love to hear your comments or adjustments.
This recipe was inspired by a salad I had in NYC at ABC Kitchen when I was there just last month (to see some shots of this lovely restaurant space Holly has featured it here.)  It was sooo yummy I had it twice in a row.  This is my version of something similar with even healthier ingredients for the dressing of course and I added the parsnip.  The key to this salad is this julienne peeler below and or a mandolin to cut the apple and the jicama but either will work with a little patience.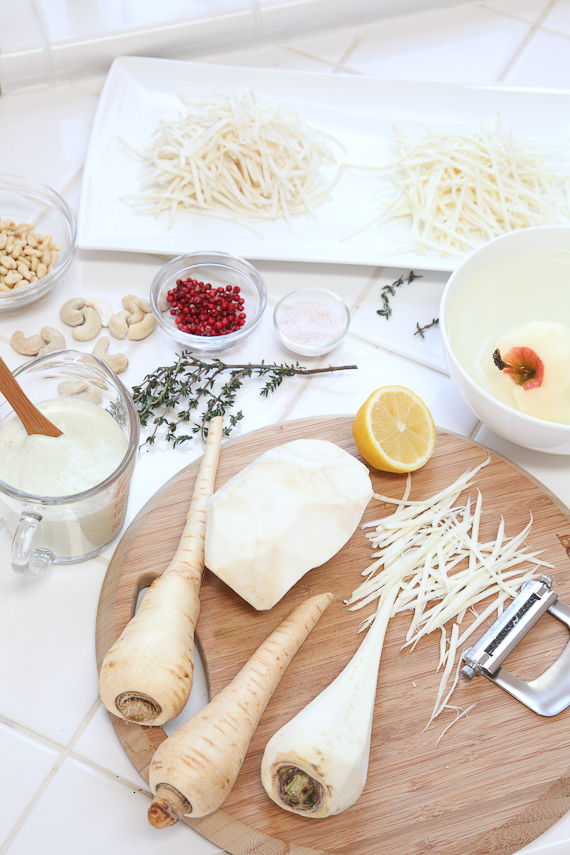 This pretty salad is loaded with a myriad of tasty nutrients but the main ones are here below.
Parsnip
This yummy root provides provides 13% of daily fiber needs with only 100 g serving. It also has vitamin C that has anti-oxidant properties helping to protect from diseases and cancers by scavenging harmful free radicals from the body. Parsnip is also rich in many B-complex groups of vitamins such as folic acid, vitamin B-6 (pyridoxine), thiamin, and pantothenic acid as well as vitamin K and vitamin E.  It is has good levels of minerals like iron, calcium, copper, potassium, manganese and phosphorus. By eating it raw the body can access these nutrients and living enzymes that are in tact versus being denatured or damaged by heat.
Celeriac
Celeriac is very good source of vitamin K. Only 100 g of celeriac provides about 34% of recommended daily intake of K. Vitamin K helps increase bone mass activity in the bones. It also has plays an important role in Alzheimer's disease patients by limiting neural damage in the brain.  This root is very good source of some of essential minerals such as phosphorus, iron, calcium, copper, and manganese. Phosphorus is essential for cell metabolism while copper helps restore immunity, prevents anemia, and is required for bone metabolism. Celeriac contains some of the valuable B-complex vitamins such as pyridoxine, pantothenic acid, niacin, riboflavin, and thiamin. The fresh root also provides moderate amounts of vitamin C.
Apples
An apple a day is a good idea.  The phytonutrients in apples can help you regulate your blood sugar. Flavonoids like quercetin found in apples are involved in the breakdown of complex carbohydrates into simple sugars thus your blood sugar has fewer simple sugars to deal with when these enzymes are inhibited making it easier for you to regulate blood sugar.  Apples have also been shown to reduce the risk of chronic heart disease by reducing lipid oxidation, a key factor.
So here you have a salad action packed with three nutritious ingredients that will boost your health and strengthen your immunity.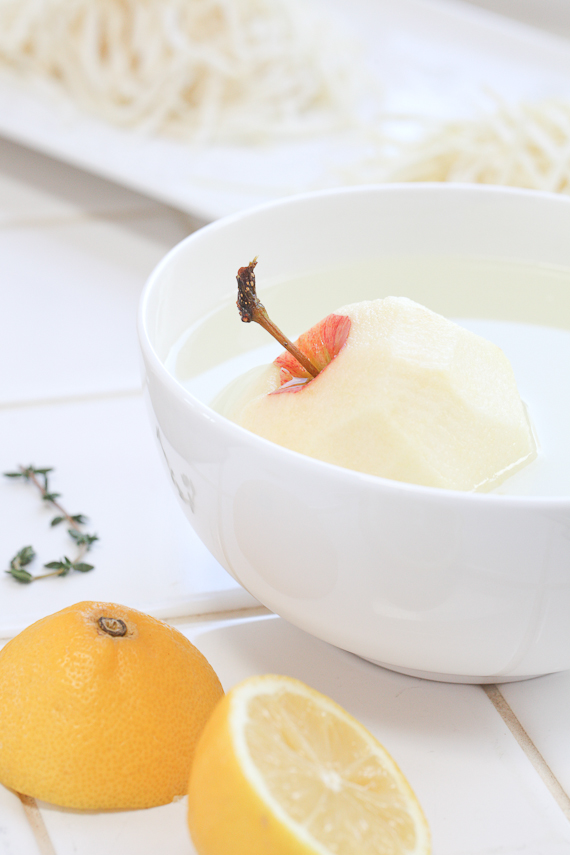 The lemon juice trick for stopping apples from browning or oxidating is a good idea for this recipe.  I used the juice of one lemon in a bowl of water and set the apple in right away until I was ready to julienne it and then put those slivers right back into the lemon water til I was ready to assemble the salad.
Here you can see my little haystacks of salad makings ready to toss.  The jicama and the parsnip keep well so if you are wanting to prep ahead these can just be chilled and then the apple done at serving time.  The dressing is also fine to make ahead and then chill.  The bits of pink peppercorn in the dressing are so pretty!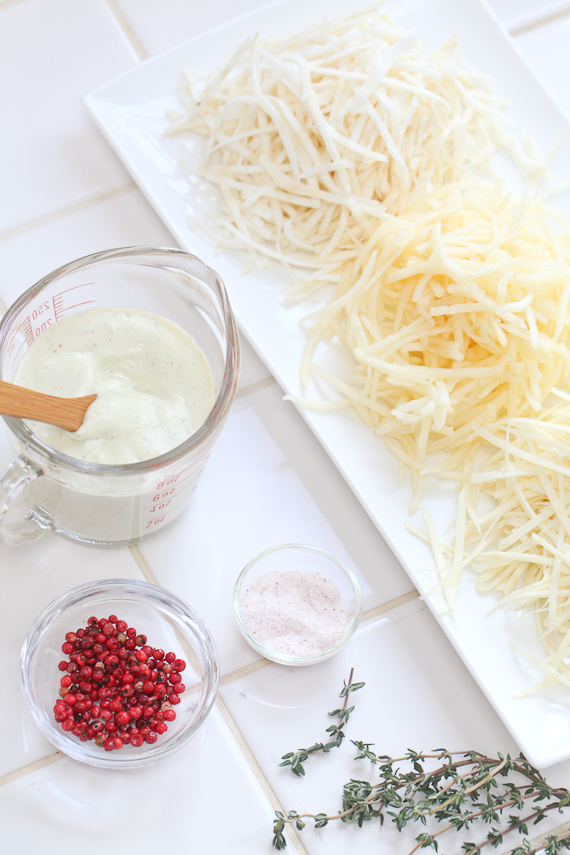 Julienne Salad of Apple, Parsnip & Celeriac
Yield: 2 large salads or 4 small side salads
juice of 1 1/2 lemons + 1/2 tsp zest
1/4 c cashew nuts
1/4 c cold pressed olive oil
1/3 c peeled, diced zucchini
1 tsp fresh thyme leaves
20 pink pepper corns + few for garnish
3 drops stevia + 1 tsp maple syrup
1 apple, julienne cut, resting in lemon water (juice of one more lemon in 3-4 cups water)
1 medium, julienne cut
2 parsnips, julienne cut
baby greens
pea shoots
1/3 c raw pine nuts
good pinch Himalayan salt
Method
Start with the dressing, combining lemon juice, cashews, olive oil, zucchini, thyme, pepper corns, stevia & maple syrup and blend well until creamy and smooth.  Now julienne the parsnip, celeriac & lastly the apple.  Toss the julienne slices with the dressing and gently pile upon the baby greens and pea shoots, top with pine nuts.  Garnish with pink pepper corns and a sprig of thyme. Enjoy:)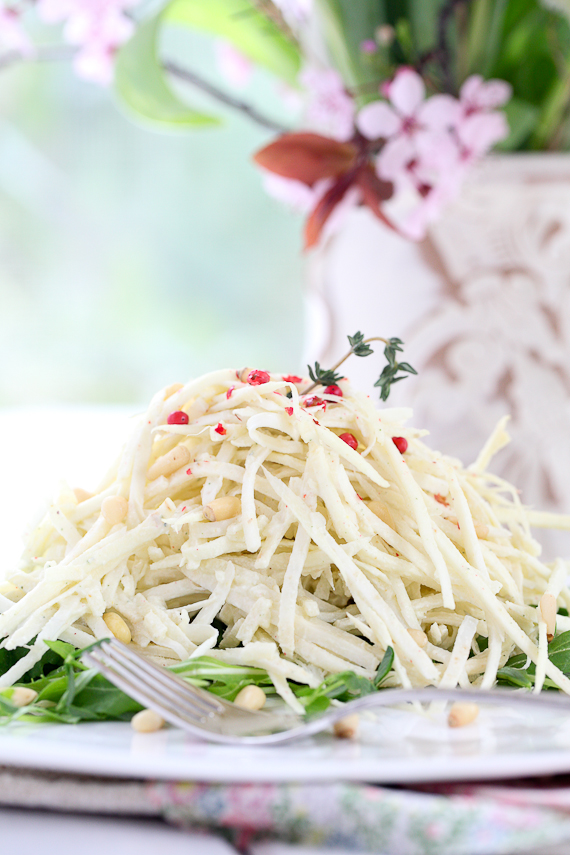 All you have to do now is sprinkle it with love, pop some flowers in a vase and you are good to go!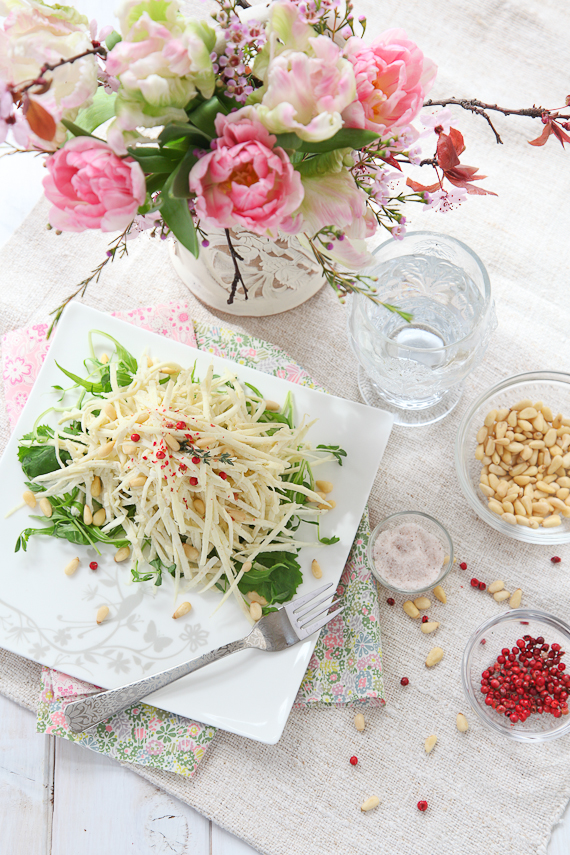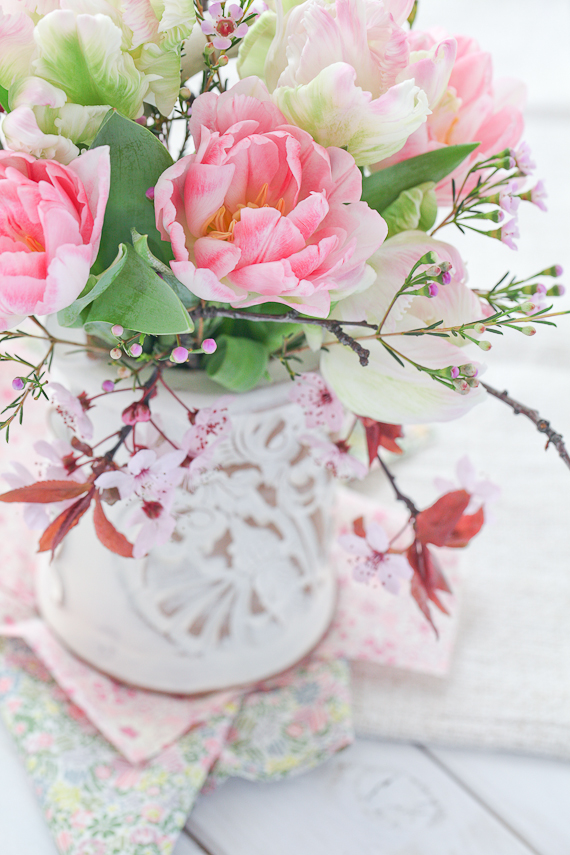 I seem to have a little spring fever–I can't seem to help myself with all the blossom photo opportunities!  Here's just a couple of the many hundred that I am sure I've shot just this past week!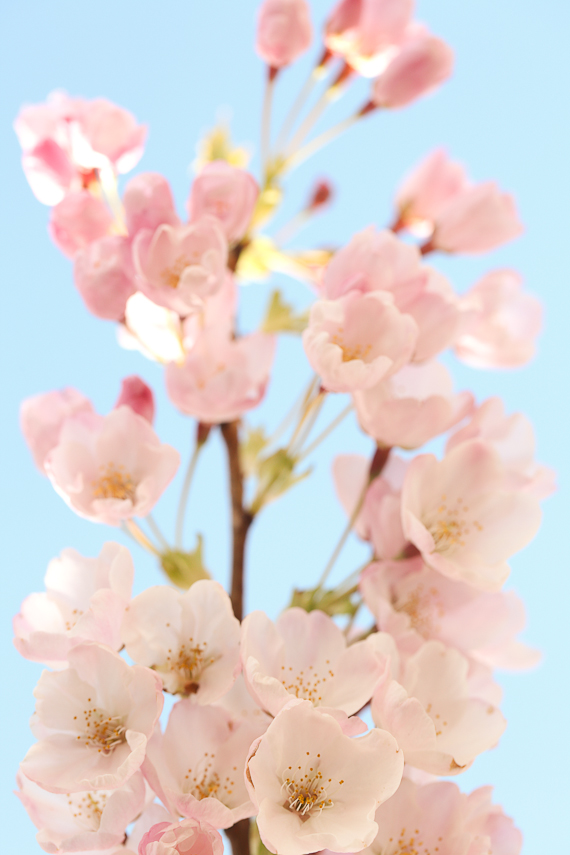 Savour the season- it skips by so quickly!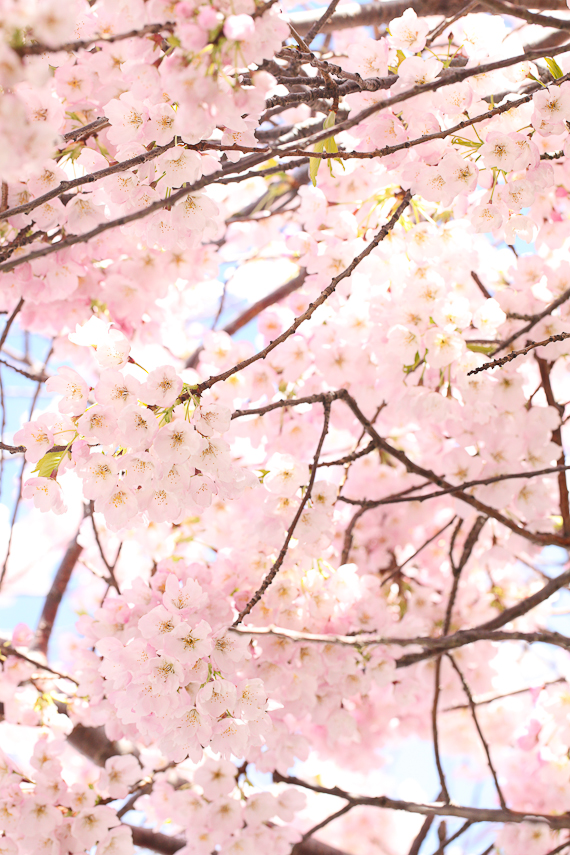 I hope you are enjoying a wee break this weekend from the everyday busy-ness that most of our lives are too full of.  Soak up the season, put your feet up and chillax for a while!  Or perhaps enjoy some creative moments and paint a few eggs like we did today and hang from some twiggy branches, perhaps on some cherry blossom branches if they are blooming near you.  My very creative friend Leslie inspired us with this really lovely spring post here.
See you here again soon:)
Julie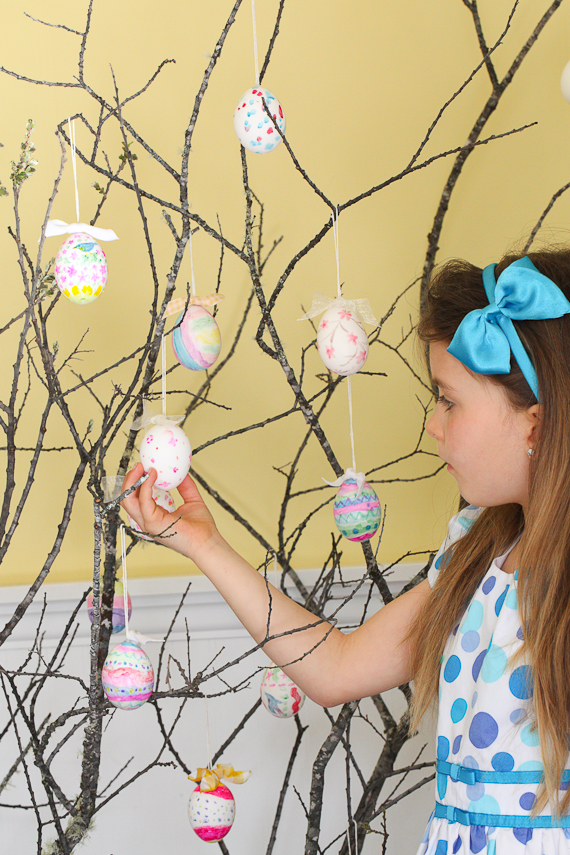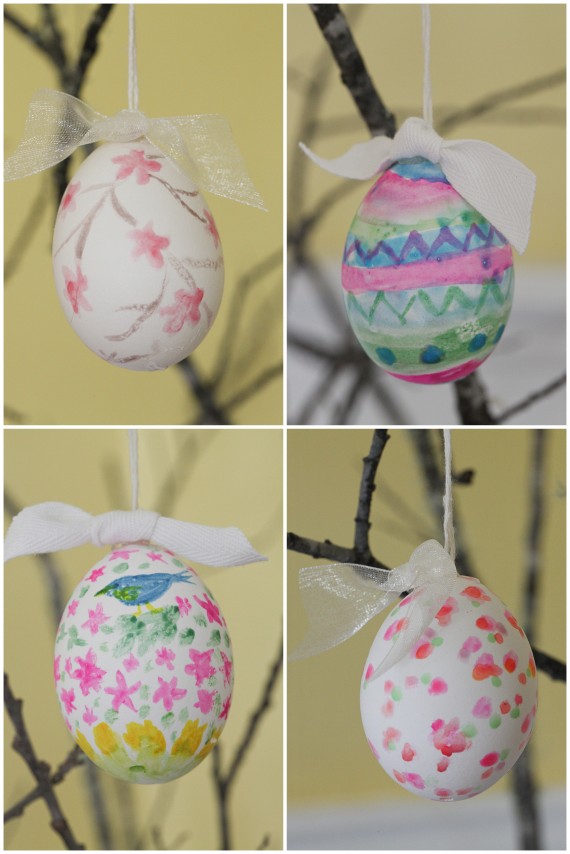 Pin It