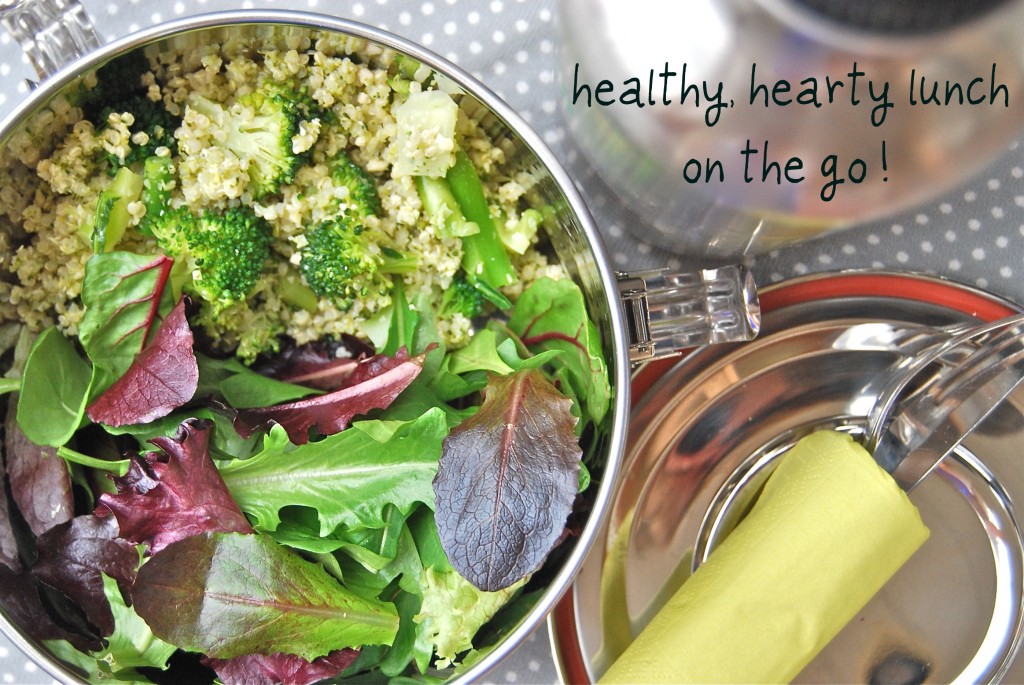 I always feel so good when I pack a lunch cuz I know it's the healthiest thing I can eat since I've made it with the best ingredients possible.  I am not left guessing what's in my lunch like I am when I end up having to eat out.  To make it easier to accomplish the task of a homemade lunch I use recipes like this that yield large quantities where the flavours actually improve overnight.  Then when I pack the salad I add a nice mix of greens to have with it and incorporate them at lunch time.  Top it off with some hemp seeds and it's the yummiest lunch packed with nutrition and protein. This delicious recipe is orginally from Heidi at  101 cookbooks but I adjusted it to be alkaline and vegan which makes it more suitable for an alkaline lifestyle.  Heidi is a real inspiration with her incredible vegetarian recipes and I find some of her recipes are perfectly alkaline as is.  She also has some nice vegan recipes.  Her photos are so exquisite and make you want to create the recipe right then!
Did you know broccoli packs more protein than a steak? Then add the quinoa which is a good source of protein and the hemp nuts… well, they are the best plant protein available.  They have a nice nutty flavour which complements so many recipes.  With this easy to prepare lunch for on the go, you'll be so satisfied and energized!  And don't forget your water bottle–enjoy water shortly after your lunch and try to load up all day for hydration and energy.  In place of coffee as a pick me up drink water, it's actually more effective than the caffeine in giving you energy, believe it or not!  If you find yourself yawning, take some long deep breaths to oxygenate and alkalize your blood which will energize you. Then drink water and you'll get a 2nd wind for sure!
Here's the how to:
Broccoli Quinoa Salad to go.
3 cups cooked quinoa- see method below
5 cups raw broccoli, cut into small florets and stems
3 medium garlic cloves
2/3 cup raw nuts – cashews, almonds or pine nuts
1/3 cup rice Parmesan (tricky to find but you'll see it in the chillers in a small blue foiled shaker)
sea salt to taste
2 tablespoons fresh lemon juice (usually 1 med. lemon)
1/4 cup olive oil
2 tbsp hemp oil (amazing omega 3-6-9's added here)
1/4 cup almond milk  (unsweetened)
yummy optional toppings- sliced avocado
, hemp nuts, raw chopped nuts or seeds
Method
Cook the quinoa: 2 cups water and 1 cup quinoa (rinsed) and bring to boil and then simmer for approx 10 mins till water is mostly absorbed then set aside with lid on for a wee bit to soften further and absorb remaining liquid.  Stir and then allow to cool.  Pour off any excess liquid.
Bring a pot of water to boil and season generously with 1 tbsp good sea salt, then add the broccoli and allow to turn bright green with just 1-2 mins max cooking time.  Drain and then run cool water over to stop it from cooking further. Set aside 3 cups of this cooked broccoli for use later.
Now combine remaining ingredients except oil and milk in a food processor creating a finely blended mixture.  Now add oils and milk and mix til just combined, not too pureed.  Combine this mixture with the remaining 3 cups of broccoli and season with sea salt to taste.
Pack your lunch box with toppings of hemp nuts, chopped raw nuts and even sliced avocado combined with a generous heap of mixed greens.  If you have 50% broccoli salad and 50% greens you'll have approx 30-70 ratio of veggies and greens to the quinoa which is a perfect alkaline proportion.
Makes 4-6  lunches
Now just because I featured this for" lunch to go" doesn't mean you can't enjoy it for dinner, just don't let it all get eaten up!!

Pin It