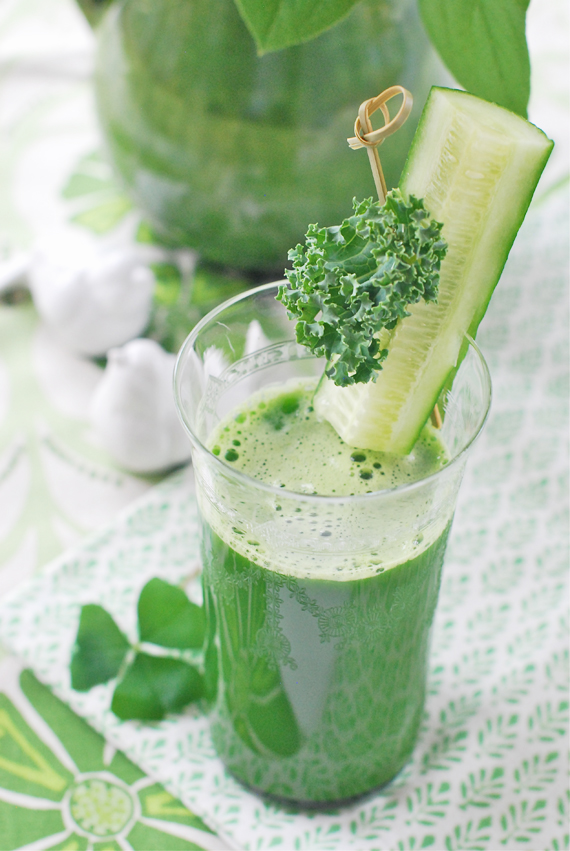 The luck O' the Irish is on your side today just in time for celebrating with the healthy leprechauns! It's all about green, my favourite colour these days!  I've put together a collection of healthy tasty recipes for delicious Fresh Green Juice.  If you don't have time for juicing maybe you might like to try maintaining your chlorophyll intake by placing a few drops of liquid chlorophyll in some water and giving that a good swig.  If you want to super charge your batteries with 300+ megahertz of energy try these super greens– carefully dried formulated powder from over 40 green plant juices that give your body a charge of energy.  Tony Robbins, the talking Machine, drinks this in his water ALL DAY LONG, and ahem…so do I!  It's that good and it really improves my energy and my alkalinity.  Ideally you could 'celebrate green day with a shooter' of the best green juice on the planet–Wheat grass!  Just reading the unbelievable benefits makes you want to sprint to the closest juice bar for a fix, am I right? What a great way to be green for the big day!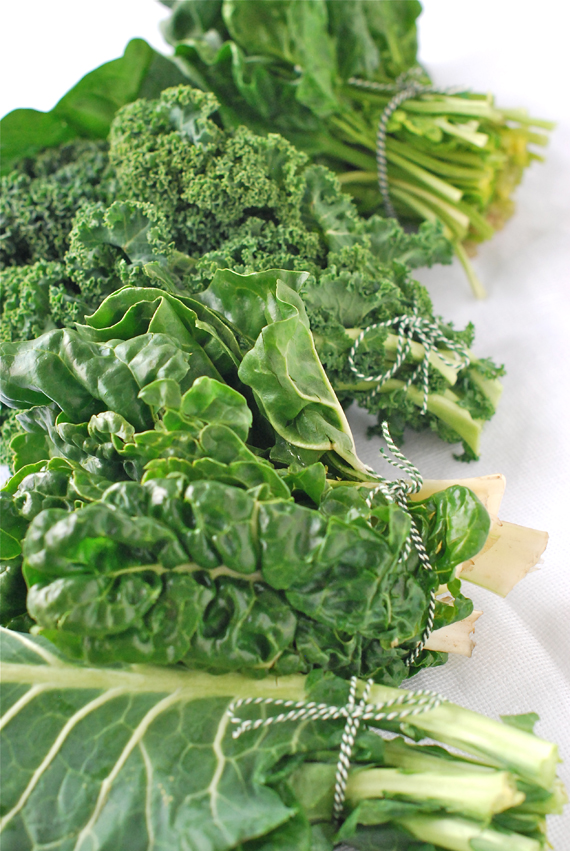 "Scientist have discovered that green juices increase the oxygenation of the body, purify the blood and organs, assist in the metabolism of nutrients and counteract acids and toxins. Green juices are the superstars of the nutrition world."  says Dr Robert O. Young.  He formulated the Super Greens because he truly believes we need more greens in our diet and this is a sure fire way to up the anti at any given time, with ease.
Enjoying green juices daily is the best way to alkalize the body with extremely vital nutrients that nature provides for us, in turn supporting a healthy immune system that will protect us from disease.  Juicing these greens allows for the vital nutrients to be assimilated easily and immediately, giving you an immediate energy boost.  I tend to follow up with a green smoothie a little while later to gain the benefits of the fiber and to keep me satisfied for a little longer.  If you suffer from symptoms of an acidic body that can be anything and everything from a simple cold to gastrointestinal issues, the list is enormous, you will benefit immensely by adding a juicing regime to your morning.  It boosts your daily veggie intake and charges your battery for the day.  How about using St. Patricks day to mark the beginning of your daily greens?  You still have time to pickup a juicer if you don't have one yet.  I recommend the Breville, any model will do, except the compact model since you will be using it everyday and you will want one that can handle the volume.
One of my favourite green drinks is this first recipe for green lemonade that I like to have in the afternoon when I have a heckling for something yummy but I want to make a really good choice.  Balancing the flavour is sometimes needed as the size of produce really varies, so always test it before you pour into your glass in case it needs a little more of something.  A little trick I do for my kids to ensure that they drink the juice if it is strong or a little tart, is to add a drop or two of liquid stevia to balance it out a little.  On the most part they love their juice but I want to keep it that way!  For these recipes  I use plenty of cucumber as it is highly alkalizing and is a very high water content content veggie that is fairly neutral and can be swayed in many different flavour directions.  See for yourself and be sure to experiment with your own combination.  One last thing, sometimes I used the last of my veggies to make juice before they go off but your juice shouldn't always be made from veggies that have been sitting in the crisper all week.  I suggest juicing with intention.  Buy the veggies you plan to juice instead of juicing on a whim with left overs cuz you'll be more excited about the process and the final flavour outcome.  Alright, lets get this 'Green' party started!!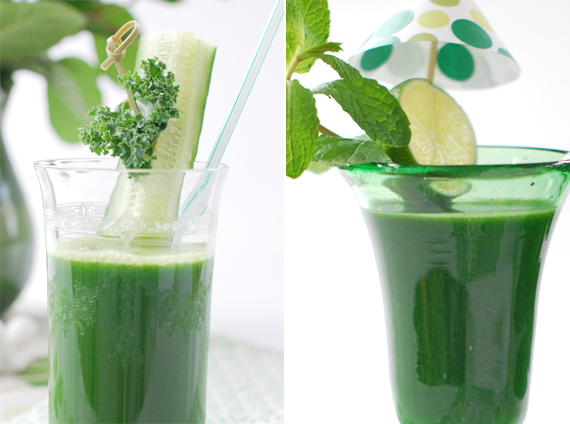 Green Lemonade (left photo above)
Yield: 1 serving approx 10 oz
1 apple (may leave out if you wish for no sweetness)
1 lemon peeled
3/4 large English cucumber or one small
2 large kale leaves
Method
Run all ingredients thru juicer, stir, test for flavour, enjoy.
Add a garnish to make it look pretty! Somehow, it makes it taste even better!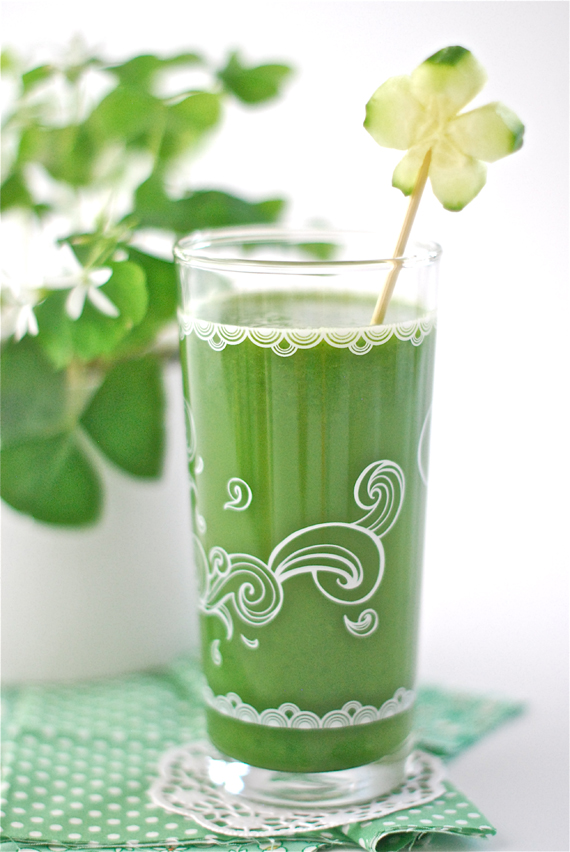 Green Leprechaun (above)
Yield: 1 serving approx 10 oz
1 green apple
1/2 pink grapefruit
1/3 bunch fresh spinach
3/4 large English cucumber or one small
1/2 inch piece fresh ginger
1 stalk celery
Method
Run all ingredients thru juicer, stir, test for flavour, enjoy.
Garnish and make look pretty!
Fresh Green Mint (above)
Yield: 1 serving approx 10 oz 1 pear
1 lime, peeled
10 stems fresh mint
1 large collard leaf
3/4 large long English cucumber or 1 small
garnish with mint sprig
Method
Run all ingredients thru juicer, stir, test for flavour, enjoy.
Garnish and make look pretty!
Rotating Your Greens
Everyday our family enjoys this Tasty Green Juice, our daily elixir, and we really miss it when we are away.  Every few days I jazz it up with a different green kale, chard,or sprouts when the kids aren't looking.  It's good to rotate your choice of greens on a regular basis so that your nutrient intake is varied as you can end up with too much of a good thing. Plants carry a trace of alkaloids in their leaves that in very large quantities are poisonous, but in small quantities are harmless yet beneficial to your immune system.  Because the leaves of a  plant are the most nutritious part, animals instinctively want to eat them and so should we.  Alkaloids are essentially the protective element of the plant kingdom so that in nature no one plant would become extinct, forcing grazing animals to move onto another specimen, eating a good variety of greens.  You don't want an accumulation of alkaloids in your system so by rotating your greens often you will avoid this possibility of poisoning.  There are thousands of edible greens available to you so don't worry too much about this but do check out your local market and start integrating sprouts, herbs, grasses, and leafy greens in rotation for juicing, smoothies and salads to be sure you have a nice mix.  You really can't eat too many greens if you rotate them well.  I say the more the better and at every meal, every day!  There's a very extensive list here of edible greens if you'd like to take a peek.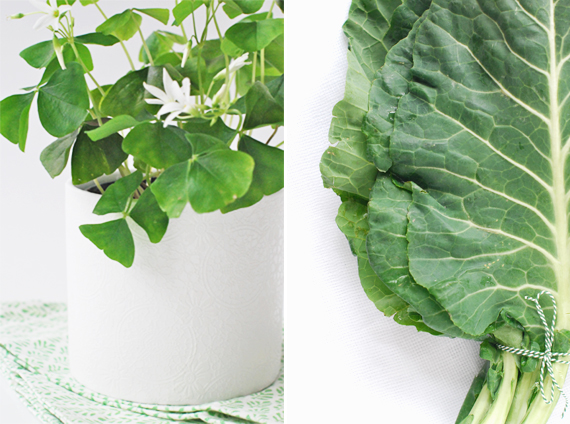 If you prefer to celebrate with a green smoothie do check out this tasty recipe for optimal nutrition and energy–it's sooo green that it will make St. Patty veeerry happy!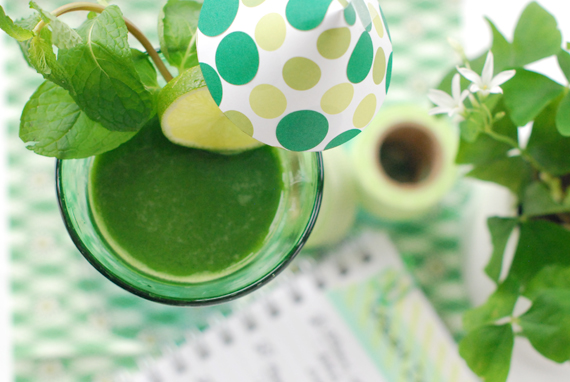 Forget just wearing green on St. Patricks day, Drink Green too!  Hope you have a lucky day!
Julie
Here are the Styling Props
Linens: Purl Soho, NYC- white cotton gauze yardage beneath veggies and all other fabrics except t-towel in top image & clover plant photo, Gronlyk, Copenhagen
Tall White Screened Glass– Silk Road, Victoria B.C.- it has a dragon on the reverse side-really cool glass, I'll show the other side one day!
White Floral Textured plant pot: Abbott of England Product found at Paboom, Victoria B.C.
Moss Green Jug: Isle Sur la Sorge Market, France
All other items from my personal collection over the years.

Pin It