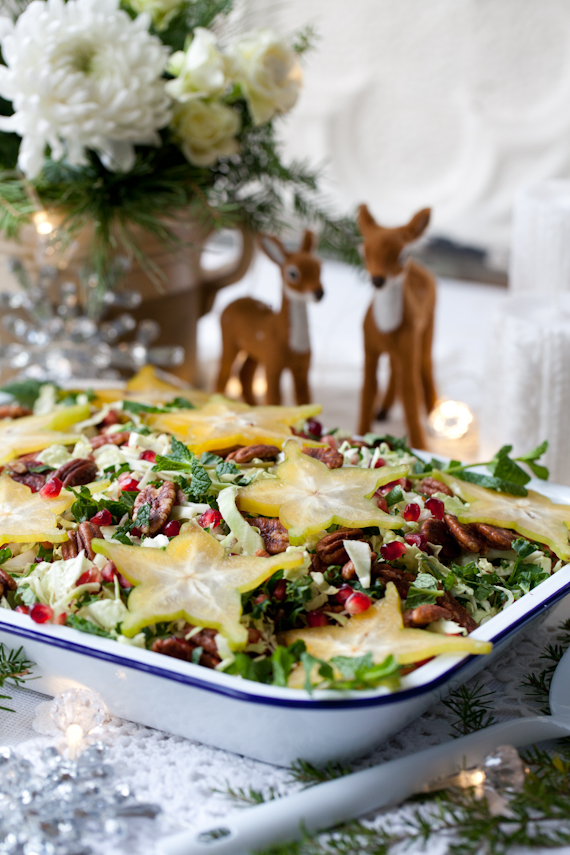 I didn't really have a firm plan for this salad. I just gathered lovely things from the market and slowly began to assemble them and it rather grew thru the process of chopping, seeding the pomegranate and then realizing I had bought a star fruit for the kids to try out and Voila I had a starry, red studded tray of goodness.  Does this happen to you?  –you have no real plan and suddenly you come up with something better than you could have ever planned out?  This seems to be my style.  I believe it comes with choosing to trust the process.  Sometimes I fret over NOT having a plan and spend needless hours trying to plan instead of just letting the creative juices flow.
I do the same thing when I am cooking festive dinners, as in Thanksgiving and Christmas.  If I plan too much I waste time instead of just getting to it.  I find far more joy when I can be creative as I cook versus just relying on an old fave or using a recipe. Playing with ingredients and making it just a little different or a wee bit better is part of the process for me.  As planned as I wish I was sometimes, in that dinner actually would be served on time, (I'm famous for slightly late meals but I love the kitchen hum and chatter as I fuss) it's something I always aspire to. Inevitably my creative side always gets the better of me yet results in a tasty and soul satisfying meal.
I'm hoping you'll be tempted to actually give this recipe a try. I think you'll be pleasantly surprised how delightfully tasty it is.  It is kind of similar to this salad that I make quite often but with new additions and some tweaking.  I brought it to our 20th annual (or it could be longer) holiday meal with my long time high school friends and our families.  It was a hit.  They are waiting for this post as I write.  We enjoyed a lovely buffet of tasty food with a good number of nourishing salads, green juice and fresh fruit.  It was easy for me to make good choices and I left feeling great after a wonderful visit with my long time friends who share a special history with our family.  I was filled with joy over seeing all of our children (there are 12 among us) most of whom are now young adults (except my two younger ones) enjoying each others company and sharing their individual journeys. They are such great kids, creating their paths with excitement and the anticipation of success.  I digress from the salad as my heart sings a song for our wonderful kids.  We are truly blessed.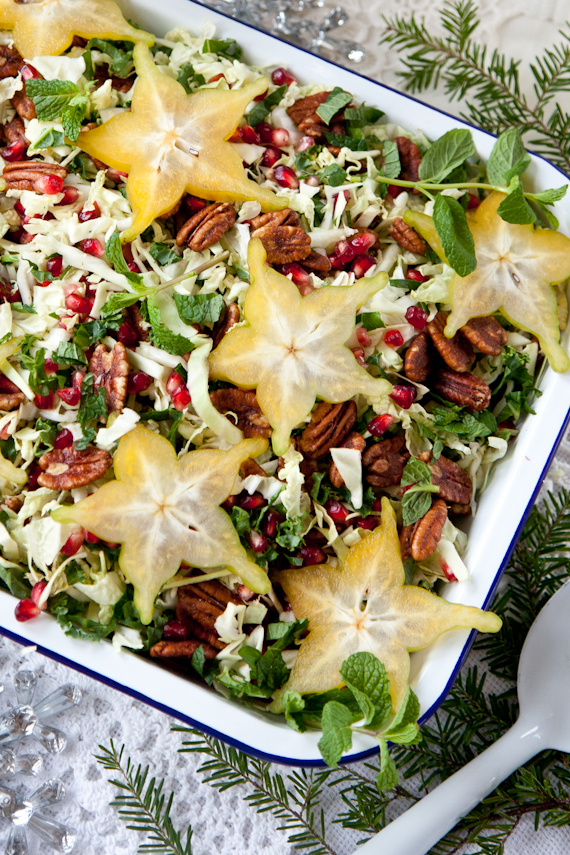 So here we have it.  A slaw kind of salad, predominantly consisting of napa cabbage and a little white cabbage fancied up with omega 5 rich pomegranates, raw salted caramel pecans, fresh mint and pretty sliced starfruit. This can easily be prepared ahead if you want to be more organized than I am!  The cabbages keep well and so will the pecans and the dressing if they are all stored separately.  Even the pomegranate can be seeded and reserved ahead for a couple days.  I learned a trick that has now saved me from quite a few loads of laundry when it comes to seeding a pomegranate (last time the kids managed to spray the curtains, the table runner, their outfits, the floor, the chairs and the sideboard!- eeeeek!)  My on-line friends, Luise and David of Green Kitchen Stories posted this link recently sharing the ideal way to keep the mess completely under control–under water!  Thanks guys, it has saved me a lot of work!
I would consider this salad moderate to low alkaline since I added the fruit to it and it has a sweetness that comes from more than just stevia –it's Christmas, what can I say?  The cabbages provide a good hit of antioxidants, glucosinolates present within assist in cancer prevention and also support digestion by helping to maintain the balance of good bacteria. Cabbage is also considered an anti-inflammatory food.  Lets face it, it's a raw alkaline vegetable in abundance in this recipe so of course it's good for you.  But jazzed up a little, it's really enjoyable to serve, knowing that your body will soak up these healthful benefits and serve you well as you zig and zag with other festive treats that just might not be alkaline, wink wink, nudge nudge.  However, if you are strictly following your alkaline lifestyle and avoiding all sugar then kudos to you!!  By all means this salad is divine without the wee bit of maple syrup.  Just use the stevia.  You can leave the pecans plain as I often do or use just a wee bit of the lucuma which is a low glycemic sweetener that I discussed in my last post here.  If you need to thicken up the coating (this happens when we add the maple syrup) instead use a spoonful of raw almond butter. If there's a will, there's always a way!  Any questions, just let me know in the comments below.
Festive Holiday Slaw with Pomegranate, Salted Caramel Pecans & Starfruit
Yield: Serves a crowd of 12-15 as a side dish or fewer as a main
Salted Caramel Pecans
2 tbsp olive oil
4 tsp lucuma powder + 1 tsp
6 drops stevia
1/8 tsp fine Himalyan salt + more to taste if needed
good dash of cinnamon
1 tsp maple syrup
2 cups raw pecan halves
Ginger Lime Dressing
juice of two limes
1/2 cup of extra virgin olive oil
1 tbsp freshly grated ginger + more to taste if desired
8-10 drop stevia
1 tbsp maple syrup
salt & pepper
Slaw
1 napa cabbage, finely sliced
1/4 small white cabbage, finely sliced
1/2 cup of finely chopped mint leaves + a few for garnish
1 large pomegranate, seeded
1 star fruit, sliced
Method
Lets start with the nuts so they can rest and absorb some of the flavours.  In a medium sized bowl add the oil and the 3 tsp of lucuma and wisk until smooth.  Add the stevia, salt and cinnamon and stir well. Add the teaspoon of maple syrup and stir gently just to combine. This will thicken and become creamy but could seize up if you over stir.  Add the pecans and toss really well to coat.  Now sprinkle with the extra teaspoon of lucuma to dry the nuts out a wee bit. Taste and check for a balance of salty to sweet and add more salt if needed or another drop of stevia (and then toss like crazee to distribute). Now…set them aside and STOP eating them!
Next make the dressing. Wisk all the ingredients, taste for a balance of tart and sweet and adjust if needed. I luv lots of ginger so add more if you like.  Set aside so flavours can mingle.
Now shred the cabbages, chop the mint, and seed the pomegranate. Combine all of these goodies in a large salad bowl but save a few pomegrate seeds to garnish. Gently toss in the pecans also saving some to sprinkle on the top. Now lets fancy up the top and add the sliced star fruit, the pomegrate seeds, pecans and a few more mint leaves. Toss with the dressing right before serving.  Taa daa!  Please note that this salad is best the same day but honestly…I thoroughly enjoyed the little bit of leftovers a day later.
Most certainly you can sub other nuts in place of the pecans like walnuts perhaps but the pecans already have a carmel-ish flavour. Walnuts are nice, I tried them too but a little more bitter so you need to sweeten a bit extra.  These two nuts have nice crevices to trap the coating.  Nonetheless, I am currently experimenting by dehydrating a batch of these nuts using every nut I had from hazelnuts to cashews and almonds for a mixed snack over the holidays.  I'll let you know how they turn out. They might be even nicer on this salad. You just need time to dehydrate.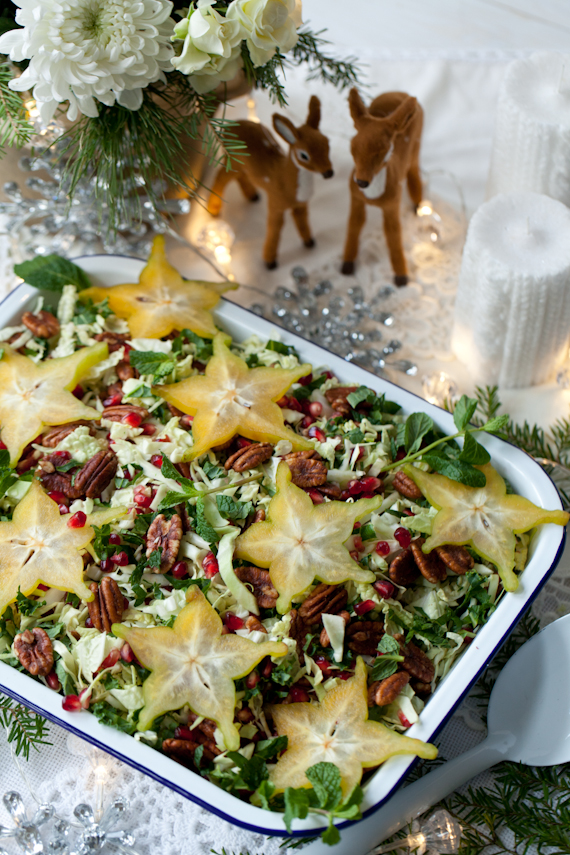 Well, as the big day approaches I hope you find time to be truly present, enjoying more than just the presents.  That's my goal.  I keep reminding myself to savour this special time especially with my young family.  Like they say, it comes but once a year and in the blink of an eye it's gone again.  I hope the season is merry for you and that you create fond memories with your loved ones.
Wishing you health, happiness and joyful moments.
Happy Holidays,
Julie
ps. don't you just adore these two precious reindeer? If they were my only holiday decorations I'd be okay with that!  I placed them beneath a glass dome to make a snow globe and I just can't get enough of their cuteness.  I snapped them up at a lovely local gift shop called Cameron Rose in Sidney B.C.  Sadly, I think they sold out fast, but there's always next year:)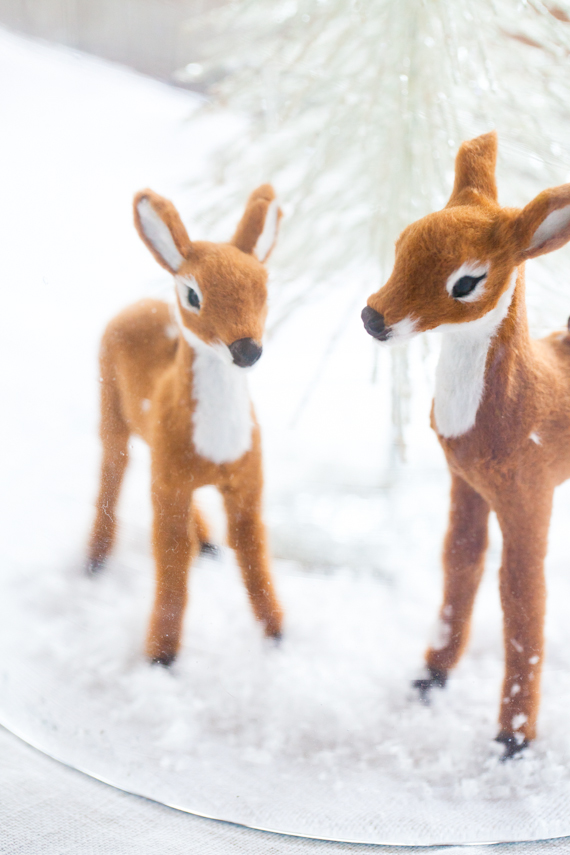 Pin It