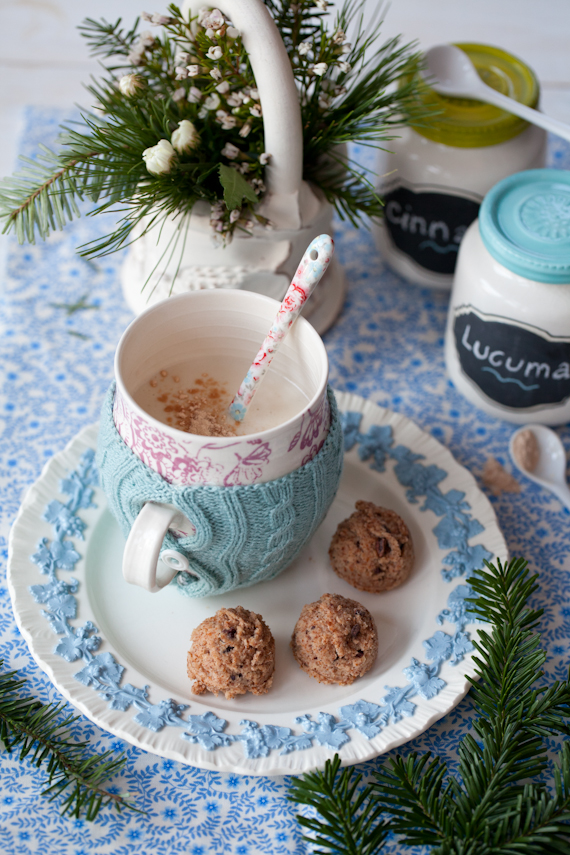 Brrrrrr……it's cold outside!  All I can think of is snuggling by the fire with a warm creamy mug of goodness and a book that inspires me.  Add to that a yummy nibbly that will satisfies in more ways than one and life is good.  I fiddled with flavour and texture for this coconut almond nog and of course ingredients that will support your health instead of hinder, yet appeal to that need for something rich and creamy to warm your insides.  But I also discovered after getting distracted and abandoning my mug that it's equally delicious at room temperature.
As for the cookie dough this might save you from yourself if you are doing any baking this holiday season.  It's a pretty good stand in for actual cookie dough, the kind that is full of ingredients you may be trying to minimize or avoid.  One caveat is that you need to make some almond milk and reserve the pulp to make the dough.  You can then use the almond milk in the nog so it's all good.  You just need to think ahead and soak your almonds overnight.  Other nuts can work nicely too, so experiment with your nut pulp.
If you haven't tasted or worked with lucuma it might be time to give it a test drive.  Lucuma is a subtropical fruit from the Pouteria lucuma tree that is dehydrated and ground into a fine flour like powder.  It's native to Peru, Ecuador and Chile and is sometimes enjoyed as a raw fruit. Lucuma flavoured desserts are more popular than vanilla or chocolate in South America.  It is often referred to as 'Inca's Gold" since the Incas used it for their main sweetener.  It has a very low glycemic score meaning it won't spike your blood sugar levels. What's lovely about lucuma is it's caramel/maple flavour that is so versatile when you want to mimic these sweet flavours yet maintain a very low sugar content.  You'll find it at health food stores in powdered form or here. It is free of added sugar but it does contain a small amount of natural sugar, about 2 grams per tablespoon so be sure to note that if you are minding your sugar intake. Otherwise it's a good source of fiber, contains nutrients such as beta carotene and niacin as well as calcium and phosphorous. It's a nice option for sweetening your holiday treats that you might want to experiment with.  I have yet to bake with it but I may just have to give it a try this year.  But with this simple raw recipe maybe I won't have to–more time for snuggling by the fire.
I particularly love this afternoon snack combo if I am feeling low on my good fat intake.  It's a good dose of healthy saturated fat from the coconut oil and coconut milk and omegas from the almonds.  It's important to get your daily dose of good fats to feed the brain, lubricate and facilitate a myriad of cellular functions support your immune system, boost thyroid function, increase metabolism, energy, endurance and improve digestion.  There are sooo many reasons you need your healthy fats and many of us come up short or are eating the wrong fats or perhaps fats that have been overheated and have lost their benefits and are damaging to our health.
A key reason that good fats are necessary in abundance especially while cleansing is to assist in dragging out acids that are tucked away in your fat tissues.  Healthy fats bind to acids and allow them to be dispelled also providing passage for eliminating yeast, candida and fungus.  During a recent cleanse with Dr.  Young's affiliates we were encouraged to consume upwards of 6-8 tbsp of good fats each day.  This was my idea of a nice way to enjoy those healthy fats while savouring a yummy warm cuppa and a wee sweet snack.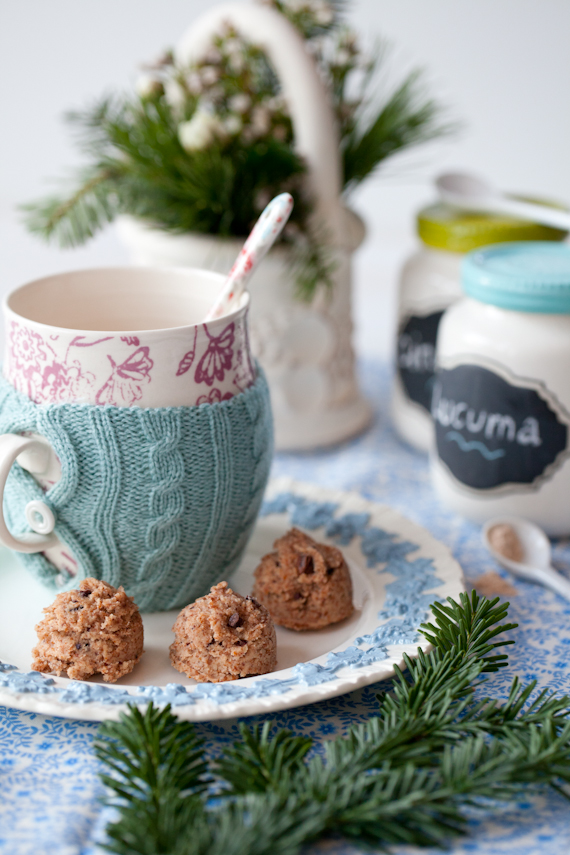 Your pre-prep for both of these recipes would involve soaking your nuts over night and then making homemade nut milk. I used almonds and followed this recipe minus the lavender and used about 1/2 cup less water to make it really creamy.  You will also find that the lucuma, once hydrated in the nog, creates a nice thick body to the mixture.  If your nog is too thin add a wee bit more lucuma or allow it to cool and the coconut milk will slowly set up a bit.
Warm Coconut Almond Nog
Yield: 1 serving or 12 oz
2/3 cups of thick organic coconut milk
2/3 cup of creamy homemade nut milk (I used almond)
1/4 tsp lucuma
1/4 tsp alcohol free vanilla
1/16 tsp pure almond extract
stevia to further sweeten as you may- approx 1-3 drops
Method
Place all ingredients in a small sauce pan, whisk well and carefully warm up.  If you can keep your finger in without yanking it out from the heat you have not over heated the precious almond milk.  Pour into mug and sprinkle with extra lucuma. Enjoy:)
Nourishing Raw Cookie Dough
Yield: Approx 12-14 balls
2 cups damp almond (or other nut) pulp
2 tbsp raw almond butter
1/3 cup extra virgin coconut oil
1 1/2 tsp lucuma
8-10 drops of stevia
good dash of cinnamon
1/2 tsp alcohol free vanilla
good pinch of Himalyan salt
1 tbsp raw cacao nibs
1/3 cup chopped pecans
Method
Place all ingredients into food processor and combine until mixed and a ball forms. Form or scoop into balls or….just grab a spoon and dig in! Enjoy room temp or chilled.  You may want to double this recipe it's so yummy, just make more almond milk.
What I love about this is that there's no wait time or baking involved.  Once it's all mixed up you're done, you can start nibbling right away.
Although I'd love to just curl up with this for the entire day and indulge in chapter after chapter of inspirational reading, Christmas is coming!! eeek! …and nothing will slow it down thus I need to get a move on so that I can enjoy some down time soon, and know that I have all my holiday preparations under control. How's your holiday prep going?  Getting there?
Good luck to you as you also go about your shopping, decorating and festive merry making.
I'll check in to see how your are next week.
Julie
ps. these make for a nice healthy cookie exchange if you have one you are partaking in.  They maintain their shape and firmness quite well if kept chilled.

Pin It