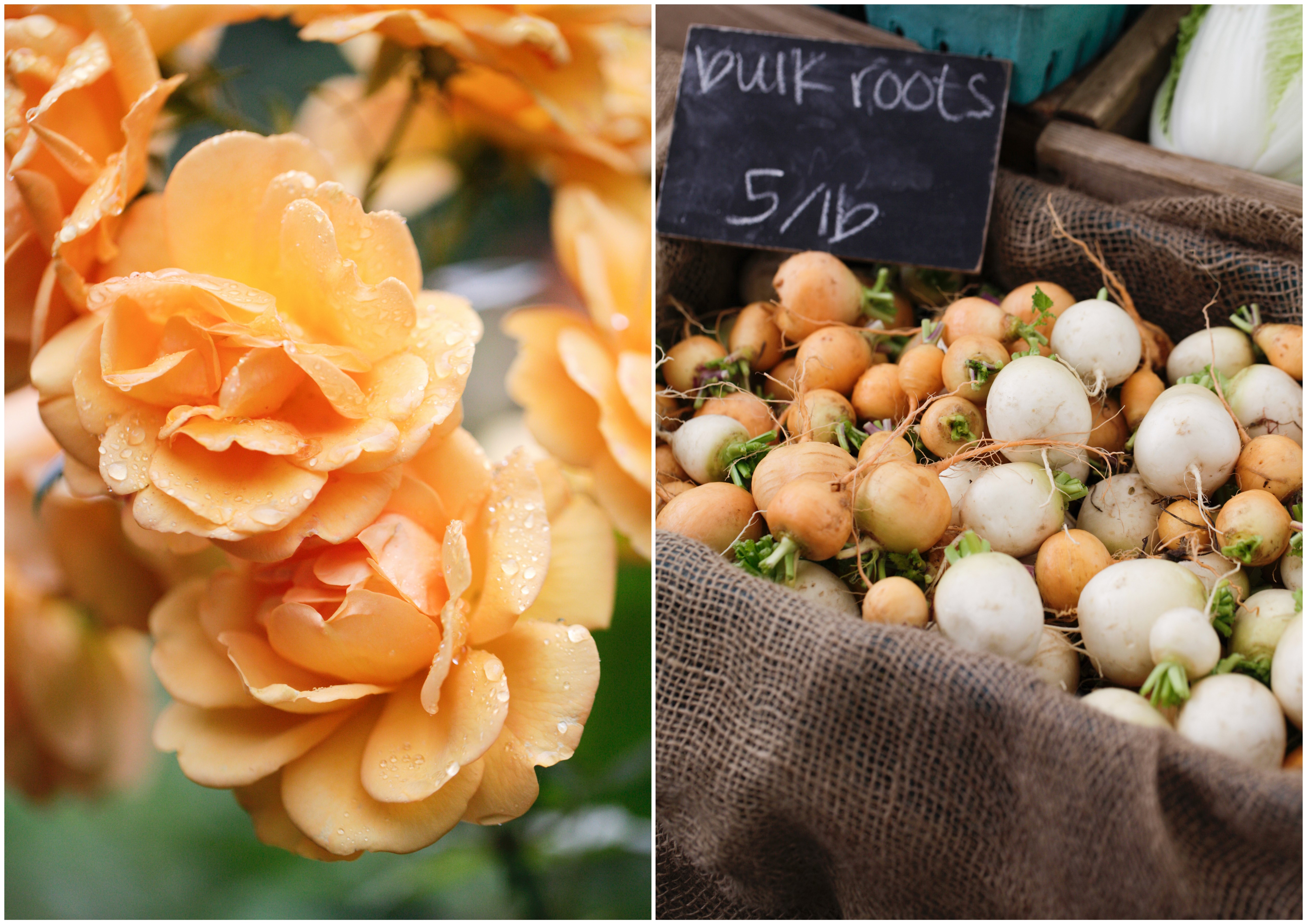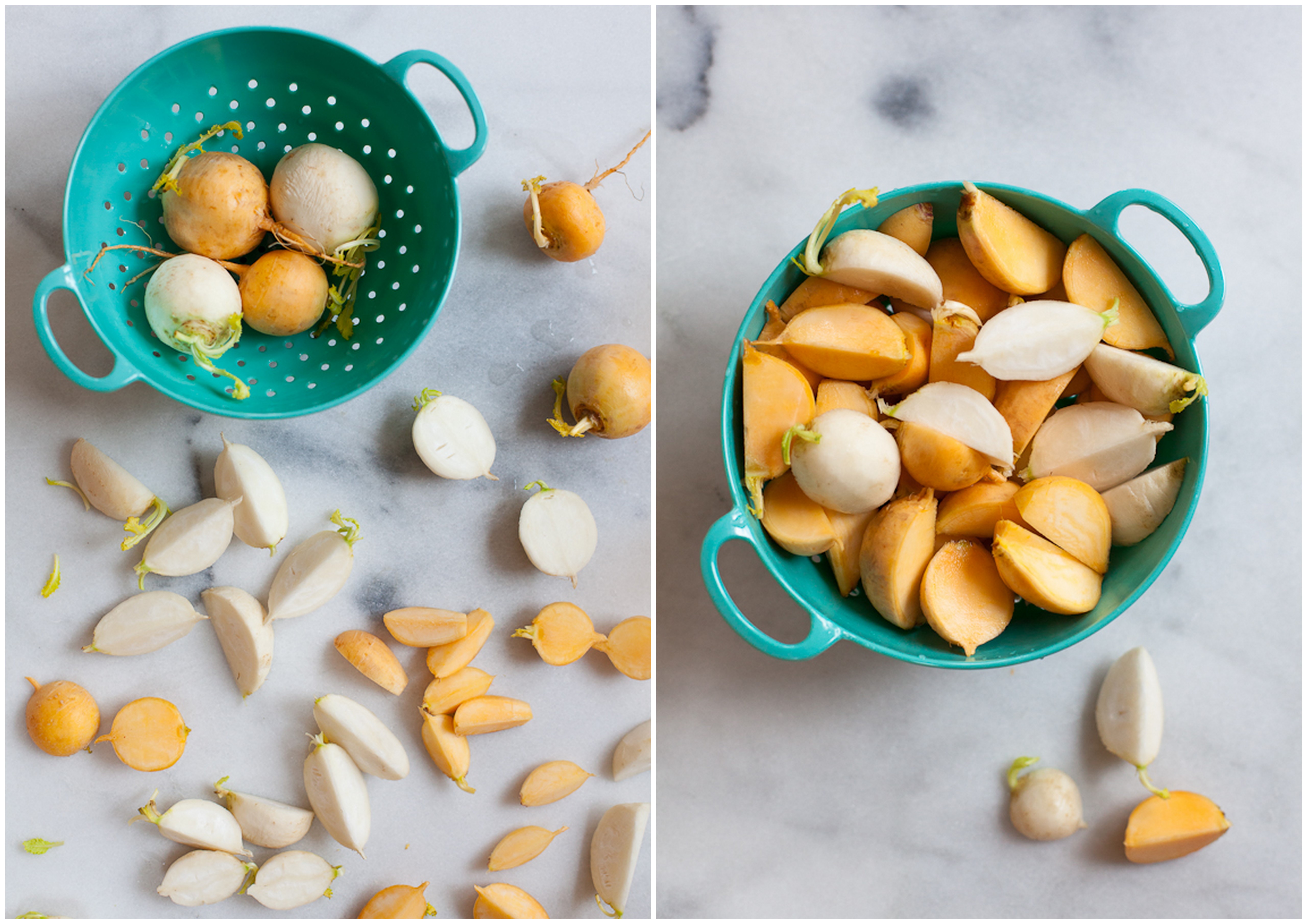 What makes you feel giddy inside? Is there a hobby or a passion of yours that really gets you jazzed or that sends you right to your happy place?  Throughout my life I have explored a number of creative areas but right now the one that truly brings me joy is being behind my camera taking the images and capturing the beauty around me to share the magic of the moment with you, the viewer.  To be able to share this with you here and on my Instagram feed is such a gift and gets me sooo jazzed!  My recent book Eat Better, Live Better, Feel Better was such an exciting and very full photographic adventure.  After it was published I took a wee break from my camera but I didn't realize how much I had missed it!
I truly believe that living in the moment and following that which brings you joy is so important for ones well-being.  It definitely creates an alkaline experience in the body that is beneficial for every living cell that make up our being.  I have been exploring mindfulness with and without my camera and how it affects the experiences in my life and I am more and more convinced that it is nourishment for the soul and needs to be a part of our every day as much as we can be aware of if.  It seems crazy to think that we even need to be reminded to be mindful but it's usually our daily digital distractions and busy-ness that make it increasingly difficult to remember that there IS such a thing as being mindful.
But here's the thing.  It's easy to do even if you struggle with it like I do.  I just put a reminder in my phone that was on a daily repeat for about 30 days.  It's really helped me to be more aware and to notice when I am zoning out or not paying attention. I don't beat myself up for moments that I miss or don't truly appreciate or engage in cuz life happens…. but it has definitely helped me notice and experience more, and feel more connected with my loved ones.
Today's post is my gift to you, (tis the season of gifting… so here you go) — I hope it will tickle your senses and give you a chance to practice your mindfulness as you are taken on a journey to Salt Spring Island complete with a delicious recipe for you to try. Exploring Salt Spring Island for a weekend with my trusty ole camera, just a 25 minute ferry ride from Vancouver Island here in Beautiful British Columbia, was absolutely magical.  You could say…. I did a few happy dances along the way!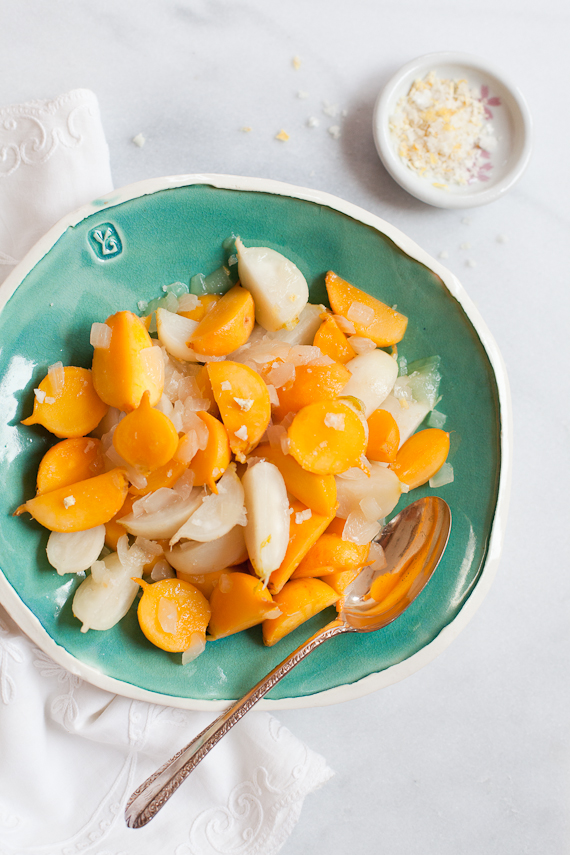 While I was at the Saturday morning farmers market (read below for the details on this) shooting the beautiful produce I got chatty with the the folks from Bullock Lake Farm when I spied their gorgeous turnips!  They shared their favourite way to prepare them and I went home and fiddled around–they were right, a little lemon and a quick braise and yum yum!  So grab your cup of tea, peruse the turnip recipe that could be lovely for a side dish this winter and then scroll mindfully thru this visual tour of the island and a few of it's offerings.
Braised Turnips with Lemon
Yield: serves 4 as a side dish
about 24 small hakurei white or goldana peach turnips or a mix of both, each cut into 4 or 6 wedges
alternatively a small purple top rutabaga will do nicely, diced into 1/2″ cubes
1/2 cup of diced sweet onion
about 3/4 cup of filtered water
juice of one lemon
1/2 to 1 tbsp of maple syrup, as to your liking
salt & pepper
optional-chili flakes for a bit of spice!
Method
Place chopped turnips and diced onion in a medium sized skillet over medium high heat.  Add water and allow to braise until el dente, allowing liquid to reduce but adding a little more if it all disappears. Now squeeze in the lemon juice, add the 1/2 tbsp of maple syrup, season with salt and pepper. Now taste and adjust sweetness to balance the flavours if need be. It should be tart but a little sweet at the same time. Sprinkle with chili flakes if you wish!  Serve alongside a salad or other main dish. Enjoy!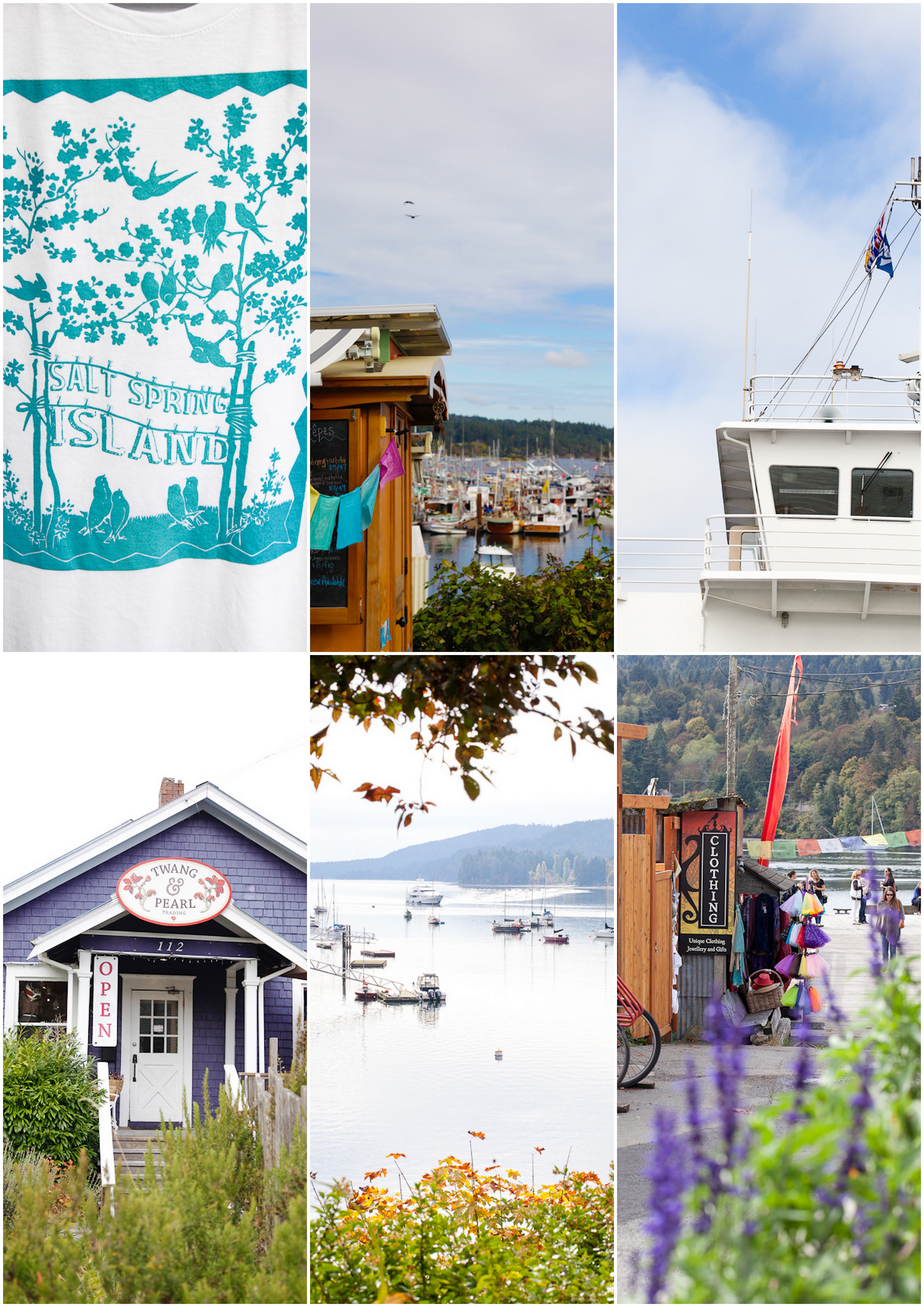 It's been a number of weeks since I was there and the last roses and colourful leaves are long gone now.  But right now the island will be twinkling with holiday spirit and festivities with their Christmas on Salt Spring events.  The market just gets better as it evolves to a wonderfully festive event for the next 3 Saturdays in December, the 10, 17th & 24th from 10am-4pm in Centennial Park.  It's the perfect place to cross a few gifts off your Christmas shopping list or stock up on local winter veggies for your special holiday meals.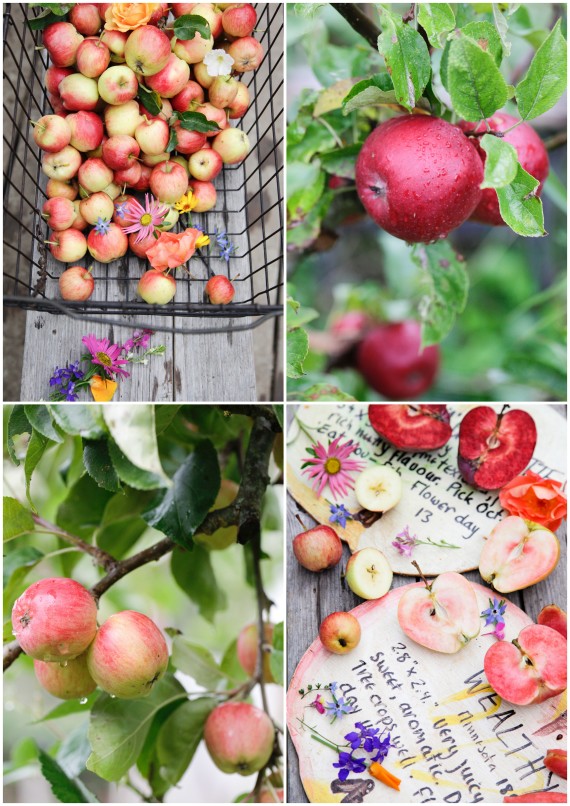 You'll still find delicious apples at the market since they keep so well over the winter.  Did you know that there's over 450 varieties of apples on the Island of Salt Spring? Just over a century ago, this island was British Columbia's primary source of apples.  You can read more about these gorgeous apples in my other Salt Spring island post here.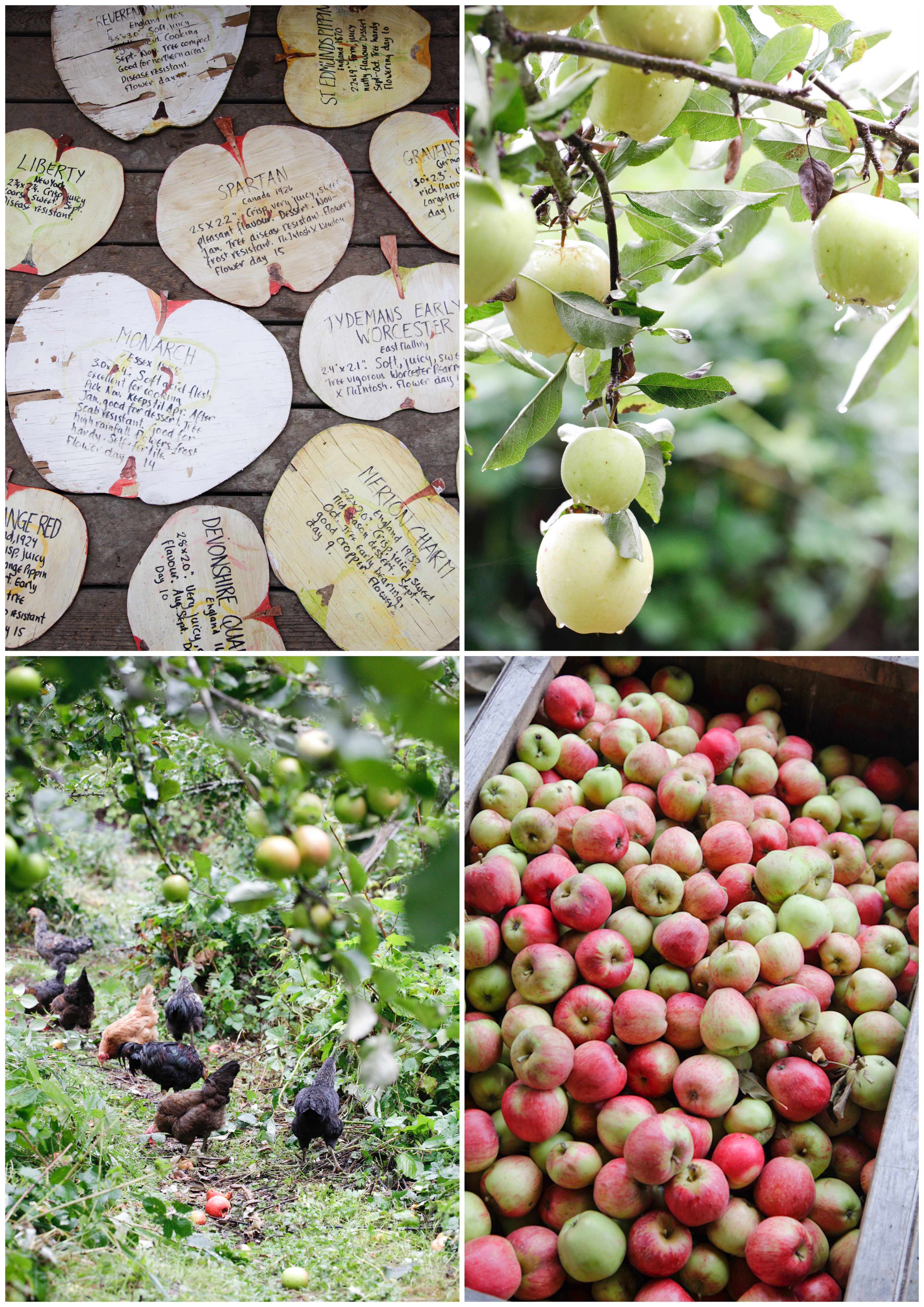 It's the perfect place to start an apple cider business, don't you think? Gerda Lattey and Mike Lachelt have filled the long withstanding void of locally produced apple cider on the island with 3 delicious ciders made from only local wild apples that are so abundant that they sometimes have a hard time keeping up with pressing the endless supply during apple season.  Salt Spring Wild Cider is a great stop for a tasting while you are visiting but is also served in many local restaurants so keep your eyes open or check here for where to source it on or off the island.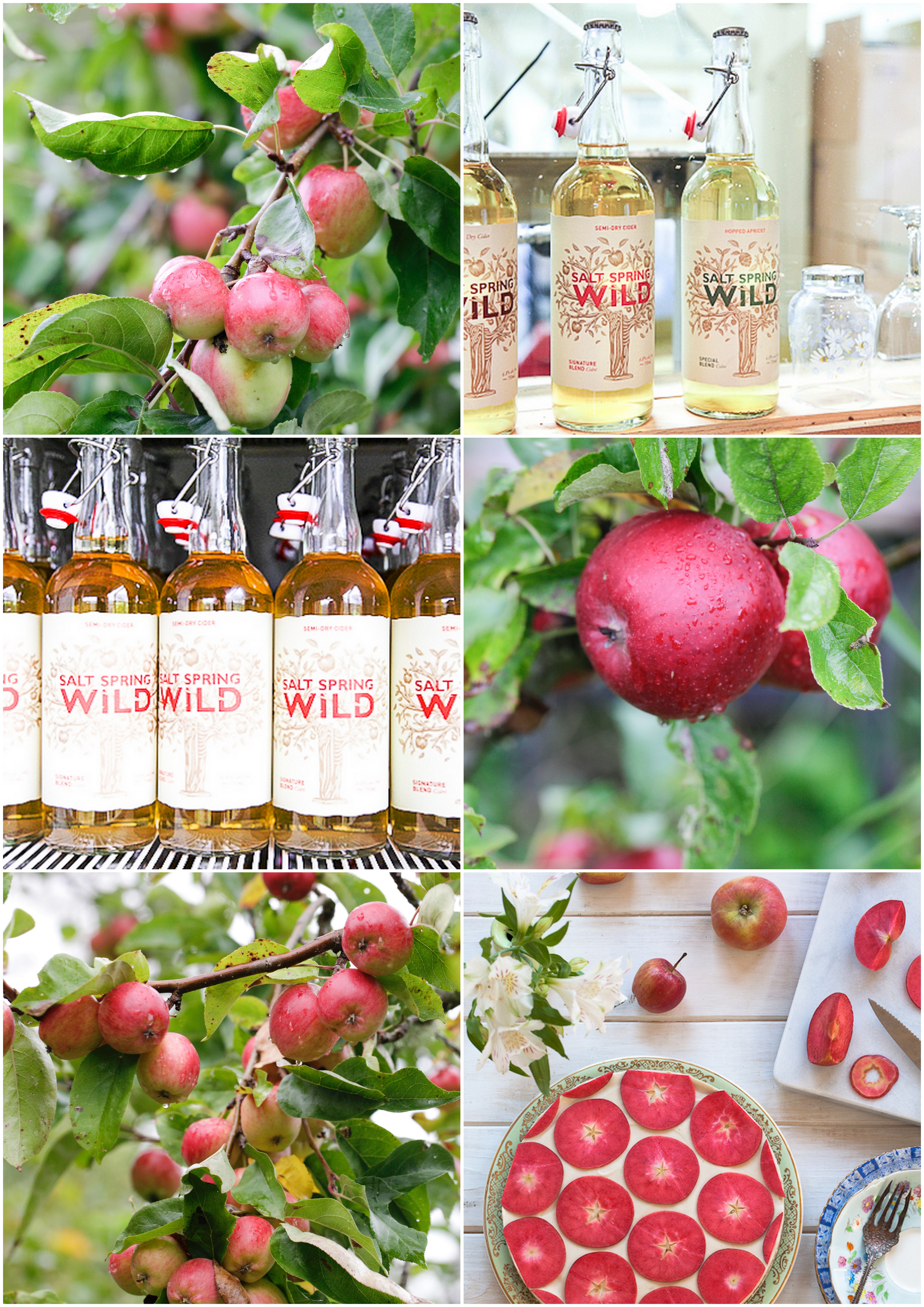 While visiting the island you won't have a hard time finding mouth-watering culinary experience! There are delicious meals to be had in a hurry or at your leisure.  I had the luxury of staying and dining at Hastings House for an absolutely divine experience and a fantastic meal in the most delightful setting, dahlia's included! Gazing thru Tudor lead pane windows to the ocean beyond was even more perfect with the impeccable service.  It was an experience fit for a queen indeed! I have more to share on the wonderful Hastings house in a moment.
During my stay I found myself perusing the island food trucks! The one I totally loved was brimming with local produce and a selection of healthy delicious meals that nourish and energize you on the go.  Chef Brooke Winter serves up fast, tasty and nutritious fare in her 'farm to fork' food trailer called B Nurtured on Jackson Ave only one block from Lower Ganges Road.  Just what an alkaline sister loves!
Now if you are clever… as you arrive or depart the ferry terminal at Fulford Harbour you'll make time for a meal or snack at the Rock Salt Restaurant and Cafe.  The veggie burger I had was second to none and the view is stunning! Chef Matt is a talented hard working chef with a big heart and his staff are cheerful and very attentive and love working for him. The cafe makes it super easy to pick up tasty but quick snacks, coffee and meals even when you have only minutes to spare to catch the ferry or scurry into town.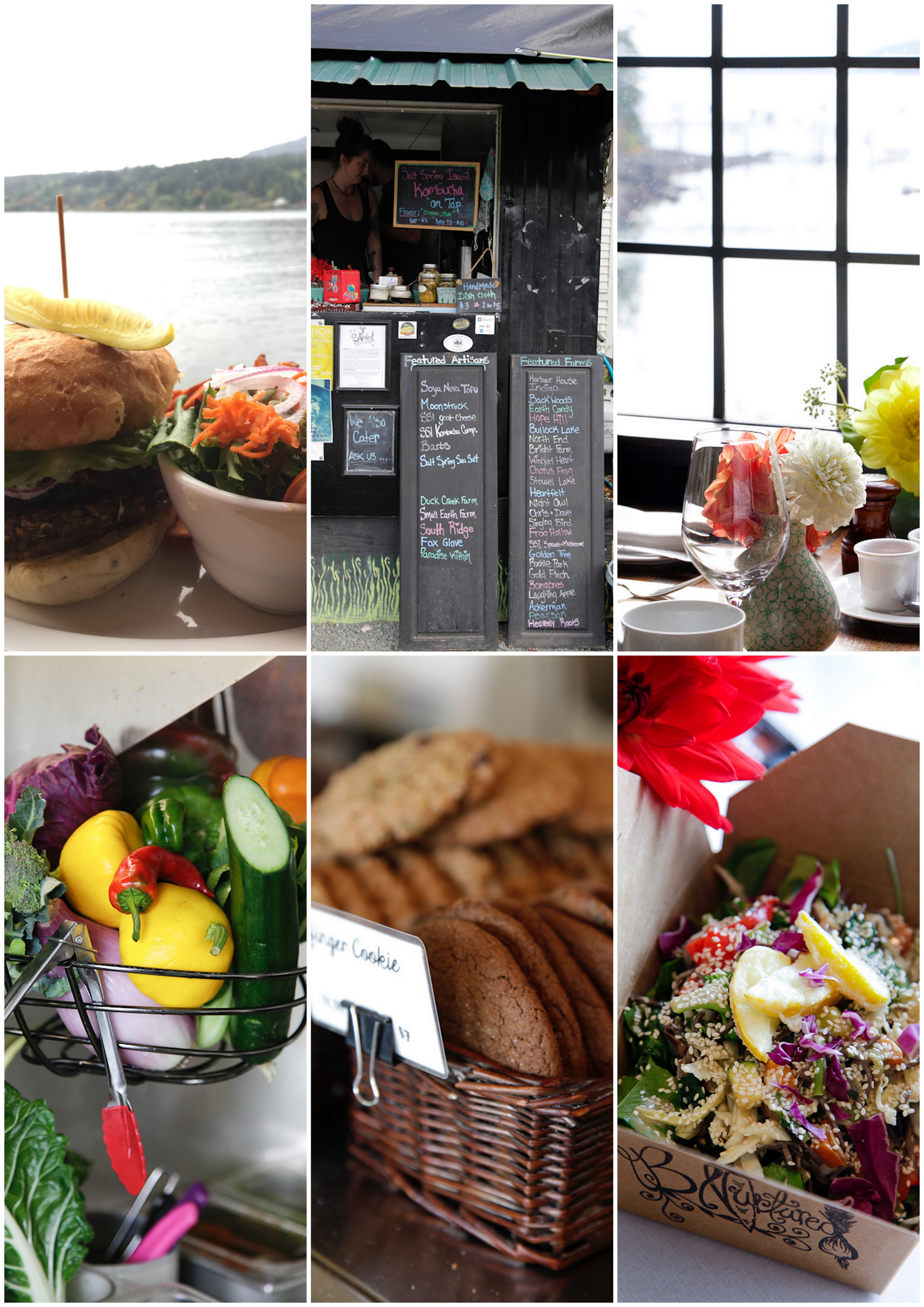 Now this is where the fun really begins and the very reason that many folks make their way to Salt Spring Island. Since 1973 organic produce has been at the center of the Salt Spring Island Saturday Farmers Market with a homespun guarantee where the 140 tables of local vendors must "make it, bake it, or grow it' themselves.  All products must be vendor produced and sold so you definitely won't find imported goods here!  It's a festive hubbub of locals and visitors in this famous open-air Market in the middle of Ganges at Centennial Park that rests along the scenic seaside.  It's a delight to wander thru and if you're anything like me, you'll find it impossible to resist arm loads of gorgeous organic produce and flowers, delicious snacks and the incredible arts and crafts from some of Canada's most talented artists. I highly recommend bringing a caddy!
Just look at this pottery display table by the waters edge! The setting made it near impossible to resist!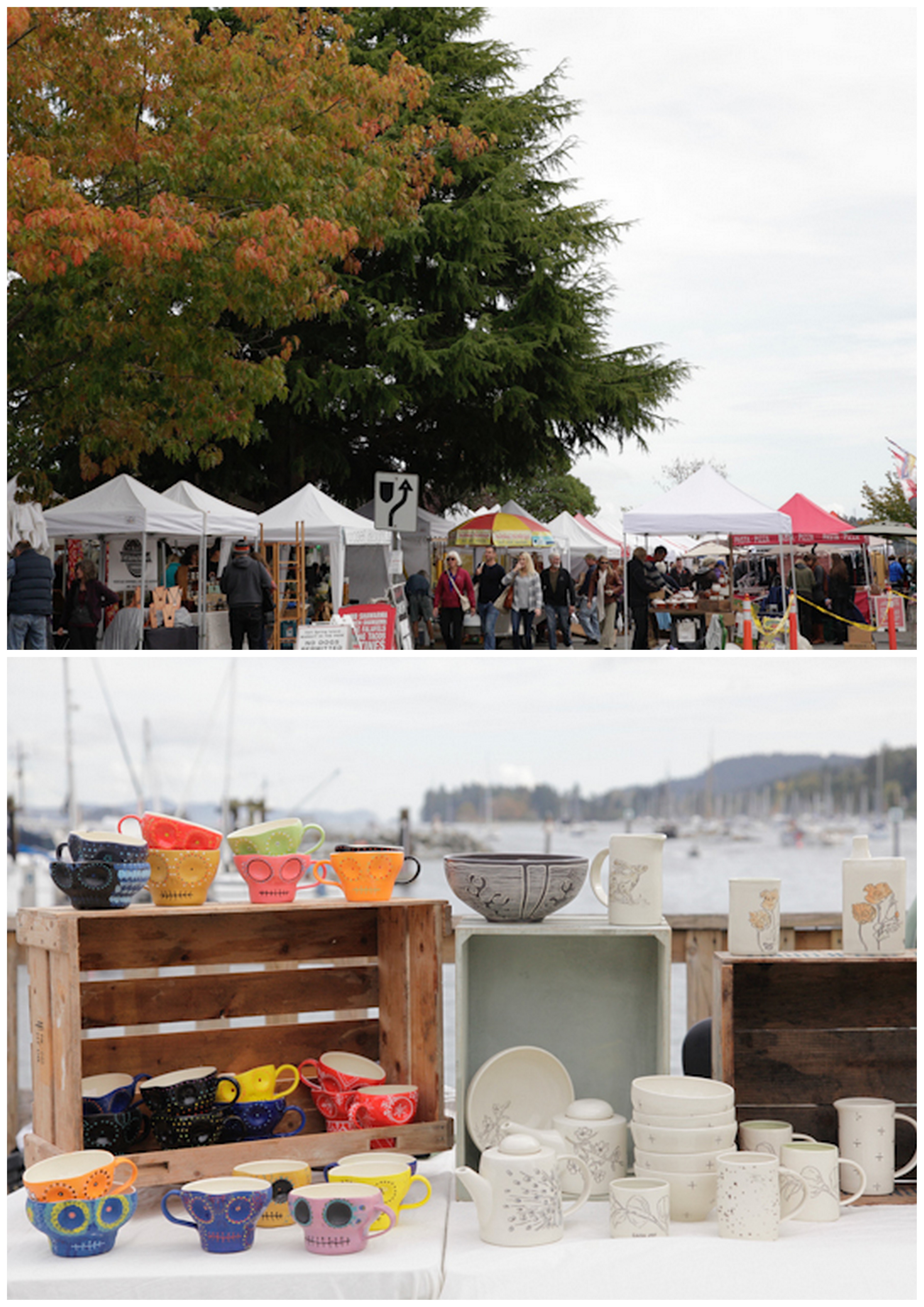 Isn't this produce stunning! I know…I'm showing this in the middle of winter…but really…time flies and it won't be all that long til it's spring, and then summer again so you can indulge in these delicious goodies! Doesn't this just make you want to take a bite? or run to the kitchen and make a salad?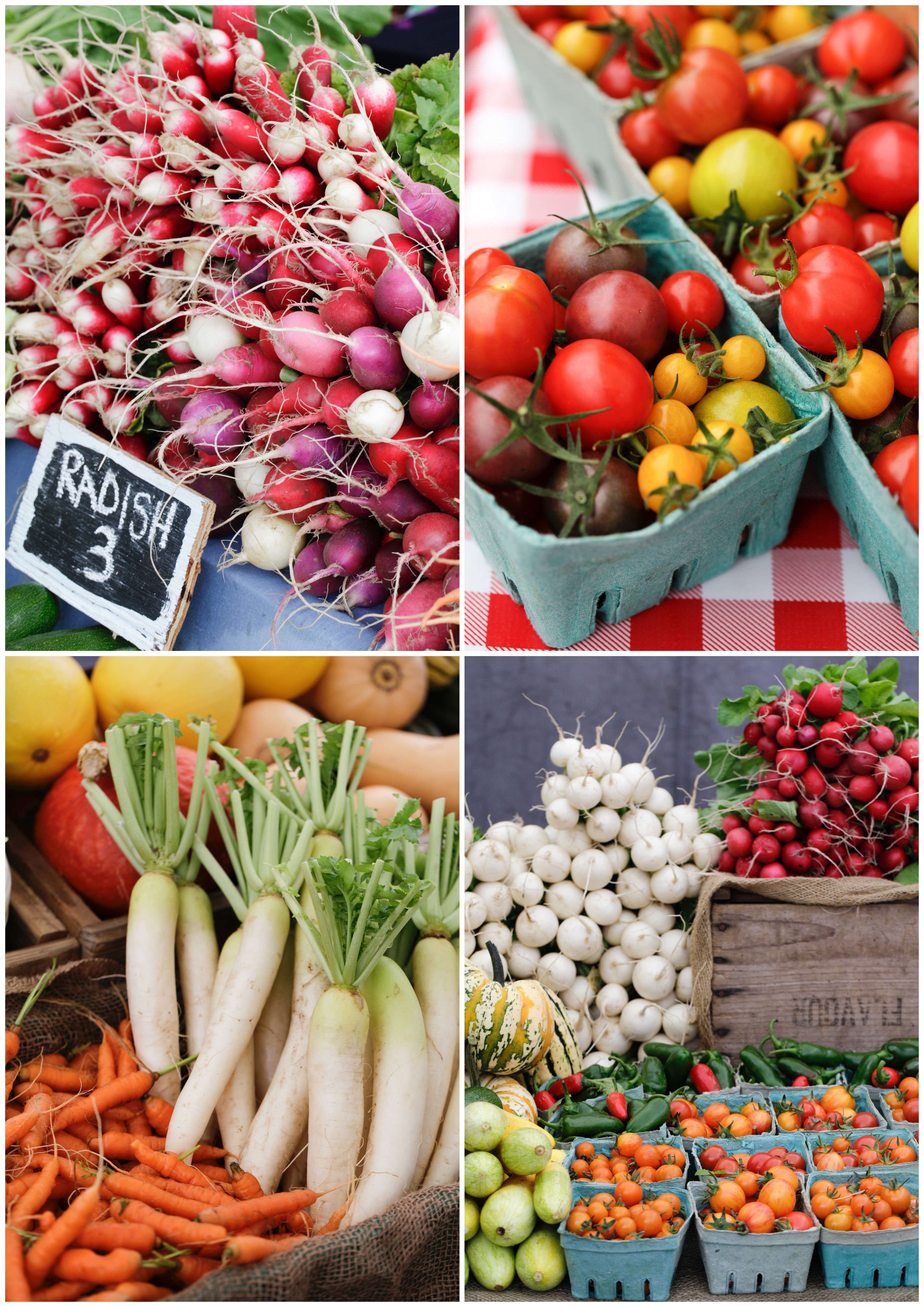 Wandering thru the stands I couldn't resist some of these incredible creations from pottery and soap to sprouted seed crackers… all so visually appealing in my favourite colour palettes.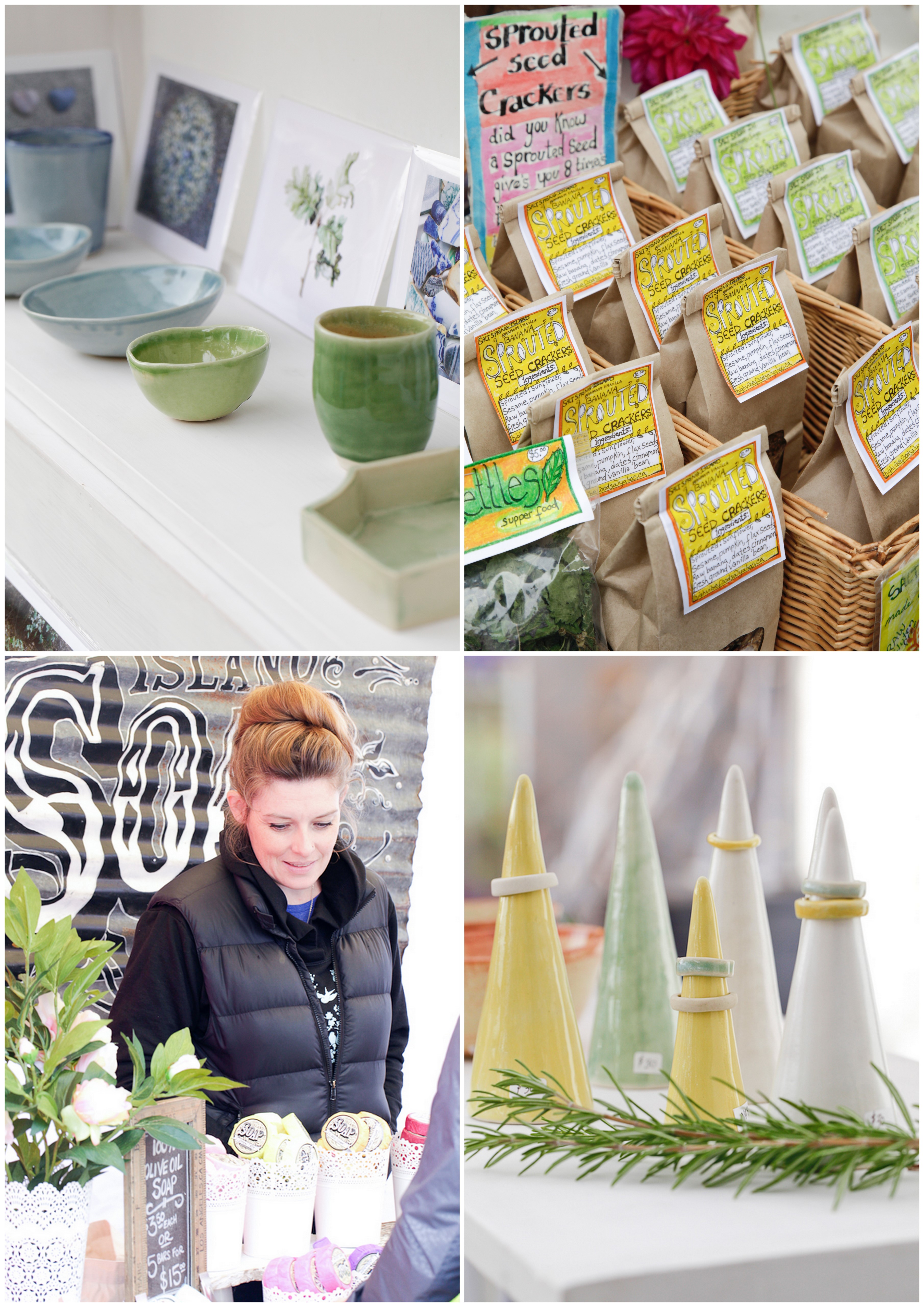 Among the vast array of amazing creativity these caught my eye….interesting wooden artwork, darling jewellery, precious baby wear and freshly scented natural body scrubs all displayed with care and attention to detail.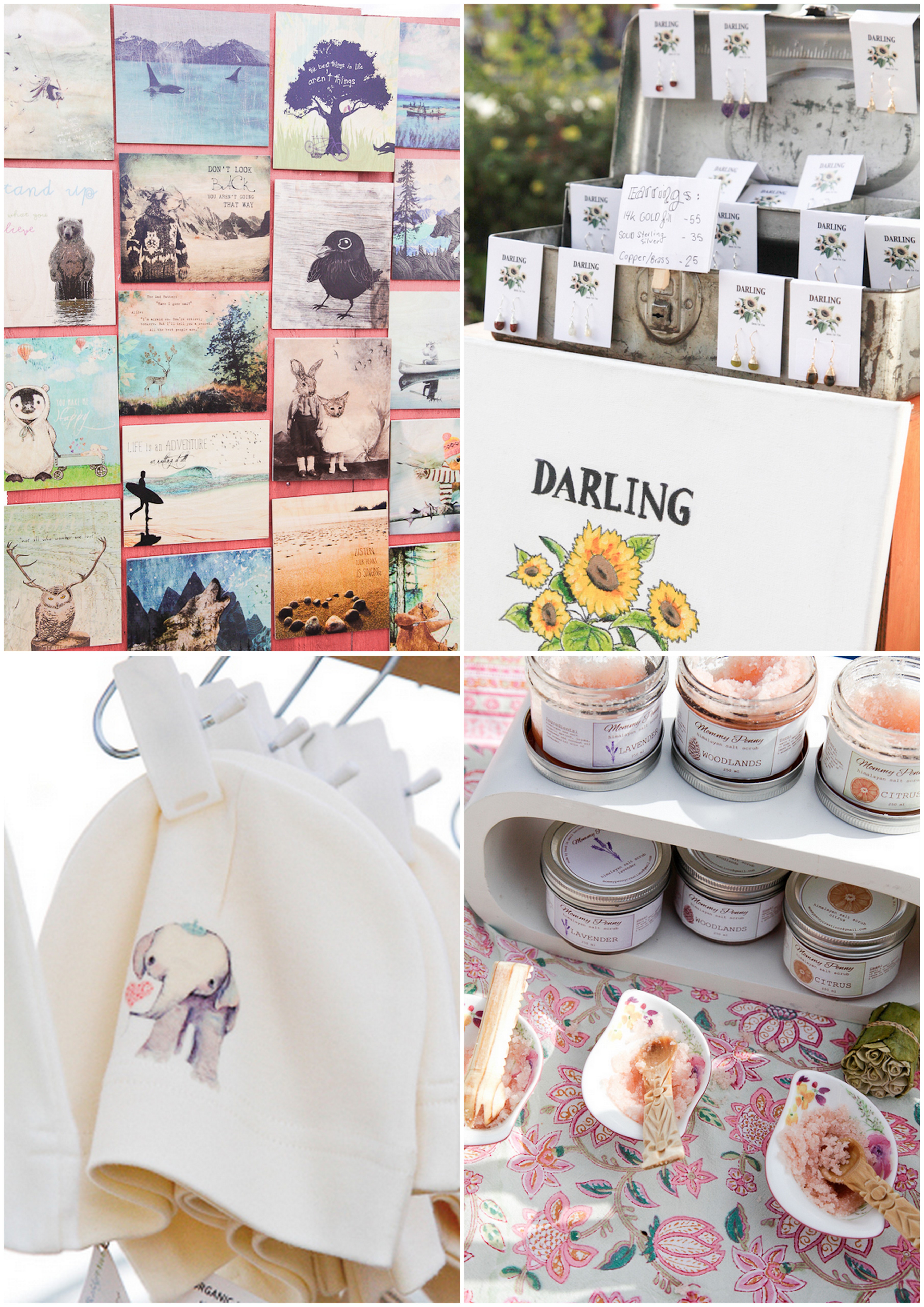 Even the macarons were artfully displayed as were the mason jar candles and the pottery set against the tree bark!  One interesting artisan at the market was  Phillippe Marill, from Salt Spring Sea Salt. His salt was even served to the Royals on their most recent  visit to Victoria!  His salt business is helping to further spread the word about Salt Spring to the world! Yay for his sea salt! Ps. the Black Berry Fleur de Sel is da bomb!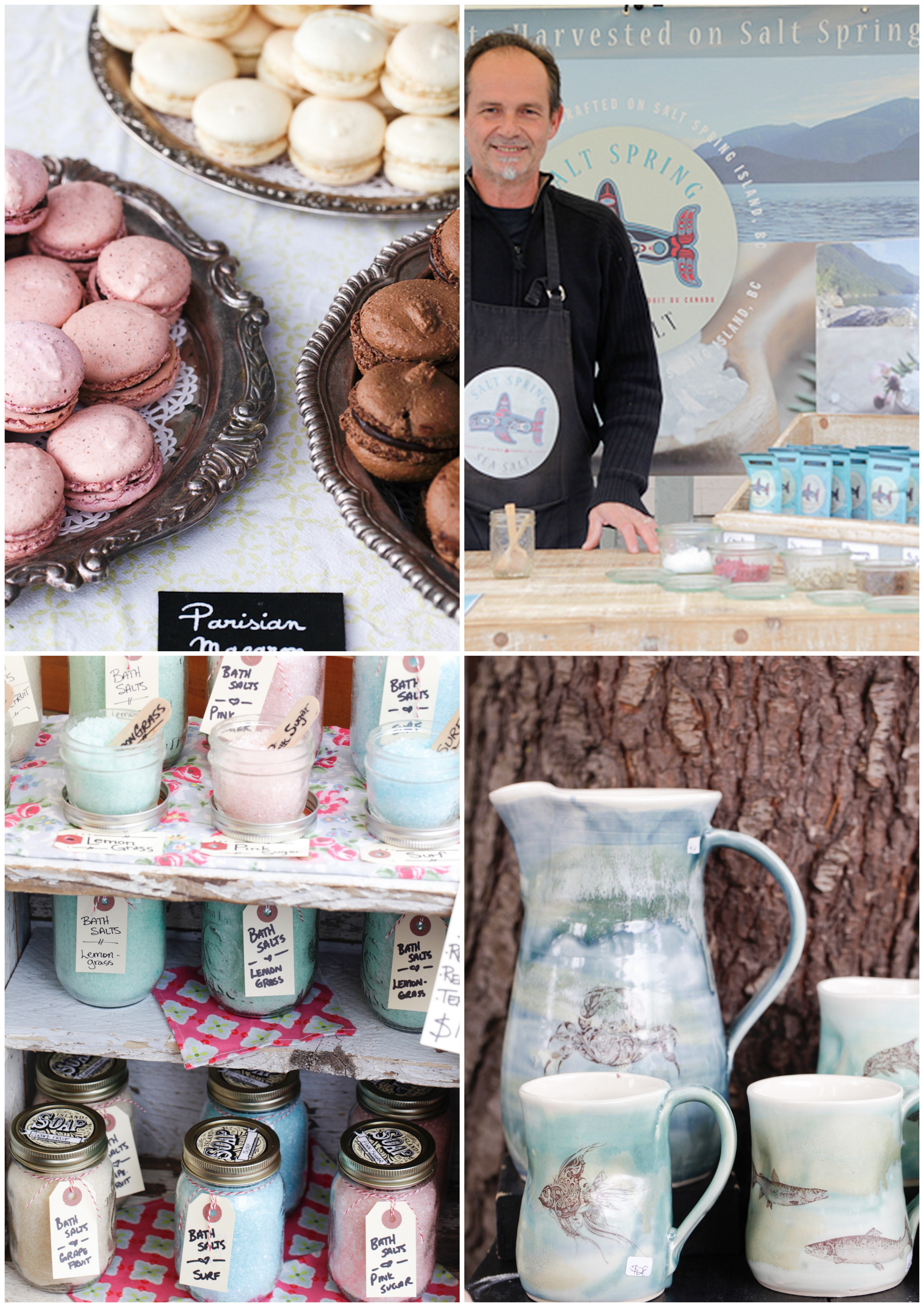 No visit to Salt Spring Island is complete without a moment to be calm, relaxed and take in the beauty of the quirky colourful surroundings. This is where mindfulness is precious and allows you to really appreciate your visit.  I managed to squeeze in a yoga class at the Salt Spring Island Wellness Centre that really did center me… pardon the pun!  If you have the opportunity I highly recommend it or maybe even a massage!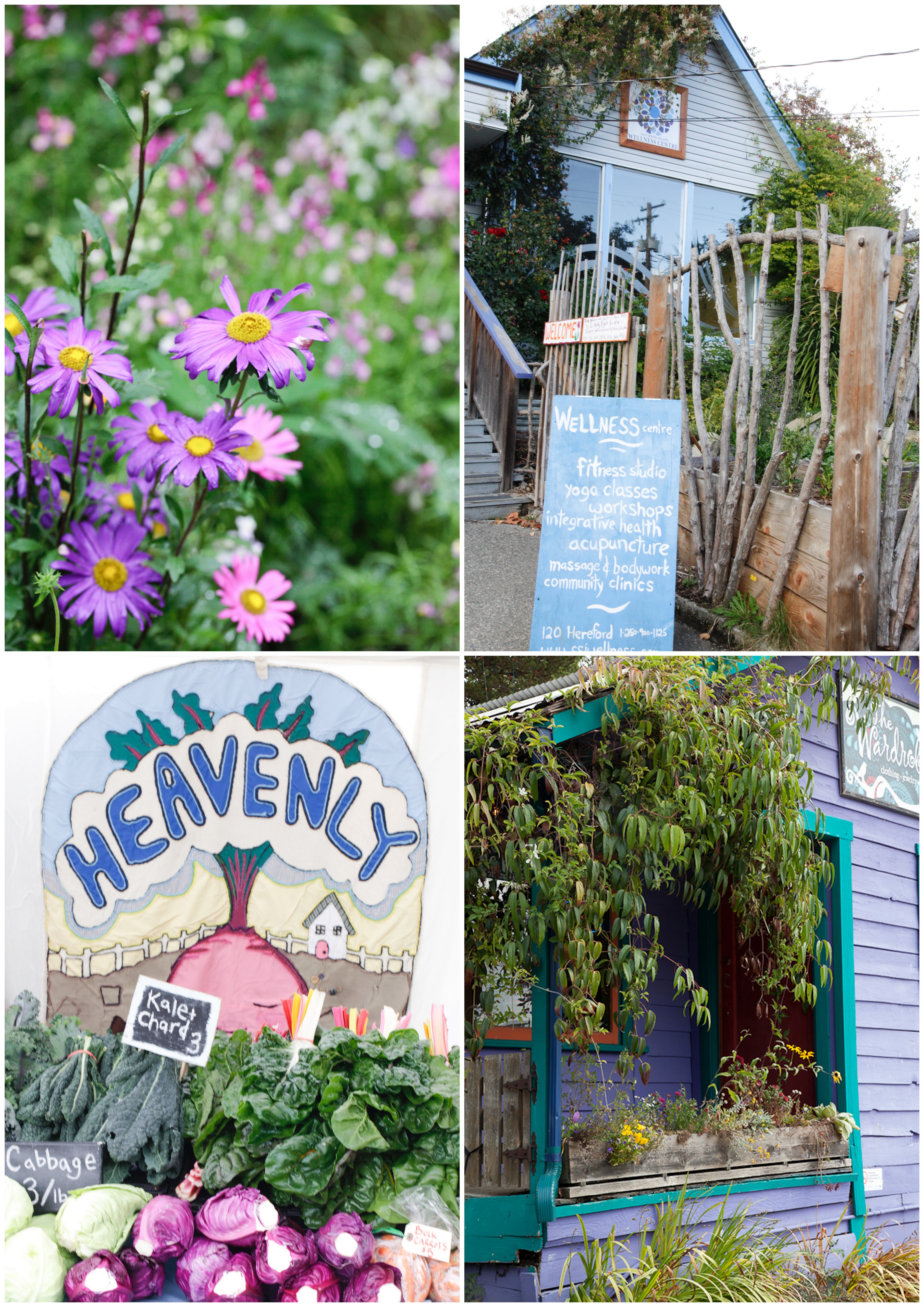 Every time I drive past this stone church I recall the memory from a few years back of seeing a bride walking with her maids on her way to be married with the congregation in tow! Island life is full of such sights and makes it all the more exciting to visit and witness the slowed pace that is so coveted here by those that call Salt Spring their home.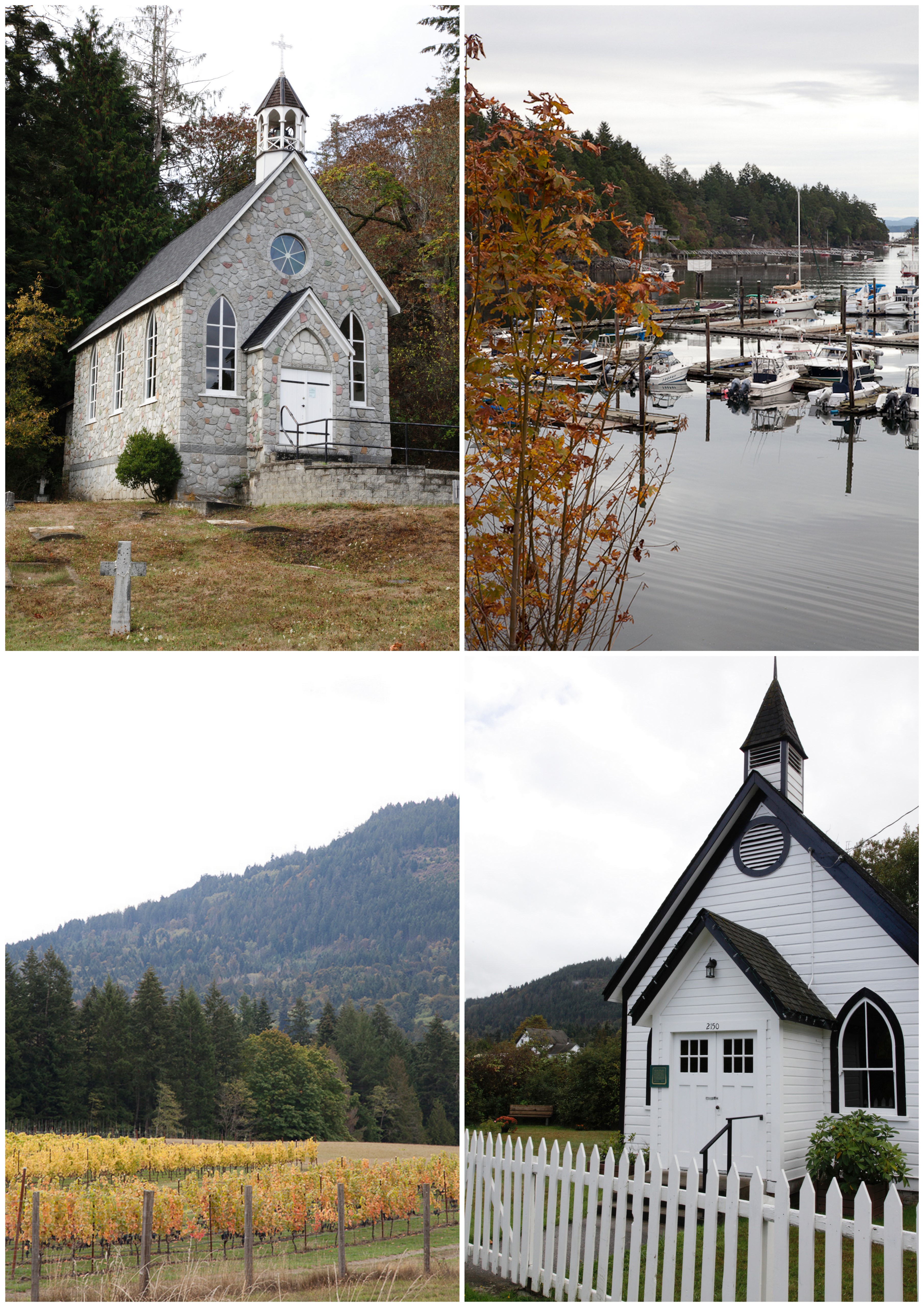 I was lucky enough to be cruising thru the vineyards in the right season to catch a glimpse of the vines dripping with gorgeous plump grapes just waiting to be harvested and turned into the seasons vintage. With three wineries on the island I felt like I was in Tuscany for a moment.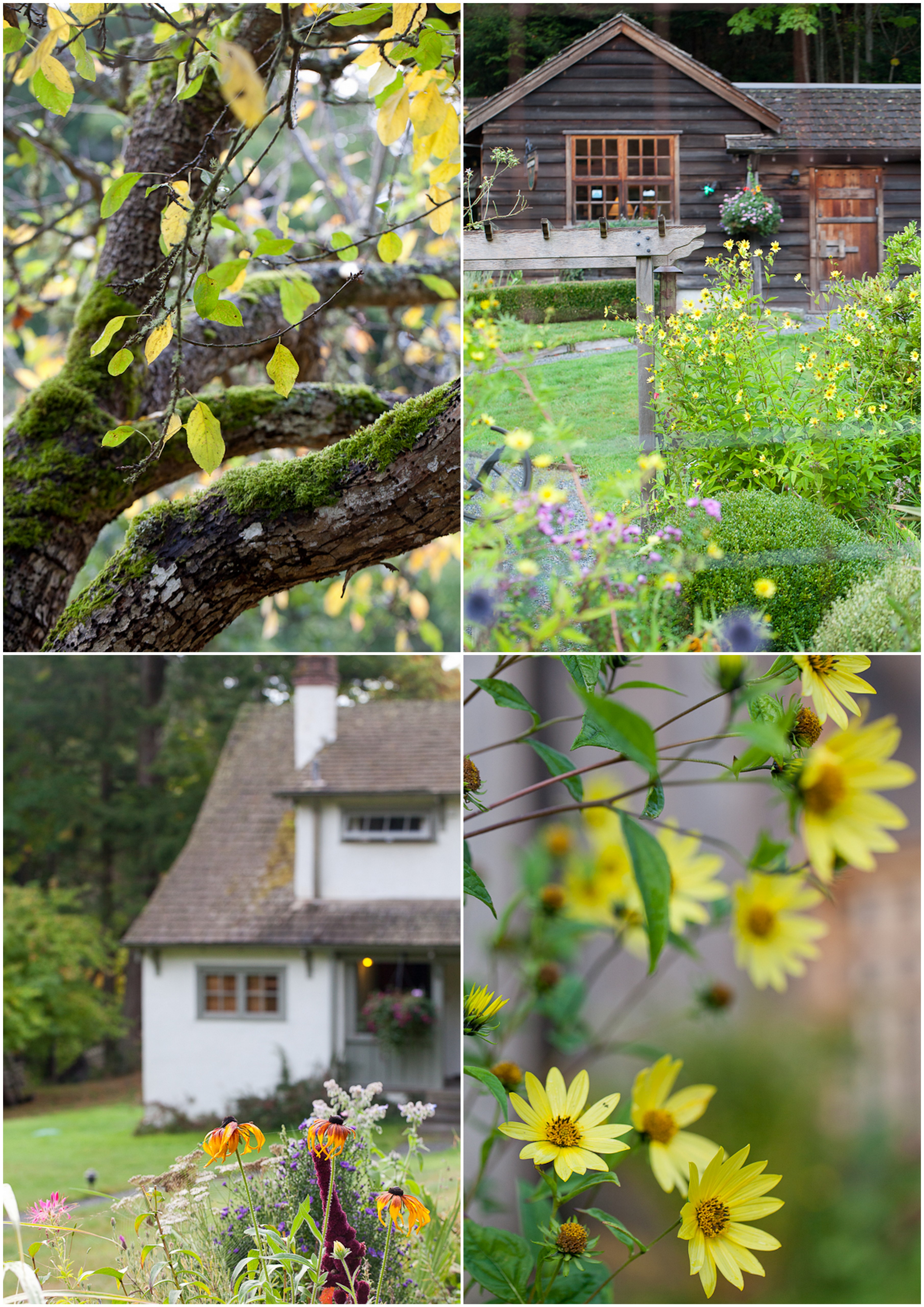 Aaaahhh and then there's Hastings House. Honestly, there are so many pictures….I had a complete hay day exploring with my camera…..but it's best experienced in real life where you can fee, smell and experience the surroundings of this incredible luxury country property.  Set on the water front of Ganges Harbour, these 22 acres boast beautiful gardens, a forest and a collection of Tudor styled buildings offering fine dining, luxury lodging and a relaxing country spa. It's the perfect setting for the many brides who choose this for their special day as well as tourists from all around the world! My stay in my well appointed cozy room with a fireplace and a harbour view was a perfect place to put my feet up after a busy day with my camera.  I didn't want to leave!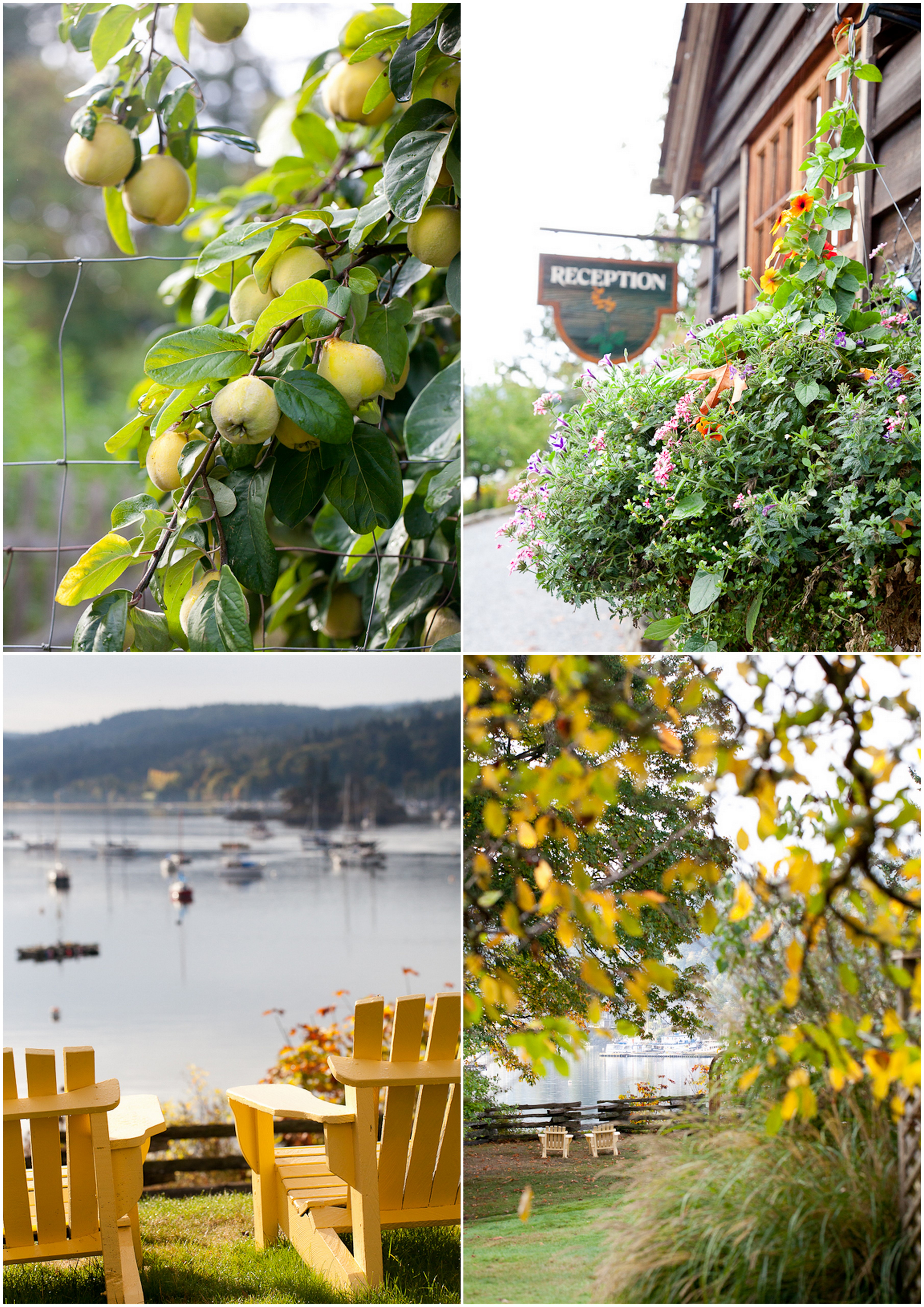 As you meander along the winding roads of the island you'll see the abundant beauty from the lush crops to the mountains in the back drop and the gentle or rocky shorelines.  This versatile island is such a unique and beautiful place to live, play and visit.
If you have the opportunity to make your way to Salt Spring be it any season as this island has something fun happening 12 months a year. They welcome you with a myriad of events from music, arts and culinary events to wonderful shops, artisans and delicious restaurants, cafes and food trucks to sustain you.  Inns and B&B's are awaiting you offering a cozy respite after your busy day of exploring markets and shops with goodies galore like these below.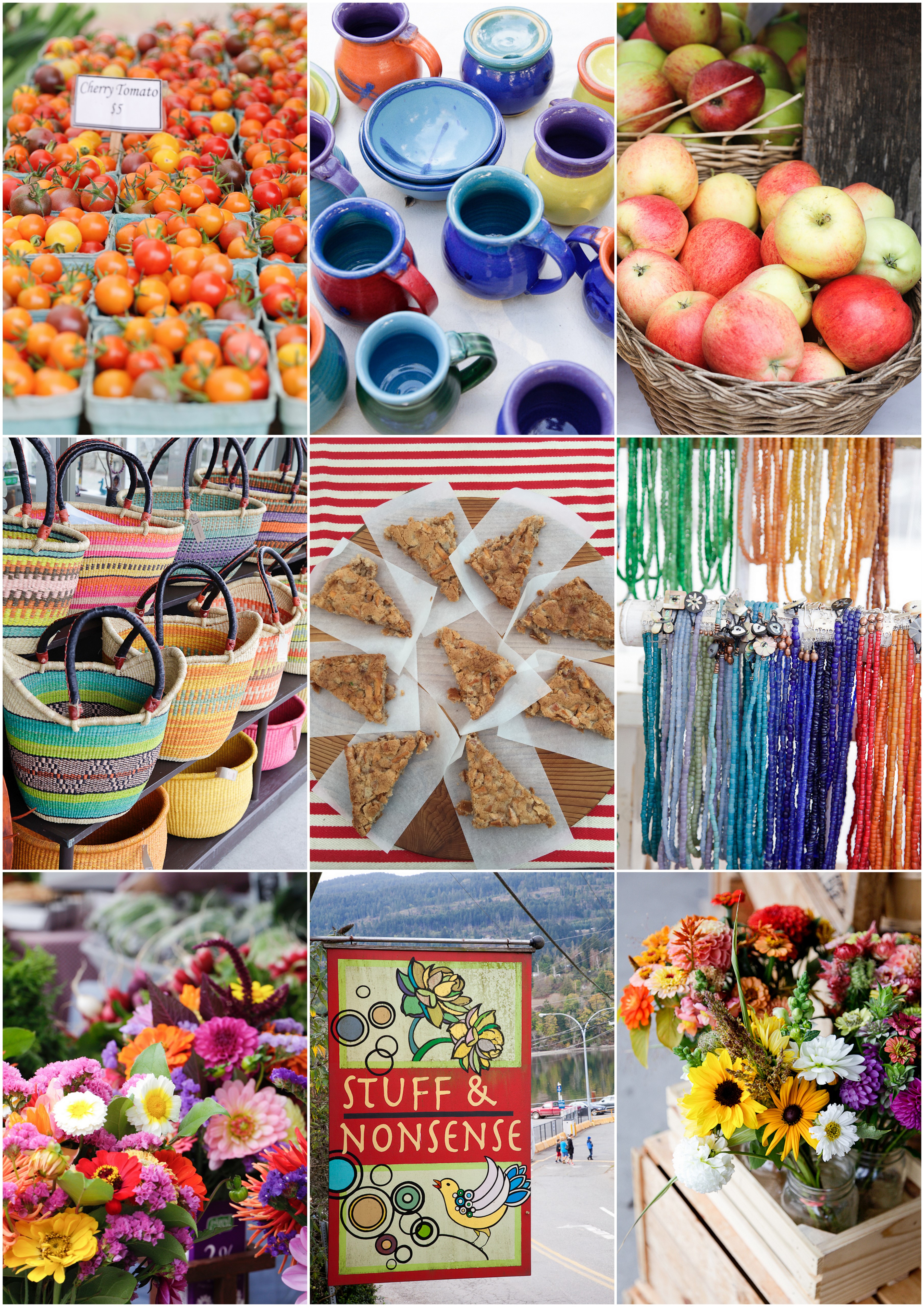 Take your time and be mindful and enjoy the full experience and you'll be calmer, happier and your health and well-being will reflect it.  Be sure to check out Salt Spring Island Tourism for more details as you plan your escape to the perfect place to practice being mindful!
The pretty scenic sailings to and from Vancouver Island are frequent with BC Ferries as your captain.  Walk, ride or drive on board for the short 25 minute ride.  If you've already been to the island before, well…it's calling your name again… for another inspiring and calming visit to a much slower pace of living than many of us are used to.  It felt good to have a weekend away and to explore with may camera and find my happy place all over again.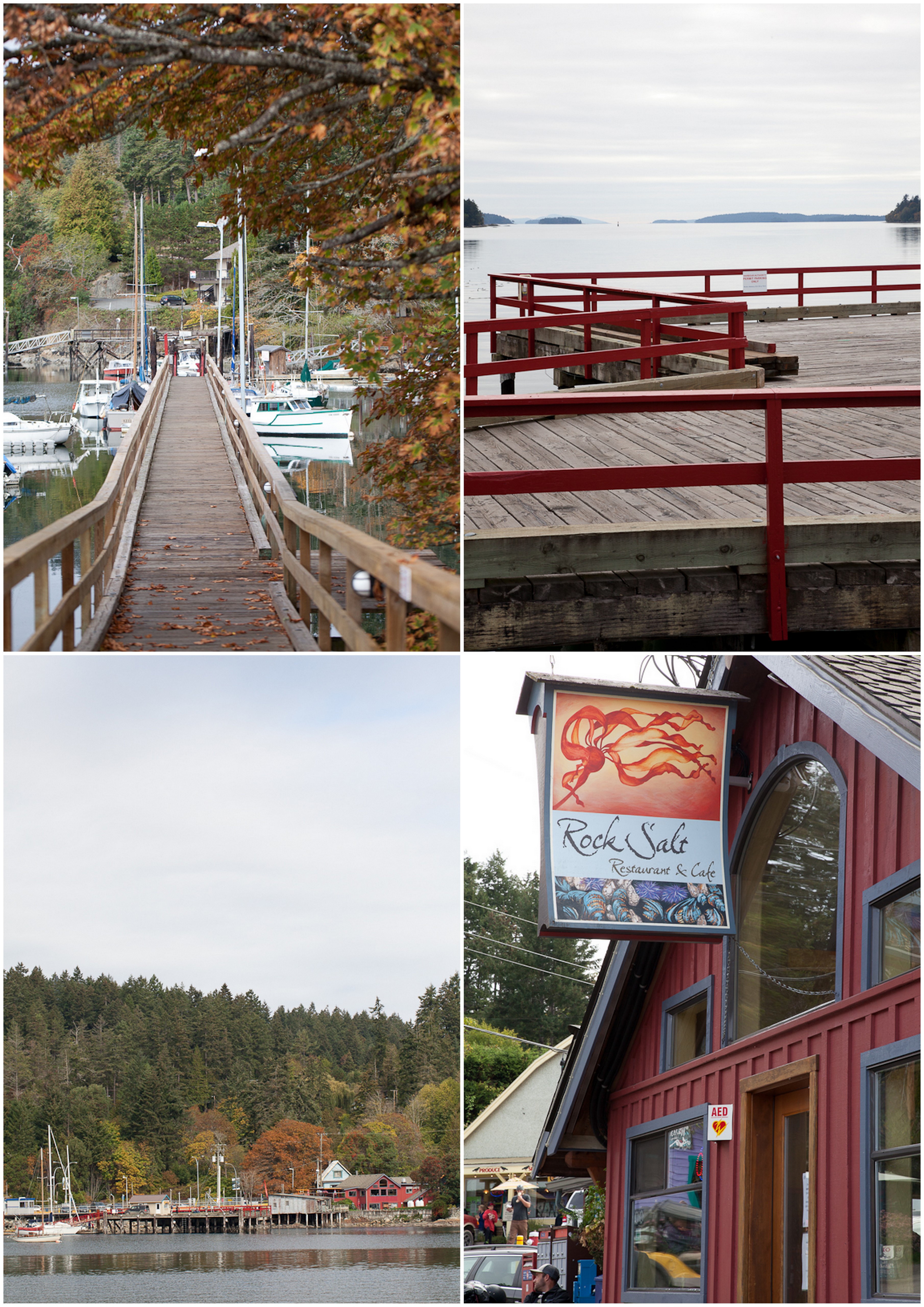 I hope you're inspired to experience all that Salt Spring Island has to offer, it's the perfect escape!  It's the perfect time to squeeze in a little calmness on an island where the folks know how to live a slower pace. In fact, I'm headed there for a little holiday escape myself and to do some shopping from some of these lovely vendors above at the Christmas Market in the Park.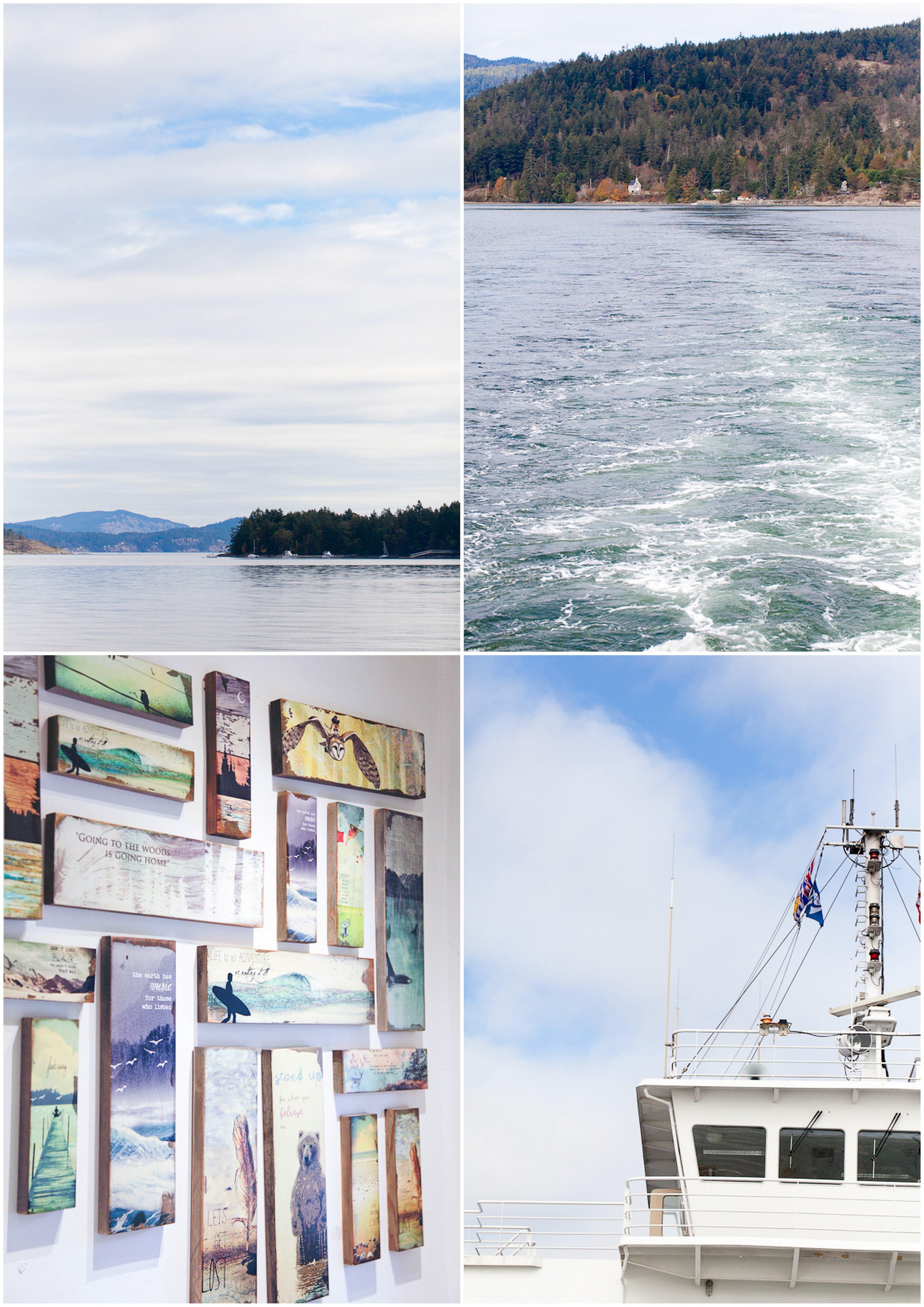 I'm sure I'll be back with some holiday goodness in the next few weeks so stay tuned. Thanks for taking a moment to explore here and I hope you enjoy the braised turnip recipe! Until next time…
Your alkaline sister
Julie
xo

Pin It
{ 0 comments }