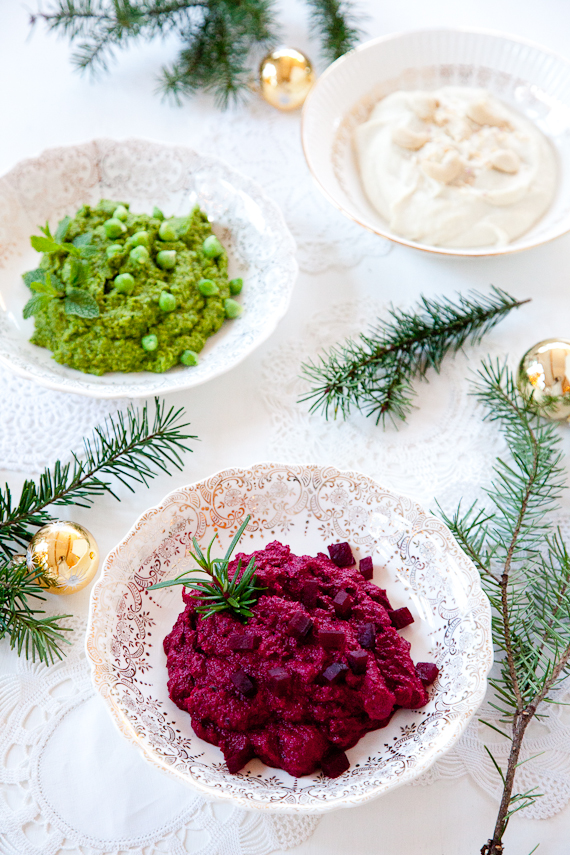 It's that time of year when you may really want to eat healthy but you are surrounded by terribly tempting delicious goodies!  Will power runs thin and next thing you know you are surfing the blood sugar waves!  My rule of thumb is to decide in advance what your plan is and stick to it.  Generally, I start my day the best way I possibly can. I begin with my alkaline mineral salts, then warm lemon water sprinkled with cayenne, then green juice and then also finish with a green alkaline smoothie.  I also make sure to drink as much water as possible throughout the day aiming for 3-4 liters per day and take my supplements.  I usually drink delicious flavoured waters, they're not boring at all! Here's some of my ideas from this post –enjoy them in a pretty glass too!
Adopting this daily routine will help to alkalize the body and maintain your alkaline mineral reserves that are important for helping the body flush the acids that you might ingest at your staff luncheon or that holiday party in the evening. It's also really great for hangovers too if you are so inclined!–if so be sure to take the mineral salts at bed time as well!  If you do only this over the holidays you will make it thru feeling vibrant and well. You most likely won't be the one in the office taking sick day after sick day off from work in January.
Honestly though….it IS the festive season and it's fun to enjoy some of the treats around the office.  I get it, especially the chocolate!  If you decide you really want to stick to the healthy stuff be the one to bring in some deliciously raw treats so that you will have something you can enjoy without the need for will power. You might need some of your will power for the next festive party in the evening and you won't want to run out! At the festive party just do your best to squeeze in some veggies (or eat them before you leave home!) and then go ahead and have a few things that you want to enjoy. Don't make a big deal of it, just enjoy yourself and have fun.  It's only natural to zig and zag like this now and then from your daily health routine but the trick is to know how to return to your routine and regain balance within your body.
Being obsessed with your food choices won't serve you as you'll be stressed and will inadvertently cause acidity in the body.  If you decide to go crazy and have a acidic feast that's okay too! Just know that you can always start fresh tomorrow and flush the acids with your greens and your water. Just have a plan of attack so that you don't fall into the trap of not finding some sort of balance over the holidays and then wind up feeling sluggish and ill.
Just remember that sugar is the culprit for paralyzing your immune system for a couple hours once consumed and it slows down the flow of your blood cells by reducing their electrical charge that helps them repel each other and flow more freely through your viens.  This is what makes you feel sluggish and lowers your immunity.  But hey listen in!  To counter act this just have a big glass of greens either freshly juiced or just greens powder in a glass and  you will begin to regain some electrical charge and begin to perk up once again.  Adding greens powders to your water can work miracles so keep this is mind as you set your plans to stay healthy thru the holidays.  These are the greens I have been using lately and I love them!
So I couldn't resist getting festive for the season with some yummy flavours that are wonderful to serve at home or take to an open house.  Of course all three of these tasty and nutritious vegan dips look and taste great together but they can certainly stand on their own.  You can make them ahead as they will stay fresh for at least 5 days when stored in the fridge.  Serve them with your favourite healthy dippers as in crackers, veggie sticks or lettuce boats. Use any left overs for wraps and even toss with spelt or buckwheat noodles for a real treat!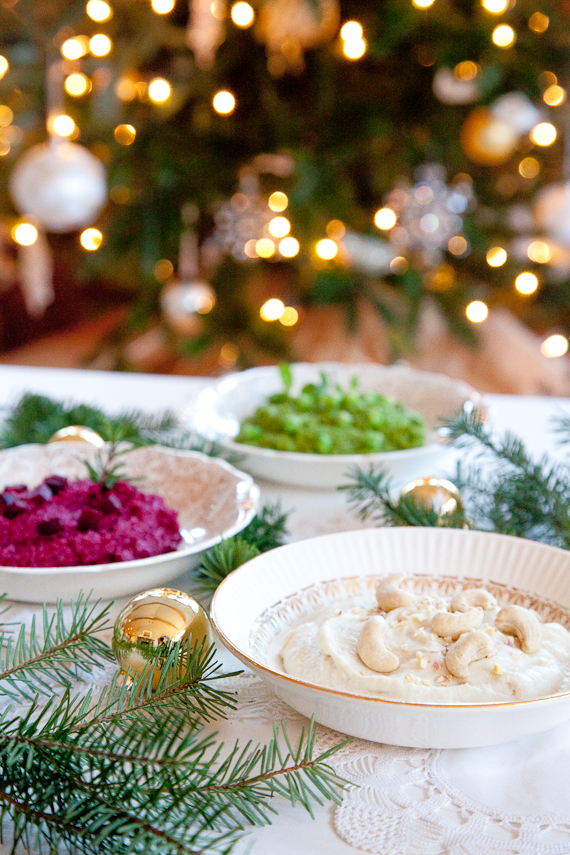 Sweet Onion & Cashew Dip
This creamy onion dip is delicious when spread in combination with either of the following two dips or is delicious on it's own with cucumber slices or your favourite nutritious cracker.
yield: 2  1/2 cups
2 cup raw cashews, soaked minimum of 2 hours, save a few for garnish
1 1/2 cups diced onions
2 cloves garlic, minced
2-3 tbsp grape seed oil
5 tbsp extra virgin olive oil
juice of 1/2 lemon or 1.5 tbsp
4 tbsp filtered water + a bit more
1/2 tsp dried onion powder
1/8 tsp Himilyan salt
Method
In a large sautee pan add onions and grape seed oil and sautee over medium heat for 1-2 minutes. Reduce to low and add the minced garlic. Sweat onions and garlic for approximately 10 minutes until tender but not forming any colour.
Spoon into a high speed blender (or food processor- this won't be as fine and creamy but will work) and place all remaining ingredients  and blend until smooth and creamy, adding a tablespoon of extra water if needed. Use the plunger if you have one for your blender (or scrape sides of food processor often until smooth).  Using a spatula scrape every last bit into a pretty serving bowl and garnish with a few cashews.  Now dig in!
Fresh Mint, Spinach and Green Chickpea Dip
yield: 2 cups
1  1/2 cups frozen green chickpeas (Costco carries these, non-gmo)
1/2 cup frozen organic peas
1 cup fresh organic spinach leaves
1/3 cup fresh mint or 3 good sprigs, one more for garnish
juice of 1/2 lime
3 tbsp extra virgin olive oil
salt & pepper
Method
Bring a medium sized pot of water to a boil and add chickpeas. Boil for 3-4 minutes and then add the peas and boil for 1-2 more minutes until chickpeas are al dente and the peas are bright green and tender, but not mushy.  Immediately drain into a colander and run cold water over to stop the cooking process.  Reserve 10- 12 chickpeas for garnish.
In a food processor place chickpeas, peas and remaining ingredients and process until well combined but with a little texture.  Add a little more olive oil if the mixture is too stiff.  Spoon into your prettiest bowl and garnish with green chickpeas and a sprig of mint.  Enjoy.
Roasted Beet Dip with Rosemary and Cloves
yield: 2 1/2 – 3 cups
3 medium sized beets
2 tsp grape seed oil
juice of one whole lemon
1/2 cup almond pulp or soaked, ground almonds
2 tbsp extra virgin olive oil
5 tsp fresh rosemary leaves, snipped, one sprig reserved for garnish
2 tsp maple syrup
1/4 tsp sea salt
1/8 tsp ground cloves
Method
Preheat oven to 350F. Scrub beets, cut in half, dry with a paper towel and then rub with grape seed oil. Place on baking sheet lined with parchment and bake for approx 40-60 minutes until tender.  Allow to cool until you can handle them and then peel skins.  Reserve 1/4 beet and dice for a garnish, set aside.
Roughly chop roasted beets and place in food processor fitted with an s-blade and add remaining ingredients, processing until smooth.  Adjust seasoning and spoon into a pretty serving bowl. Garnish with diced beets and a sprig of rosemary.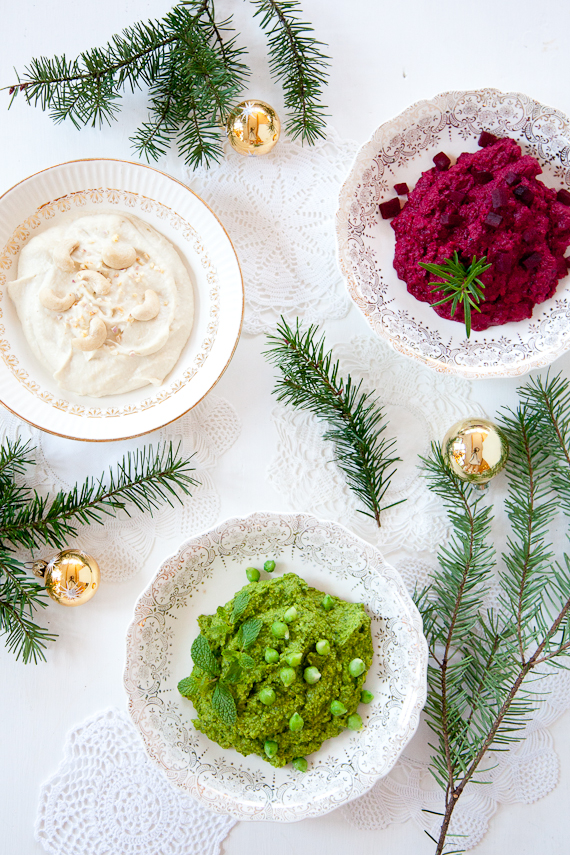 I hope this holiday season brings you joy and special times with your loved ones.  Be good to yourself and take the time that you need to rest and recharge.  Nourish your body with what feels right and do your best to make good choices as you navigate the holiday's offerings.
If you are thinking about starting fresh in the new year and you live in my neighborhood be sure to take a peek at these alkaline workshops to inspire you.  If you aren't in my neighborhood then stay tuned for the launch date of my book in March 2016 but… if you're a real keener then order it right now for delivery in March!
All my best to you and we'll see you back here in the new year.
Julie
xo

Pin It
{ 0 comments }