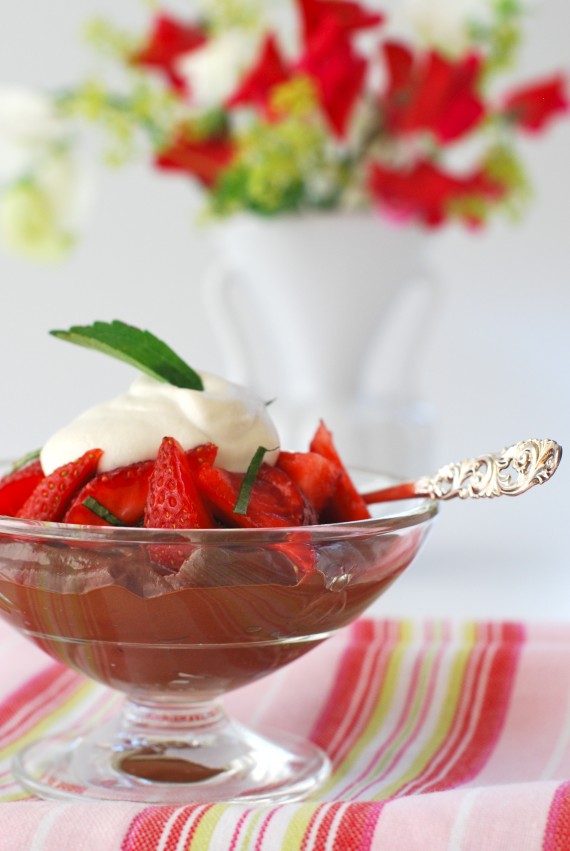 I arrived home from Europe to find road side stands brimming with shiny red strawberries!  The perfect opportunity to get creative in the kitchen and post a recipe for you after all my gallivanting around.  I promise you, this is yummy and pretty healthy too!  This raw chocolate mousse is as easy as pie and can be used as a tasty dip for a big bowl of berries keeping it really easy for lazy summer days.  And the cashew cream, well…. don't tell…. but make double and hide the rest cuz boy, is it yummy with sliced apple, blueberries, on a plain cracker, anything, it's just divine!  This combination of berries, avocados & bananas will have you wanting to lick the bowl!
But just remember that an alkaline lifestyle is all about balancing your alkaline intake with the acid, approx 70% alkaline to 30% acid.  So be sure that when you have even these healthy treats (natural sugars included) that you consider the rest of  your day–or perhaps the next day you find a way to super hydrate to flush and alkalize your body.  This way you manage to always keep in check and you will feel amazing for it if you try to be consistent.  On the same note, as healthy as we all wish to be sometimes there is cause to celebrate or have a special treat, birthdays or just cuz.  So this kind of a recipe is perfect and helps you avoid some of the nasties like dairy, massive sugars, bad oils and too much grains.
Instead you are benefiting from the strawberries that are bursting with vitamin C, vitamin K, manganese, folic acid, potassium, riboflavin, B5 & B6, copper, magnesium and omega-3 fatty acids. They also help fight free radicals with significant levels of phytonutrients and antioxidants.  The avocado is considered to be the most nutritious of all fruits.  It has 3x's the potassium of a banana (you won't be short on potassium after this recipe) and packs vitamins A, several B-complex especially B3(folic acid) vitamins C & E, and calcium.  Avocados also supply an excellent source of omega 3 & 6 oils, iron and copper, phosphorus and magnesium and are the richest source of fiber among all fruits and vegetables– so once again this recipe packs fiber and will leave you feeling nicely satiated.
Bananas are a nice source of natural sugar (versus synthetic or processed sugar), and like the strawberries provide vitamin B6, vitamin C, magnesium and potassium and are also a good source of fiber.  As healthy as bananas may seem the downside is the sugar content (one of the highest of all fruits when ripened) especially as they ripen since it increases rapidly.  I eat very few bananas for this reason as I am conscious of my sugar intake even if it is from fruit.  But as the occasional treat it's a great choice as it does have other added heath benefits vs just being a sugary indulgence that I might regret.  Believe me, I am not perfect and sometimes I end up with the indulgent dessert but I do my best to balance it out by alkalizing there after.  But if I have the choice, especially noting the incredible health benefits of these ingredients in this recipe vs a rather yummy looking baked cake I would choose this recipe hands down any day.
So here you have it.  I hope you enjoy it as much as I do.  For the scoop on my European trip read on after the recipes.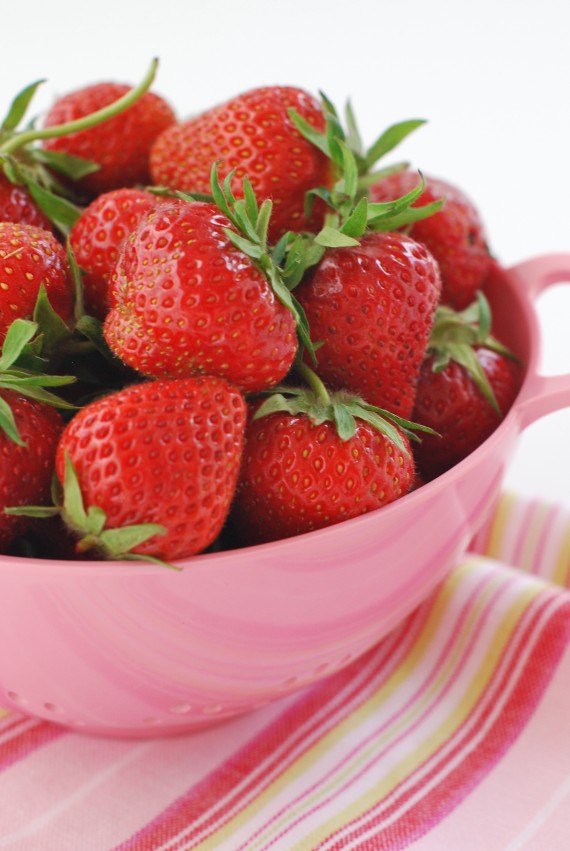 Strawberries and Raw Chocolate Mousse
Yields 4 desserts
For the Mousse
3 organic bananas (not too ripe but not green)
5 tbsp raw chocolate powder- cacao powder
1/2 large or 1 whole small avocado
tbsp coconut water (for consistency if required, may substitute filtered water)
1/4 tsp alcohol free vanilla
2-5  drops liquid stevia( or powdered- depends on how ripe bananas are but don't over do-
Method
Place all ingredients in a good blender and blend on low and gradually build speed to mix into a nice creamy pudding consistency.  Scrape down sides of blender to incorporate all ingredients.  Add coconut water if needed so as to incorporate all.  Slightly riper bananas are easily combined vs under ripe that will require additional liquid and may produce a stiffer mixture.  Be aware that a powerful blender will warm this mixture if you have to blend it a lot to combine thus it may require refrigerating for your preference.
For the Cashew Cream
1 cup raw cashews
1/2 cup + 2 tbsp filtered (alkaline) water (add the +2 tbsp only if needed)
5 drops liquid stevia (or to taste but don't over do this)
Method
Place all ingredients in powerful blender or food process and blend until fine and creamy scraping down sides to combine well.  This mixture may be spooned on the berries or drizzled from a squeeze bottle.
For the Berries
1 pint of fresh strawberries, washed and sliced
5 stevia leaves minced
liquid stevia drops (only if berries require a wee bit of sweetening)
Method
Combine above ingredients and let stand for 10 minutes.
Presentation
Divide pudding into 4 dishes, top with berries and a dollop of cashew cream.  Enjoy!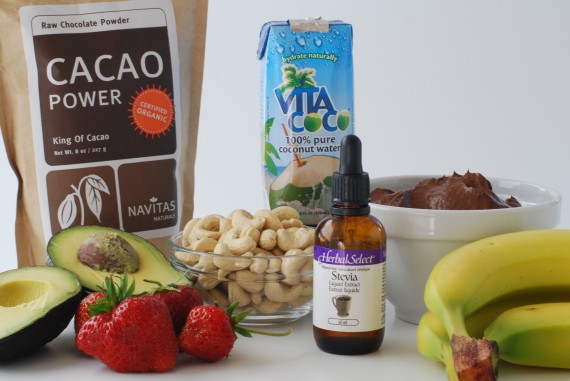 Go ahead… and eat the whole bowl!   At least you can justify all the nutritional benefits!  Don't you think the kids will love this one?  …and you won't mind giving them chocolate pudding any more, especially since the raw cacao powder is action packed with antioxidants too!  Be sure to dress this recipe up if you are serving it for a special dinner and use some fun footed dishes or champagne flutes and make 'em pretty!  You'll fool folks with this tasty, yet healthy treat.  But don't mention the avocado or you'll be busted!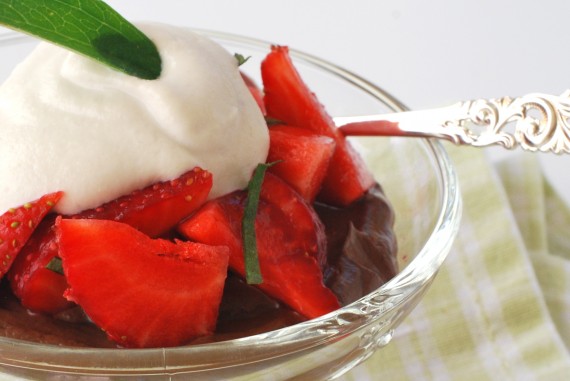 Now for the scoop on my "dreamy" trip to Europe and a Food Bloggers Convention!  It all happened so fast, a quick decision to jump the pond for inspiration.  First stop, London.  A visit with an old friend and an English countryside drive to Bath.  The Roman Baths and Stone Henge were utterly amazing!  Next up, a weekend spent meeting talented food bloggers from all over the world, sharing insight, ideas, and building friendships to last a lifetime. With this as the 2nd annual FBC it could be a really good excuse for regular trips to the UK- Yippee!  Many of my new blogger friends have done amazing posts on this event thus I chose not to duplicate as I have my european travels to detail for you.  But please take a peek at all the fun we had on these sites if you may, Sarah at Maison Cupcake covered it well, and so did Mowie on his fabulous Mowielicious blog. Thanx Sarah & Mowie:)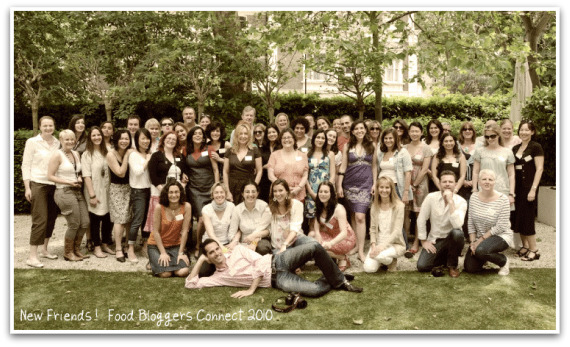 Onward to Paris where the women are exquisitely stylish and the architecture is breathtaking!  With only 2 days here I vow to return–visions of zipping thru town on vespas dressed in haute couture with the best high heels ever!  Shopping has never been sooo good!  Between lovely styling props for photo shoots to fantastic shoes, I managed to deplete the family bank account… just a wee bit!  Next stop, Copenhagen.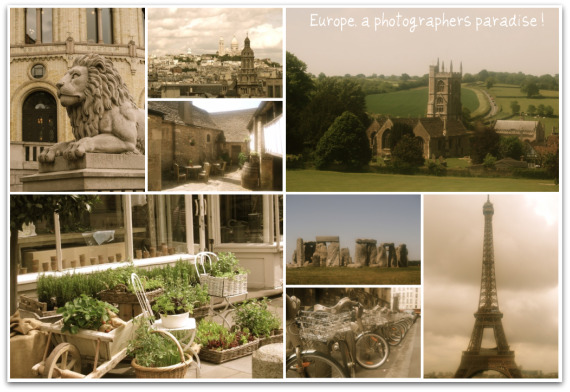 Bicycles and prams by the hundreds.  The old town and it's walking streets are absolutely charming.  One and a half days here was painfully short for such a lovely town filled to the brim with shops to die for!  Danish design was oozing from every shop beckoning me to sneak in for a peek–so I did!  Many shopping bags later, (thank you to our caddie, Dan) I boarded the plane for Stockholm.  Festivities for the Swedish Royal Wedding brought many visitors making for a lively atmosphere thru the walking streets and along the water front.  Memories of Abba music filling  our hotel room as we dressed for the day in the Rival Hotel will linger forever.  Sweden is fresh, young and vibrant.  I thoroughly enjoyed a tour of this wonderful town lead by my Norwegian relatives who met me for the day, driving south 2.5 hours, so I could meet little Tuvalisa, 6yrs old, for the very first time.  What a delight!
As a food blogger I should not forget to mention that we ate like queens and kings as we toured thru Europe but with a very conscious perspective, choosing the incredible salads, grilled fish & seafoods and some fantastic soups that practically changed our lives on the spot!  We found a few divine juice bars and got our veggie juice fixes, giving us much needed energy to continue marching around town.  We even indulged in a few treats with our tea– how can you not when the patisseries are so absolutely irresistible.  All in all we were wowed by the food & wine we enjoyed and it made our trip all the more memorable.  Leslie was the scout for our incredible restaruant selections and none of her choices disappointed!  Awesome job Les! My favourite I think was The River Cafe where Jamie Oliver learned everything, an institution in local and organic seasonal cooking–and an incredible space, a converted enormous warehouse on the river, stunning.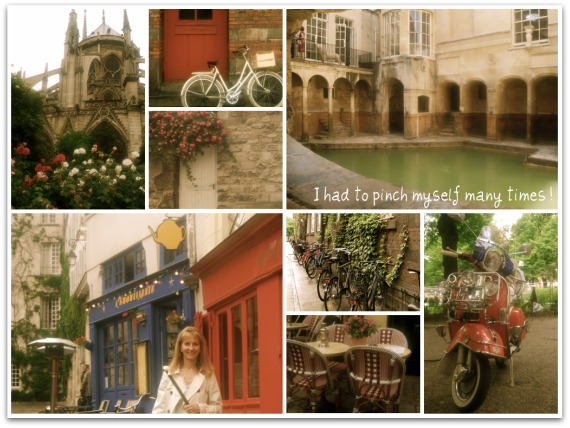 After 10 days and lots of laughs with my travel companions I said goodbye and ventured on my way to Oslo, Norway to catch up with more of my Norwegian relatives.  Home cooked meals and a room of my own, aaahh I could move right in!  A good visit with special family members and lots of sunshine was the perfect end to a dreamy European Adventure.  Time to go home!  I missed my family dearly!  Arriving at the Victoria airport, anxious to see my precious family I found Amelia happily swinging from the railing and Elliott bursting to present an enormous bouquet of flowers, bringing tears to my eyes.  There's no place like home!  How grateful I am, to have such a wonderful family.
Photos; All photos taken by Julie Cove with the exception of the FBC2010 group photo from Mowie.

Pin It