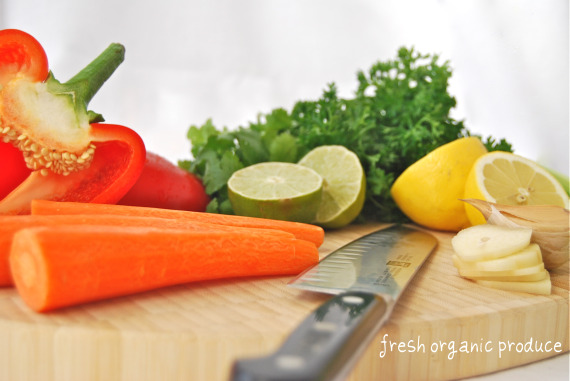 This recipe gets me soooo jazzed cuz it's one of those ones that you can enjoy for a couple days and never tire of.  It makes a nice generous portion for a group or for a few meals.  What I also get excited about is the fact that my 4 year old daughter, Amelia, has decided she loves it–that's huge for her!  She can be a little choosy when it comes to meals so you can image how elated I am, being a health fanatic, that I have found a recipe that is nutritious and tasty even for a pre-schooler!  She & I call it "our bean salad" since her brothers aren't so fond of it.  Eventually we'll convince them to taste it again, but til then, all the more for us!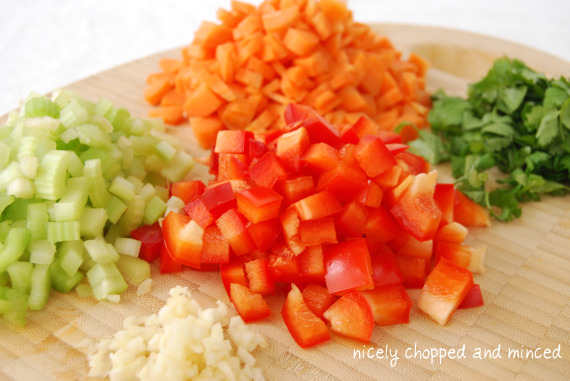 I like to use a variety of colourful firm veggies that will hold up in a dressing for 2-3 days since sometimes it lasts this long before we devour it all.  Anything that you might like to add such as cucumber, tomato or avocado should be added to your plate only at serving time as it will not hold up.  I have used jicama before and it's lovely in this salad when in season.
Do you have a favourite bean variety that you love?  One of my faves is the cannellini bean.  I could eat it any which way.  For this salad I often use what ever is in the pantry but for a nice mix today we have chick peas, pinto beans, and of course cannellini beans.  Kidney beans are Amelia's favourite and blackeyed peas are tasty and look pretty too!  So be creative here and play with the colours, tastes and textures.  And if you really want to boost the omegas add the flax and the hemp oil and shhhh…. no one will even notice!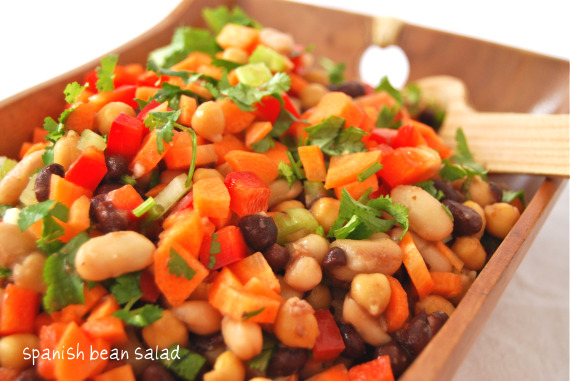 Here's the how to…..
Spanish Bean Salad
1 (15 ounce) can pinto beans, rinsed & drained1 (15 ounce) can chick peas, rinsed & drained
1 (15 ounce) can cannellini beans, drained and rinsed
1 red bell pepper, chopped
2 carrots peeled & chopped
2 green onions chopped-optional
2 tablespoons fresh lime juice
1/2 tablespoon celtic salt or sea salt
1 – 2 cloves minced garlic
1/4 cup chopped fresh cilantro
1/2 tablespoon ground cumin
1 tsp ground black pepper
cayenne pepper to season at serving time
Method
1. In a large bowl, combine beans, chopped veggies, green onions.
2. In a large measuring cup, whisk together remaining ingredients.
3. Pour dressing over vegetables and gently combine without mashing the beans.
4. Serve over fresh greens.
5. Allow diners to season with cayenne pepper to their liking.
Serves 6-8 for lunch or dinner
I've been reading about the benefits of cayenne pepper, the Cardiovascular Fruit and it is practically a miracle spice.  The benefit it provides for our blood circulation is fascinating.   What I love about it is that it cleans the blood which is of great importance in avoiding diseases of most kinds especially cancer.  It is incredibly high in potassium which is necessary for healthy heart function and it has been known to stop a heart attack in 3 minutes or less (administer repeatedly during the attack until it stops, 1 tsp in hot water).  Cayenne pepper aids in assimilation of nutrients in our food, elimination, rebuilds the tissues in the stomach, can heal stomach & intestinal ulcers and lower cholesterol.  The medicinal uses are endless.  It is recommended that one take it with water as a shot–I use 1 oz of alkaline water mixed with 1/4 tsp cayenne pepper and swig it back. Yikes….. I know, but it's worth it.  Start with 1x per day for a few days and work up to 3xs per day and then increase to 1/2 tsp.  But go easy.  After a few times you will become accustomed to the heat and it will just feel like a warm glow.  Be sure to buy the highest concentrated quality since the grocery store variety is much weaker– look for up to 90% cayenne in the health food store.  Cayenne capsules work too if you just can't swig it but a little less effective, but always with food.  For further info check out this cayenne pepper guide.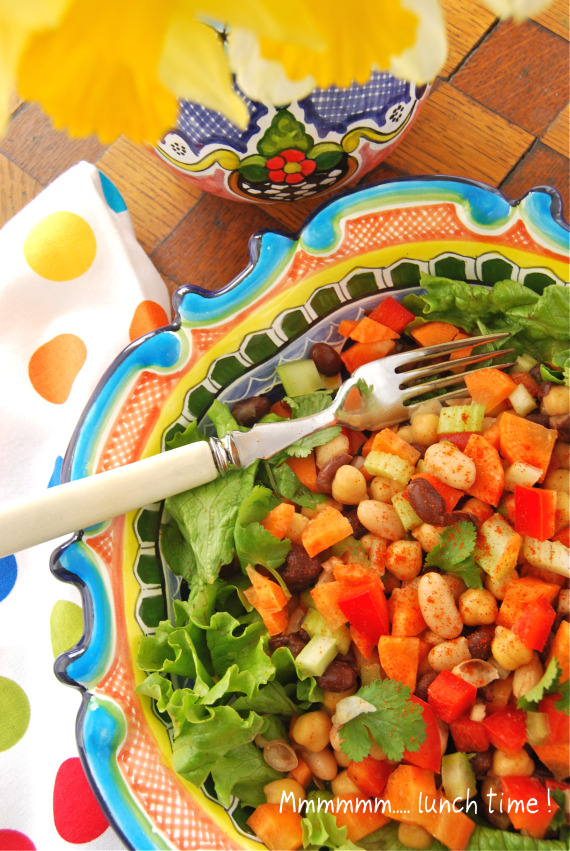 I have this thing for hand  painted Mexican pottery and I collect it each time we visit.  This is my most fave piece that I just brought back this year from Nuevo Vallarta.  The scalloped edge made me crazy–had to have it for this recipe!  I also found a vase that I just couldn't live without!  Do you have any hand painted pieces that you use often for serving?  Makes the meal taste even yummier when it's so nicely presented in a favourite dish, don't you think?

Pin It