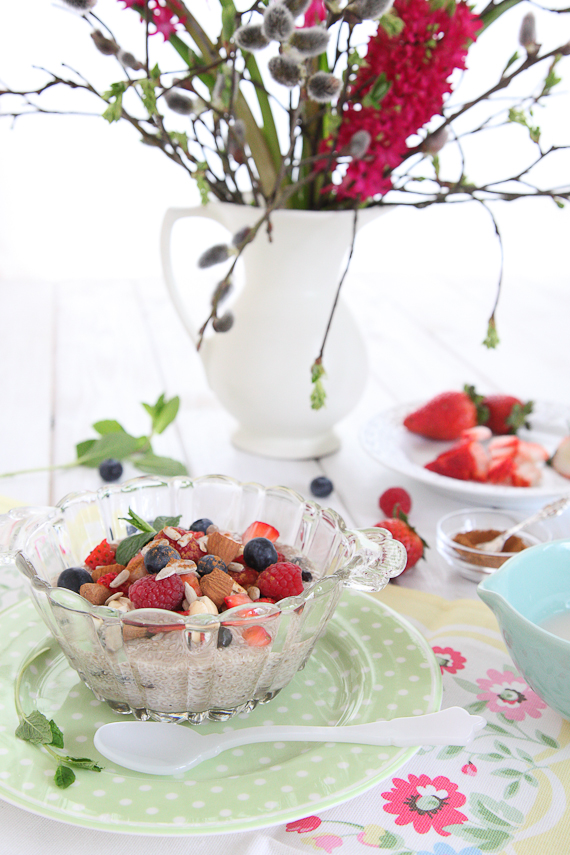 Here I go again…. obsessed with yet another yummy concoction that I have been eating almost daily since before Christmas when I did the candida cleanse-it's perfectly candida friendly minus the berries!  I just can't seem to get enough of this breakfast and I love how simple it is to whip up in the morning or even the night before.  Now don't you find it tricky trying to eat breakfast while traveling? Well… I think I've found the answer!  Recently, while in New York City, I put this breakfast together in my hotel room with ease after a quick visit to Whole Foods for some tasty berries & almond milk since I had packed the chia, spices, a few nuts and seeds & the stevia.  After looking at the limited room service menu this chia never tasted better!
I rather think the most satisfying thing about this deelish chia porridge is the fact that it is soooo nourishing!
Chia is considered a super food with it's abundant nutrients. It contains more omega 3 & 6 than a piece of salmon, 3 to 6 times more calcium than a serving of milk protein, 11 grams of good fiber per ounce which is nearly 50% of the daily recommend that helps to prevent colon disorders like diverticulitis or IBS.  As for protein, it is considered a complete protein since it contains all 8 essential amino acids all of which when readily available for synthesis in the body, build strong healthy tissues.  And with the importance of antioxidants, you will certainly get a good dose of them to fight any free radicals roaming around in your body from any naughty foods you may have ingested like those tasty french fries that are sometimes so hard to resist!
You can see here in this food mood board that the ingredients are very simple and really….the best thing is that this doesn't require any cooking!  The chia seeds have this amazing quality of being able to swell in liquid thus only takes 3 table spoonfuls to swell in one cup of almond milk making plenty for a breakfast meal especially once you add some goodies to it.  After about 30-40 mins they will have completely absorbed all that they can and are ready to enjoy.  I sometimes combine the seeds and almond milk, give it a good stir, add the nuts & spices and place in the fridge over night so that it is ready with out any wait in the morning.  If I don't want it cold I will take it out of the fridge upon waking and allow it to come to room temp while I shower and get ready.  This way it's also an easy 'to go' breakfast especially if you sleep thru the snooze button!  However…. you won't want to warm it since the heat will spoil the omega oils and turn them rancid which you then won't want to ingest or you will need even more antioxidants to fight the free radicals!
Another thing to note is that although chia is a good fibre for scraping the colon clean, if you have any issues with constipation you may want to be cautious to eat alot of chia until you have normal stools as chia can further constipate especially if the full 40 mins is not adhered to for soaking.  With inadquate soaking the chia will absorb too much moisture from your body, either dehydrating or causing constipation.  Always remember to hydrate well with lemon water upon rising each morning before meals and minimum 30 mins after breakfast and thruought the day in order to maintain good hydration and elimination.
With regard to the texture of these little seeds some may argue that grinding them is better allowing increased nutrient absorption and by all means that's a fine idea which makes it even easier to assimilate as well as for anyone with a very sensitive colon, this may allow it to pass thru easier or for someone who doesn't like the texture. In this case use a spice grinder and whizz them up before soaking, or toss the lot in the blender after soaking.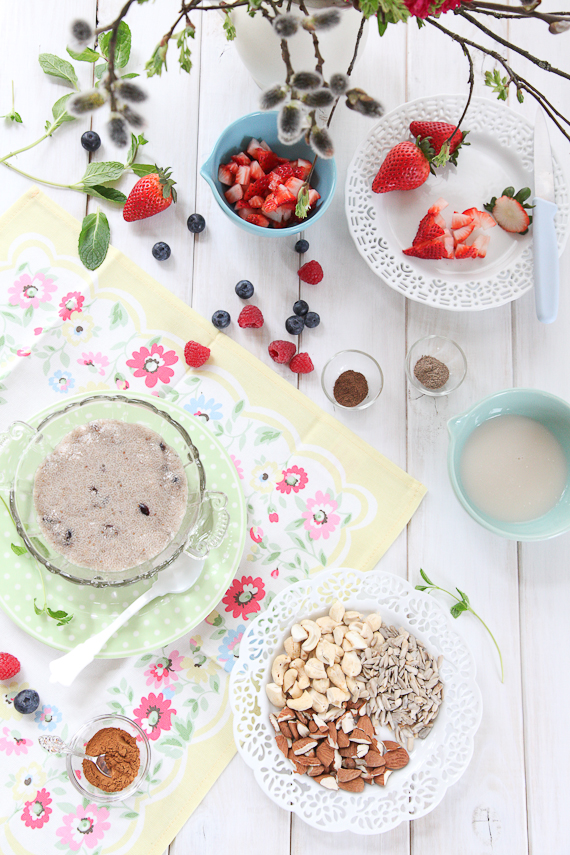 I tend to go a bit crazy with toppings but it's just as delicious with only a few.  My daughter actually loves it quite plain with only the spices, vanilla & stevia.  Be sure to use your imagination with the toppings as these are just a few that I like.  I do sometimes add finely chopped apple instead of berries or a diced pear with some ginger & a few walnuts is nice too.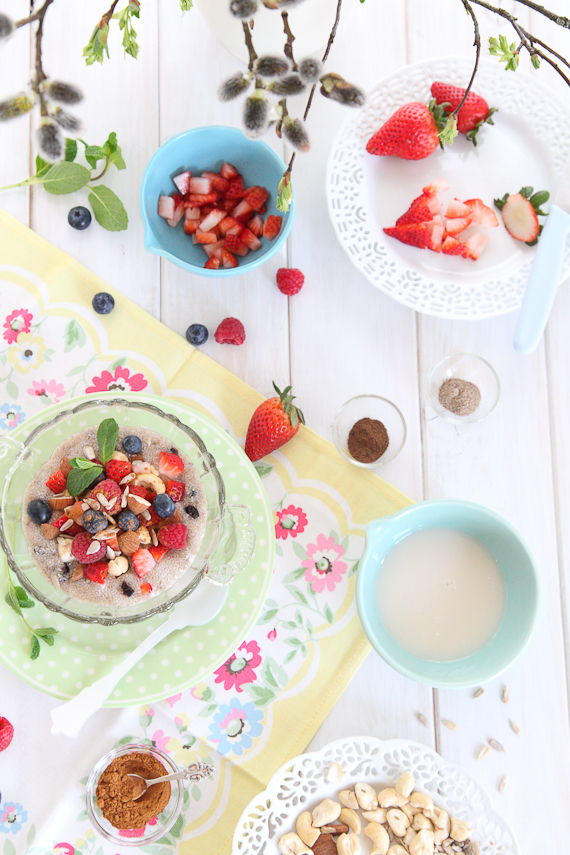 However, by adding a few toppings you not only jazz the flavours but you can bump up the nutrient value of your breakfast.  Seeds and nuts add more protein, omegas and minerals and the berries add vitamins and more antioxidants.   Once you have a bowl of this for breakky you'll be good to go for a few hours as it is very satiating.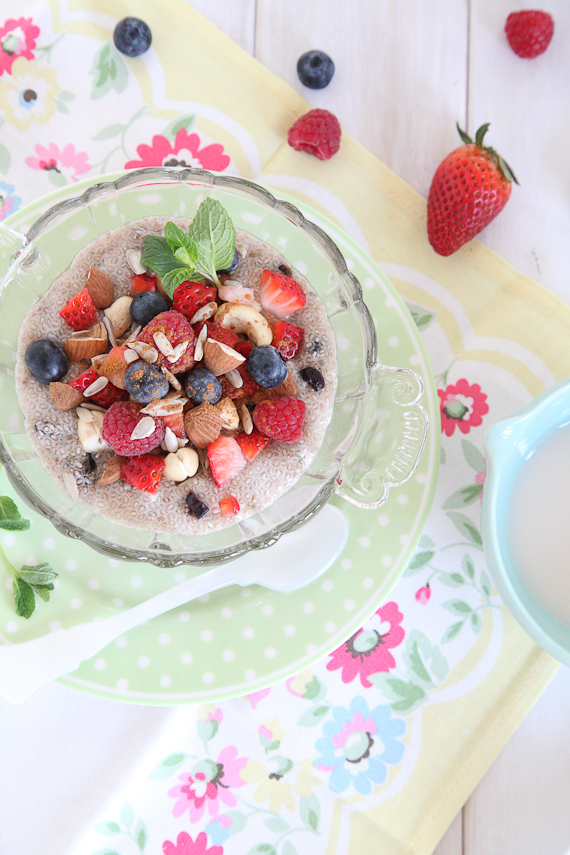 Chia Porridge w/Seeds, Nuts & Berries
Yield: 1 serving
3 tbsp chia seeds
1 cup organic almond milk
2 tbsp dried unsulphured organic cranberries
1/2-1 tsp cinnamon
1/4 tsp all spice
1/8 tsp cardamon
1/2 tsp vanilla
3 drops liquid stevia
diced strawberries, raspberries & blueberries for toppings
raw almonds, cashews & sunflower seeds for toppings (preferably soaked over night)
fresh mint as garnish or topping
Method
Place almond milk in a bowl and sprinkle chia seeds in and stir immediately for a minute or so to avoid clumping.  Add cranberries & spices as you stir along with 3 drops of stevia and the vanilla.  Allow to stand for 30-40 mins to thicken, or covered in the fridge over night.  Add berries, nuts and seeds as you may and a sprig of mint.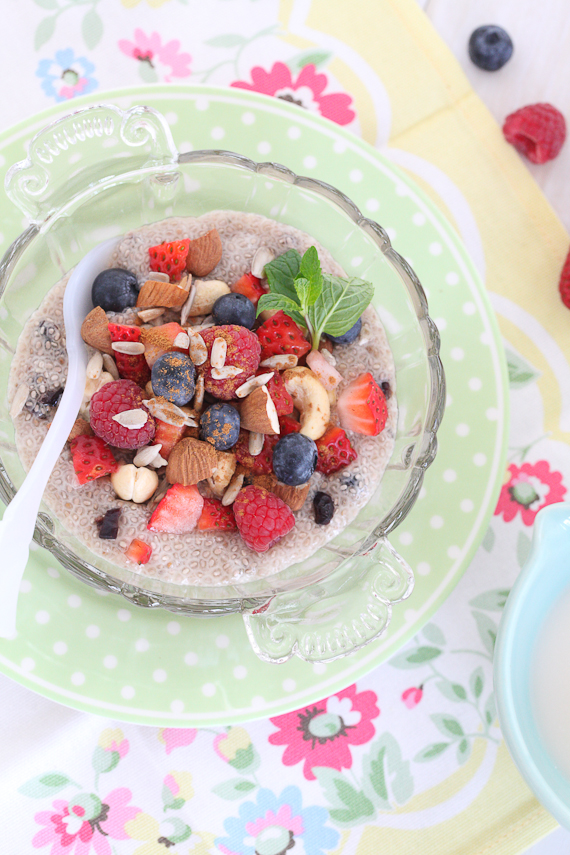 If you are sensitive to grains, chia may just become your best friend as it is a seed, not a grain and is perfect for those with gluten allergies.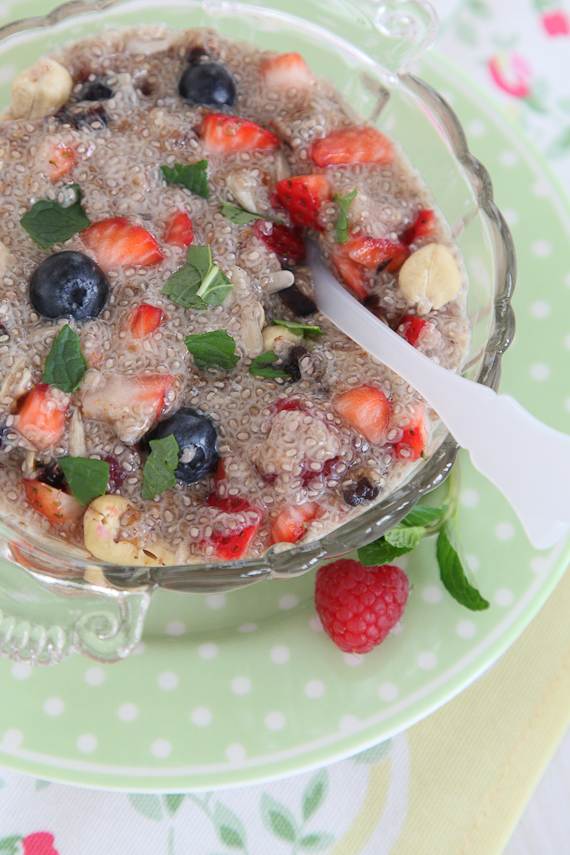 Don't you just love spring? It's my favourite time of year and it's finally here, yay!  If you have a garden outside or you live near the forest, now is a wonderful time to bring in some budding branches and watch them unfold before your eyes into a pretty leafy green display if it is spring where you live.  You may even still be able find some pussy willows if you are in a cooler climate.  These all make such lovely arrangements in a simple vase even without any further additions of flowers.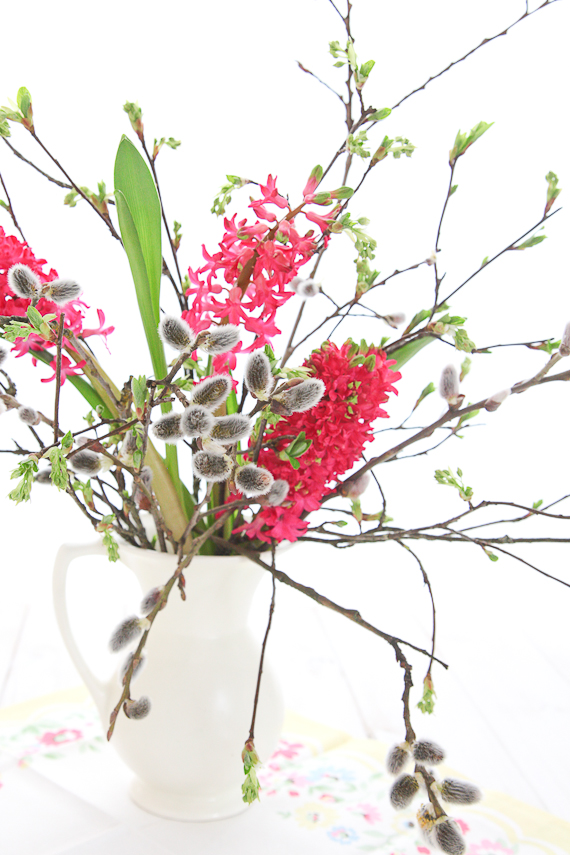 I'm sorry I've been sooo invisible lately here on the blog.  My studies in Nutrition school are really ramping up now that I am on the home stretch with only 4 months left out of the 11 months in total.  I'm getting there and it's still so very interesting as we make our way thru the study of the body and it's complexities involving digestion and nutrition and how to navigate health issues in a holistic manner.  I will have tonnes to blog about once I have more time again to be consistent here- and I can't wait!
I hope the sun shines down on you where ever you are.
Have a great week and let me know how you like the chia or if it's already your best friend!
Julie

Pin It