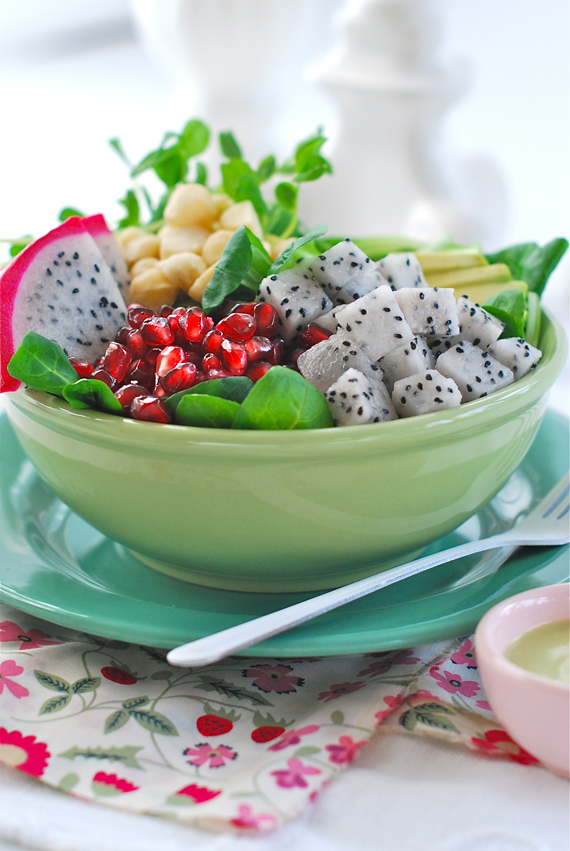 Lately the dragon fruit has been calling my name and I can't get enough of it.  The juicy, mildly sweet flavour and that gorgeous aesthetic of fuschia and white with black–I just love how this fruit looks, let alone tastes!  While we're at it we gain the benefits of a big dose of vitamin C, lots of fibre, B1, B2, Protein, Calcium, even Iron, to mention just a few.  With all these nutrients the dragon fruit can help improve memory and digestion, prevent formation of cancer causing free radicals, decrease bad cholesterol, strengthen bones and teeth, assist in healing cuts & bruises and… moisture & smoothen your skin.  How about that!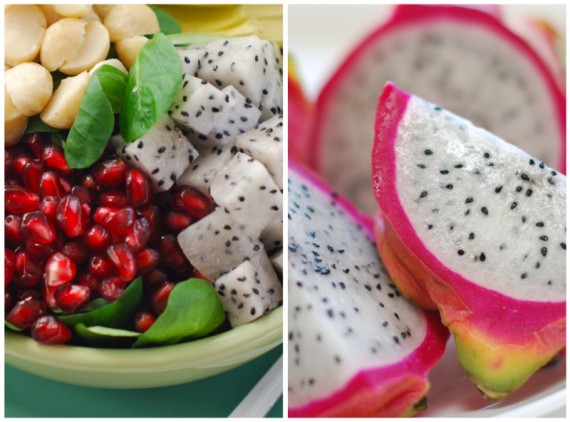 I've been enjoying them in a variety of salads, desserts with other fruits, and just sliced on their own.  They contain many alkalizing minerals and antioxidants and their sugar content is extremely low while the water content is quiet high.  A salad of this nature is an excellent meal to balance your alkaline intake as it is recommended to consume 70-80% alkaline foods at every meal in order to optimize and energize your body and avoid disease. The macadamia nuts and the pomegranate are slightly acidic, although very nutritious, and the greens are highly alkalizing and assist in the digestion of the nuts.  With a double dose of omega oils 3 & 6 from the avocado in the salad & the dressing, a nice hit of protein via the dragon fruit & avocado too, over all, you have a very healthy and hydrating meal versus a heavy, low water content, concentrated cooked meal that leaves you feeling sluggish. I always feel fabulous after a delicious salad like this and I am not the least bit hungry for quite some time which is what many people fear when they only eat a tiny side salad with cucumber and tomato.  Pump up your salad with tasty things like dragon fruit and you will come to crave your yummy, healthy meals.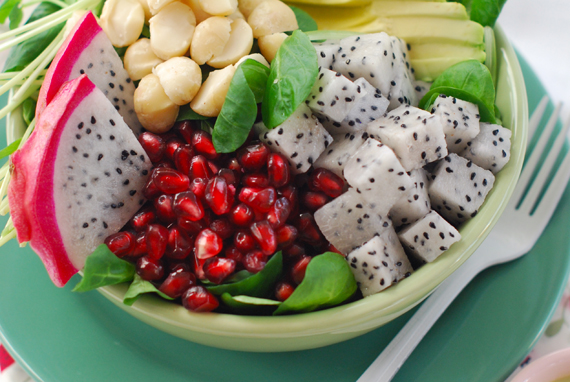 The unique clean flavour of dragon fruit lends itself nicely to many different flavour directions.  Do experiment cuz you might be surprised at the wonderful results you create.  Maybe give the Dragon Fruit Creme recipe below a try for your dessert!
Salad of Dragon Fruit, Pomegranate & Macadamia w/ Creamy Mint & Lime Dressing
Yield: 2 large salads
for the salad
4 cups fresh greens, I used mache
1 dragon fruit, skin removed and diced
seeds of 1 fresh pomegranate
1/2 cup raw macadamia nuts
1 avocado, sliced
Method
Divide greens between 2 large bowls or plates and top with remaining ingredients.  Serve with dressing on the side and add as needed.
for the dressing
1/4 cup extra virgin olive oil
juice & zest of one fresh lime
juice of 1/2 lemon
5 stems fresh mint, leaves and stems
1/2 avocado
2 tsp agave or as you may (I like to replace 1 tsp with 3 drops liquid stevia)
pinch sea salt
2-3 tbsp filtered water for consistency
Method
Place all ingredients in a blender and combine until mint is pureed.  Mmmm… this dressing is sooo yummy! I like it with papaya and greens too–try it with some of your favourite salads.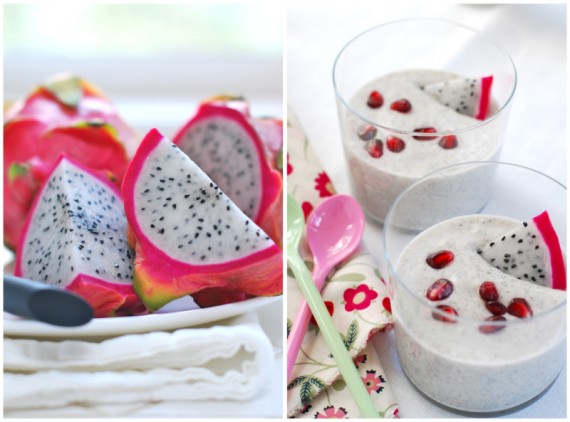 This is a little treat that I concocted that you might like for a simple dessert or with an afternoon cup of tea.
Dragon Fruit Creme
1/4 c fresh coconut water
meat of one fresh coconut
meat of one dragon fruit (1 slice for garnish reserved)
1/2 tsp vanilla
1 tsp agave syrup & 3 drops stevia or both as you may
1/3 cup cashews- soaked 30 mins and drained
garnish with a slice of dragon fruit
Method
Blend well in high speed blender, garnish with a piece of dragon fruit with the pretty skin on and serve.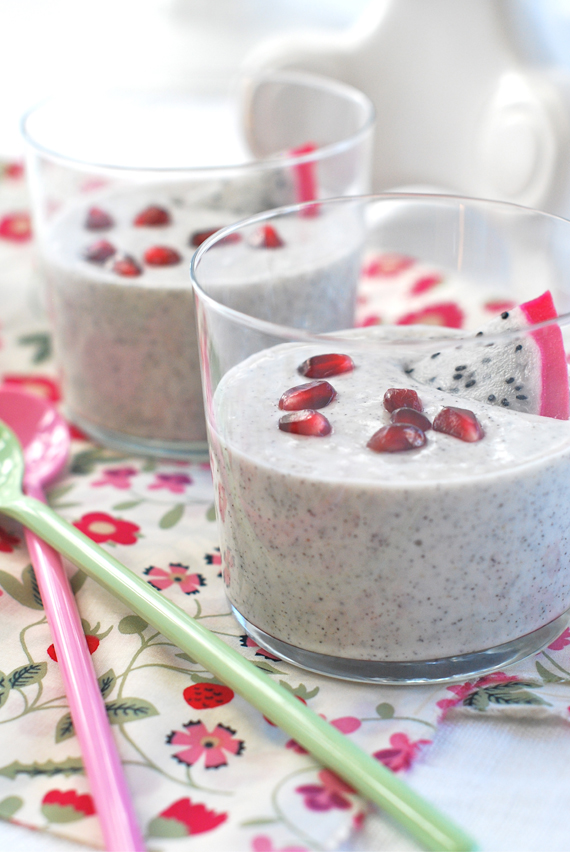 This tends to thicken a bit if it stands for a while but is best served same day to benefit from all the fresh nutrients.I hope you will give the pretty dragon fruit a try if you haven't already.  You'll be glad you did.  It is often found in Asian markets as is the young coconut.  I have even seen young coconuts for sale already opened with the fresh meat and the coconut water packed separately at places like Whole Foods if you have one near you. This is a bonus cuz it can be tricky to open those coconuts but soooo worth it!  Here's a really helpful link on how to easily open a young coconut if you so decide to whip up this yummy treat.
If you already peeked at this recipe during my guest post on Green Kitchen Stories a few weeks back, thanx for stopping in again:)  I like to archive all these tasty recipes to keep them all in one place making it easier for you to find them.
A green smoothie cheer for a relaxing weekend for you.  Any great plans for your weekend?  A pampering massage or spa visit-wouldn't thaaat be nice-or a refreshing walk in nature? Me, well I'll be forcing myself to focus on re-doing my office and purging, hoping to emerge feeling lighter and much more organized by Monday.  I have a pretty, new chrome and frosted glass desk and a gorgeous wool rug to inspire the entire process-hey that rhymes!  Wish me luck!
Julie

Pin It