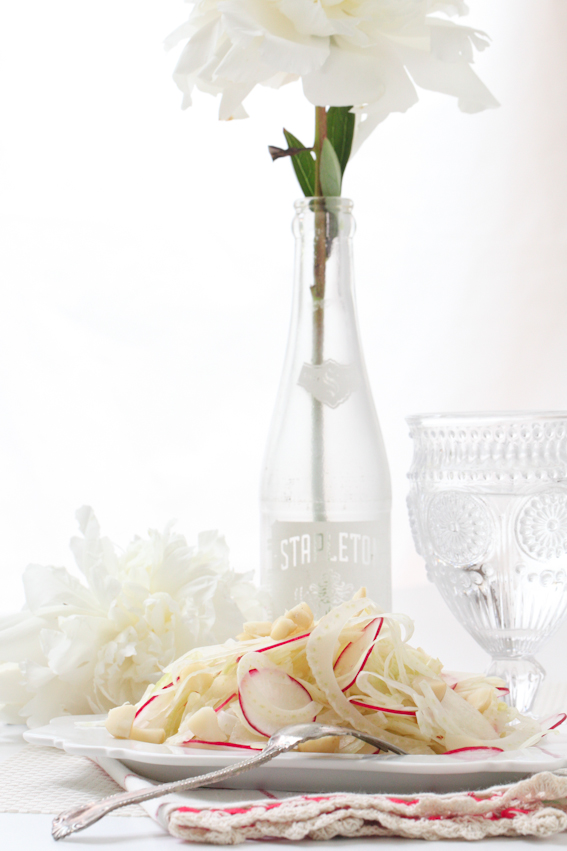 There's no better time than this weekend for a red & white salad.  Canada day will find many of us Canucks taking advantage of the long celebratory weekend to prepare some yummy food to share with friends and family.  If you celebrate the 4th of July in the US, perhaps you can add some blueberries to this salad along with blue napkins for your holiday festivities.  Thinly shaved veggies create a new take on easy, simply dressed, salads and side dishes.  A mandolin slicer becomes your best friend and it needn't be a pricey one either.  Just be sure that it has a wafer thin option so you can achieve this desired effect.  Exploring creative ideas with your veggies means more joyful healthy meals.  This salad took all of 8 or 9 minutes to whip up and is a nice change from the typical coleslaw.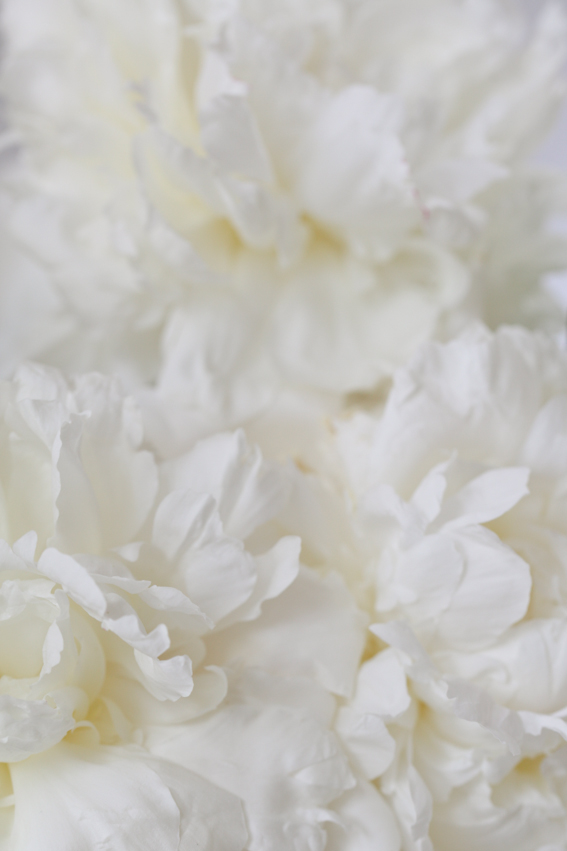 In our little town of Sidney BC we manage to do a pretty good job celebrating Canada day with events that include markets, fireworks, live music, parades and more.  My husband and I are looking forward to once again reinforcing the tradition of celebrating with our kids so that they will have fond memories and will perhaps continue the tradition when they have their own families.  As much as we join in for the sake of our kids I always love a parade, in fact I used to love being in the parade, way back when.  Lets just hope we have mother nature on our side.  How about you?  What are your plans for the long weekend?  Big feast with the family or quiet time to relax and rejuvenate?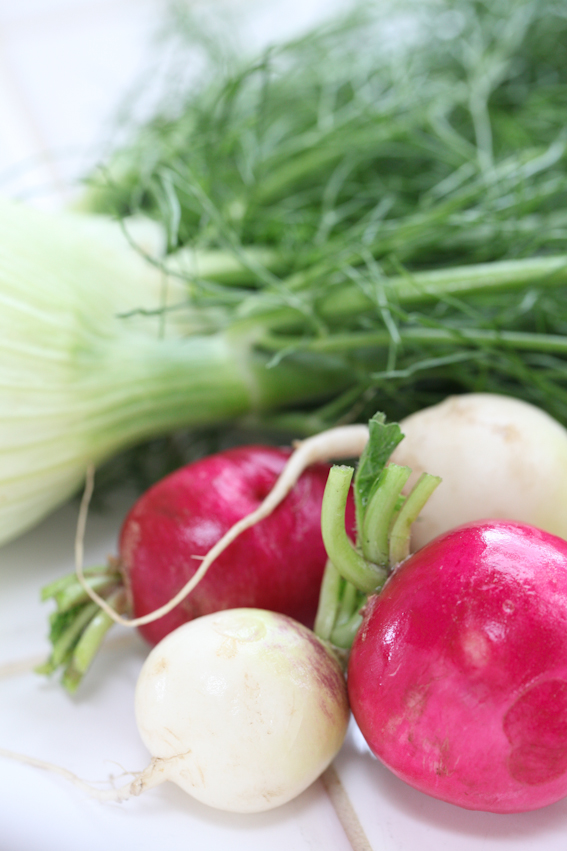 Red & White Salad of Shaved Radish, Fennel, Jicama & Macadamia Nuts
Yield: 2 large servings
3 radishes
1 lg fennel bulb, greens removed
1/2 medium jicama, peeled and halved
2 stalks celery
juice of 1 lime
1/4 cup avocado oil
pinch salt
macadamia nuts, chopped
Method
Using mandolin slicer on the thinnest setting, slice radish, fennel, jicama, & celery.  Toss in bowl with fresh lime juice and avocado oil, then season with a pinch of salt.  Top with chopped macadamia nuts.  Enjoy.
The macadamia nuts add a nice buttery flavour as does the avocado oil so do try to incorporate them if you can.  You could also try pine nuts or flax oil.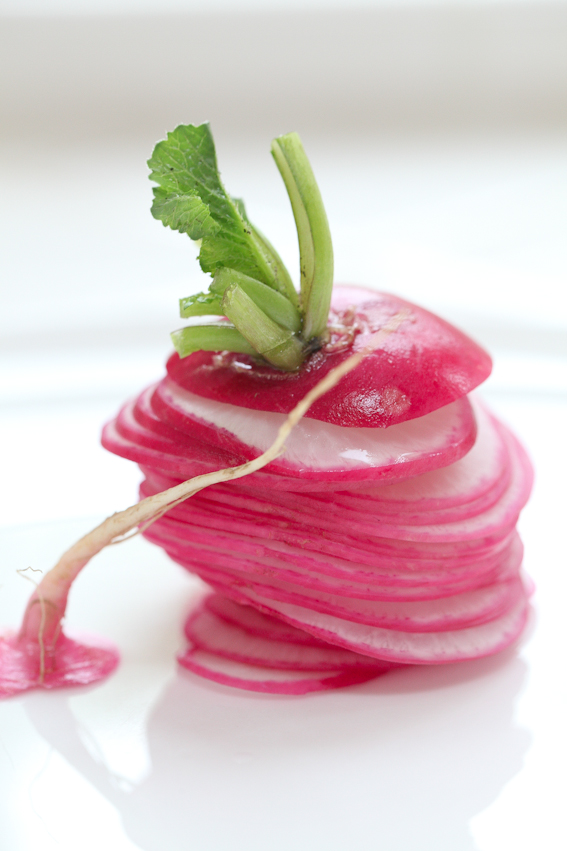 Shaving these veggies transforms them into works of art, don't  you think? They are so pretty to look at and enjoyable to dine on.  I must admit that I keep looking for things to try the mandolin on just to see how cool they look as stacks of paper thin layers.  Do you have a mandolin that inspires you- or are you in the market for one?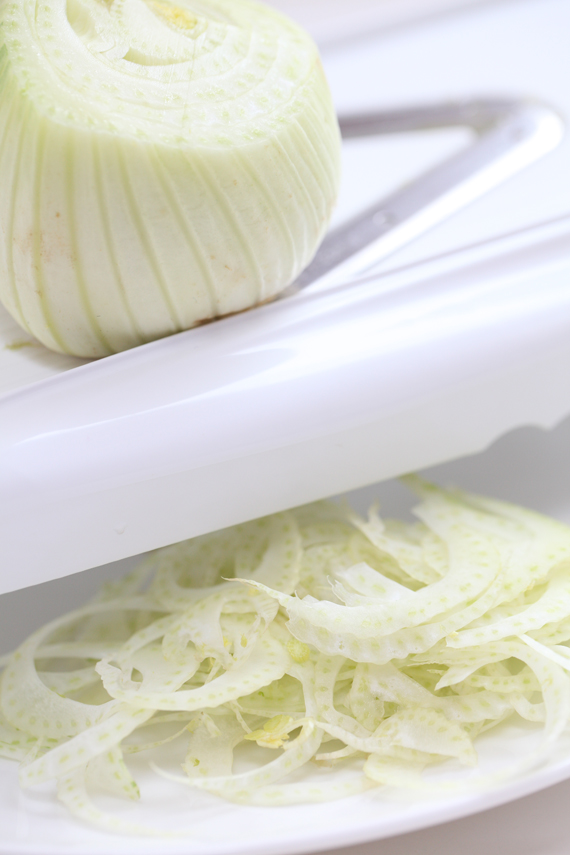 Fennel is very good source of antioxidants, vitamin C, and is also rich in potassium along with a multitude of vitamins and minerals, making it an excellent alkalizing choice.  One cup of fennel provides 360 mg of this potassium, approximately 10 percent of a good daily value.  Fennel also aids in digestion and can improve stomach upset.  It is has excellent fiber content, important for maintaining a healthy digestive track.  With it's lovely anise or licorice flavour it is unique in taste and works nicely in this salad.  I have been enjoying it more and more as the flavour is growing on me.  It's quite nice shaved with thinly cut orange segments as well.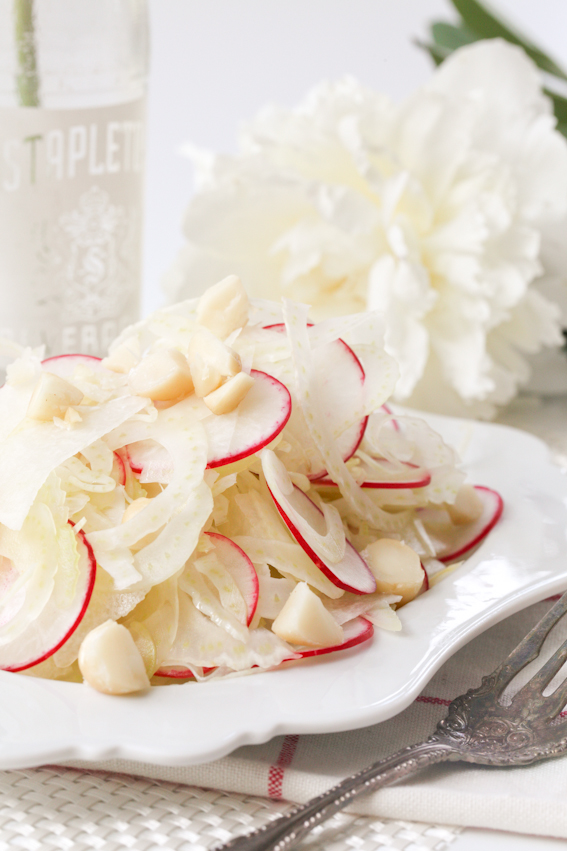 It's been a busy week and seems a little less productive now that my kids are home full time with school complete, thus a little shorter post today.  Perhaps I've given you a little reading break since I'm not so wordy today:)  I'm looking forward enjoying some fun time with the kids, frolicking in the summer sun either at home or up at the lake.  Since I have no retail store obligations-yippee!- I have the joy of indulging them in way more fun this summer.  Our list of "summer fun things to do" is long, how about your list and your summer plans-have you made any exciting bookings? I hope you have some exciting activities or travel to look forward to.  Enjoy the long weekend if you are lucky enough to have one, if not make the most of the free time you do have.  Until next week….Happy Canada Day!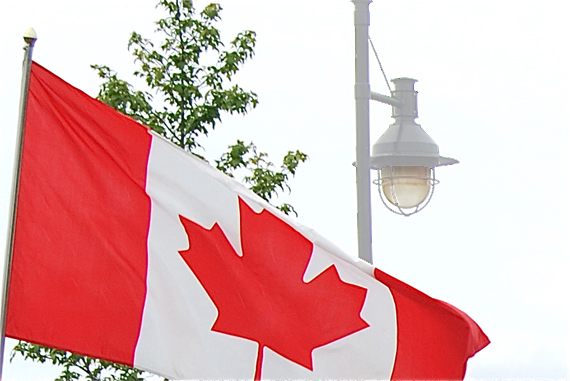 Pin It