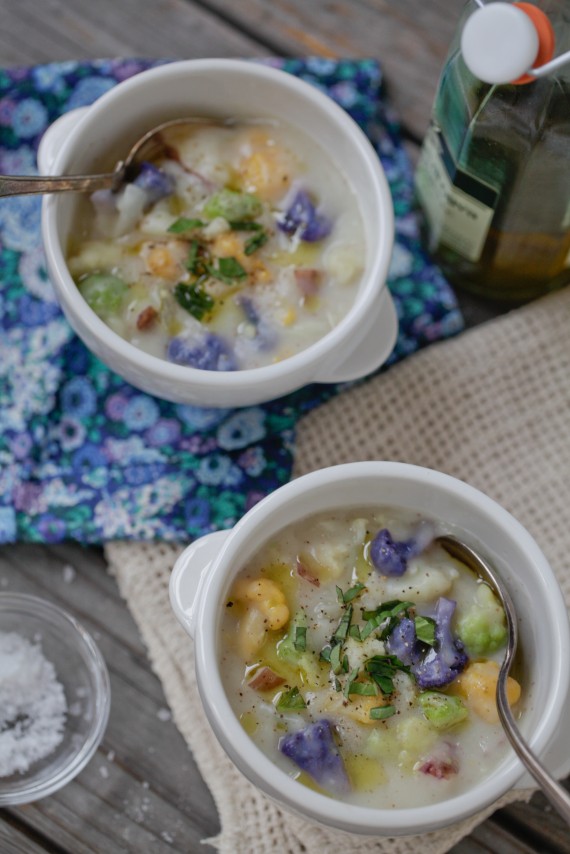 Are you crazee busy with festivities and not sure how many sleeps til Santy arrives?? I have MY hand up!!! With the preparations for Christmas in full swing it's easy to forget how good it feels to enjoy a cozy homemade meal, perhaps some creamy warm soup to take the chill off, to warm the heart and soul.  We often become so busy racing around, shopping and attending events that quiet moments and cozy family meals at home don't fit into the holiday bustle.  With the years of Christmas holidays past I know too well how I yearn for an evening home with my family, soft holiday tunes playing with candles a glow enjoying a simple meal, not complicated by the need to be fancy for the season, just a delicious, nourishing meal.
So today I bring you this creamy cauliflower soup recipe and the reminder to find time for nurturing the desire for simplicity in this very busy, busy season.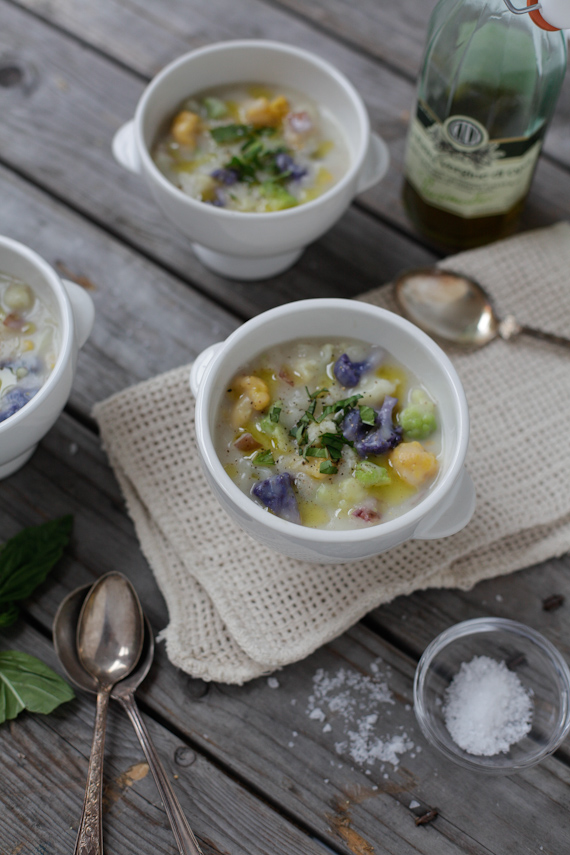 Whether you can find this pretty rainbow cauliflower or not you will yield the same results with two heads of snowy white cauliflower.  I couldn't resist using the wee handful of precious red potatoes my kids grew in our small veggie boxes.  They were proud of their harvest and excited that we made a tasty soup of them.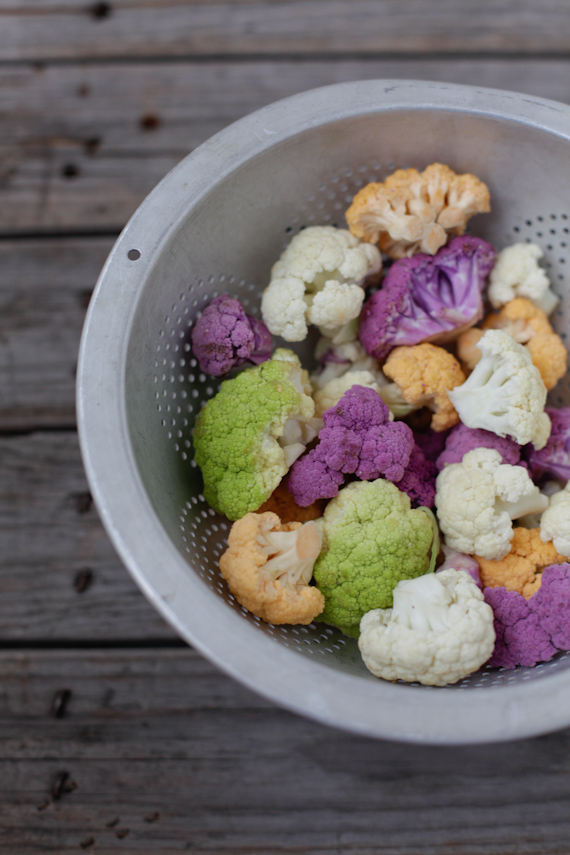 This soup is an alkalizing dish that will definitely take the chill off with out sticking to your bones and leaching precious minerals like a typical creamy soup might that is often thickened up with flour, starchy powders or dairy products while being highly acidic for the body.  Instead, this soup is creamy with organic non-stored red potatoes (free of mycotoxins from not having rested in a damp moldy cellar) and a drizzle of olive oil that adds a nice rich flavour and enhances the cauliflower.  It's also action packed with nutrients to fight inflammation which of course is beneficial for cardiovascular health by reducing inflammation of the arteries and blood vessels. Antioxidants such as vitamin C and manganese, both of which are abundant in cauliflower, easily tackle free radicals in the body helping to avoid or minimize symptoms of disease.  This cruciferous vegetable is rich in B vitamins 1,2,3,5,6 and B9 all of which provide energy and help to build a strong body.  One cup of cauliflower contains 2.28g protein and 3.35g of dietary fiber.
But above all, there are two main ingredients in cauliflower that are incredibly powerful in fighting disease.  Glucobrassicin can be readily converted into indole-3carbinol or also called 13C which works in our body at the genetic level preventing the initiation of inflammatory responses at a very early stage in disease- this I find amaaazing!  The second element, photonutrient sulforaphane is like a street sweeper. It carries out toxins from within the body preventing tumor growth before they even begin.  Both of these will greatly reduce the occurence of inflammation and tumor growth.  So eat your cauliflower!!
However, on the flip side some folks believe that the naturally occurring purines in cauliflower (also found in other plants as well as in animals and humans) can cause health issues if over consumed or if there is a sensitivity.  Cauliflower is also considered by some to be a goitrogen causing vegetable. From my perspective, if one eats a balanced diet with a good variety of vegetables you should be fine.  The issue is not really the cauliflower or the food itself that actually causes these problems for certain people but more so the nature of certain substances within the food paired with the unique health circumstances of the person.  What I'm saying is, cauliflower isn't the leading cause of a goiter.  And furthermore, there is usually already a health issue present that may react with an excess of purines.  For this reason, individuals with existing kidney problems or gout may want to do their own research and possibly limit or avoid intake of purine-containing foods such as cauliflower.  And those with thyroid issues may want to read this to understand a little more about goitrogens.  I really believe that there are just far too many health benefits from vegetables like cauliflower to be omitting it from an alkaline lifestyle.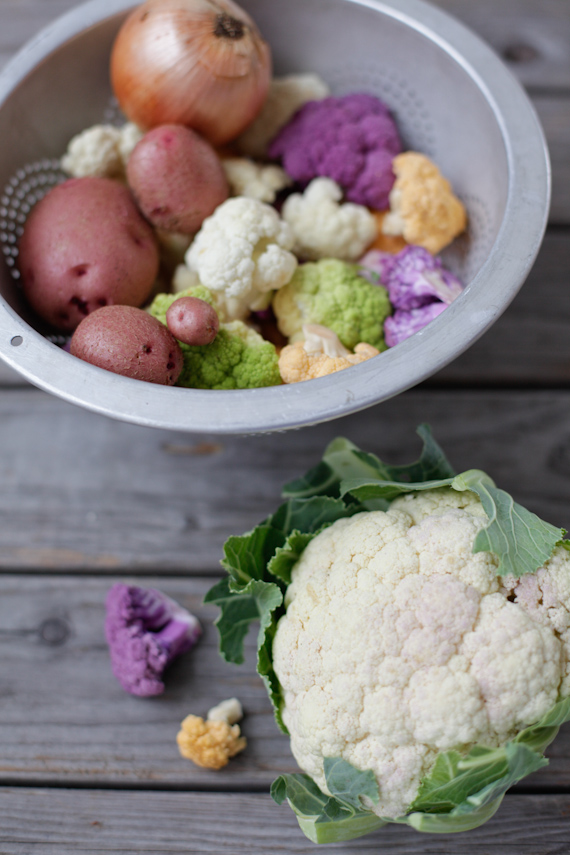 A combination of small bite sized pieces of cauliflower and creamed cauliflower makes for a nice textural chowder but it's your call if you want to enjoy a completely smooth soup, thus you could steam all the cauliflower and the potatoes and puree it all.  Because I was fortunate to find this gorgeous rainbow cauliflower I was compelled to show it off in the soup by leaving it in nice chunks along with the potatoes.  But as you may of course!
Rainbow Cauliflower & Basil Chowder
Yield: 5-6 bowls
1 med sweet maui onion or yellow onion, diced small
2 tsp coconut oil
3 cups filtered water
1 tsp sea salt
2 cups or 3 med. organic red potatoes, diced small
3 cups or 1 med. head white cauliflower, florets cut into small bite sized pieces
2 cups rainbow cauliflower florets, cut into small bite sized pieces
8 large fresh basil leaves, plus 6 more finely shredded for topping
extra virgin olive oil
salt and pepper
Method
In a large fry pan saute onion in coconut oil til softened and translucent, then add water, sea salt and potatoes. Bring to boil then turn down, cover pan and simmer for 6 mins.  Meanwhile, prepare steamer with rainbow cauliflower adding 8 fresh basil leaves to steamer basket.  Bring water to boil then allow to steam for 5-7 mins or just until fork tender but not too soft or mushy, set aside.  Now add the raw white cauliflower florets to potato & onion mixture bring to boil again, replace lid and then reduce to simmer for 5-7 mins til cauliflower is tender.  Place 3/4 of this mixture into blender and carefully blend til smooth and creamy.  Pour back into pan and combine with remaining mixture. Remove basil leaf from steamer basket and gently add the steamed rainbow cauliflower to the creamy chowder mixture to coat.  Check seasoning or just serve with salt & pepper on the table for guests to adjust.  Drizzle with extra virgin olive oil and top with trimmed basil.  Enjoy:)
Note: the potato starches have a bit of a party and tend to thicken this soup if left to reach room temp.  I saved some of the steam water from the cauliflower to adjust the thickness in case I had any left overs or if the soup thickened before serving.  You might also ask…why steam the coloured cauliflowers separate? Well, because the colours bleed especially the purple and I really didn't want purple soup when I blended the mixture.  If you can't find the rainbow cauliflower then you can heat all the cauliflower in the pan with the potato and then blend only 1/2 of the mixture and return it to the pan.
This is a very easy chowder to make with very simple flavours but if you are anything like me and have a crush on cauliflower you will LOVE this soup as it allows the cauliflower to really take center stage.  Because this chowder has no flour or cheesey business it celebrates the wonderful simplicity of authentic vegetable flavours while satisfying the comfort food craving, minus the heaviness.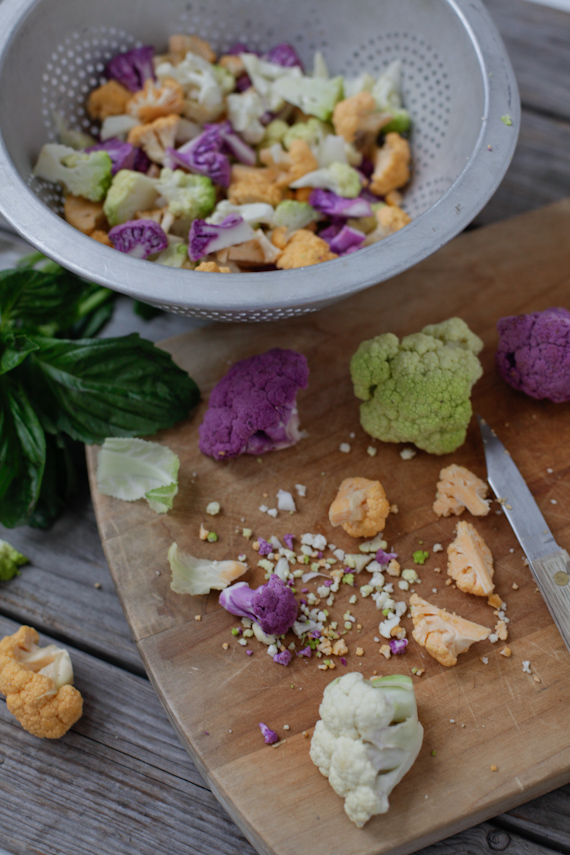 Now dig in and savour every bite of this tasty bowl of goodness!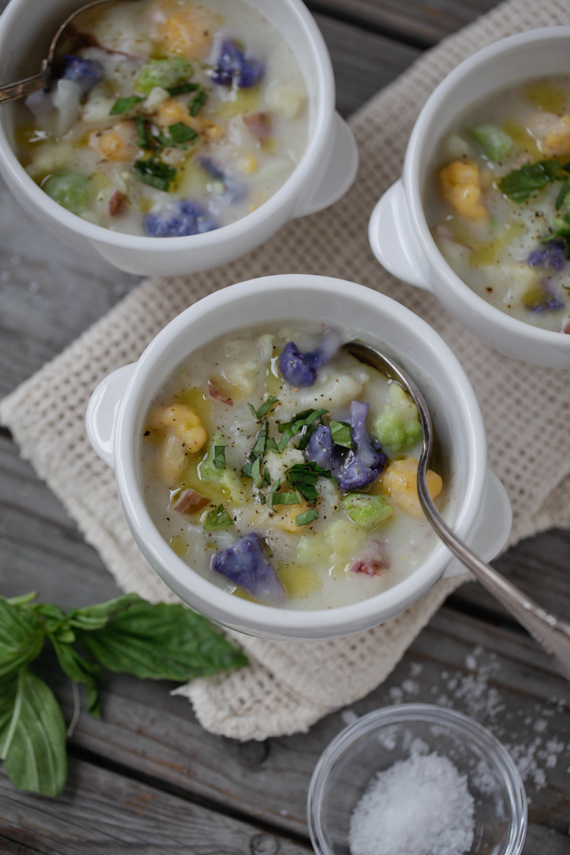 Well, that was a nice pause…….warm cozy soup……family time….. and good conversation.  Now, back to the holiday preparations and activities.  I'll be much more grounded and present as I carry on with the festivities since I am well nourished, body and soul.
Wishing you a joyful lead up to Christmas.  I'll be back with another post before Santa arrives.
Cheers
Julie

Pin It