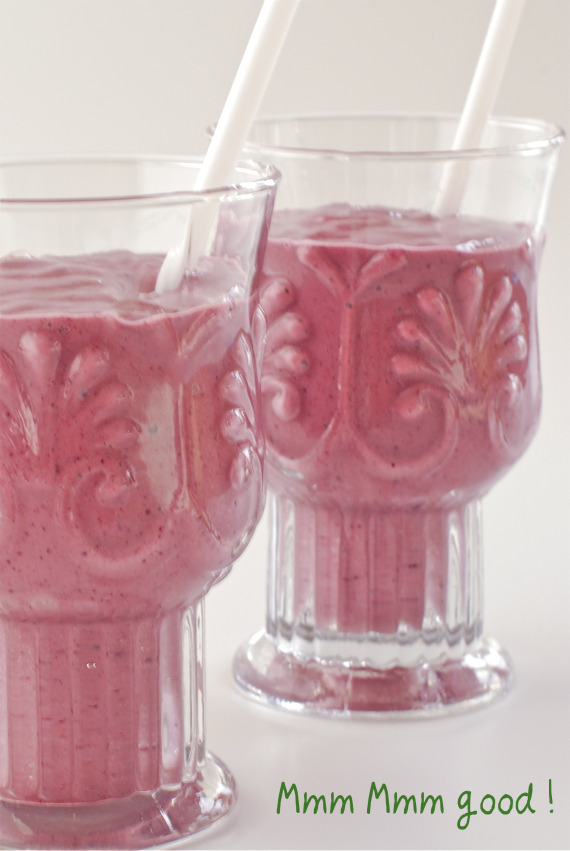 Now that I have the taste of this recipe down pact my family is more than happy to enjoy it for breakfast and me….well I want to have a party and celebrate the fact that they are all now willingly drinking my smoothie recipe and enjoying it!  Yeh!  I've made many, many concoctions that they decided weren't so great all in the effort of incorporating all these healthy goodies to start their day off right.  I've made it for a crowd and everyone was raving and asking for the recipe so I figured I had better post it with some more accurate measures.  It's funny how when you wing it, it seems to come together easier and when measuring exactly it seems to need adjusting.  Please use my recipe as a guideline and adjust to your flavour needs.  My kids enjoy it a little sweeter and you may like it a little less so.  But beware…. taste before you pour for fussy kids to be sure it's deliscious and then adjust accordingly or you'll ruin it for them- it may not be sweet enough or mask some of the ingredients enough and they may not give it another chance on a another day. Trust me, I've had to do a wee bit of bribing cuz I made this mistake!!  What I know you'll love the most about this smoothie is that it is made with fresh whole unprocessed ingredients unlike many of the smoothie mixes or boosters or breakfast shakes.  My goal was to include all these fresh nutritional ingredients yet make them taste really great together.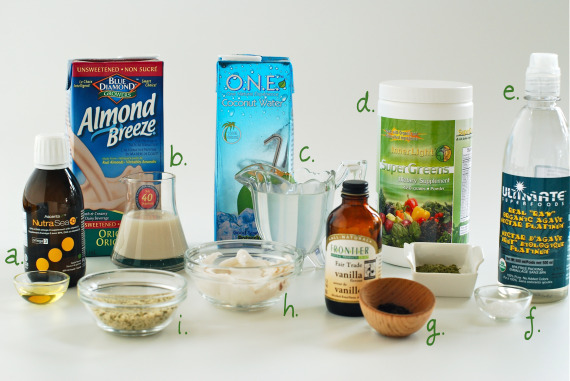 a. Omega Oil b. Unsweetened Almond Milk  c. Coconut Water  d. Innerlight Super Greens Powder e. Raw Organic Agave Syrup  f. Stevia or Zylitol  g. Pure Powdered or Liquid Vanilla  h. Fresh Coconut Meat  i. Organic Hemp Nuts
These are images of the ingredients that I like to use.  Sorry, I know there are a lot but you will quickly find that it is easy to throw together the smoothie.  I thought it would be helpful to show you what they look like so when you are shopping you know what to watch for.  Of course there are other brands too, so experiment with what you can find and what you like.  Be sure to choose a well tested omega oil and taste it before pouring it into the smoothie as I have ruined many a smoothie thinking that I would be able to mask a funny tasting oil- Not!  Nutra Sea +D is really nice just on a spoon. They offer apple or lemon flavour and it has the vitamin D added which I really like.
The Super Greens is a blend of organically grown grasses, sprouted grains and green vegetables and leaves resulting in a highly concentrated mixture of 125 easily absorbed vitamins, minerals, and amino acids that immediately go to work eliminating acid wastes from the body.  It is really great to add to the mix as it offers incredible alkalizing benefits and energy as it is super charged with mega hertz of energy to boost your body.  Typically I add it to a litre of water and drink this repeatedly all day long to alkalize and for energy but it's a booster in the smoothie for sure. If you are interested in this product I set up a site with Innerlight to offer you the product for order.  Check it out right here. They also have the Prime pH which is an alkalizing drop to treat your water in order to improve it's alkalinity.  If you don't have a water filter or ionizer to create alkaline water this product is amazing.  Even if you do have a filter system this is great for restaurants and traveling.  There are many other products that I will cover in upcoming posts but take a peek at some of the info and even the interviews with Dr.Robert O. Young.  He is a wealth of fascinating knowledge with all his research on alkaline living.
Hemp nuts are considered the best plant protein on the planet and are an excellent source of omegas 3 & 6.  I use them on and in most everything I can get away with as they taste lovely and really enhance the flavour and the nutritional profile of many recipes.  Just 3 tbsp has 9.9 grams of protein!  They can be found in foil bags or tubs in the refrigerated section or the refrigerated bulk nut section.  If you really want to bump up the protein element, buy islolated hemp protein powder and add this.  It has the protein of a hemp nut separated from the meat of the nut and is quite a concentrated protein.  I recommend adding 1 tbsp along with the hemp nuts as well.
The coconut meat is an added bonus if you can find a young coconut and open it for the delicious water and the meat.  Some markets offer this already done for you and the water and the meat are packaged separately, ready to serve.  If you can use the coconut water fresh it is most ideal and it tastes amazing.  Packaged coconut water has a different flavour as it has been pasteurized of course but still is filled with nutrition.  However, on the weekend I found a raw food market called Organic Lives that sells unpasteurized coconut water- they freeze it instead to preserve it and wow wee was it magnificent!  It's my new drinking water.  Their site is here and they do ship, not sure if that includes the USA though.  They have other tasty items as well including the powdered vanilla, which is difficult to find.  I picked up a new ingredient that I need to experiment with called Camu camu. It is the highest concentrated form of vitamin C.  It can be added to water or to the smoothie but taste it first to be sure you will like it.  I didn't mind it stirred into a glass of water.  Oh, and if you are in Vancouver, check out Organic Lives for a meal.  Their food was divine, esp the Creamy Zughetti Zucchini spaghettini with our fresh cashew dill sauce served with baby greens and garlic-herb dressing- YUM! Their menu is on their site and currently they are prepping to offer classes in raw cooking so stay tuned for that!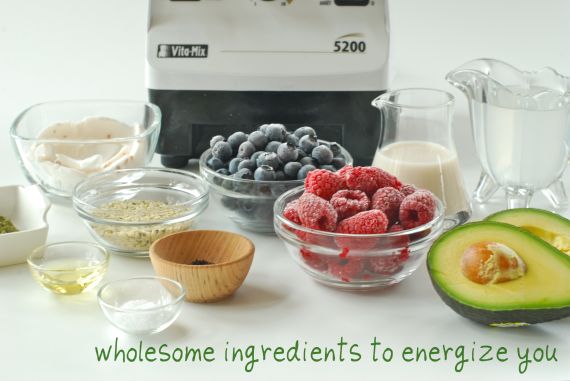 Sorry, I get sooo carried away, here's the magic recipe for this amazing energy boosting breakfast drink!
Super Powered Smoothie
1/2c unsweetened almond milk
1 1/4c coconut water
1c blueberries- pref frozen
2/3c raspberries-pref frozen  (you can use frozen strawberries in place or in addition to)
1 avocado (slice in half, remove seed and then just squeeze each piece in half right into blender)
2 tbsp agave syrup or 2 tsp xylitol or stevia or a mix of 2 or 3 of these – I often use a combination
3 tbsp fresh coconut meat if you have some on hand (this makes it taste smooth and creamy-yum)
1 tsp vanilla- alcohol free liquid or pure ground vanilla powder
1/2 to 1 tsp super greens powder (very concentrated)
2 tbsp omega 3 oil (Nutra Sea +D is apple flavoured and tastes nice)
3-4 tbsp raw hemp nuts
Method
Place all ingredients in blender and blend well to mince the raspberry seeds, adding additional coconut water for consitency if needed.  It becomes a nice thick creamy mixture as the avocado whips up quite nicely-as though there was yogurt in the recipe.  I use a vitamix blender, it's my most used appliance besides the juicer, read why here.
Yields approx 4-5 cups and serves many or a couple growing teenagers!
Now I bet you are wondering what's so amazing about coconut water?  Well….After reading the first page in this book Coconut Water for health and healing I instantly started adding coconut water to my smoothie recipe.  The water from a coconut and it's meat has saved many tsunami survivors who had nothing else to eat or drink for more than 25 days or for months and they were still quite healthy!  Coconut water is the purest liquid second only to water itself. It is chock full of electrolytes, calcium, potassium, magnesium; everything that is good for you-see below.  When ever possible I pick up fresh young coconuts (they are green skinned when not peeled or white and fibrous looking if paratially peeled) and open them up for their water and meat and add them to the recipe to boost the wholesome fresh ingredient element!  (you can open them and refrigerate for 2-3 days)  I can stretch one coconut over 2 or 3 recipes depending on it's size (that's if my kids don't eat it a la cart before I get to it-they love it on it's own).  If the meat inside looks greyish, beware,  taste it and the water before adding to your blender as we have opened a few that were rotten and that would be sad if you spoiled a blender full of ingredients.
Some of the amazing benefits of coconut water are outlined here;
1. Hydration & Minerals It is loaded with electrolytes, calcium, potassium, & magnesium in an easy to absorb liquid vs taking vitamin and mineral tablets!  It is considered an isotonic solution that atheletes are encouraged to drink as it easily replaces the fluids and minerals that are lost due to physical activity.
2. Blood Coconut water is almost identical to blood plasma and this makes it easy to use for blood transfusion. In cases of emergency coconut water has been used as an intravenous hydration fluid instead of the standard IV fluid.  With it's great potassium properties it can also lower blood pressure, stimulate blood vessel dilation allowing a greater volume of blood to flow preventing heart failure. It's amazing stuff!
3.  B Vitamins This natural beverage provided by Mother Nature contains all the B vitamins needed by the body, apart from B6 and B12.
4. Skin & Muscle tone It is believed that drinking coconut water can improve the complexion of your skin, and that it can promote good muscle tone.  The coconut water can be used directly on the face for skin hydration.  Coconut products are often used for hair and skin as common ingredients in beauty products.
5. Diabetes, Digestion & Elimination Coconut meat (dietary fibre) is highly effective for controlling your blood sugar as it slows down the absorption of sugars.  When added to foods or eaten with a meal it significantly lowers the glycemic index of the food, of course very beneficial for diabetics.  This fibre also acts as food for your gut bacteria thus helps prevents and relieves symptoms associated with Crohn's disease, irritable bowel syndrome, colitis, and other digestive disorders.  Also, because the average coconut contains approximately three grams of fiber, drinking coconut water on a regular basis can help to prevent constipation.
6. Weight Loss One of the biggest benefits of coconut water for some people is that it can help with weight loss, in that it promotes good circulation and it speeds up your metabolism. Over and above helping you to lose weight because of an increased metabolism, you can enjoy a coconut water drink rather than a soda.
7. Kidney Stones People who have kidney problems and are plagued by kidney stones should drink coconut water in addition to taking their medication. Drinking coconut water regularly helps to break up kidney stones making them easier to push out.
8. Menopause The calming, cooling benefits of coconut water relieves burning sensations and hot flashes and "restores emotional stability in menopausal women"
9. Anti-aging Coconuts contain cytokinin which is a potent anti-oxidant that stops the destructive action of free radicals that damage proteins, fats and DNA. Anti-oxidants are beneficial for slowing down the aging process by regulating cell division and encouraging significantly more youthful and functional cells.
So you want to be healthy and stay young looking?  Run, run now, to the closest market and get your coconut water and coconut meat- fast!  That's my plan and I am sticking to it.  My daughter is only 4 years old right now,  so in 10 years when she's a teen and we are shopping the malls together, I don't want to be mistaken for her grandma!!
Let me know how you like the smoothie and of course how the family responds.  Don't let on what's in the smoothie either or you'll blow it with little ones or even teens.  My son says, "Just don't tell me what's in it mom, cuz it actually tastes pretty good"!
Disclaimer; We would like to inform you that we receive compensation for any super greens purchased through the link in this post.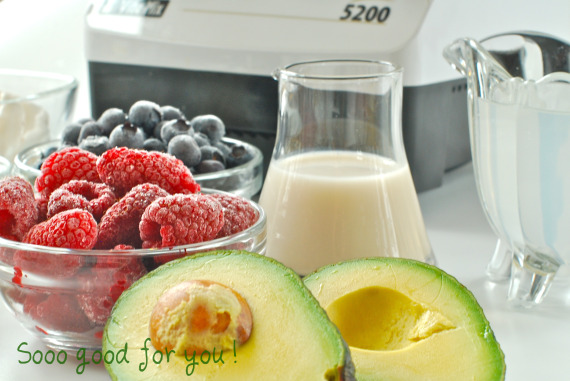 Pin It