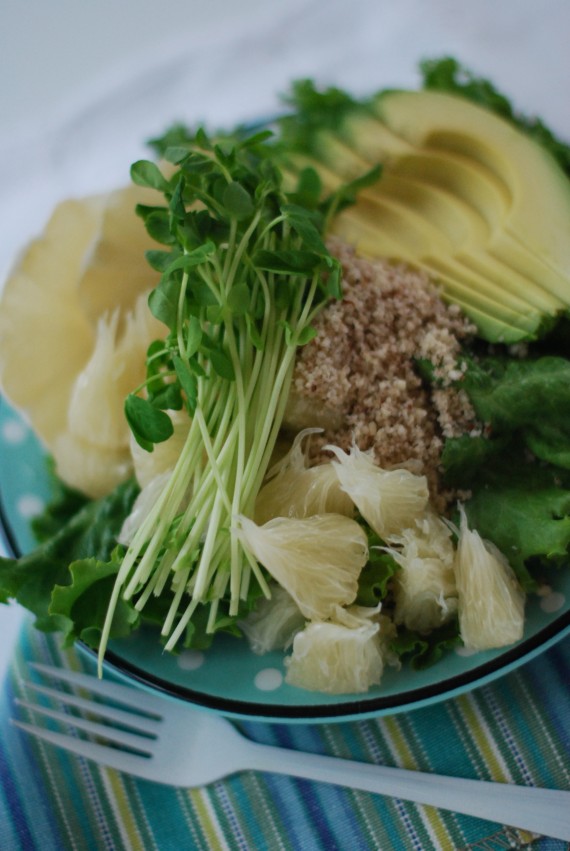 With the new year always comes these gorgeous shiny seasonal pomelos that my kids love snacking on.  We are often peeling an entire pomelo and nibbling all the juicy goodness in one sitting so there is never any left for me to be creative with.  Today I managed to snafoo some to concoct this yummy salad.  The brazil nut topping is so tasty I could eat it by the spoonful.  I'll bet you can find a few recipes that you can top with this business.  Fresh garlic, salt and pepper make it just divine!
I've noticed that with just the mere thought of spring approaching I am loving my daily salads.  Yet in November I still enjoyed them but rather yearned for some warmed veggies alongside my salad.  Because I am a spring baby, that's my time of year–tulips, daffiodils, fresh fragrant spring air and sunshine make me crazy, so salads and healthy living fit right in with this because it energizes me like an emerging flower, bursting into life.  This pomelo salad is the perfect fix for a sunny almost spring like day.
How's your salad routine been?  Are you bored with winter options?  Is your salad without life?  Does it satisfy you?  Are you eating enough of them? So many questions??   I usually try for two a day so that's a lot of salad variety that I demand in a week.  Sometimes I treat myself to one or two a week from my favourite salad place but usually I am concocting something yummy.  It isn't always this pretty but I enjoy it sooo much more if I take a little more time to make a yummy dressing and add some nice seeds,nuts and sometimes papaya or low sugar fruit.  It doesn't take that much more time but it makes a world of difference in the flavour and the satisfaction of having enjoyed the yummiest, healthiest, meal that totally energizes me.
In this salad the nutritional benefits are fab with the low sugar pomelo offering lots of vitamin c, B1,B2, Beta Carotene, Calcium, Iron, Protein, as well as being of very high water content. You can find these in Asian markets usually in plastic wrap and then a red mesh.  They look like an enormous grapefruit and but only yield a little more than a grapefruit as the skin is very thick.  Be sure to remove the membrane of each section as it is too tough to eat.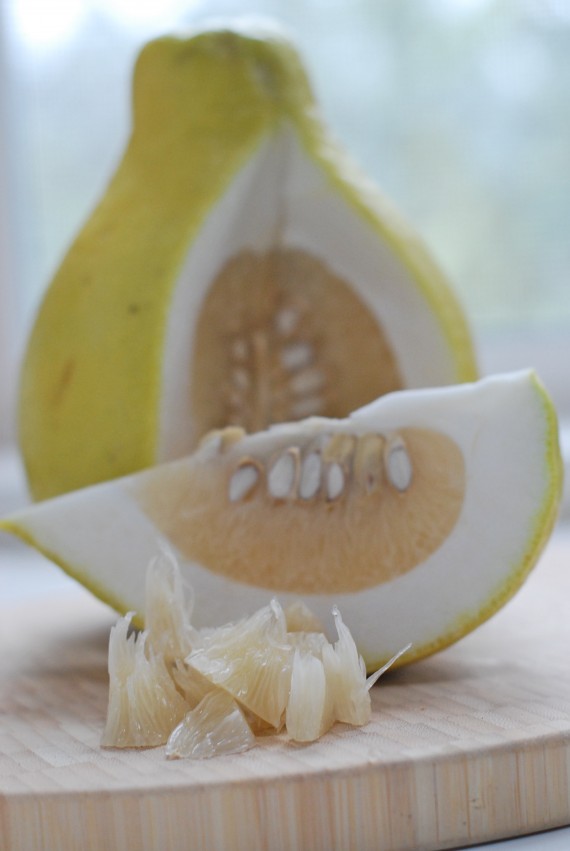 The Brazil nuts are very rich in selenium and also contain lots of magnesium, protein, copper, niacin, vitamin E and are beneficial for promoting a healthy thyroid and their antioxidants protect against cancer and heart disease.  Brazil nuts are an alkaline nut along with almonds.  All other nuts are slightly or highly acidic.  Add in the uber healthy avocado and you will be full of energy after this super duper hearty salad since you get a double dose of Brazil nuts with the dressing.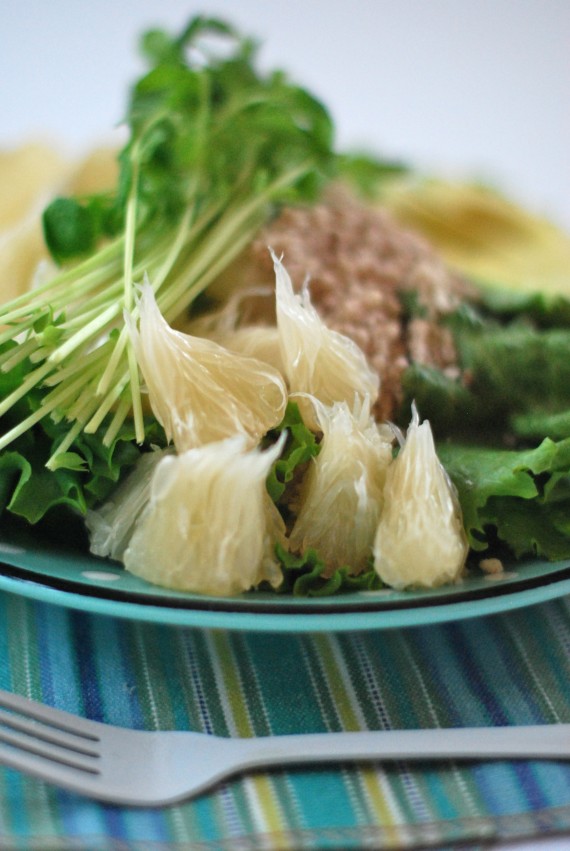 Pomelo, Avocado & Greens w/ Brazil Nut Cheeze & Creamy Lemon Pepper Dressing
Yield: Large Salad for 2
For the Brazil nut cheese
1 cup raw brazil nuts
1 clove garlic
generous salt & pepper to taste
Method
In food processor combine nuts garlic and salt & pepper and process until finely ground but watch carefully so as not to allow it to become a butter.  Store in mason jar with lid in refrigerator for 3-5 days.
For the Salad
1 head curly leaf greens, washed and torn
1 pomelo peeled, segments peeled and broken into bite size pieces or crumbled
1 avocado, sliced
Method
Place greens on two plates and divide pomelo and avocado between plates. Top with Brazil nut cheese, as much as you desire.
Creamy Lemon Pepper Dressing
yield: approx 1 cup
1/2 cup diced peeled zucchini
1/3 cup raw brazil nuts
1/3 cup extra virgin olive oil
juice and  zest of one lemon
1 very small garlic clove
1/2 tsp agave
1/4 tsp Himalayan sea salt
1/4 tsp fresh ground black pepper
Method
Place all ingredients into blender and combine well.  For consistency you may add a tbsp of filtered water if needed.  I rather like it thick and creamy but it will further thicken because of the nuts.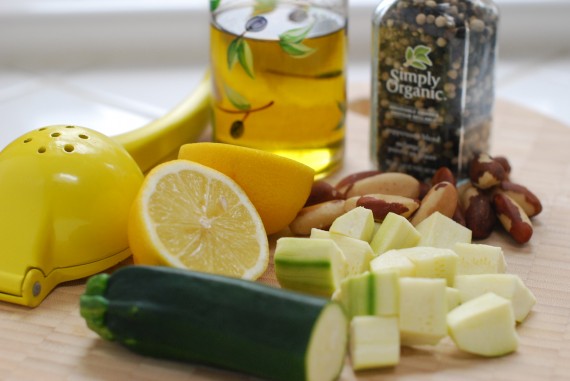 Friday came fast this week as I was busy winding down my retail store, so a little tardy with this post.  The store is getting there but still lots of furniture to find homes for so if you are in the market for some new seating, do stop by as the deals are awesome–and help me clear the place!
Have a great weekend.  Be good to yourself and put your feet up and read a favourite book or magazine!  I'm going to!
Julie

Pin It