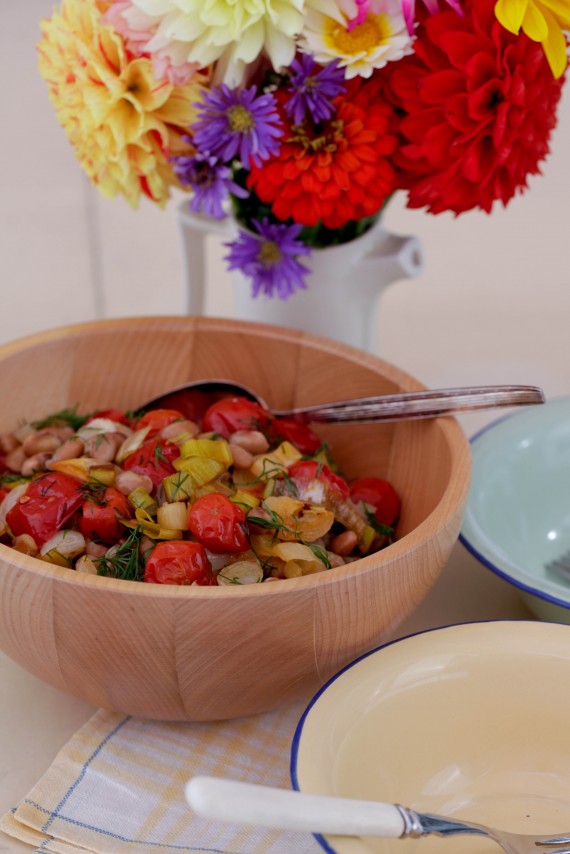 I had no intentions of being absent from here for so long but one thing led to another and next thing you know October arrived.  I've been fully occupied from the moment I completed my last class to now catching up on lost time with my young family, partaking in this photography and food styling course with Aran of Cannelle et Vanille. I was also doing my co-op hours in a nutrition and live blood analysis clinic with the amazing Marilyn Lister for my graduation requirements from The Institute of Holistic Nutrition. Then I was busy getting my kids settled back into school.  I realized after being absent every week for an entire year I also had to re-aquaint with my hubby so we escaped for a week just the two of us to the warmth of Mexico to read, relax and spend some quality time together.  Now….. I am ready to dig back in to this on-line world and share my new found wisdom to continue inspiring healthy alkaline living.  I will officially be a Certified Holistic Nutritionist after my graduation ceremony next weekend, yippee! Finally! Phew I did it!
I appreciated all your wonderful comments and well wishes while I was absent.  I hope you have been well and have taken good care of yourself and your loved ones.  I found a framed quote that spoke to me over the summer that says "It is easier to stay well than to get well." The perfect quote to live by and inspire us to constantly maintain a healthy alkaline state in order to avoid disease.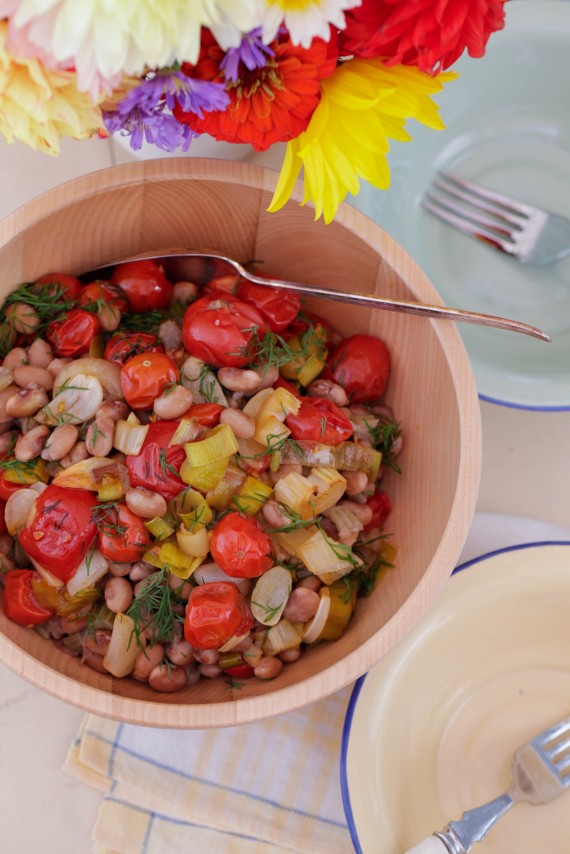 Although I haven't posted recipes for sometime I've been cooking up a storm and making some yummy healthy food that I will certainly be sharing with you in the coming months.  I picked up these pretty zuni beans as well as these yellow eyed beans (I'll do a dish for you with these yellow eyed beans this fall ) some time ago but finally decided to do a tasty dish with them.  Just the other day my father-in-law presented us with the most wonderful surprise of a very large brown paper bag of his home grown cherry tomatoes so I knew I had to make something to celebrate this lovely harvest.  I don't know about you but I could eat tomatoes any which way.  And there's nothing more divine than the burst of sweet juicy flavour from just picked sun ripened tomatoes.  The green house version pales in comparison even if it is an heirloom variety. Sun kissed tomatoes grown in healthy organic soil can't be beat.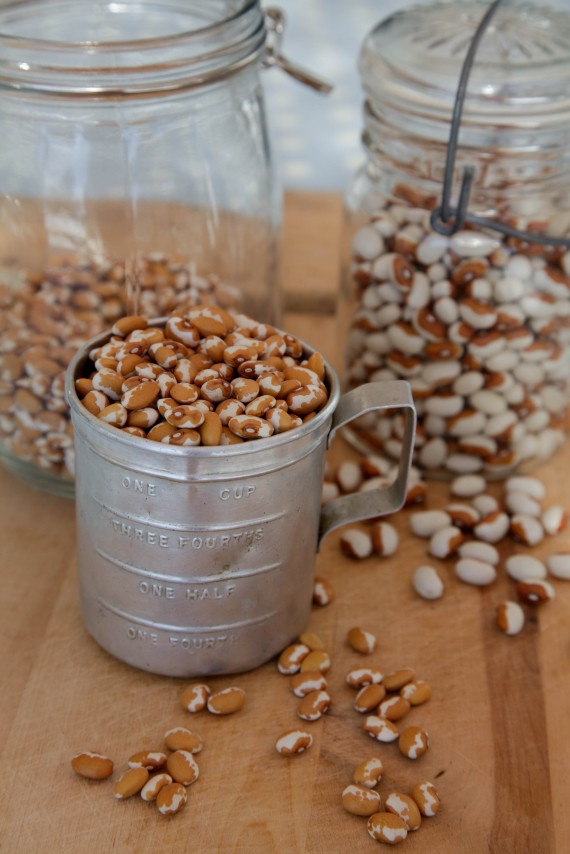 Zuni Beans w/ Roasted Tomatoes and Leeks
Yield: Serves 6-8 as a side dish
For the Zuni Beans
1 cup zuni beans or other dried light coloured bean
1 lg stalk celery finely diced
1/2 med onion, finely diced
3 garlic cloves, peeled
2 tsp sea salt
water
For the Roasted Tomatoes & Leeks
2 cups small cherry tomatoes
1 leek slit length wise, then sliced
4 cloves garlic, sliced
1 tbsp coconut oil
sea salt
To combine the above
olive oil
sea salt if needed
fresh chopped dill
Method
Place beans in med sized bowl covered with 2 inches of water and soak over night.  Drain, rinse and place in medium sized pot. Add diced celery, onion, garlic cloves, 2 tsp sea salt and cover with one inch of water and just bring to a boil, then immediately turn down to lowest setting to simmer. Test for doneness after 45 mins, beans should be soft, yet firm and tasty but not mushy, you should want to keep eating them!  If not, allow to simmer for 5 more mins and test again, repeat if necessary.  Drain beans, but save this precious broth (use for a soup or freeze for use later).  Toss with 1 tbsp olive oil and set beans aside.
While beans are cooking place tomatoes, leeks, garlic slices in roasting pan and dot with 1 tbsp coconut oil and a sprinkle of sea salt.  Place in 350 degree oven oven for 5mins then toss to coat with oil.  Roast for approx. 30 mins until some skins break and leeks are softened.
Allow to cool slightly and then gently toss with tomato mixture adding fresh chopped dill. Season with sea salt to taste.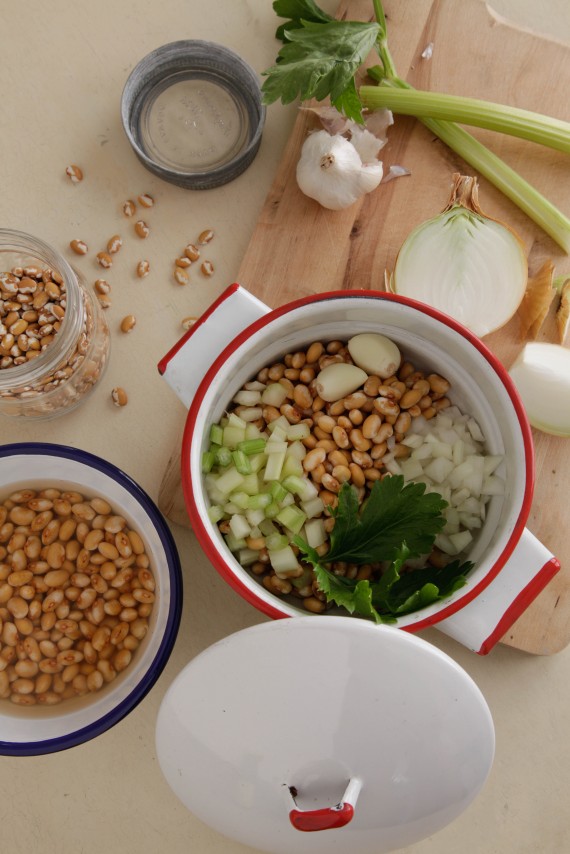 I was inspired to cook with beans after reading a book recommended by my good friend Leslie.  The Everlasting Meal is a wonderfully inspiring book by Tamar Adler who writes so beautifully about the simplest things from boiling water to ensuring your beans are perfectly cooked-you need to test 5 beans and all of them should taste like more! –If one doesn't, let them cook a wee bit longer, she says.  Tamar shares how she cooks which is sooo natural and effortless while making the very most of her groceries. Although Tamar doesn't focus on alkaline lifestyle there is much to be gleaned from the simplicity with which she approaches meals while preparing for the next, making her food preparation flow from one meal to another.  I don't know about you but I find that sometimes I tend to complicate my food preparation and I don't always plan for more than one meal at a time.  It was refreshing to read how she has developed a rhythm with her food that is light and easy.  My take away from her book is to think of our meals as a flowing stream, with one leading to another.  Save the broth from one meal in order to prepare the next and intentionally roast double the amount of beets and save half for salad the next day. She makes a small bit of left overs become the tasty accent for the next meal.  I tend to consider leftovers as another quick meal but not a special part of the next meal.
Anyways, if you think just a wee bit ahead and soak these zuni beans overnight you will be rewarded with delicious tasting beans that no tin can can ever deliver. And to top this off when you cook the beans, if you work it a wee bit as I have suggested above, you will have flavourful beans from the addition of onions, celery and garlic that also yield a lovely nutritious broth–bonus!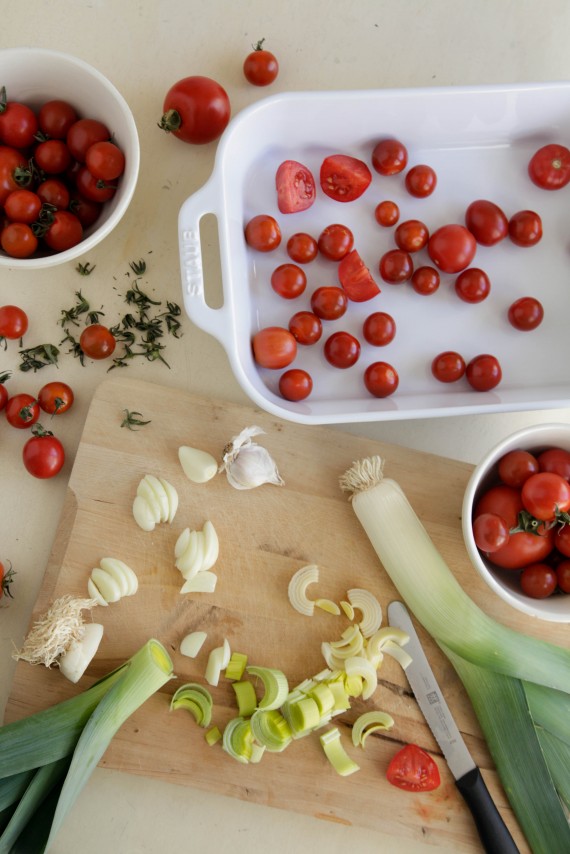 So here you have it, lovely leeks, sliced garlic and garden tomatoes.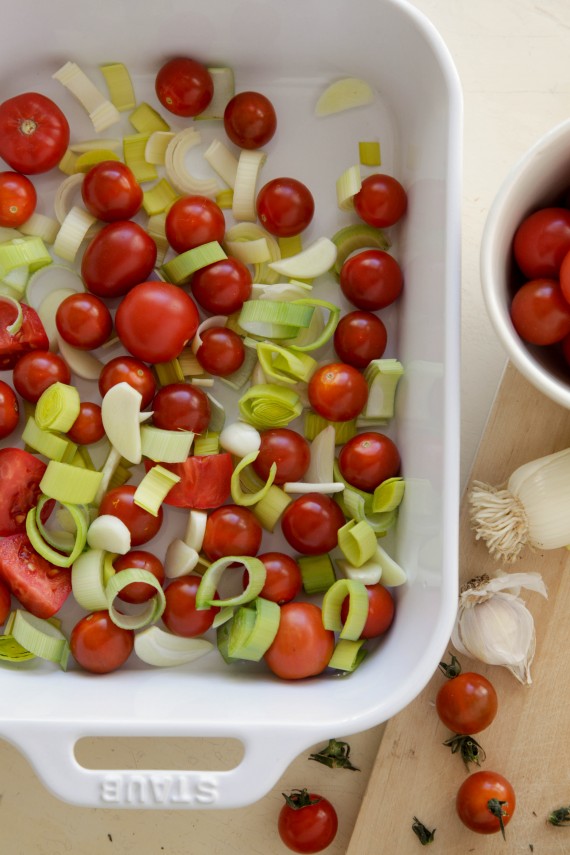 I have moved into the coconut oil camp and out of the cooked olive oil camp because I know too much now after studying biochemistry in school and learning about the molecular damage that many oils receive after being heated.  Coconut oil is an incredibly heat stable oil that complements so many dishes.  I have discovered various versions.  Organic raw cold pressed is quite coco-nutty and very obvious in it's flavour (many of us are fine with it in sweet baking) where other organic coconut oils have a very mild flavour that is neutral.  Ideally the raw cold pressed is what you want but many of us aren't accustomed to having a coconut undertone to our savoury dishes unless it's a coconut curry perhaps.  Experiment as you may and use what works for you and your budget.  Here I have dotted the tomatoes with the solid oil but you can also warm it in a glass measuring cup and drizzle it over and toss. I just popped it in the over for 5 mins and then gave it a quick stir to distribute the oil.
These morsels below are truly like candy!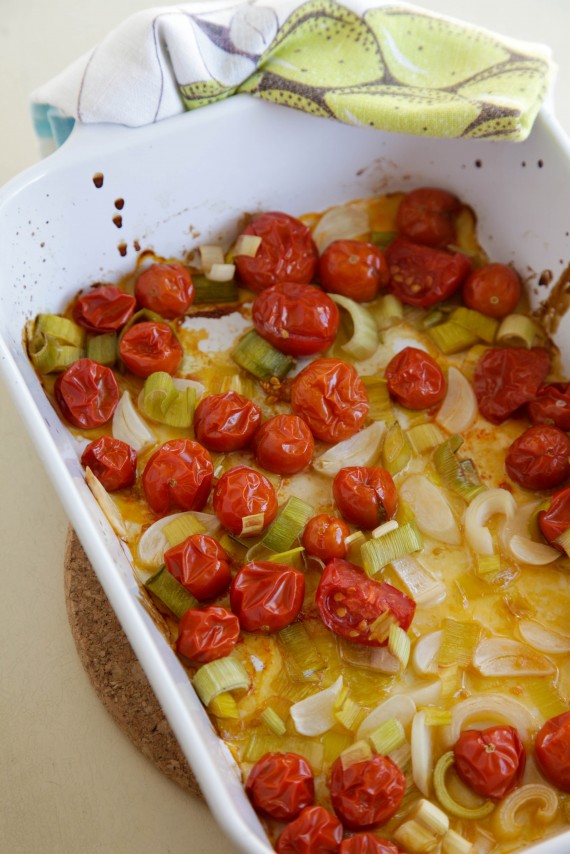 There's no fancy dressing needed for this cuz the flavours of the veggies and beans are so divine that a drizzle of good olive oil and pinch of salt is all you need along with a handful of fresh dill.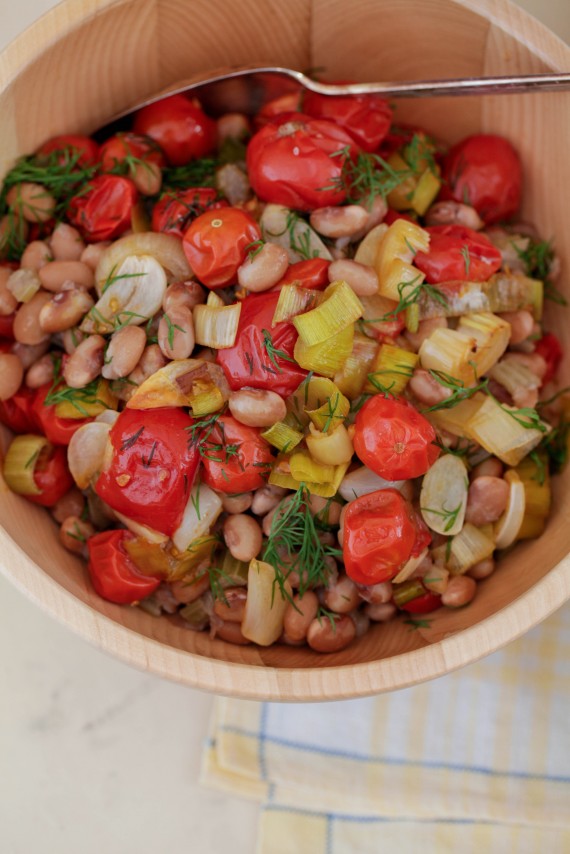 This could just as easily have been a soup by leaving the beans swimming in the broth and spooning the roasted veggies over top.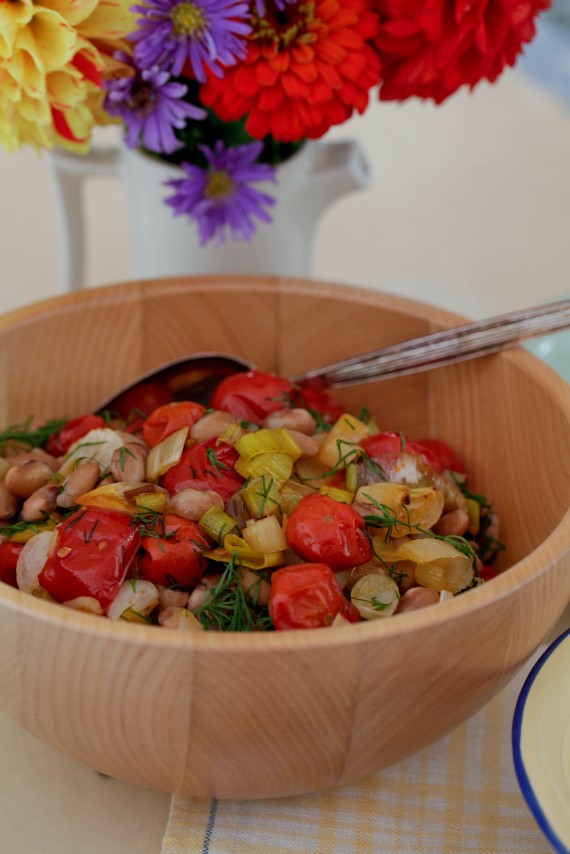 I usually enjoy this over top of a bed of organic greens or inside a sprouted grain tortilla filled with fresh sprouts and greens.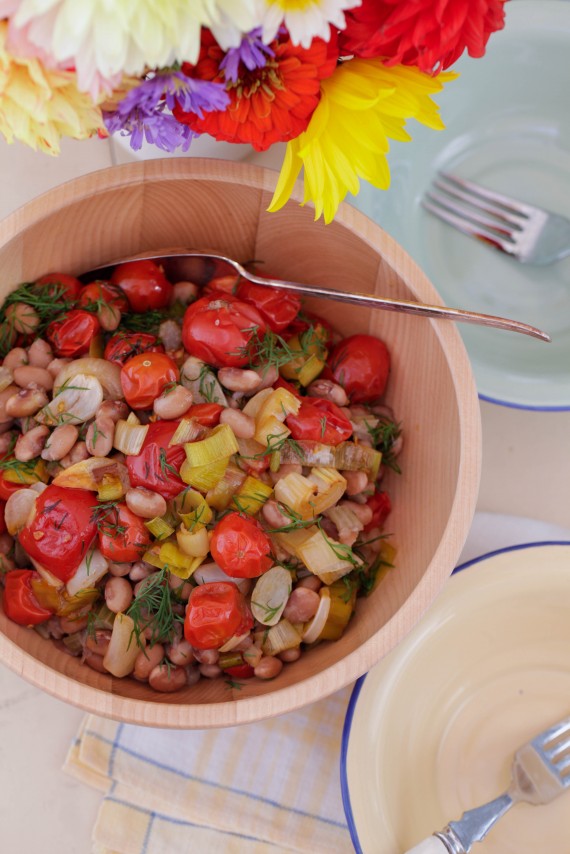 I hope you are able to enjoy the wonders of autumn where you live.  Here on the west coast of Canada we are experiencing the summer we didn't have in June and July. It's been clear sunny skies and warm although in some areas the threat of a water shortage is concerning since it's been so long without rain.  Mother nature usually kicks in just in time so I have faith.  In the meantime, I am savouring this weather and the late summer blooms like the ones below that I was delighted to find at a road side stand for our Thanksgiving dinner table this weekend.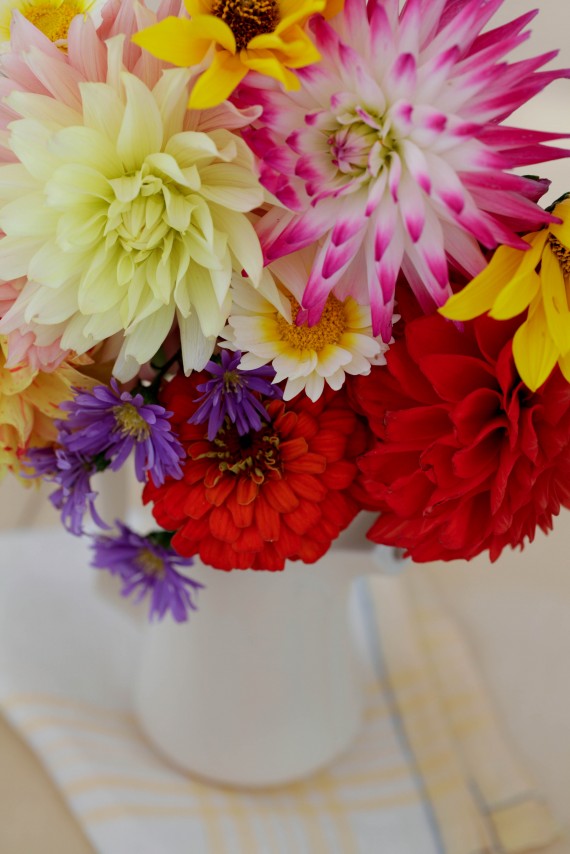 I also came across these false sunflowers nodding their heads in the breeze. I HAD to pull over to capture them so I could share them with you.  Pretty aren't they?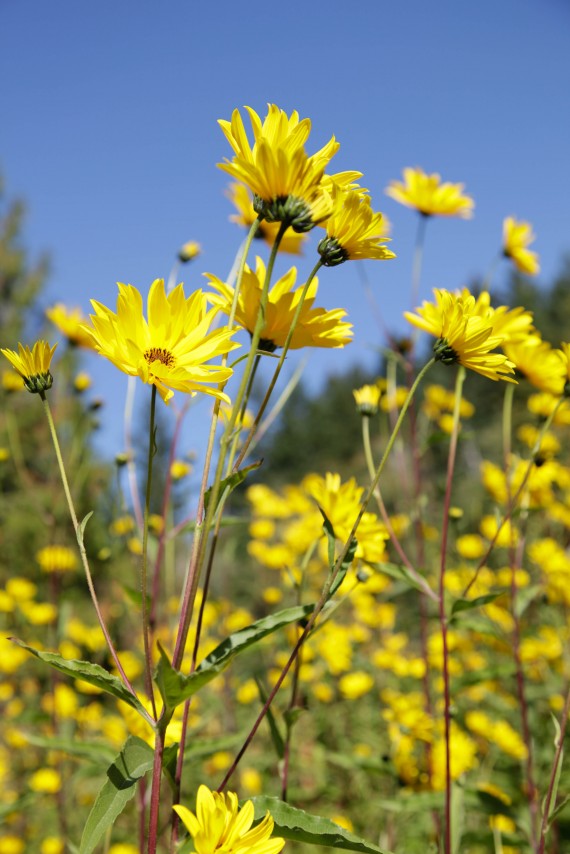 I had to jam the brakes on when I saw this extraordinary harvest display on the front lawn of a house in Cowichan Bay here on Vancouver Island.  Can you believe how lovely this is….created for us all to enjoy as we pass by.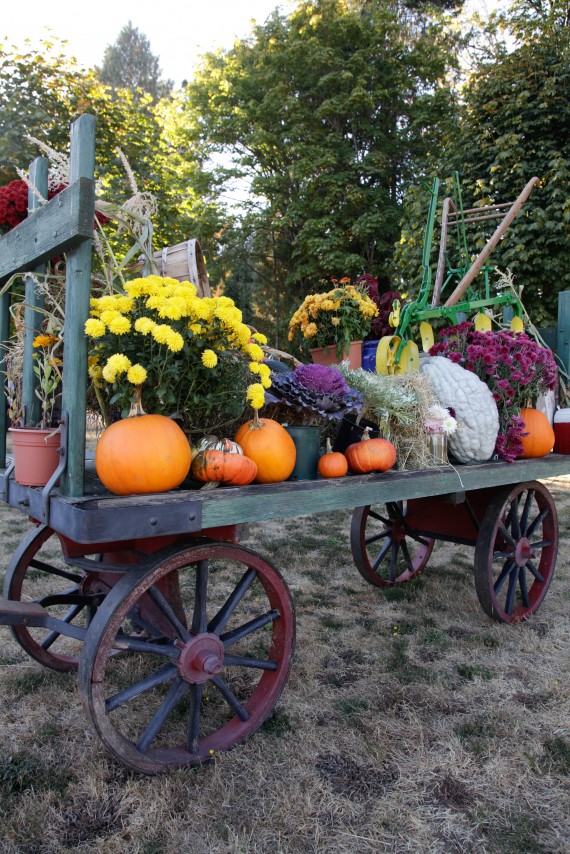 The sights of autumn never cease to amaze me…much like this flouncy scarecrow doing her job keeping the birds at bay from the crops beyond.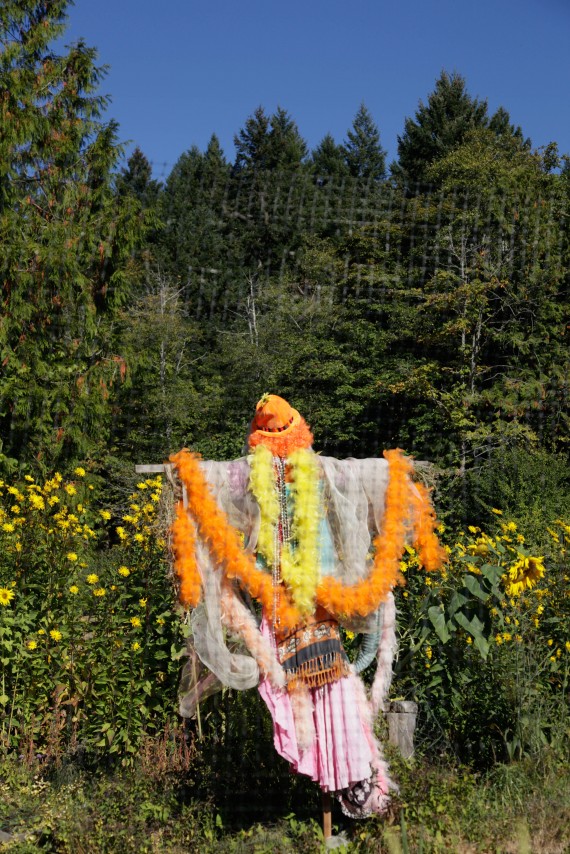 I'm so happy to be back here 'shootin' the breeze' with you and sharing something yummy and nutritious for you to make.  I'd love to hear how you've been and what changes you have made to your diet or your plans for healthy routines this fall or that juice feast you've been planning to start.  Just click the comments link in brackets below and drop me a line.  Questions are always welcome:)  Hope you are enjoying this Thanksgiving weekend, that is if you are a fellow Canadian.  Enjoy the season and I'll see you back here in a couple weeks as do my best to post recipes bi-weekly.
Julie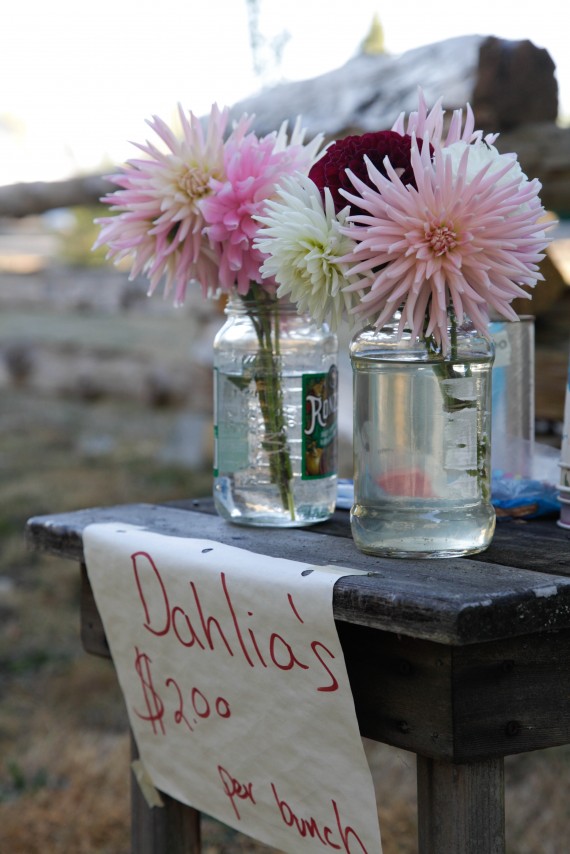 Pin It