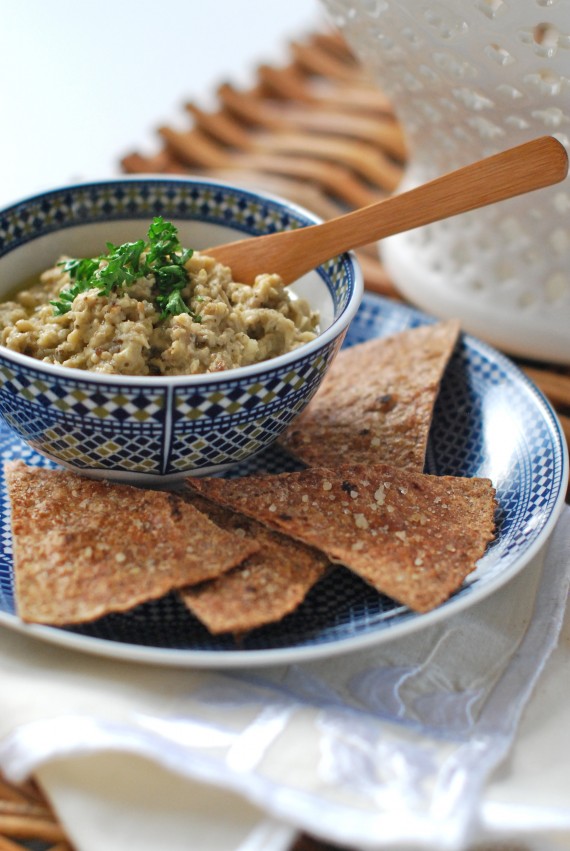 Wow, what a wonderful trip! How lucky am I? I had to pinch myself a few times, Marrakesh was so amazing! I mean meeting Holly of Decor8 and Maryam of My Marrakesh at her gorgeous Peacock Pavilions boutique hotel, my word! It was definitely a week to remember filled with inspiration, from all the friendly students that traveled there for Holly's course along with the incredible setting, to a fun filled week of activities organized by Angela of Ritchie Ace Camps. Marrakesh is a beautifully stimulating city brimming with culture, mystery, adventure, and of course tasty unique flavours. I found myself savouring and trying desperately to memorize the tastes, textures and fragrance of the many, many incredible dishes I devoured. I was hungry for inspiration and new ideas to share here with you and returned armed with ways to inspire more delicious and unique flavours to make your healthy alkaline journey more desirable. I even managed to find some lovely styling props, surprise surprise! But I left my poor ole sis Yvonne at home….. next time, she'll be right along side me helping to remember the flavours.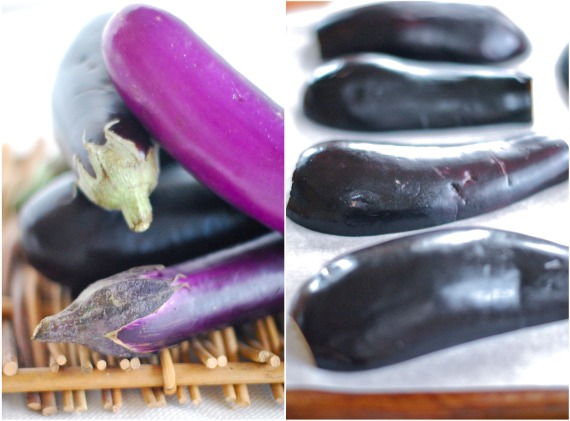 I came home hunting for eggplants to make this yummy eggplant dip called Baba Ghanoush that we ate almost every day somewhere along our journey. I really fell for it and was craving it the moment I returned home thus I was on a mission to make it, so here we have it. You may have tried it before or even picked up the store bought version but I think you'll enjoy this simple tasty version.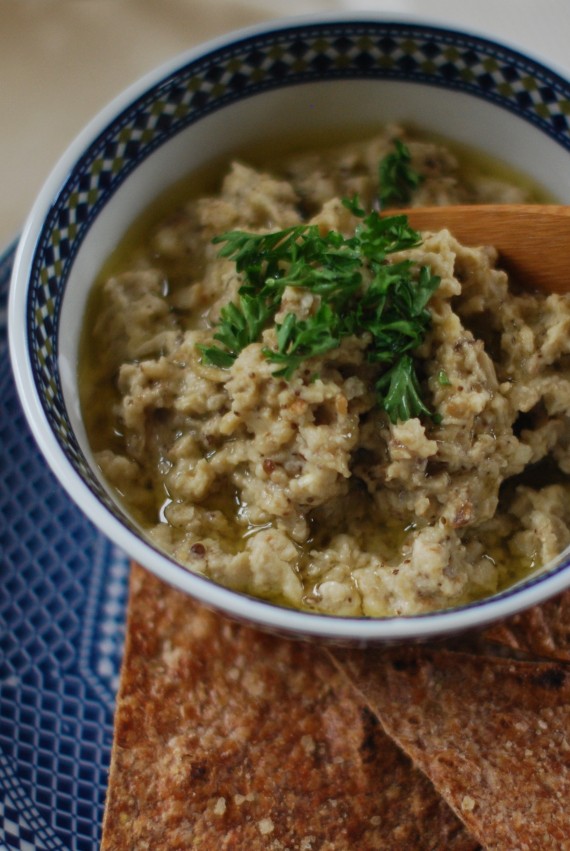 Roasted Eggplant Dip w/ Cumin Dusted Sprouted Grain Tortilla Chips
Yield: Appetizer for 6
For the dip
6 eggplants, 6″ long approx, preferably organic
2 tbsp olive oil + a drizzle
4 cloves garlic, crushed
juice of one lemon
1/4 tsp sea salt
1/2 tsp cumin
Method
Trim ends and slice eggplants in half length wise and place face down on parchment paper, divided on two baking pans.  Prick eggplant halves with a tooth pick several times to allow steam to escape during cooking.  Roast at 375F for 20-25 mins until inside is soft and tender.  Remove from oven and allow to cool til you can handle them and then scoop flesh out using a large spoon and a fork to steady, scraping the skin well.  Place in food processor with 2 tbsp olive oil, lemon, sea salt, cumin and blend til combined and minced but not pureed, allowing for a bit of texture.  Drizzle with the best olive oil your budget will allow and garnish with parsley for a bit of colour.  Serve alongside toasted tortilla chips
For the Tortilla Chips
1 pkg of 6 sprouted grain tortilla wraps
olive oil
3 tsp sea salt
3/4 tsp cumin
Method
Using a sharp knife or a pizza cutter slice the tortilla into wedges.  Place on baking sheet and brush lightly with olive oil.  In a small bowl, combine salt with cumin and sprinkle on each wedge.  Bake at 375F for 12-15 mins til golden and crisp.  Allow to cool and serve with dip.  To store, place in air tight container for 3-5 days.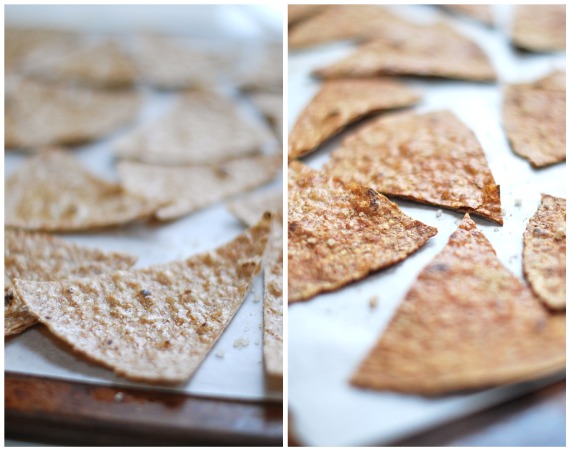 On our last night after a special Morrocon feast, Maryam generously presented each of us guests with a gorgeous bottle of her own harvested olive oil, I like to call it "liquid gold".  I will be using it raw, and very sparingly, for dressings to savour the flavour cuz it's absolutely divine!  Ohhhhh….. to dream of owning an olive grove!  I drizzled it over the eggplant dip–yum!  It's soooo yummy one could almost drink it!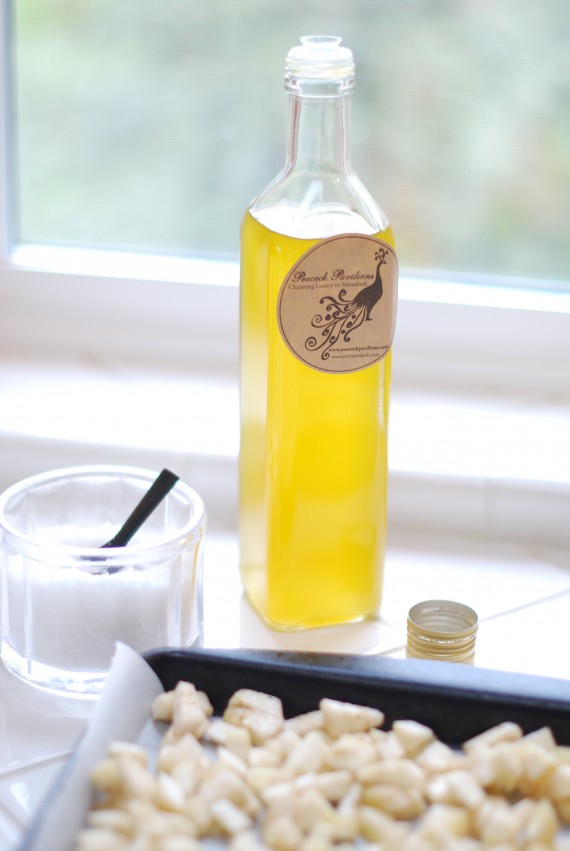 Since I managed to find 2 varieties of eggplant I had to try out the gorgeous long, vibrant violet, Chinese ones.  So….. I peeled 2 of them, diced them up, tossed them with 2 cloves of crushed garlic, 3 tbsp of gorgeous olive oil, a sprinkle of sea salt and roasted them on parchment for about 15-20 mins.  Oh my word, they were like candy!  After letting them cool somewhat I tossed them on a bed of greens with some roasted red peppers, chopped olives, a pinch of sea salt, and then drizzled with Maryam's olive oil,  and ooohh la la la!  This is a great way to get your raw quotient in a meal by combining the cooked veggies with the greens–add nuts too if you wish for extra protein.  Here they are in the bowl below before they were completely devoured.  I might mention that if you are thinking of trying this the yield is very small, only about 1 1/4  cups,  so either double the ingredients above or find a dark corner where you can hide and nibble them on your own!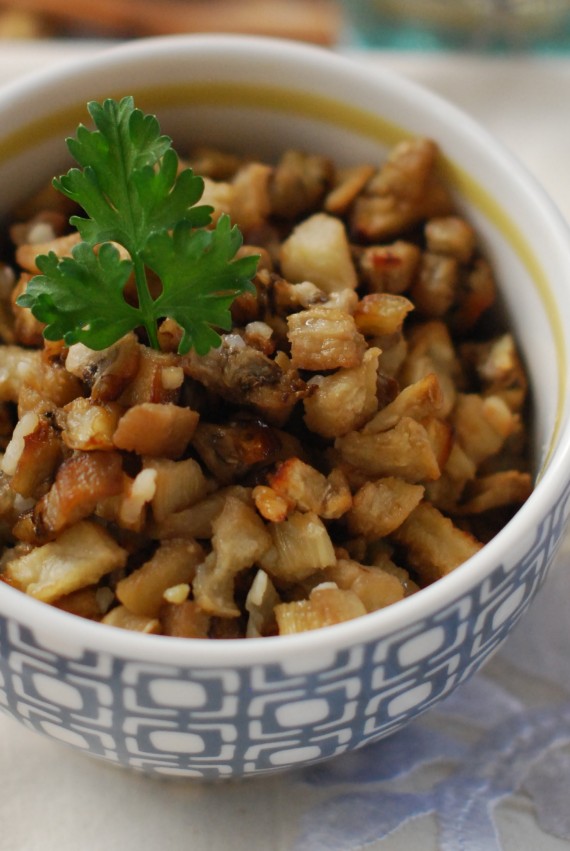 The many sites of Morocco are all incredibly photo worthy, thus I took way too many photos, making this post ever so difficult while I analyzed hundreds of photos trying to choose my faves to share with you.  I grouped the collages below to simplify my selections. The first one is scenes of Morrocon retail life in the souk or the market place where the trades of the locals are showcased in a variety of shops, stalls and makeshift selling locations such as the brick wall. The souk is just brimming with the hand crafted wares of the local people, readily available to us tourists who can't get enough of the glorious detail and vivid colours.  From gorgeous rugs, to leather slippers, bags and belts, spices galore and textiles including felt and cotton beads, scarves, kaftans, even silver teapots and trays, we didn't know what to shop for next!  But you need to know how to shop for good value, bartering is the way here.  It was tricky, yet I felt the desire to support them for their costs with out pushing the bartering business too far.  Perhaps some would say I paid too much but it's what you are comfortable with.
Scenes of Morrocon Retail Life at the Souk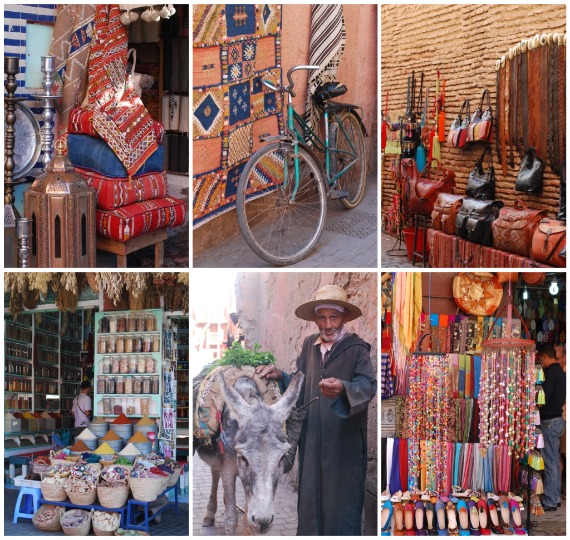 The next two collages are some lovely close ups of the wares for sale.  I can't resist the textures and the pattern when you zoom in so this is my close up account of what was for sale at the souk.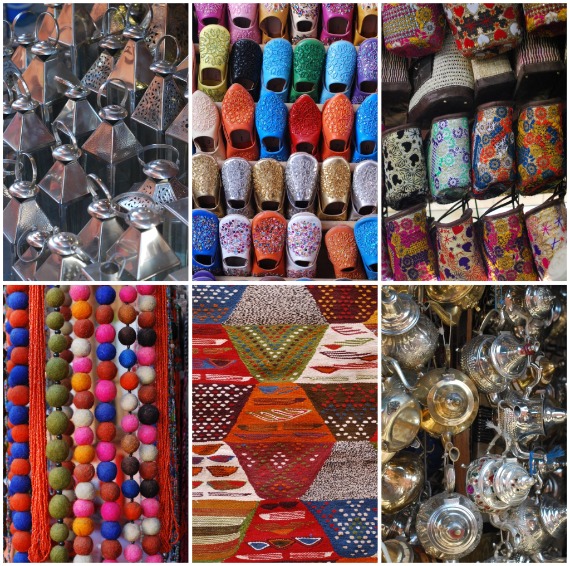 Pretty yummy hey?  I managed to bring home a fez–the traditional Moroccon hat with the tassel.  Elliott loved it and has been parading around in.  The spices were endless.  Stall after stall of heaping baskets, pails and bins ready for the taking, bursting with flavour for adding to yummy tagine dishes.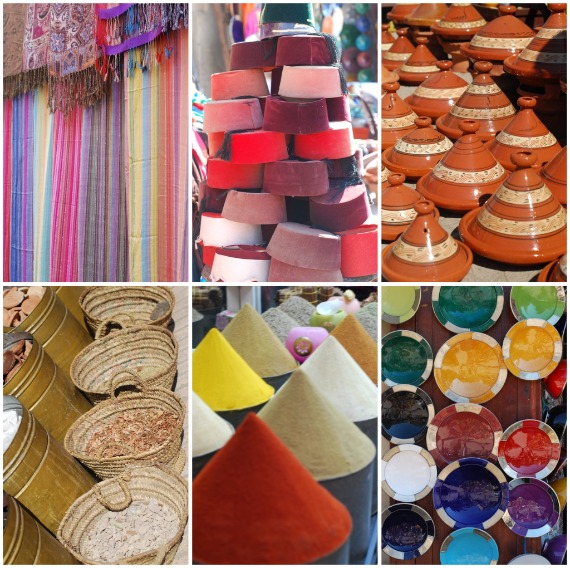 This next collage is a collection of the incredible patterns. I have a fetish for close up texture and pattern and find myself on every photographic journey taking many shots like these and the ones above at the market that tell the story of my trip.  But what happens when I get focused on these kinds of shots is that I forget to take the wider perspective sometimes-oops!  I still have lots but not the same kind of shots that say Holly of Decor8 took.  She featured our trip to Marrakesh in this post here that you might like to check out.  You'll see the Peacock Pavilions boutique hotel and the lovely room that I stayed in.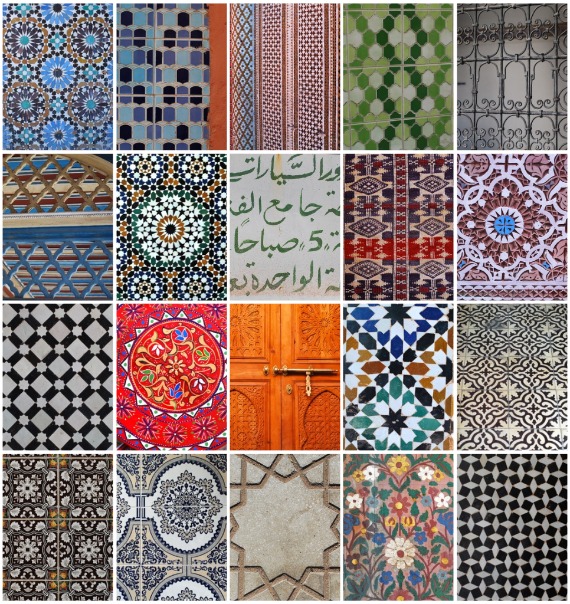 These patterns adorned everything including, floor & wall tiles, wooden doors, table tops, carved walls & ceilings, railings, concrete floor patterns, rugs, fabrics, it was absolutely, endlessly, gorgeous!  I think this combination is pretty enough for a poster, don't you think?  Below are a few collages of some of the snap shots from the beautiful Peacock Pavilions thru my camera lens.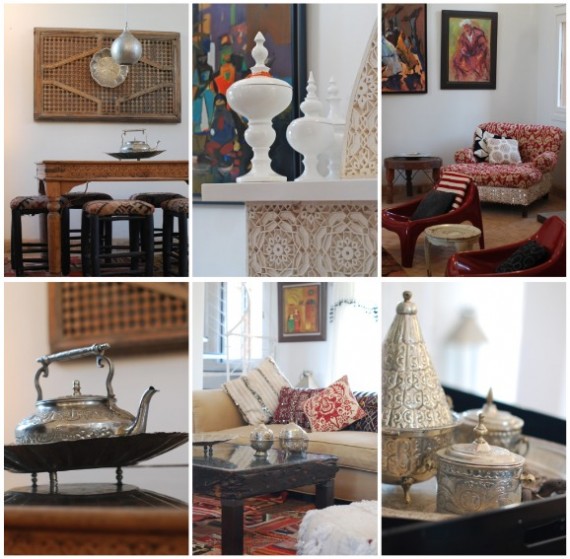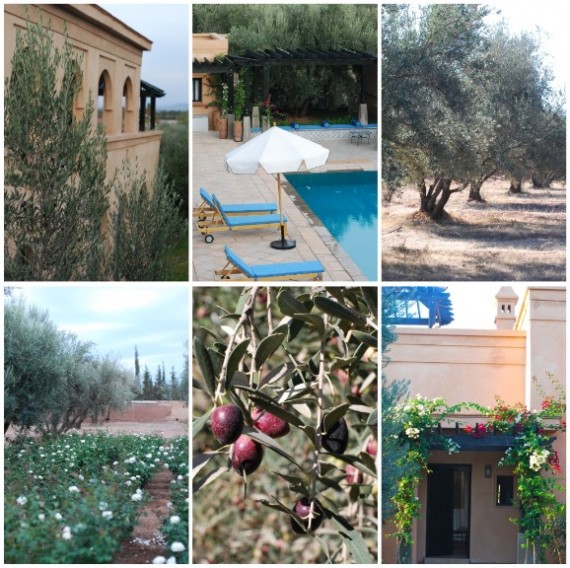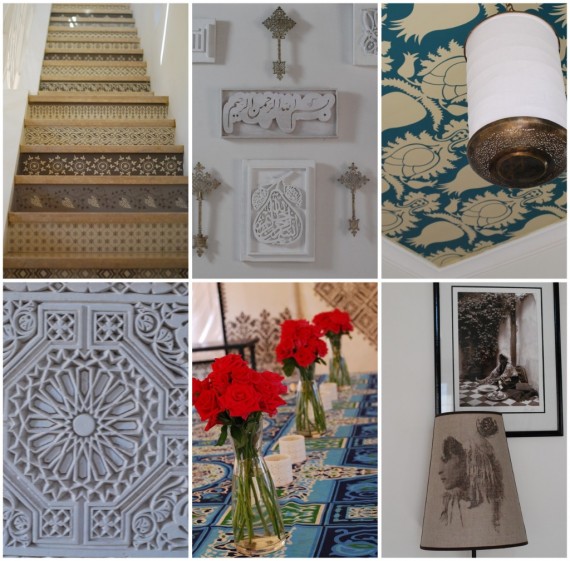 Now this last collage is a few snap shots of the yummy Morrocon cuisine that I enjoyed.  It was easy to find vegan or vegetarian options and Maryam and her staff were soooo accommodating for my entire week.  Honestly, I dined like royalty.  The best part– there was no prep and no clean up!  Tagines are used for cooking most everything, you can see the lovely conical shaped baking dishes.  Vegetables and or proteins are simmered for hours with an array of interesting spice combinations in these dishes.  It isn't a raw or lightly cooked way of preparing precious vegetables but it was delicious.  I hope to inspire you with my own versions of Morrocon fare with a more alkaline perspective, so watch out!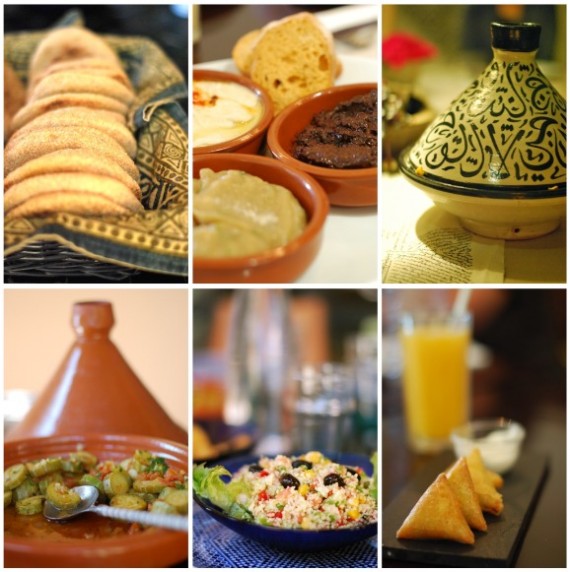 Phew!  If you made it to the bottom here I commend you!  I hope you enjoyed this photographic journey to Marrakesh and you are as hungry for Baba Ghanoush as I am.  If you have been to Marrakesh before I would love to hear how you liked it.  And, if you make the eggplant dip drop me a line and let me know how you made out or if you were creative with it and jazzed it up.
I'm glad to be back to blogging weekly after the trip cuz I really missed it-am I crazy or what?  I just love this job of inspiring healthy living:)
I hope you have a really great week and a Happy Halloween–beware of all the sugary treats:)

Pin It