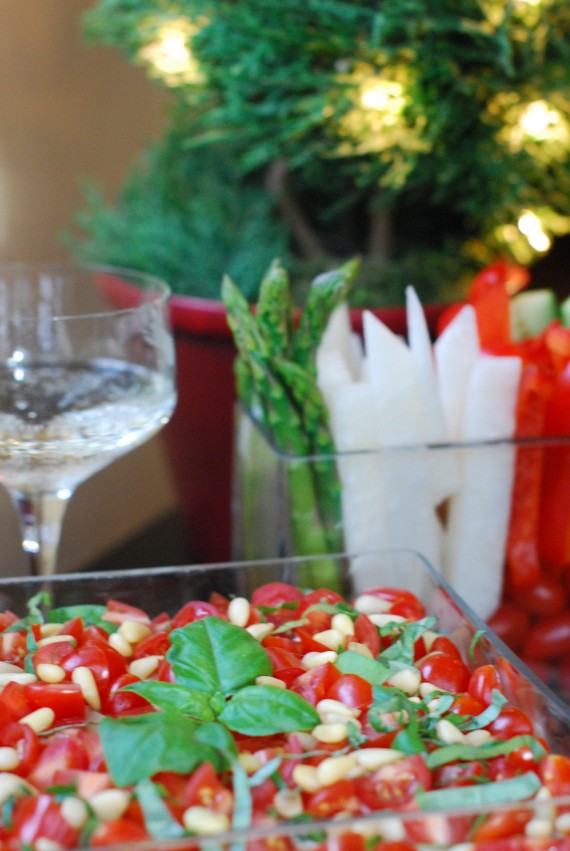 With Christmas only mere hours away and holiday gatherings to host or attend through New Years, it's nice to have a delicious, hearty, yet healthy recipe up your sleeve.  Many of the layered dips I've had over the years are arranged beautifully but often have undesirable dairy or mayonnaise fillings.  This tasty version replaces the creamy layer with a basil, cashew and zucchini cream, with a layer of lentils and olives replacing the standard, ordinary  bean layer.  By adding the rosemary & white bean dip as the last dip layer this recipe becomes a wonderful combination of Mediterranean flavours.  You can also vary this with a combination of your favourite dips layered or as per the recipes below that are delicious, layered with roasted peppers and tomatoes.
This year Christmas is wonderfully different for our family.  Christmas entertaining and recipes like this have already been prepared and enjoyed by many since we left our home town last week for a warm Christmas vacation on the Mayan Riviera.  As I inspire you to create this recipe that I made for a crowd earlier this month, I am remembering how yummy it was yet, I am currently thoroughly addicted to massive doses of guacamole and fresh cut salsa fresca here in Mexico.  I never tire of the these two staples, both of which are sooooo good for you.   Upon our return we will be celebrating New Years and come to think of it, I might just have to whip this recipe up for that gathering.  I'll be the first to say that it takes a little more effort than some holiday dishes but it's the "go to dish" when you have a party– the one healthy recipe that you know will fill people up and energize them especially if they are enjoying holiday bevvy's–and it feeds a crowd!
The recipes below are simply spooned atop another with roasted peppers and tomatoes in a clear dish for a festive colourful display.  Alternatively, each of these dip recipes stand nicely on their own as dips for crudites or with toasted sprouted grain tortilla chips.  So if you are short on prep time choose one or two of the dips and serve them with veggies or healthy crackers.
Mediterranean layered dip
Yield: Approx 6 cups – enough  for an army!  This will feed a large group at a gathering when paired with a generous crudites platter
1 pint cherry tomatoes quartered and set aside
10 basil leaves chopped finely, set aside
1/3 cup pine nuts
1 cup roasted peppers – optionally one can use jarred roasted peppers  or take 2 large red peppers diced and tossed with olive oil and celtic sea salt, and roast on parchment paper at 375 for 20 mins.  Cool and set aside.
Lentil & Kalamata Olive Spread – Bottom Layer
1/2 cup dried brown lentils cooked in 1 cup of water
1/2 cup pitted kalamata olives
1/3 cup extra virgin olive oil + extra for consistency
1 clove garlic
1/4 tsp salt
1/4 cup chopped parsley
Method
Place lentils in water and bring to boil, then reduce heat to low and simmer for approx 20-25 mins until tender and most of the water is absorbed.  Drain and place in bowl of food processor.  Add remaining ingredients to food processor.  Blend until thoroughly combined with a slight texture, adding additional splash of oil if needed.  Spoon mixture into the bottom of your layering dish.  Wash food processor.  Make the next dip.
Creamy Basil Dip – Second Layer
1/2 cups cashews, soaked for approx 1 hour
1/2 cup diced zucchini
2 tbsp chopped shallot
1/4 tsp sea salt
1 clove garlic chopped
1/3 cup fresh basil leaves
1/4 cup fresh parsley
1/4 cup olive oil
1 tbsp fresh lemon juice
2 tbsp filtered water + extra for consistency
Method
Place all ingredients into bowl of food processor and blend until smooth and creamy, adding a little extra filtered water for consistency if needed.  Spoon evenly on top of the lentil and olive layer.  Wash food processor and make the next dip.
White Bean Dip w/Rosemary – Final Dip Layer
2   14 oz tins of cannellini beans, drained and rinsed -organic if possible
1 clove garlic
1 large sprig rosemary, leaves removed from stem
1/4 tsp sea salt
1/3 cup olive oil + splash more for consistency
Method
Place above ingredients in food processor with S blade and pulse to combine. Turn off processor, scrape down sides of bowl and then blend again until combined.  Add additional oil if required to make a spreadable consistency that is not dry but lightly textured and creamy.  Season to taste with extra salt if desired.
To finish the layering, spread the roasted peppers on the creamy basil layer.  Next spoon the white bean dip generously on top of the peppers spreading carefully.  Now top with chopped tomatoes, followed by basil and finally the pine nuts.  Doesn't it look pretty?
Serve with colourful veggies sticks such as jicama, red peppers, lightly blanched asparagus, cucumber sticks or your other favourites.  Enjoy:)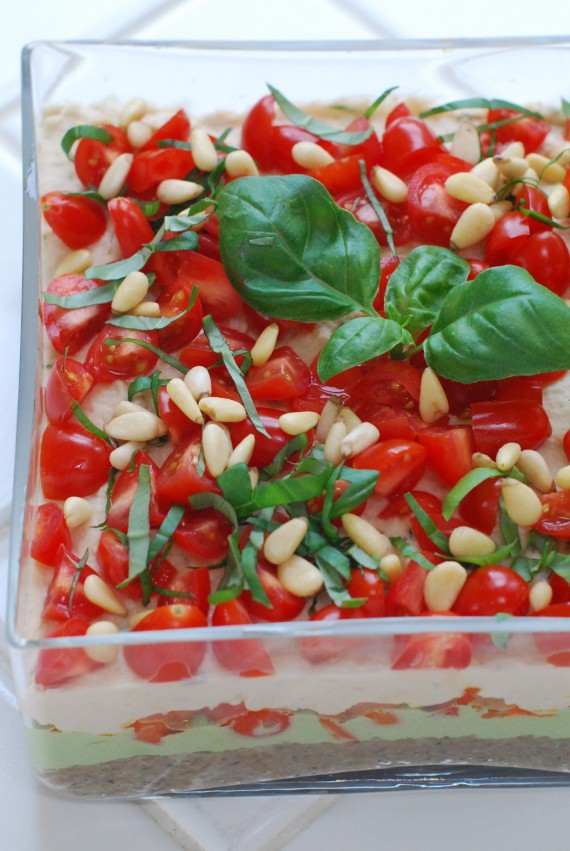 If you are reading this before December 25th I hope you have a wonderful Christmas with your loved ones.  If you are here after the big day, I hope Santa was good to you and that it was an enjoyable day.  I'd love to hear about your celebration and what you do to make your holiday healthier.  Let me know if you take this recipe on and how it was received by your guests.
I will sign off now–before I lose signal–again– with a promise to post one more simple recipe that you can whip up for your New Years eve.  This whole WiFi internet thing in Mexico has been interesting–one minute it works the next minute it doesn't. So it's a miracle that this post even made it up but I was determined, especially after taking the time to photograph this colourful dish before I left home.   It seemed a shame not to share it with you.
Cheers and we'll talk to you one more time before 2011!

Pin It