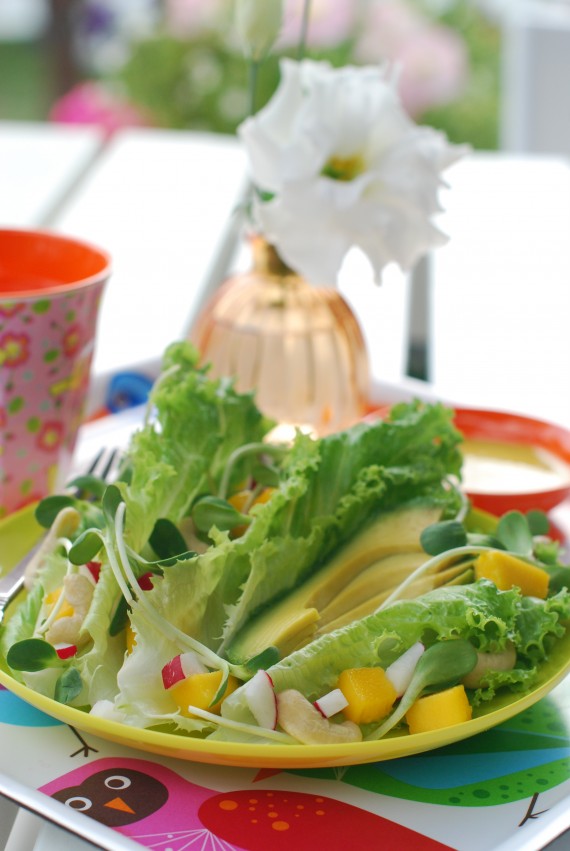 There's no place like home, there's no place like home…. don't you think?  We were only gone for 10 days but with 3 cities it felt like a month.  We had a fantastic time with all of our friends and enjoyed some incredibly delicious restaurant meals together but I have to say there's nothing like a healthy meal at home.  We had a couple of feasts from the garden at our friends lovely home where we all chopped, stirred, grilled and sampled-these were my favourite meals.  And now that I'm home I am happy to be feasting on yummy salads with tasty healthy dressings like this one that I could almost drink!  If you fancy curry, this is a quick way to enjoy it versus a cooked curry feast.  You'll taste the sweetness of the coconut in this dressing combined with the fresh mango and the crunch of the cashews-yum yum yum!  Are you bored with your salad dressings?  I was, so after a few trials I created a brand new favourite.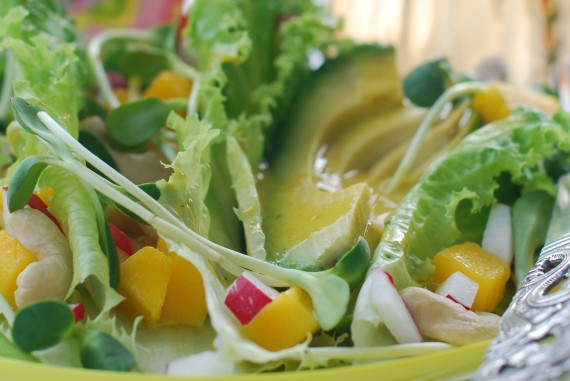 Mango Avocado Salad Dressed with Coconut Curry
yield: 4 servings
1/4c cold pressed sunflower oil
1/4c thick coconut milk (not light)
juice of 1/2 lime
2 tsp mogul curry powder or your choice curry powder
2 drops liquid stevia or 1/2 tsp agave syrup to taste
pinch celtic sea salt
1 large head of curly leaf lettuce washed and spun dry, some chopped, some whole leaves if desired
1 mango diced
2 avocados sliced
1/2 c whole raw cashews
6 radishes diced small
sunflower sprouts
Method
Combine sunflower oil, coconut milk, lime juice, curry, stevia and salt.  Wisk together well.  Let stand as you prepare salad.
Assemble greens, sprouts, mango, avocado and radish on 4 salad plates.  Drizzle dressing over salad, top with cashews and serve immediately.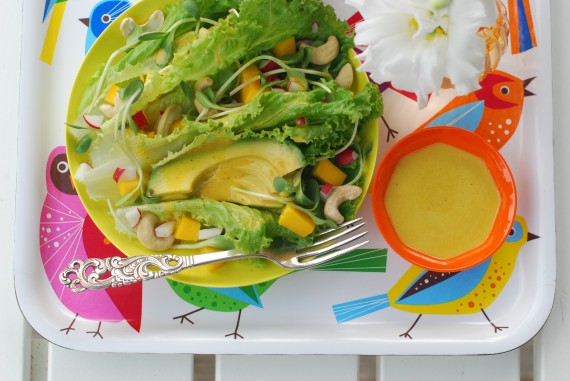 Curry seasoning isn't a spice I work with often so experimentation and lots of tasting is how I incorporate it.  I recommend tasting the strength of your curry prior to adding to this dish as they vary greatly in flavour and heat.  Are you one of those diners that tastes a dish and then goes home to recreate it with my interpretation of the flavours.  I do this often which is how I created this dressing.  I love the challenge of trying to recreate flavours with out a recipe to follow.  My sister Yvonne is always curious at to how I do this as she doesn't find it that easy to define the flavours of a dish.  I guess it just depends on how interested in food you are and how keen your taste buds are, don't you think?
This salad is action packed with healthy benefits.
My goal is to offer you recipes filled with flavour and of course incredibly nutritious elements to energize you.  Avocado is a perfect food as it supplies an excellent source of omega 3 & 6 oils, iron and copper, phosphorus and magnesium and is the richest source of fiber among all fruits and vegetables.  Sprouts have high levels of disease-preventing elements called phytochemicals.  They have greater nutritional properties than their seed or their fruit thus often considered a "wonder food".   Sunflower sprouts are rich in lecithin and vitamin D and they have the power to break fatty acids and also ease digestion. One can usually find these at the grocery store or sprout them at home.  The mango in this salad won't upset your food combining digestion as long as you don't over do it.  Fruit should be eaten alone for the best digestion but some fruits mixed with greens is acceptable in moderation.
Coconut milk is the milky white sweet liquid that is obtained from the flesh of mature coconuts.  Although it is high in saturated fat it is much healthier than other animal derived saturated fat products, and the fat is easily metabolized by the body. The main saturated fat that it contains, lauric acid, is also found in mother's milk and has been shown to promote brain development and bone health. Coconut milk boosts your immune system with anticarcinogenic, antimicrobial, antibacterial, and antiviral properties.  Dr. Robert O. Young says "Coconut oils in coconut milk is good but not for reducing cholesterol and clearing toxic buildup in the blood and lymph. It can help lubricate the alimentary canal to remove acidic solid waste and help clear the way for alkalizing oils, greens, salts and water."  So if you are not seriously detoxing but just eliminating daily acids this oil is beneficial, but don't use it during a detox.
As for the curry it is a mixture of many spices, mainly tumeric, making it yellow in colour.   Since there are so many spices in the mix there are dozens of benefits to enjoying curry often,  including reducing inflammation of joints for those who suffer from arthritis, improved memory, as well as protection against cancer, heart disease and Alzheimer's disease.  With all the benefits of this salad you should be running to the market right now!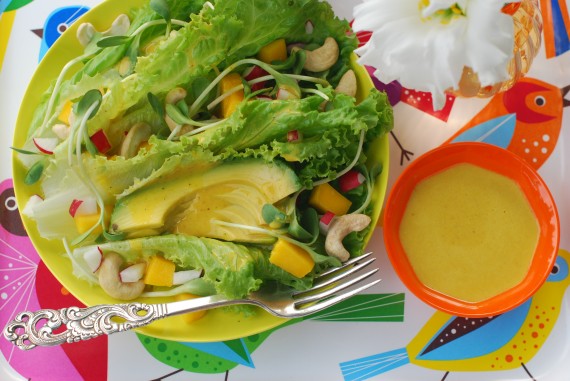 If you are wondering where I managed to find this adorable bird tray, I can share.  It was last summer at Ikea when I came across it but I heard that they still carry it this season.  I had to have it and I bought two cuz they were so affordable!  They make me smile in my lake house kitchen as I prepare yummy meals.
I hope you enjoy the start of September.  There's still some summer left to savour in these next few weeks so lay in the hammock or hit the beach before it cools down any further.  I'll be enjoying the last hurrah of summer with my family over the long weekend up at the lake before school begins.  What are your plans this weekend?  Do be sure to take some time to "chillax" and I'll see you here next week.


Pin It