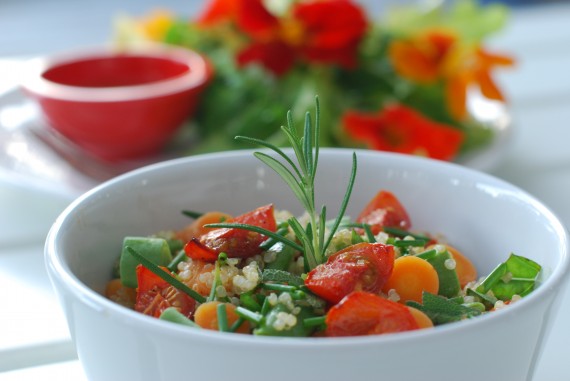 With a gorgeous bowl of summer cherry tomatoes on the counter I decided to roast them on the BBQ, making them practically taste like candy in this dish!  My garden is also brimming with some of my favourite herbs and I feel so lucky to be able to mosey out there and snip fresh herbs for my recipes-luv it!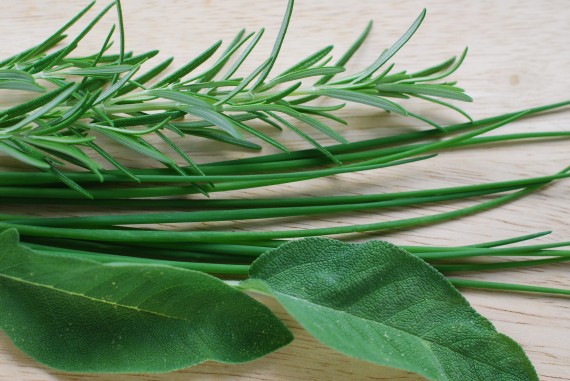 So I played with flavours of herbs here and some ingredients I had on hand and oh my this is a winner alright!  I've been eating the left overs more than once in a day-even for breakie!  Now thats a sign of a yummy dish, don't you think?  I hope you feel the same about this concoction.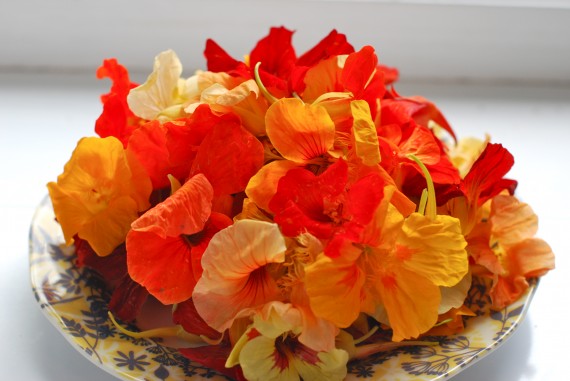 Now the nasturtiums, well I fell in love!  A very large bag of nasturtiums (an edible flower) presented itself to me at the Duncan market on Saturday and Micheal of Providence Farm was the vendor- I absolutely couldn't resist!  The colour, the beauty and ooooh the sweet peppery taste of them made me lose my mind!  I have been nibbling on them every time I open the fridge!  I simply can't get enough!  If you by any chance see these for purchase, snap them up and savour them!  If you have them in your garden, go now, and munch one and you'll know what I am talking about!  If you have already eaten these tasty morsels then you can relate, right?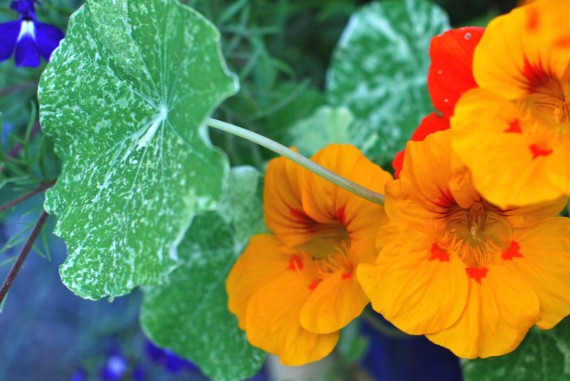 Michael also had an enormous bag of fragrant basil that I couldn't go home with out- take a peek- wish you could scratch and sniff!  My basil plant isn't quite big enough to harvest a mother load of leaves like this (and this was only 1/3 of the bag I bought) with out assaulting it so I was thrilled to find this.  I will be fully intoxicated by this fragrance for the entire week as I use it up in my recipes.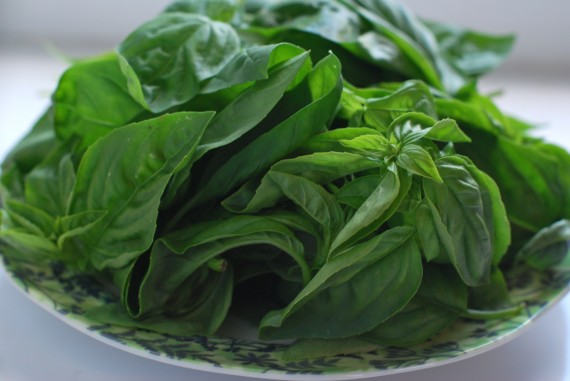 For the salad I was able to trim the first harvest from our veggie box-some heirloom baby lettuce.  I highly recommend placing the greens in ice cold water for 10 mins and then spinning gently and chilling for a wee bit prior to preparing salad to crisp them up or they won't stand up well with the slightest toss of a dressing.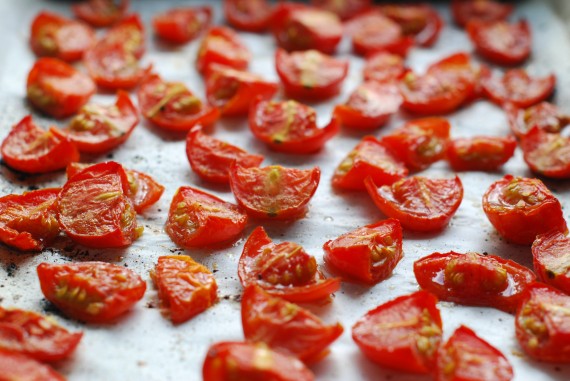 Look at these tasty morsels!  I could have just eaten them all right off the parchment!  Be sure to roast a few more than you need so there are a some "testers"-just in case things get out of hand!
Herbed Quinoa w/ Roasted Tomatoes
Yield: Approx 5 cups or 4 servings with left overs-hopefully!
2 dozen cherry tomatoes sliced in half lengthwise
olive oil drizzle
celtic sea salt
1 c quinoa soaked in 2 cups of water for 15 mins
1 c chopped broad flat green beans blanched 2-3 mins
1 c sliced baby carrots blanched for 2-3 mins
2 lg sage leaves chopped
1  4-6″ stem rosemary, needles removed and chopped finely
10 chives chopped
10 basil leaves chopped
3 tbsp olive oil
1 1/2 tbsp fresh squeezed lemon juice
salt & pepper
1 tsp agave syrup or alternative sweetener such as stevia sparingly
Method
• Place tomatoes on parchment, drizzle lightly with olive oil and sprinkle with salt. Roast carefully on BBQ or in oven for approx 20-30 mins
• Drain quinoa thru fine sieve and rinse.  Place 2 cups of fresh water and quinoa in med sized sauce pan on high heat and bring to boil, then reduce to med low and simmer for 15 mins.  Remove from heat to let it absorb water.  After resting for about 10 mins, if any water remains, drain well.  Place in large bowl and allow to cool.
• After blanching carrots and beans run under cool water to stop cooking and allow to cool, then add to cooled quinoa.
• Add cooled roasted tomatoes and chopped herbs to mixture.
• Combine olive oil, lemon juice, agave or sweetener and season with salt  pepper to taste.  Mixture should not be too acidic from the lemon but not too sweet from the agave.  Adjust to your liking.
• Add dressing to quinoa mixture and combine gently.  Allow flavours to meld for 30 mins if you have the opportunity or just dig right in.

I chose to lightly blanch the carrots and beans for a little less crunchie texture that works well with the roasted tomatoes.  Of course to get your fill of raw veggies always serve this dish with a nice big salad.  For the herbs I like to trim them up with scissors.  I know the chefs have their fancy way with a good knife but I haven't yet enrolled in the knife skills course.  Come fall I plan to acquire these skills.  Only then will I really feel like a chef when I can chop chop chop my herbs and slide them from the wide blade!  Until then….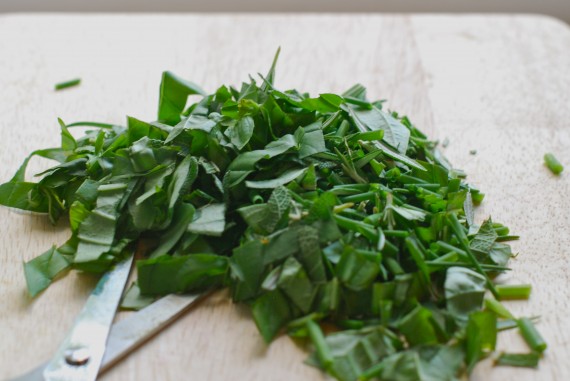 And now for the gorgeous edible flower salad.  The light lemon and olive oil dressing is perfect with these delicate blooms as the flavour is so incredible that you don't want to distract from it at all.  So just a slight drizzle on your greens and blooms allows you to really enjoy the delicate flavour of the lettuces combined with the peppy nasturtiums.  This is a summer time delight, a special flavour that will linger long after the lazy days of summer have left us.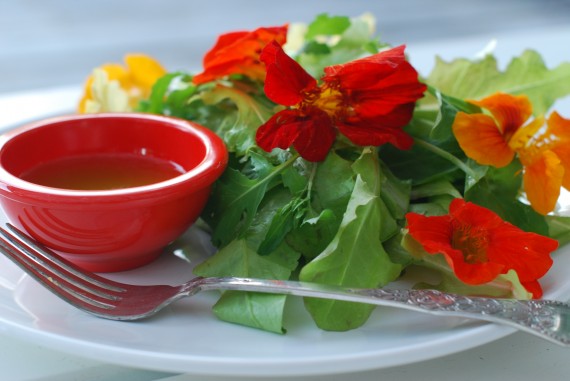 Nasturtium Salad
yield: 4 salads
6 cups baby greens washed and dried
1 c nasturtiums washed and gently patted dried
1 tbsp fresh squeezed lemon juice
2 tbsp olive oil
pinch celtic sea salt
Method
Combine lemon juice, olive oil and salt wisking well.  Place greens on four individual plates and then add nasturtiums taking care with the blooms.  Serve a drizzle of dressing to be added right at meal time.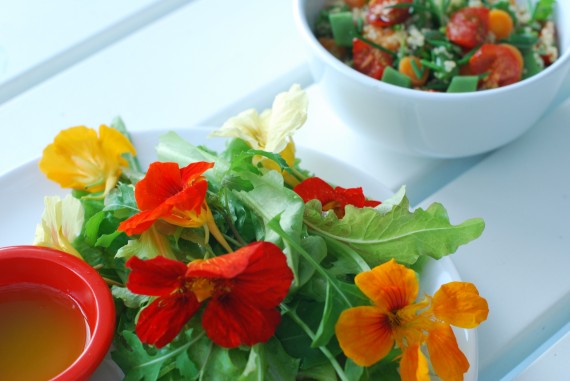 What you might find if you haven't cooked quinoa (pronounced keen-wah) before and even if you have that the more you know about the benefits of this mighty food the more you will decide to cook it.  You will also discover that because it is so easy to prepare-much faster that rice-that it will become a staple in your weekly menu plan.
Quinoa is not a grain but a seed related to the spinach family and is also gluten free.  It is very rich in proteins, in fact, it is such a complete protein as it contains all the essential amino acids, especially lysine. In order for our body to grow and repair tissues it requires lysine. Quinoa is also high in potassium, iron, calcium, and copper.  Because quinoa is so easily digested it is ideal for optimal absorption of all these nutrients.  The benefits of quinoa far exceed those of whole grains with more amino acids, enzymes, vitamins, minerals, fiber, antioxidants, and phytonutrients.  Packing this kind of nutrition it's no surprise that it is very helpful for those that suffer type 2 diabetes, childhood asthma, heart diseases, gallstones and migraines and many more health issues.  It is a wonderful source of fiber for the body, which aids easy elimination, helping to maintain a healthy colon.  Quinoa also acts as a prebiotic that feeds the microflora (good bacteria) in your intestines vs feeding candida as most other grains do.
So of course it is a great choice if you are making healthful choices for your diet. Once you cook it a few times I bet you will start experimenting with it as a replacement for rice in your recipes.   Just remember to soak it for 5 mins in hot water or 15 mins in cool water to miminize the bitter taste and remove the coating of saponin which can be toxic.  You may come across sprouted quinoa in the store and in this case you shouldn't need to soak as this has already been done.  Quinoa has also been used to produce flours, pastas and a variety of yummy products that are superior to most other grains.  I will be using it for more and more recipes so stay tuned for them.
Hope you have yummy week filled with meals abundant with fresh summer produce!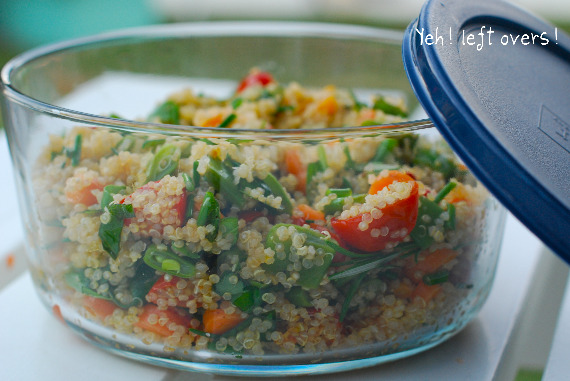 Pin It