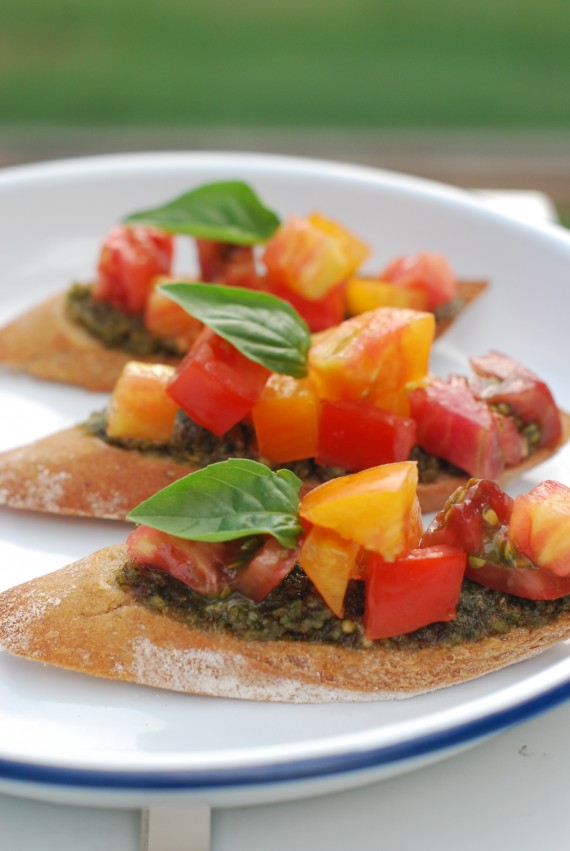 Just got the kids off to school but with my little Amelia shedding tears and not wanting to go.  Breaks a mommy's heart, doesn't it?  Amelia has been attending school for 2 years already but she had such a great summer and just wishes that it wouldn't end.  I get it, I feel the same way.  I've enjoyed sooo many fun times with the kids over the summer and on this 3rd day of school, this getting up early morning routine is already feeling like I want it to disappear.  The lazy days of summer are gone for another year.  I know….she'll settle in, I'll get used to the routine but still, who doesn't love summer and feels sad that it's leaving?  That melancholy feeling is sometimes hard to shake for all of us, big and small.
I'm also sad about not being able to get these intensely flavoured, delicious heirloom tomatoes til next year.  So I am feasting daily, sometimes more than once, to get my fill while I can.  Are you this crazy about heirlooms or is it just me that's nuts?  So to perk myself up I just had to make bruchetta, but once again!  I do have one friend that I know is almost as nuts about heirlooms as me who inspired this post.  This recipe is similar to hers, save the almonds.  Thanx Les:)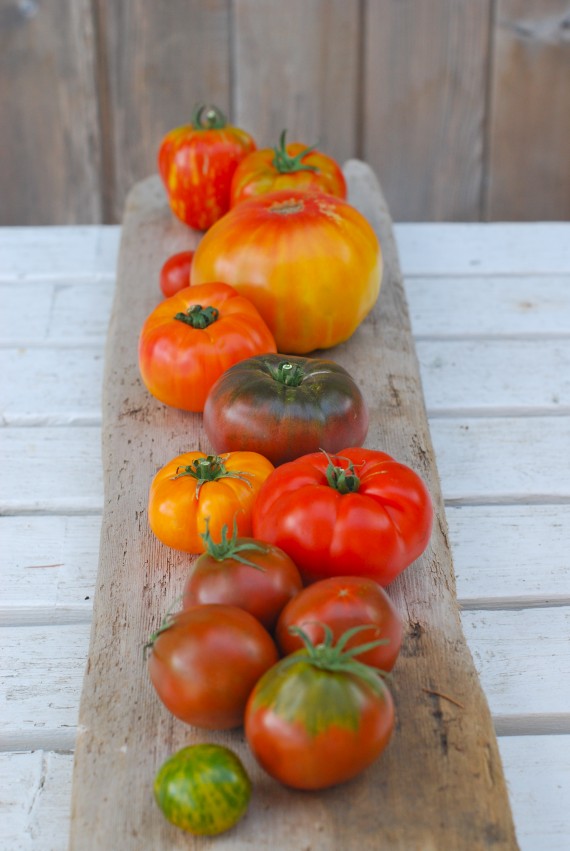 Just look at these beautiful heirloom specimens.  I bought these from Steven Schacht of Sol Farm in the Cowichan Valley who is an expert on growing heirlooms.  There are so many varieties I can hardly keep track.  The Japanese Truffle is the one in front with the green shoulders, and the two striped ones at the back are Red Carverns which are great for stuffing as they have a cavern after you remove a single center of flesh.  The largest one here, yellowish orange, is the Stripe German that is very meaty and has a gorgeous pink variegated flesh.  The darkest green in the center is a black fleshed tomato called the Black Ereme and is renowned for it's cancer fighting properties as it is extremely high in antioxidants.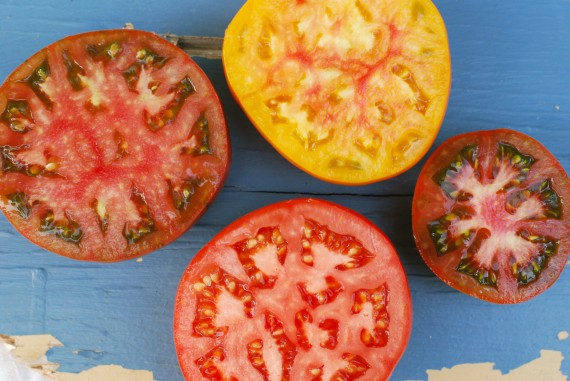 Just look how they slice up–they are so meaty and dense with such intense flavour.  We did a taste test with tomatoes on the vine grown in a green house-which in winter are not bad but it was absolutely no contest!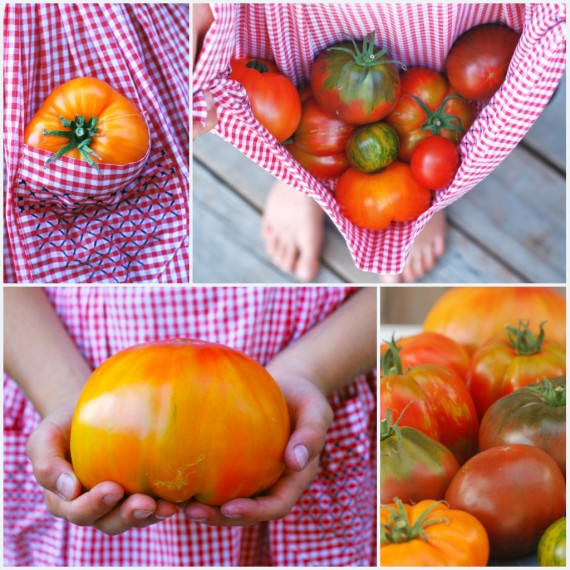 The tomato, which is considered a fruit, packs vitamins A, C and K all of which are readily available when the tomatoes are eaten raw as well as providing a multitude of minerals, nutrients and other vitamins as shown in the chart below by Worlds Healthiest Foods.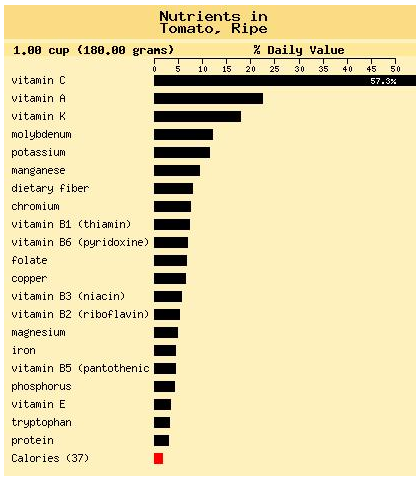 Lycopene, is a beneficial nutrient know to lessen the chance of prostate cancer, as well as breast, pancreatic and intestinal cancers, especially when it is consumed with fat-rich foods, such as avocado, olive oil or nuts. (This is because carotenoids are fat-soluble, meaning they are absorbed into the body along with fats.) Lycopene is found in raw tomatoes and seems to be even more abundant in cooked tomatoes.  However, unlike most other veggies, tomatoes when heated, become an acidic food versus an alkaline food.  They leave an acid ash in your body once digested.  This is important to note so that when assessing your daily acid and alkaline intake that you place the raw or the cooked tomatoes in the right category hopefully achieving a rough estimate of 80% alkaline and 20% acid foods.  I find that even if I do choose to cook my tomatoes, it is very gently and for a short time, essentially, just warming them to toss with spelt or quinoa pasta.  This way you maintain the alkalinity and improve the lycopene with out damaging too much of the antioxidant vitamins.  Rather a win–win I might say.
Tomato bruchetta is something that I could eat all day and all night!  I love, love, love basil, tomato and garlic together.    And pesto, well it's a big fave too–especially this recipe whereby using almonds instead of pine nuts you up the nutritional punch and paired with raw tomatoes allows for optimal absorption of lycopene. The nutty flavour is also a welcome change to the ordinary pesto.  Also, be sure to use the best cold pressed extra virgin olive oil (EVOO) you can afford as this will improve the flavour of the dish immensely–and don't heat the oil, as you lose much of the benefits when you do.  So…. this is how you chase the "goodbye summer blues" away.  It works like magic!
Heirloom Tomato Bruchetta w/ Almond Basil Pesto
Yield:  12 toasts
1 spelt baguette, thinly sliced on the diagonal yielding 12 slices minimum
4 medium heirloom tomatoes, diced small
4 cloves garlic, crushed
1/4c extra virgin olive oil
celtic sea salt
12 small basil leaves for garnish
For the Pesto
1 cup basil leaves,
1/2 c raw organic almonds
1/3 c extra virgin olive oil
1 large clove garlic, roughly chopped
1/4 tsp celtic sea salt
Begin by placing crushed garlic cloves in olive oil and set aside to stand to infuse the oil.   Dice tomatoes and sprinkle with a generous pinch of sea salt and set aside.  Slice baguette and place on a baking sheet.  Heat the oven to 400F.
For the pesto combine all ingredients in a food processor and combine well, scraping sides until you have a nice even consistency with some texture.
Place baguette slices in the oven and toast for up to 10 minutes, watching carefully so as not to burn.  Remove from oven and baste with garlic infused oil.  Next, slather toasts with pesto and pile heirloom tomatoes on top, garnishing with one basil leaf.
Then, find a dark corner and hide with the entire plate! And Voila!! you will be ready for this glorious fall that is now officially here, weather wise!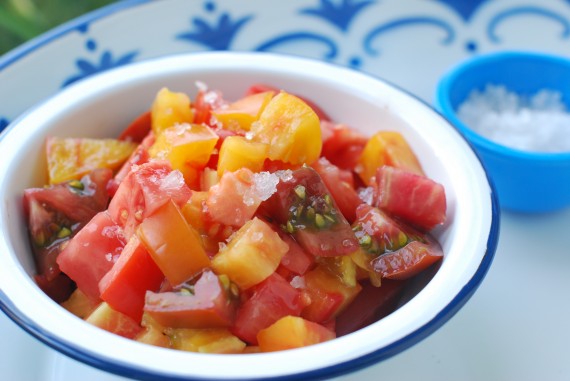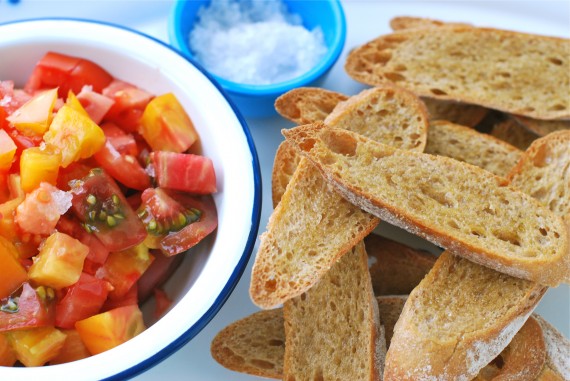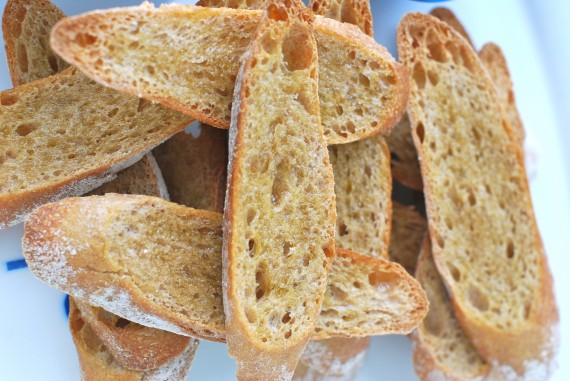 With every post that I delve into, unveiling the health benefits of the various alkaline foods, I realize more and more that it's no wonder that an alkaline lifestyle rich in all the foods I describe is capable of stomping out cancer.  If you can really minimize sugar intake, drink lots of alkaline water, keep the acid foods to 20% daily while avoiding toxins and poisons such as caffeine, alcohol, yeast, fungus and molds it's quite simply an effective way to live virtually disease free or turn around many, many illnesses and diseases.  I really believe that this lifestyle as low profile as it may be right now, will eventually become the leading protocol for symptoms of disease offering health, longevity and optimal energy for the greater population.  Alas, I will keep on posting and sharing the lifestyle so you can pass it on too.
And if you see any heirlooms…. be sure to feast on them before the season is officially finished.  What's your favourite way to celebrate summers end and welcome the fall season?  I could use a few more ideas since I might OD on bruchetta if the rain doesn't stop!!
ps. A note about the yeast in the baguette–If you can find unleavened breads this is ideal in order to avoid the yeast in most baked breads.  Alternatively, minimize your intake of yeast and when indulging be sure to give your body a day or two break from bread and alkalize well.  This allows you to keep a handle on this deadly culprit that is responsible for many symptoms of illness and disease.

Pin It