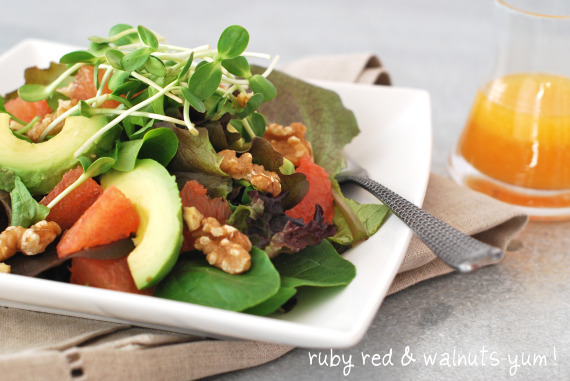 Since I enjoy salad every single day I love to get creative with the combinations so I am always experimenting with homemade dressings.  This one in particular though has me thinking about how yummy it is for hours before I've even made it.  I never knew I could be so obsessed with a salad dressing!  I've been making this particular recipe that I recreated about 10 years ago after dining out on a buying trip in Toronto.  Feels like a century ago.
I used to make it with a little bit of white wine vinegar but have since replaced vinegar with lemon juice in most of my salad dressings to improve the alkalinity and to avoid fermented products that harbour millions of pathogens–fungus and molds.
Dr. Robert O. Young believes that to avoid disease we need to also avoid toxins that our body doesn't tolerate well.  With his extensive research he has identified sources of extreme toxins in our everyday food that many people have allergies to– it's no coincidence that they do.  Vinegars, soy sauces, fish sauces etc. are tricky.  I try to avoid them all together.  Peanuts are wicked– they develops millions of pathogens immediately after harvest as does corn.  Ever wonder why soooo many kids have peanut allergies?  If you could eat the peanuts or corn immediately upon harvest you avoid most of the harmful toxins.  My kids love corn so we opt to only eat it in season when we can buy it straight from the farmer knowing that he picked it that very day.  Many stored grains such as wheat, oats & corn are toxic as they are harvested and stored for such lengthy periods that any trapped moisture develops molds which end up being processed into any products that the grain becomes, hence the wheat intolerance, perhaps?
What I suggest in order to avoid stored grains is to choose local and organic grains when ever possible.  I have managed to find a few bakeries in my neighborhood specifically this one called True Grain Bread that use locally sourced organic grain and process it themselves on site for flour, oats, bran and more.  They often sell the raw ingredients as well, whole or ground.  I find that their products taste far superior and some say that these local organic goodies don't bother them even if they are typically sensitive.  The key is to limit your grain/protein consumption to a max of 20-30% of your daily intake along with lots of salads and veggies for a balanced alkaline diet.  So here's a great easy salad you'll enjoy often to help you achieve this balance.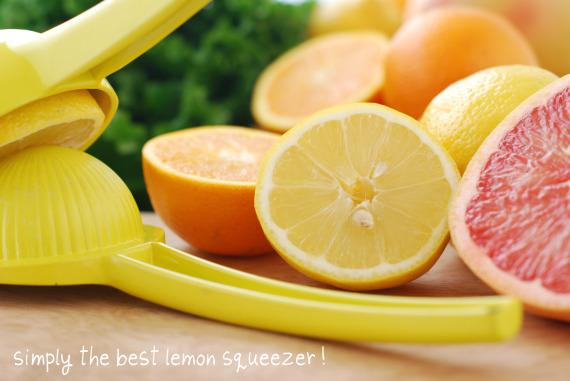 Be sure to start with a variety of organic greens, local if possible and wash them well.  I like to add sprouts of some sort to add extra life force, high energy yielding greens, to the salad.  If you haven't tried sprouting your own you should give it a whirl.  It's quite rewarding to enjoy your own crop of sprouts and if you have kids they will get really excited about this little project.  You can use a simple mason jar with cheese cloth for easy draining or pick up a sprouting kit at your local health food store.  About the lemon squeezer above, well um…. it's the best, really!  I use it more than once a day for lemons and limes.  There is an orange coloured one that is also available for oranges and grapefruits.  I have it too!  Even Oprah uses this gadget!  A good tip is to squeeze the fruit as shown above and then invert the fruit to skin side up and press again for maximum juice extraction.
Grapefruit & Walnut Salad w/ Triple Citrus Dressing
1/2 head of curly leaf lettuce,washed, spun and torn into bite size pieces
1/2 head of red leaf lettuce, washed, spun and torn into bite size pieces
1-2 avocados sliced
1 large grape fruit, segments removed from membranes
1/3 cup raw walnuts (toast if you prefer but they are healthier left raw)
1 cup of sunflower spouts or pea shoots washed and dried
optional; 1/4 c fresh mint chopped small and tossed with greens
Dressing
juice of 1 large grapefruit
juice of 1 navel orange
juice of 1 large lemon
1/3 c raw cold pressed sunflower oil (or flax or olive oil or a combination)
1 1/2  tbsp agave syrup – or to taste
1/4 tsp honey mustard
pinch of celtic sea salt
1/4 tsp fresh grated ginger
Yield: 1 cup dressing
Method
Combine the above ingredients in a measuring cup and wisk well.
Place lettuce greens & mint if using in large bowl.  Toss well with 2/3 of the dressing. Divide dressed greens between 4 salad plates.  Top each salad with avocado slices, grapefruit, walnuts and stack sprouts on top.  Drizzle with more dressing and serve immediately.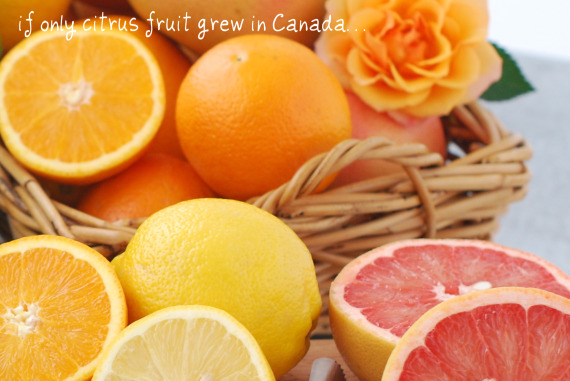 If  you have fresh mint to add to the greens I suggest giving it a try,  it's soooo fresh and bright tasting with the citrus.  I could eat this salad all day.  For dinner sometimes I pair it with a small piece of grilled halibut or another dish like a quinoa salad.  For lunch I often just have a double serving and I am one happy camper.  My kids also enjoy this salad too.  I do find it tricky to get them to eat a lot of salad.  They eat lots and lots of veggie sticks but not as many greens so I am constantly trying to find ways to get them to have their daily dose of greens, even when they aren't looking:)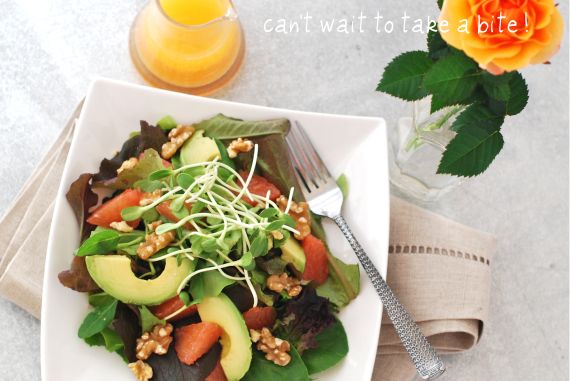 Are you an avocado fan?  How many avocados do you eat everyday?  I wasn't fond of them 3-4 years ago but now it's a bit of an obsession–trying to always have enough perfectly ripe ones on hand for smoothies and salads.  Avocados are one of the most perfect foods on this planet.  Providing the best source of healthy fats, long-chain polyunsaturated fats as these help to neutralize acidity in the body that builds up through metabolism.  Avocados are approx 80% fat but they don't make you fat.  Because avocados are a low sugar fruit they are a highly concentrated source of potassium–more than bananas–that help regulate an alkaline body as well as being a good source of protein to fuel your body.  They are excellent for diabetics trying to stabilize blood sugar.  I usually have 1-2 avocados a day and I find that my dry skin is not so dry when I am consistent.  Add to this the flax oil, evening primrose oil and omega 3 fish oil capsules that I take daily–I feel great and have more supple skin for it.
Enjoy the salad, be well, be healthy:)
Julie

Pin It