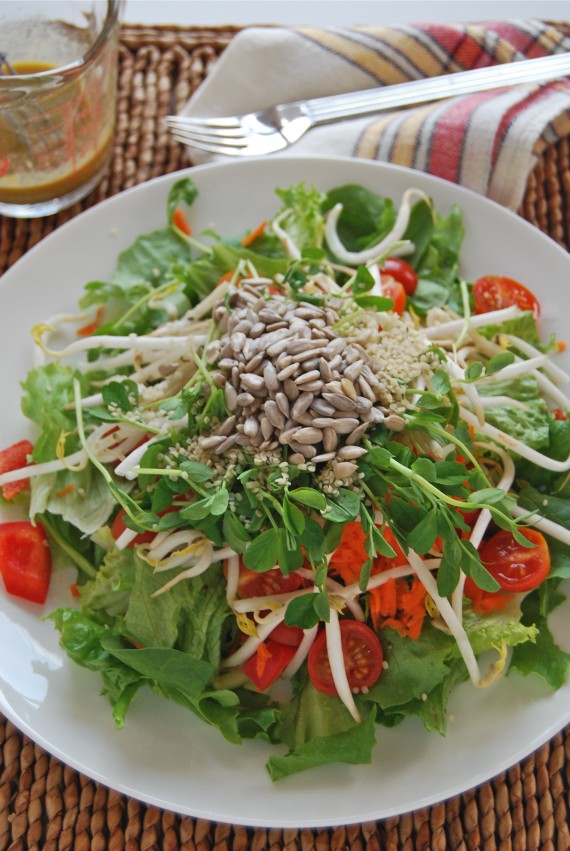 Settling into a lifestyle of enjoying living food is proving to be a great journey for me.  How about you?  Are you joining the forces of serious veggie eaters or considering it?  With all the proof that we can be healthier and free of disease it seems to be the way to go, doesn't it?  Chatting with my customers in my retail home accessory shop as I go about closing it for the sake of my new journey here on this blog (and to follow other passions) has me truly enjoying interesting conversations with people about their health, their chosen lifestyle and the changes they hope to implement.  It is in these conversations that I realize that my decision to gracefully exit the retail sector after 19 years and lean in this healthy direction is exactly what lights my fire!  There isn't an ounce of remorse as I see the lovely home accessories heading out the door at a discount in order to clear the store.  I've been tempted to bring a few goodies home but I am happy to see all my regular customers enjoying the sale.  It's really wonderful to have the opportunity to say farewell to them, letting them know where to find me next.  As I pass them my Alkaline Sisters card, most of them say they are sad of course to see the shop close, but are also thrilled for me and my new journey and can't wait to follow me right here.  Hi there House Dressing customer if you are reading this right now:)  You are now officially an Alkaline Sisters follower!
Today I have a simple recipe that friends and employees are begging me to post.  I've made it for so many with rave reviews and requests to share, but for some reason haven't posted it here yet, so here it goes.
Essentially this dressing and my kitchen sink salad are a staple amongst my daily meals and I rarely tire of it.  So when I get such rave reviews over my daily basic it's kinda nice.
Ginger & Hemp Dressing
Yield: approx 1 cup
juice of 1.5 lemons
1/2 c extra virgin olive oil-cold pressed
3 tbsp Udo's oil (or more if you like)
1 tbsp tahini -preferably raw
2 tbsp Braggs liquid aminos
1 tbsp filtered water
1/3 c hemp nuts
1 tsp finely grated ginger
Method
Blend all ingredients well in a high speed blender, scaping down sides to incorporate.  Pour into a salad dressing bottle and enjoy.  This dressing will keep well for up to 3 days  if it lasts that long!  My 5 yr old daughter has been known to drink it!
Kitchen Sink Salad
This is not just your boring, ordinary salad.  It is brimming with a variety of flavours and textures making it hearty and tasty.  This salad leaves you feeling satisfied and nicely full.  Who says you can't get full on salad?  It's usually those that think of salad as the little wee side salad that shows up as a bonus in a 3 course meal with a few token lettuce leaves with A slice of cucumber and A tomato wedge.
Start with a generous portion of each and pile on a dinner sized plate to serve one.
hearty lettuce or two washed, spun and torn. – Iike romaine, curly leaf, rocket, butter or even mixed greens in a pinch
grated carrot
chopped red peppers
halved cherry tomatoes-lots if you love them!
bean sprouts, pea shoots
1/4 c hemp nuts
1/4 c raw sunflower seeds
(I sometimes add shredded purple cabbage and beets too)
If you have an avocado on hand slice this on top for the ultimate kitchen sink salad!  If you aren't full after this then something is not right with the world!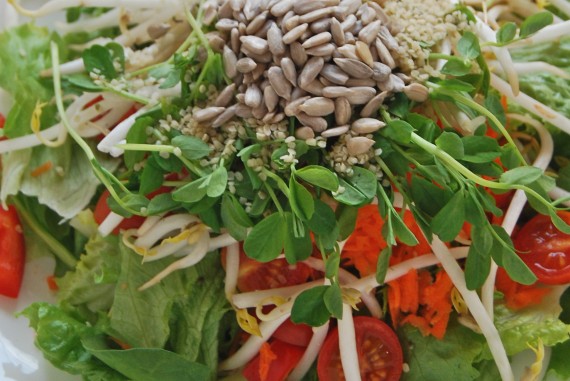 Now to say this is healthy is hardly necessary, but how healthy?  Well most people might take the time to make a hearty salad similar to this but then they pour a bottled dressing on top!  Yikes, this makes me think, well…..  at least they made the effort to have salad and that's a move in the right direction but do you know what's in that dressing?  You can really elevate this salad to be super healthy with this homemade dressing that only takes minutes to make.
Benefits of Good Foundation Oils
Your daily intake of good foundation oils is extremely important to the healthy function of your body and having enough oils in your diet is as essential as a well maintained engine.  According to Dr. Robert O. Young your daily consumption of unheated good foundation oils, as your fuel, should be around 6-8oz or more from good sources of healthy raw foods and supplemented oils.  Your skin, your brain, your arteries, organs and immune system would thank you if they could talk back.  The cold pressed extra virgin olive oil is a good source of the fatty acid omega #1 especially when you consume it unheated in a dressing.   I always boost the healthy oil factor in my salad dressings with Udo's Oil as it's an easy way to get a good dose.  If you haven't heard of Udo's Oil it is an excellent vegan source of essential fatty acids, omegas 3,6 & 9, from a combination of many beneficial oils including flax and evening primrose that need each other to be absorbed correctly.  You can usually find it at any health food store in the fridge.  If you suffer from eczema or dry flaky, itchy skin problems Dr. Robert O Young, Director of Research at the pH Miracle Living Center explains, "All polyunsaturated oils, including omega 1 (olive oil), omega 3 (flax and hemp oil) to Omega 5 (pomegrante oil) and Omega 6 (Borage oil) are wonderful chelators of metabolic and dietary acids that can destroy any body cell including skin cells. The itching of the skin is the presence of these acids and ingesting liberal amounts of polyunsaturated oils can help to reduce the acids that cause the itching and inflammation."   Read here for more on foundation oils and you will then understand the sources of good and bad oils and where to get the good oils-and while you are at it check out the Udo's food pyramids right here-very interesting.
Other ingredients in this dressing such as the hemp nuts are also an excellent source of omegas and are the best vegan protein you can choose.   By using lemon juice for acidity (which when ingested is highly alkalizing) this dressing avoids the ingredient of vinegar which is fermented and is a source of many fungus that are unwanted ingredients if you hope to avoid disease.  For creating a slightly Asian flavour the Braggs Liquid Aminos is a much better source of 'salty' in place of fermented soy sauces and the fresh ginger supports a healthy cardiovascular system as it makes your blood platelets less sticky minimizing any circulation problems.  I noted more on the benefits of ginger in this post on udon soup.  So this is one super duper healthy salad and dressing that makes a fabulous lunch or dinner.  I do find that with all the yummy salads I make I am hard pressed to find a good one when I go out so if you know where to find a hearty, healthy one, please indulge me!  Some days I think I'll fly anywhere to find one!  Do you have a favourite healthy dressing?– if so please share!
As I compose this post I sit on a flight to London, enroute to Amsterdam for a couple days and then Morroco for seven.  I am heading for an inspirational experience for the senses, especially taste!  I hope to uncover some incredible flavour combinations that I can share right here for you, making an alkaline lifestyle irresistibly delicious.  I will be partaking in a course headed up by Holly Becker of the famous Decor8 blog –if you haven't checked it out yet you are missing out!  As a passionate designer I am thrilled to see what she has to share and inspire in design and in the blogging world.  If I miss a post next week please forgive me- it will all be Holly's fault, okay:)  I had every intention of having one ready for you but with the store's close out sale and thanksgiving, well…. you can only imagine!  So I'll do my best to pop in and say Hi.
I hope you have a fantastic week and please stay tuned for a Morrocon update when I return–I hope to share some yummy photos! 

Pin It