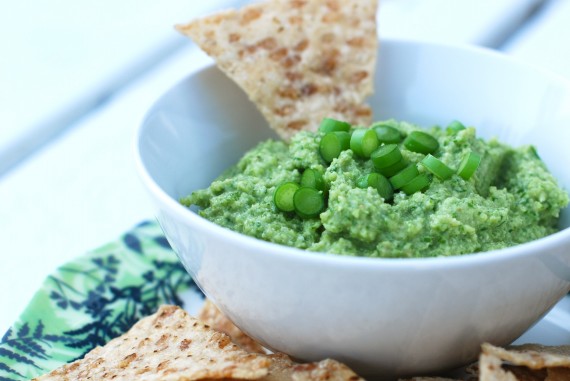 I was some surprised when I encountered this gorgeous tub of garlic scapes at the local market near our summer cottage.  And delightfully the proprietors Denise & Glenn offered me a taste of a pesto made from these scapes.  I could hardly contain myself with the inspiration for this post.  If you could be so lucky as to come across some of these hard to find garlic tops you are in for a real treat with this rather addictive dip that can be made from them.  These garlic scapes if you are not familiar are the trimmed tops from a garlic plant.  Removing them allows the garlic bulb to grow nice and plump. When the garlic scapes are still curly, they are tender and delicious.  However the season, at least in my area, for these lovely greens is very short since they are picked only once at a particular time when they have 2 curls to encourage the bulb.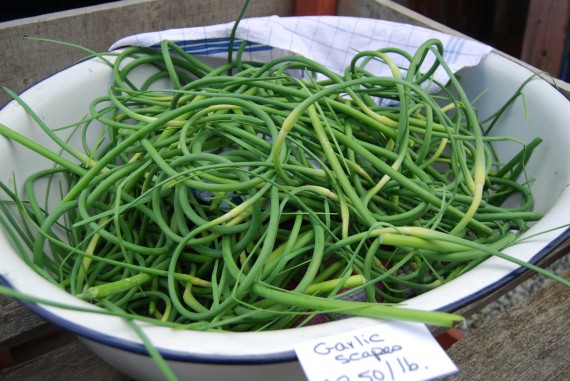 It's important to trim the fibrous bud portion to avoid the chewy bits but the fine top is perfectly good to use.  This simple recipe can be enjoyed with a simple rice cracker or slathered on spouted grain bread with sliced tomatoes.  I also served it with grilled salmon which was divine.  You could also top the salmon with the pesto and then grill it.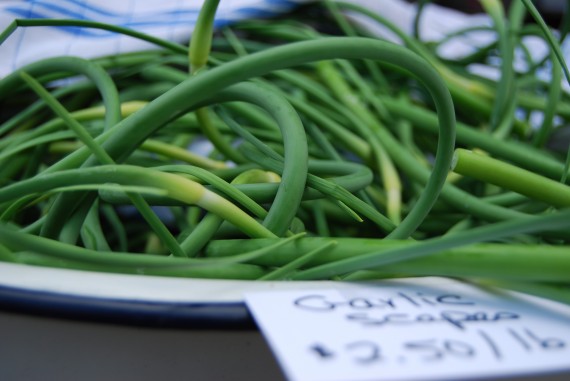 While chatting with Denice she suggested making a big batch of this pesto and freezing it in ice cube trays for handy additions to recipes thru the summer and fall – Luuuved this idea so I bought a few bags!  Clever marketing comment I might add, especially to a foodie like myself!  Creating an alkaline version of this dip meant eliminating the parmesan cheese which is hardly missed for all the gorgeous flavour the scapes offer.  You could add soy parmesan if you wish but I found it was rather addictive as is–there wasn't a drop left if that says anything at all!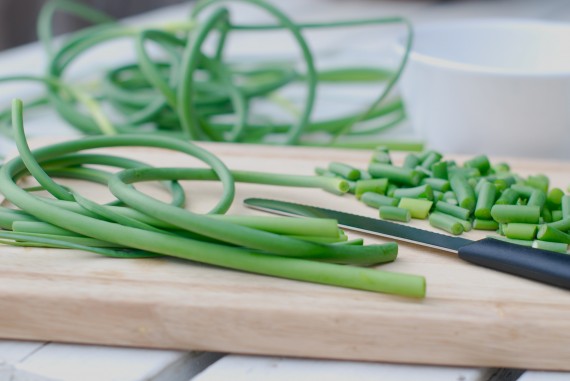 Garlic Scapes Dip & Pesto
Yields: approx 2 cups
2 cups roughly chopped garlic scapes, bud removed

1/2c olive oil +more for consistency if needed
juice of 1/2 lemon
1/3c walnuts (you can try different nuts here)

1/4 tsp celtic sea salt or to taste
Method
Place all ingredients in food processor and blend well leaving a wee bit of texture, but not blended to a puree.  Garnish with a few thinly sliced scapes.
Serve with rice chips as a dip, use as a spread on sandwiches, or as a pesto for cooking fish or pasta.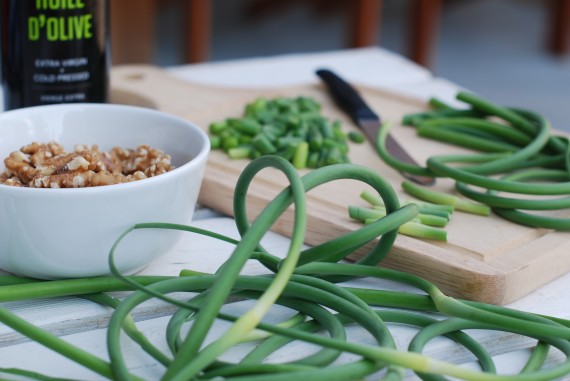 If you have an abundance of garlic scapes they are also a nice addition to stir fry recipes, or as a replacement for onions with a milder yet more complex garlic flavour.  They pair nicely with tomatoes as well in a salad or you can treat them like asparagus and steam or grill them.  Even a salad dressing or guacamole could benefit nicely from a garlic scape.  The possibilities for these are endless, it's a shame they are so short lived.  But then again that's what makes me so excited to find them.  How about you, have you had the pleasure of tasting such a thing?  Where did you find them?  Not a grocery store?  What's your favourite way to enjoy garlic scapes?  Packed with rich green chlorophyll these are a wonderful addition to an alkaline way of living.   Enjoy!

Pin It