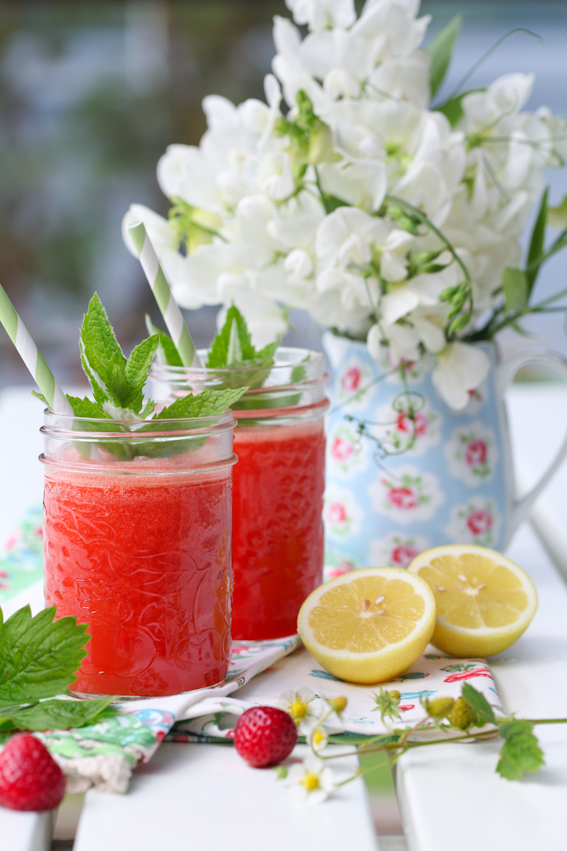 Ooops it's Saturday already, how did that happen? I've been having way too much summer fun with my little munchkin pies out of school that I'm a titch late with my recipe inspiration for you but… this recipe may be perfect timing this weekend. If you can get your self to a strawberry patch or a local market for some summer berries, you can whip up this simple, refreshing lemonade.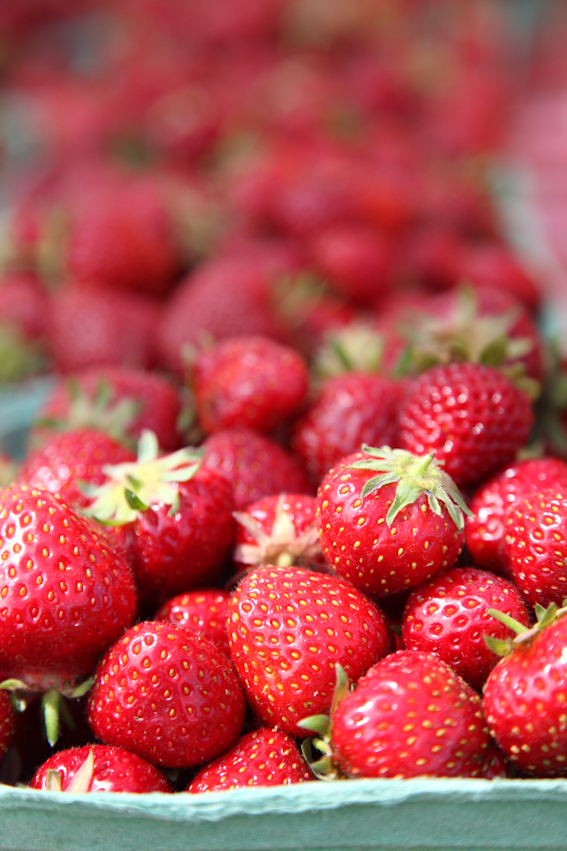 With strawberry season in full swing we've been gorging ourselves daily on the shiny, sweet, juicy berries and can't quite get enough of them. As lucky as we are to be able to have berries all year round if we choose, with California producing a bounty of organics, they just don't quite measure up. Warmed by the summer sun, dripping from the vine, fresh picked, is the best way to enjoy them. Have you picked any berries yet this summer? One for me….one for the bowl….one for… We plan to go next week, and the cherries will be ready too!! Yay! I love summer for this reason and so do my kids!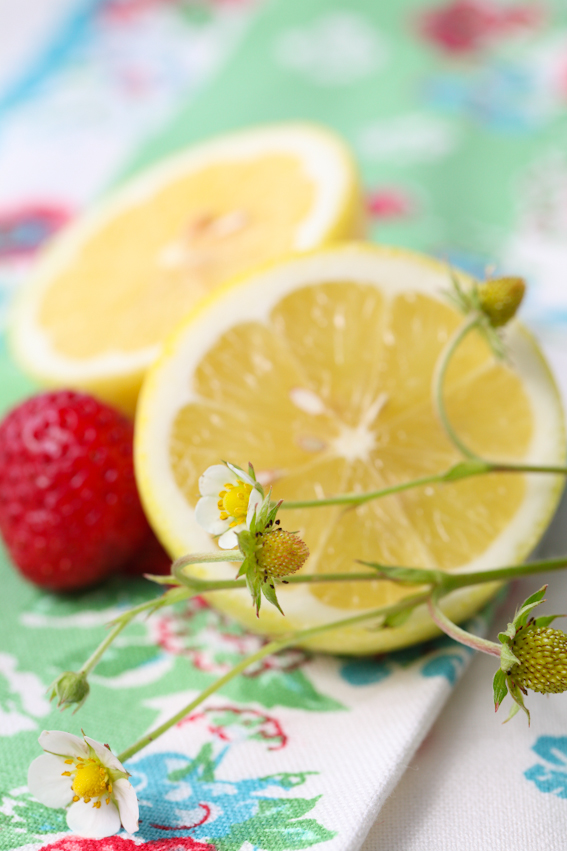 Fresh Pressed Strawberry Lemonade
Yield: 4 1/2 cups
6 lemons
2 apples
3 cups filtered water
3 cups fresh strawberries, washed and hulled
3-4 tbsp agave syrup
Method
Peel the lemons and then juice lemons in a juicer (on low setting if you have that option), yielding approx 2/3 cup fresh juice. Next, juice apples whole. Pour lemon/apple juice into blender, add filtered water, strawberries and 3 tbsp agave syrup. Blend well, adjust sweetness with last tablespoon of agave if needed. Pour into small mason jars, garnish with mint, lemon or strawberry and enjoy:)
Note: If you don't have juicer, you could certainly make a smoothie with all these ingredients instead and just hand squeeze the lemons and then blend in the berries and the apple.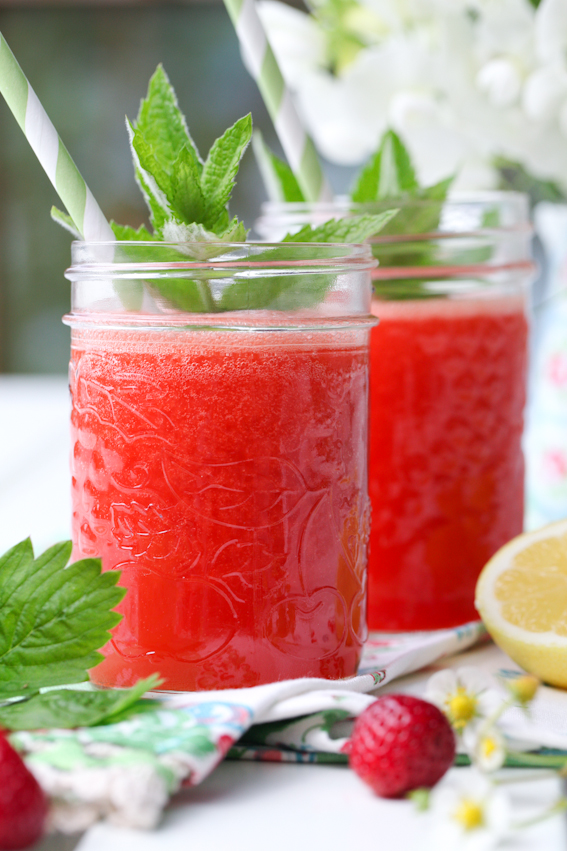 This makes a creamy kinda frothy drink that would be a tad thicker if your fresh picked berries were frozen but I just used fresh and it was nice.  You can add an ice cube or a couple frozen strawberries as ice cubes if you like.  The apple juice is meant to be the nutritious sweetener instead of adding a whole lot of sugar or too much agave syrup to balance out the tart of the lemon.  You should only taste a subtle apple flavour.  The apple makes this recipe so much healthier especially for kids who are looking for juice in the summer.  My kids loved this recipe.  You could even freeze this and make popsicles for them too!
The lemon juice is quite alkalizing and tart, balanced with the sweetness of the apples and berries but it can be overwhelming on the tummy if you over do it so enjoy a small glass of lemonade and drink lots of water before or after and thru the day to hydrate.  With the summer heat our bodies lose constant volumes of  water thru our skin, our largest organ, and most of us don't replenish nearly enough each day to allow us to flush toxins out.  This can be why one ends up with a summer cold or flu bug since there is very little assisting the body to remove ingested toxins from summer indulgences or just environmental toxins because it is being used differently to hydrate the body in the heat.  If you notice infrequent use of the ladies room, you need to increase your water intake especially if you have a glass of wine or a special alcoholic summer beverage as it take 8 glasses of water to re-alkalize the body after just one alcoholic drink.  For more on water and how much you should drink daily see this previous post here.  It's okay to zig and zag now and then but your body loves you more when you are conscious about your choices and you do your best to compensate.  The top priority though….. is to find a cool shady place to put your feet up and sip this refreshing beverage with someone you love!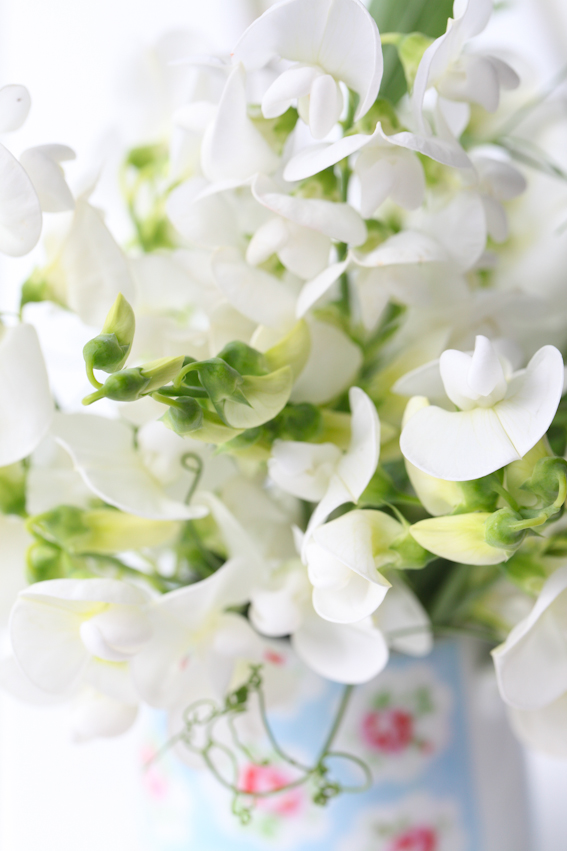 Summer to me is sooo about the wild flowers that dance along the roadside and mingle in pastures.  I am forever pulling the car over -much to my children's dismay some days- camera in hand, and often a pair of scissors to snip a few blossoms like I did with these gorgeous white sweet peas above.  They are plentiful in bright or soft pinks right now but rare in white, especially the wild growing varieties.  Unfortunately, they don't have the fragrance of the garden variety–that intoxicating scent makes me lose my mind!  I have yet to find my posy of fragrant mixed pastel sweet peas but when I do, you'll surely know!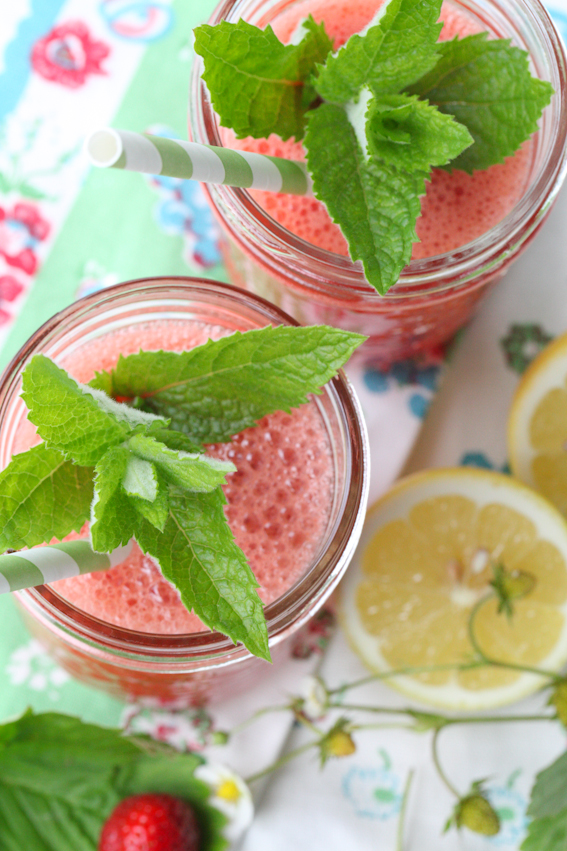 I'm keeping this summer post short and sweet since I'm sure you have some fun and exciting activities planned for the weekend too!  Be sure to soak up the sun, get your fix of vitamin D while it's here, but not too much–slather on some natural sunscreen.  If you have lots of sun where you live, send a little this way as ours is hiding some days and we could use a little more!
Happy summer:)
Style Props
Flower Pitcher: Provence Rose Jug by Kath Kidston
Tea Towel: cute shop in Ketchikan, Alaska, sorry no link at this time.
Paper Straws: Sidney BC, Thursday night market Stall- link to come soon.
Mason Jars: 250ml Jam canning jars from grocery or hardware store

Pin It