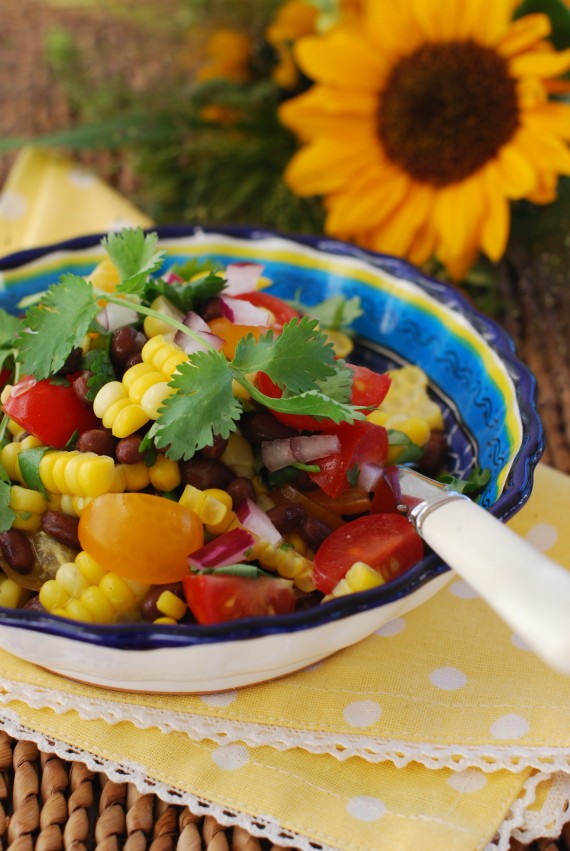 How can anyone resist local, just picked, sweet corn?  I can hardly pass it up and neither can my family.  The corn stand is literally 2 minutes from my house by car- this is dangerous- I'll explain later.  I love being surrounded by dedicated farmers that offer the fruits & veggies of their labour.  It makes eating healthy so enjoyable with very infrequent grocery store trips.  Now that September is here, the most fruitful month for farmers, the selection is wonderful.  In some areas there is still time to enjoy the corn crop-how about your locale?  The other day we noticed how nice the cobs looked, donning their silky pink tassels as we wandered thru the corn maze trying to find the look out tower- Amelia calls it the princess castle.  After 30 minutes we ended up right back at the entrance looking for route B to the tower!  Oh well, we all enjoyed being lost together.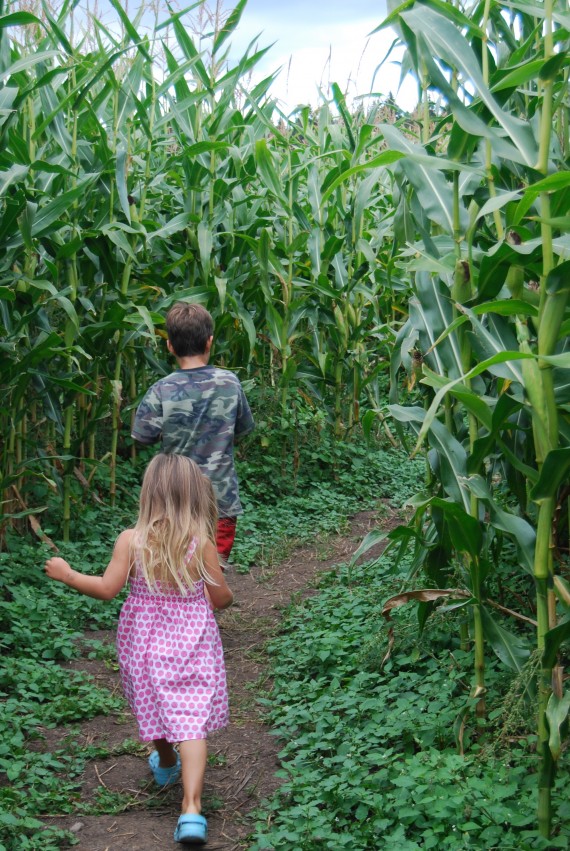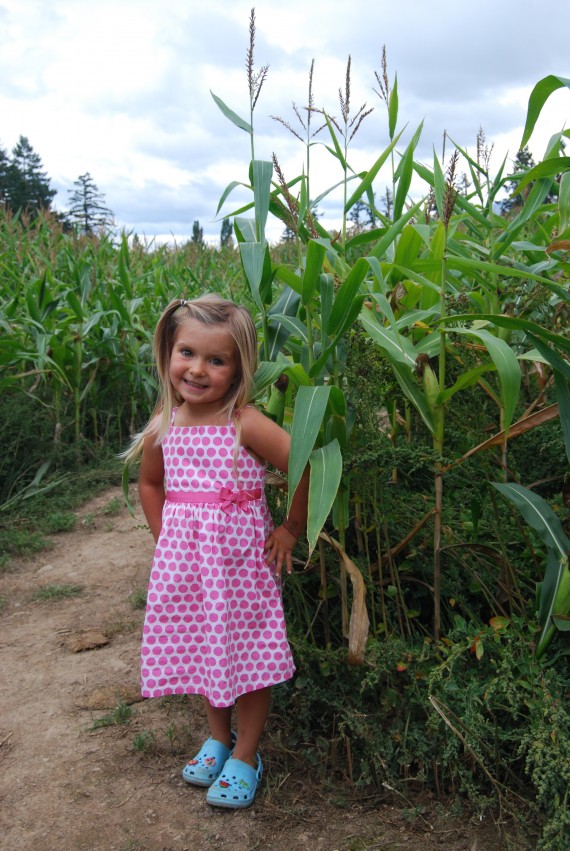 This recipe is an oldie but a goodie!  I've been making this for years but almost forgot about it until I found myself trimming the corn off the cob for Amelia and it brought back the memory of how yummy and kinda different the fresh corn tastes when it is removed from the cob.  No wonder kids often ask for it this way.  The nice thing about this recipe is that it isn't complicated. A few very simple ingredients allow you to taste the pure flavours of each but enjoy the combination of the whole.  This recipe is best enjoyed shortly after combining ingredients and at room temperature.  It isn't bad on day 2, but it needs to be brought to room temp and the tomatoes aren't as firm.  I don't recommend keeping it longer than one day.  And actually, it's so yummy you probably won't have left overs.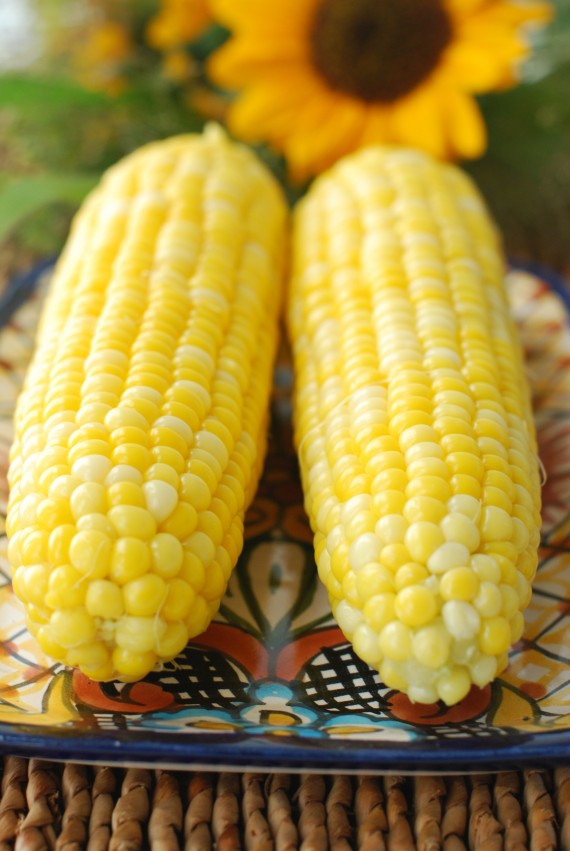 The most important thing to note when cooking fresh picked corn is the length of time that you  boil it.  The corn itself is often blamed for being tough-some will say it's a poor crop- but often it is the fault of the cook for over boiling it which results in a tough skin and a nasty cob of corn.  You've probably experienced this, yes? It's true the cob can be old and become tough before even hitting the hot water but that's why it's best to source the freshest picked crop possible- same day is ideal from the farmer that grew it!  I recommend bringing a large pot of water to a boil and then placing the cobs in the water for a maximum of 3-5 mins–I like them at 3 minutes myself- but that's it.  Then remove them from the water and serve immediately.  Leaving them in the hot water even if you turn the heat off will also overcook them.  For this recipe you can cool the cobs in cold water after removing from the pot.  The corn must be cool or it will wilt the cilantro and soften the tomatoes.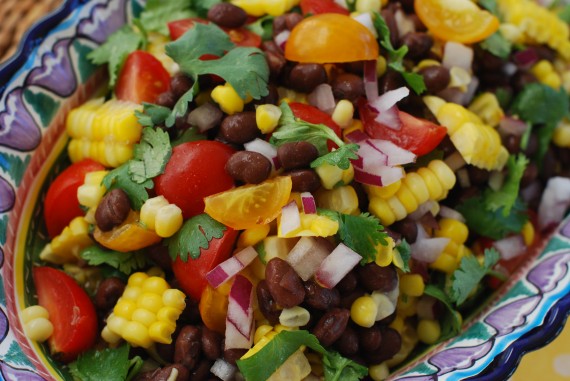 Fresh Corn, Pinto Bean and Heirloom Cherry Tomato Salad
Yield: approx 5 cups salad
3 cobs fresh picked corn, organic preferably
16 cherry heirloom tomatoes, organic preferably, sliced in half
1/4 cup finely diced red onion
1/3 cup chopped fresh cilantro
1 – 14oz tin black pinto beans, drained and well rinsed
juice of one lime
1/4 cup of extra virgin olive oil, preferably organic
pinch celtic sea salt
Method
Boil a large pot of water and place cobs in water for 3-5 mins-no longer.  Remove and place in cold water to stop cooking.  Once cool, slice the corn kernels off the cob and place in medium sized bowl, breaking up the pieces somewhat.  Add cherry tomatoes, onion, cilantro, and black beans.  Combine lime juice, oil and pinch of salt and pour over corn mixture and coat evenly.  Let stand 10 mins and then enjoy!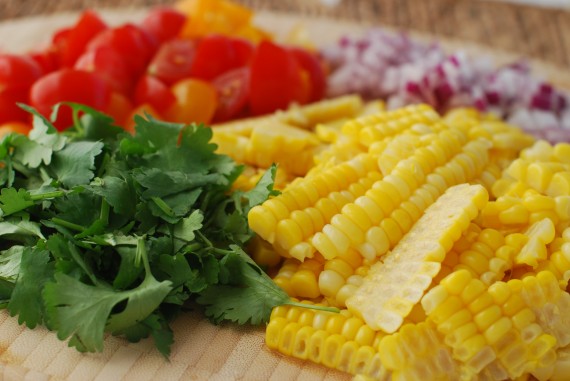 You may not be aware but the reason corn is so yummy to eat is it's high sugar content.  Corn is starchy, it isn't alkaline, and it has acidic affect on the body because it is a source of sugar.  So…. it needs to be part of your 20% acidic intake for the day.  I recommend a big mixed green salad with this or pile this mixture on top of greens to balance out your meal.  But pleeease……. use fresh picked corn- I'll explain why.
Why you should only eat Freshly Picked Corn in Moderation

Dr. Robert O. Young highly recommends avoiding corn altogether as his in depth studies indicate that corn contains twenty-five different mycotoxin- producing fungi including recognized carcinogens.  Apparently during the growing process the plants themselves are not resistant thus become tainted.  Imagine though these fungi, and how these micro forms can multiply and the volume of contaminants that would be present on corn as it is transported from farm, to truck, train, to market, to shopping cart, to your fridge and finally cooked a couple days later.  It is deadly and not to mention the combination of the acidic sugar load especially if it is served with meat and potatoes.  Nightmarish acid overload!
My thoughts are this.  Enjoy the corn as fresh as possible and close to the source, in moderation.  Don't bother with canned corn, frozen corn or any other corn products as these will be many times worse and they are considered to be big contributors to ill health, especially cancers.   If you are striving to avoid toxins and acidic food and you want to be optimally healthy, a strict alkavorian, I would avoid the corn all together.  I believe that if you do choose to enjoy fresh corn occasionally you could just be sure to balance it out well and flush the toxins from your system with Myco Detox II– one of Dr. Young's specially formulated supplements that assists in removing toxins from the body. It really works as I have used it for 2 years now and have highly improved my live blood results by stripping toxins.  Our bodies require a constant measure of repair especially if you are tempted by corn, alcohol, caffeine and a slew of foods that are toxic to the body.  We even encounter toxins in the air we breath with most every breath depending where we live and what we are surrounded by.
But….sometimes we need to zig and zag a bit and if it means the odd cob of corn then you know the consequences now, don't you?  Just beware if the corn stand is 2 minutes from your home- it can be dangerous!
I say, enjoy this salad while you still can this month and live like Italians who eat season by season.  Enjoying the anticipation of next years sweet cob of corn makes it taste even better when you do eat one after waiting all winter for it, don't you think?
One last thing……if you see sunflowers for sale, buy them!  They are such happy, heart warming and alkalizing flowers (promoting happiness which is alkalizing for the body) and they'll soon be gone for another year too!
September is almost over, I'm curious, what's on your bucket list before the last of summer is completely faded and gone?  Corn maze? Picnic?  Running thru hay fields?  Please indulge me.  I love to hear that you are doing fun, stress free, healthy activities that energize you!

Pin It