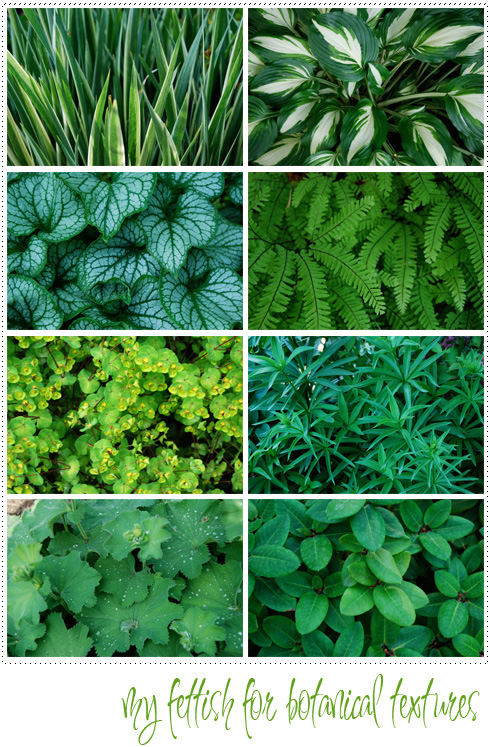 There's nothing that will create more acidity in your body than stress.  And stress that is present everyday is the worst kind as it doesn't allow your body any recovery time.  This is a recipe for disaster–terrible diseases can anchor themselves within the body making it difficult to reverse them.  Wouldn't you think that disliking your job everyday would create daily stress?  You bet it does!
Now imagine working everyday in an environment that filled you up.  A field that you were completely jazzed about that sometimes even got the endorphins going.  I really believe that this is something that so many of us miss out in our lives because we settle for something less.  Some people feel they have no choice which makes the stress even worse.  If you are in a situation like this you do have the power to change it and if you don't your health will suffer dearly.  If you don't mind your job but it doesn't make you giddy then find a hobby that does.  A creative outlet can also do wonders for your health if you don't enjoy this in your work.
Feelings of joy, passion and extreme happiness and laughter maintain alkalinity in your body.  Dr. Robert O. Young says "Stressful situations such as births, deaths, divorce and employment concerns often slow down the blood flow to the heart, raise cholesterol levels, decrease your mental well-being and weaken the immune system with the increase of metabolic acids".  It's key to be well aware of what stresses you and to handle it as it comes your way versus prolonging it.
I recently began this site as a result of my own alkaline journey.  I discovered that every time I shared my story and my lifestyle change,  it made me giddy to be able to inspire and teach someone else.  I could talk for hours about this until they couldn't take anymore.  So here I am with this site that took way longer to get going than it should have.  But thanx to a fantastic on-line course and a wonderful group of classmates I was inspired to further complete the site and begin posting.  And it feels great and as big as my dreams are and as overwhelming as the feat may seem I love every moment of it and I want to be blogging every chance I have to build this and share with others.
With leaving a creative journey of 18 years behind me in retail home accessories and furniture I can't help but carry a piece of it forward as it is a part of me and always will be.  That's how I found the course since Holly's Decor8 blog is all about decorating.  Hence, I added to our post categories "Wandering Inspirations" where you will find me sharing some of the things that inspire me outside of inspiring an alkaline lifestyle.  There will be links to some of my styling items for my photos, favourite home accessories, my photography hobby, (see the collage above) and some of my favourite blogger friend's explorations that fill me up—this is where I will start today.
As a last piece of home work from Holly's class I am thrilled to share four blogs with you that make me giddy and alkalize my body!  It was tough to choose from 210 blogs that's for sure!  But I know that these four gals really enjoy their blogs and I am thrilled because I want them to enjoy the benefits of alkalizing the body too!  So here we go!
Janine writes here at Jardino.  I found that her inspirations and her writing really spoke to me because it's similar to how I feel, what I love and how I think.  She photographs fresh flowers with the same passion as I and she has epiphanies like I do that she sometimes thinks are a bit out there but they make perfect sense to me.  I loved this one and it completely fits with my message above–take a read here Does the Cap fit? and then be sure to peek at her photos which will make you want to go grab you camera and imitate:)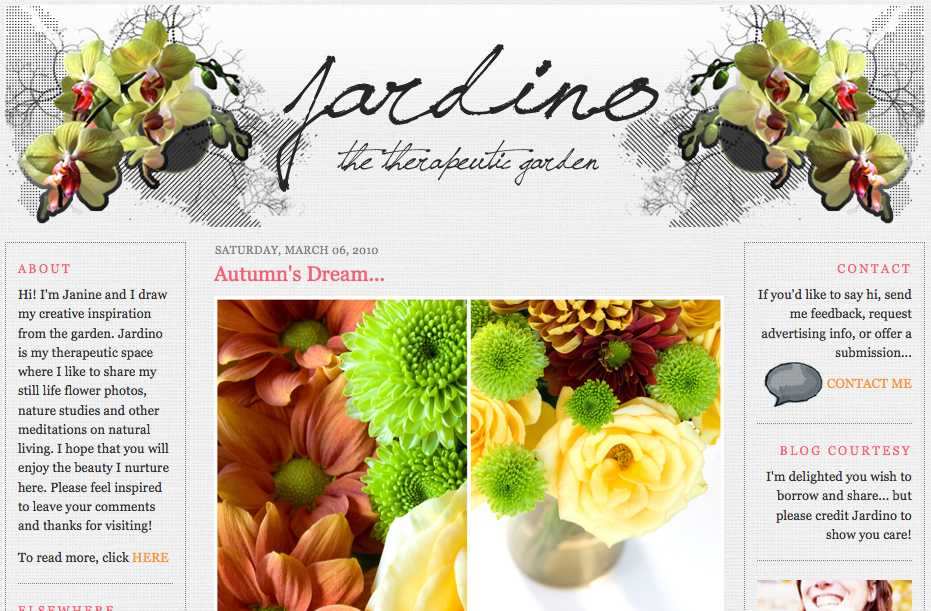 Pancakes & Frenchfries is written by Jules who is fast becoming a best friend blogger with her wonderful, cheery and witty writing about her life, family and her inspirations.  I appreciate her thoughts as they really resonate with me and my life some days. She is passionate about the health of her children who are finding difficulty with allergies so we have common ground here too!  All in all her blog is comforting and inspiring and she feels like a kindred spirit.  This feeling is sure to make me alkalize too!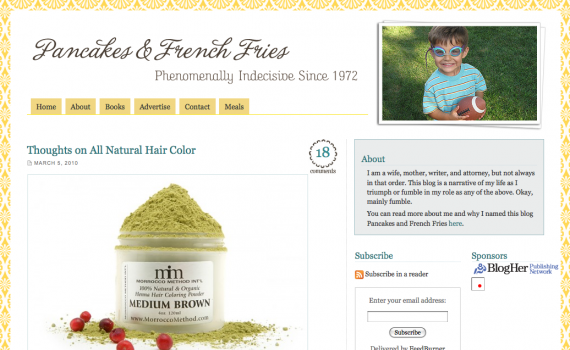 Now Anna, over at Be healthy, Be well, Be inspired is sharing some wonderfully different ways for me to take time out from a busy life and explore her thoughts.  Her happy spirit and helpful manner make this a real "feel good place"– kinda like how you feel after a good spa treatment.  It's rather pampering I'd say without the expense!  You must take a peek and follow some of her wisdom cuz after all, none of us really pamper ourselves enough!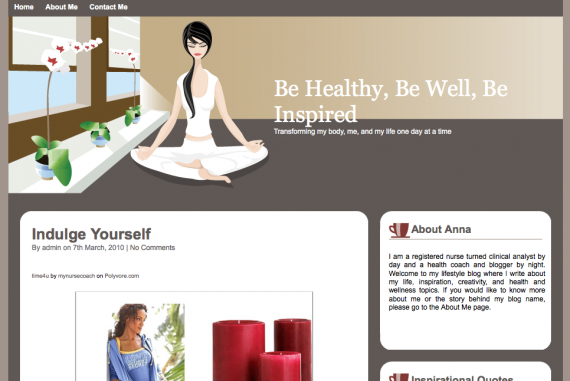 Nicole really has it going on here at Making it Lovely–her passion for beautiful things and fabulous spaces is a pleasure to peruse.  Her site is beautifully laid out in a unique fashion and her writing draws you in with fun additions of her family's joyful moments.  Her site reminds me to spend a little more time making my own home lovely, avoiding the feeling of having neglected the space (by working too much) that should be inspiring to me and my family.  A busy life can lead to this and reading Nicole's blog will help keep me in line here!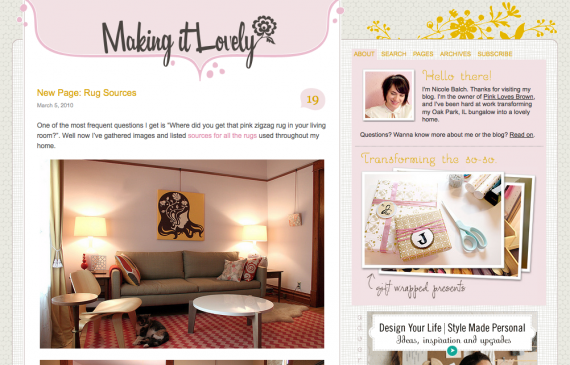 I have added these favourites to our blogroll so you too can occasionally peek in on them for a little escape!  I hope you have something in your life that you are passionate about that maybe gets the endorphins just flying!

Pin It