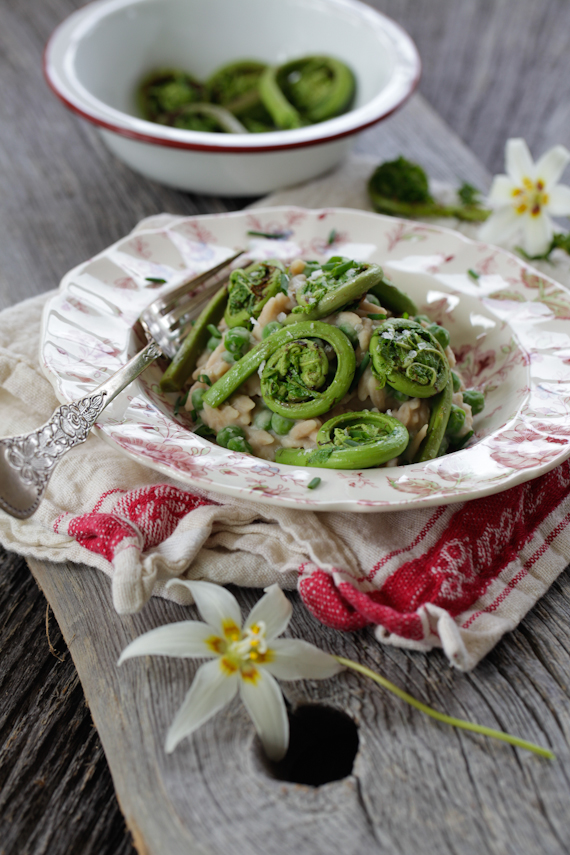 You know that spring has sprung when you first stir in the early morning and hear the sounds of birds happily chirping out your window.  You know it's spring when the once greyish landscape explodes into a fresh citrus green.  But you know spring is really here to stay when you see the unfurling of fiddle heads along the stream on your forest walk.  And if you haven't taken a walk yet to a nearby stream it's high time you did before you have to wait for spring to spring again!  These lovelies are only unfurling for a very short window of time and if you blink you'll miss it, regrettably.  I nearly did.  If it weren't for my dear friend Claire and her excitement on the phone the other day over the fiddle heads she's been foraging with her little ones I might have forgotten to stroll by the stream.  So "Thank you, Claire" for the inspiration!
I've eaten fiddle heads before, in restaurants and I've picked them up from the market so this was the first time I had foraged for them and oh…. what fun! The kids and I were scrambling up hillsides, creeping across the stream on fallen trees and winding down lush mossy paths scouring the landscape for unfurling ferns and fronds.  It is so pretty in the forest right now, we kinda felt like fairies among the pretty lilies and triliums that were dancing along the pathways forbidding us from picking them, save for a few specimens to share with you.  So how to forage for fiddle head you may wonder? Well it isn't that tricky.  The first thing is to identify the health of the stream and ensure that it isn't contaminated or flowing with run off from nearby highways that could be toxic.  The health of the forest surrounding you is sometimes an indication of the health of the eco system where you are but not always.  Get close to the edge of the stream and open your eyes wide as you will find them here which is where they are happiest. Initially, you might miss the wee things as they blend so well with their furry fuzz near the base of the fern plants.  Look for ostrich ferns or bracken fern that are beginning to stand tall. Then look at the base and you may see a few that are just emerging from the ground or are up about 6-12″ already.  That's the state of them in my neck of the woods right now. Of course it will vary region to region depending on how spring has sprung thus far. You may catch them at a more premature state and it will be even harder to spot them so look carefully.  The stems break off very easily, no need for clippers. Bring along small bag to pop them into or just stuff your pockets!  However, if you wish to find more in the same area next year, do be cautious not to take every fiddle head from each plant.  Remove only 3 from each crown taking care not to damage the plant or uproot the cluster.  I like to pick a stem of about 2-3 inches long cuz this is just as yummy as the head.  Be conscious of your surroundings since the lovely stinging nettle is among all this lushness right now and you might have an encounter with some which will not be pleasant unless you are prepared.  If you are donning gloves and have another bag you could also be foraging for nettles as well!  Now that's another post but it's yummy too if you are a keener!  Here's an article to familiarize you with them.
Once you've gathered your fiddle heads bring 'em home, enjoy their beauty, (I take pictures of them, of course!) then give them a good rinse in cool water and a gentle rub to remove the brown fuzziness from the firm stem and curling head.  You are now ready to cook or just pop them in a freezer bag and savour them for another day when the harvest is long over. Of course they are best the day they are harvested.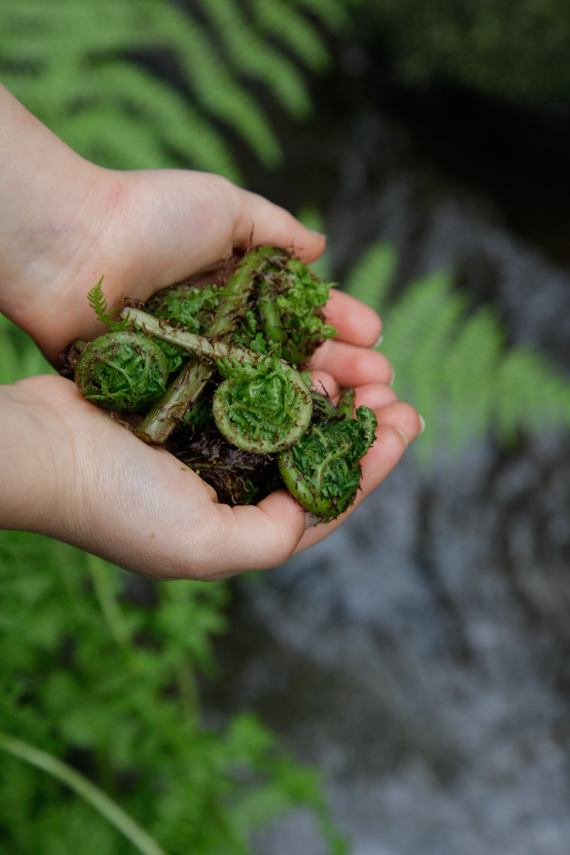 Here's my munchkin admiring her harvest by the stream.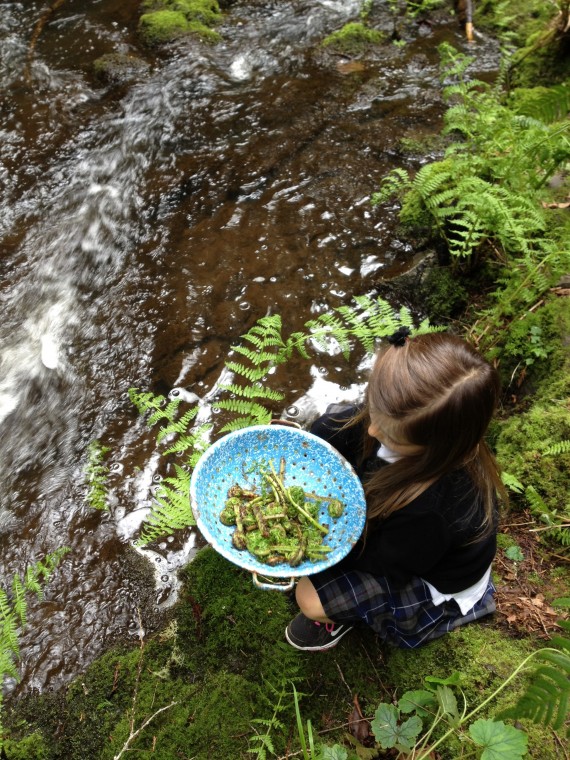 This park near our home, Todd Inlet, is such a delight for us to enjoy all year.  I especially enjoy it in the spring but we walk it all year to admire the seasonal changes.  The rushing of the stream is so soothing to be near.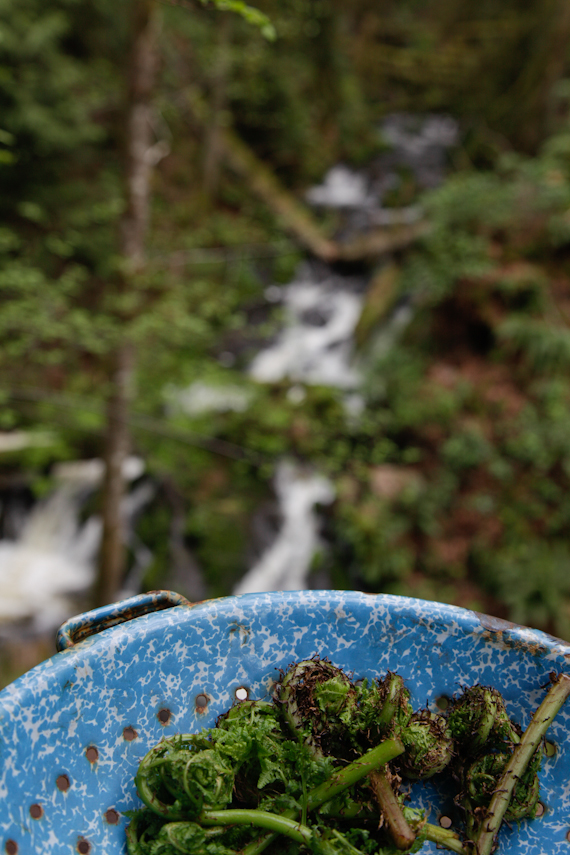 It's best to choose tightly closed heads, we did our best, but they still tasted wonderful. They have an earthy taste, kind of a cross between asparagus and spinach.  You can steam, boil, sautee or pop them into a baked dish in the oven.  Just don't over heat them or cook them too long as you want to retain as much as possible of the heat sensitive nutrients. But don't eat them raw as this is not recommended as they can cause indigestion (which could be as a result of natural low grade toxins that are most likely protective elements of the plants to avoid over indulging and thus saving the species from becoming extinct) The ostrich fern has the lowest level of toxins however do be cautious how much you indulge as you could over do it and become nauseated however native peoples have been eating these ferns for many, many years.  Heating them will also eliminate any impurities from their environment. Fiddleheads are packed with nutrients from an abundance of vitamin C, omega 3 & 6 essential fatty acids, Vitamin A, as well as being a very good source of minerals and electrolytes, especially potassium, iron, manganese and copper hence the desire to indulge!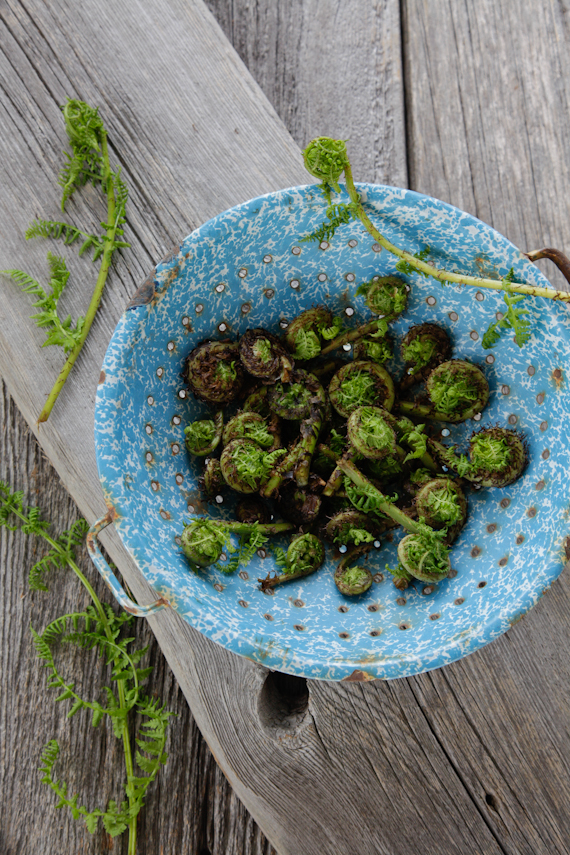 Pick the tightest heads you can find and leave the looser ones to unfurl in the forest.  We have a few loose ones here, we're still learning:)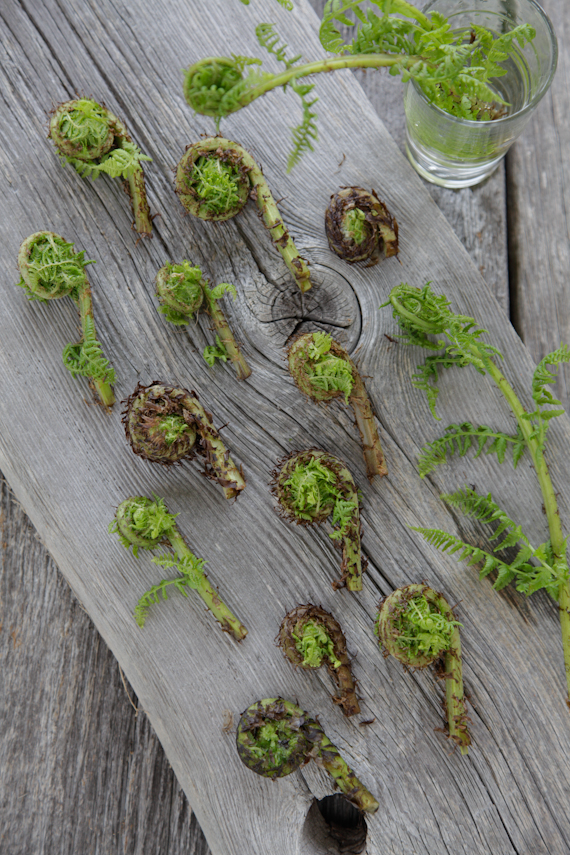 Fiddle Heads with Creamy Kamut Orzo & Spring Peas
Yield: Serves 6-8 as a dish to accompany a nice green salad
1 1/2 cups kamut orzo pasta
2 cups fresh or frozen peas
1 large white onion, diced
1 tbsp virgin coconut oil
3 garlic cloves, minced
1 tin great northern beans or cannellini beans, drained & rinsed or 1 1/2 cups cooked dried white beans
1/2 cup unsweetened almond milk
a squeeze of fresh lemon
1/4-1/2 tsp sea salt + more for water
40 fiddleheads, approximately, washed and rubbed
extra virgin olive oil
pinch of crumbly sea salt, like Malden Flakes.
Method
Put two medium pots of water on to boil, both well salted with about a tablespoon of sea salt.
Meanwhile, sauté onion in coconut oil till translucent apron 5-7 mins, adding 2 cloves of minced garlic in the last 2 mins.  Transfer half of this mixture to a blender and pour the remainder into a medium sized mixing bowl and set aside.
Add orzo to boiling water and cook as per directions on pkg (approx 8-10mins) adding frozen peas for the last 2 minutes.
Steam fiddleheads for 10-12 mins until tender. Drain and run cool water over to stop them from cooking any further. Toss fiddleheads in a drizzle of extra virgin olive oil and a sprinkle of sea salt.
In blender, add beans and almond milk and process til creamy, adding the last minced clove of garlic & lemon squeeze and processing just a few seconds more.
Drain orzo & peas and pour into mixing bowl with onion, then coat with creamy beans.
Serve orzo topped with 4-6 fiddleheads. Garnish with fresh chives or other fresh herbs as you may and a crumble of sea salt.
Enjoy:)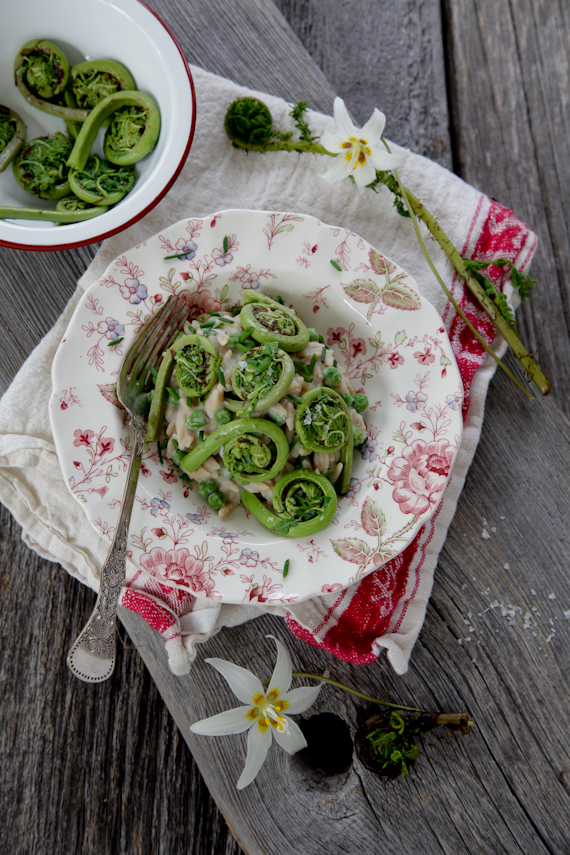 I really felt inclined to post about these wonderful fiddleheads as a celebration of the earth's natural bounty that we sometimes forget is available to us that is really quite fragile and yet won't continue to exist if we don't take care of mother earth.  This weekend Earth Day is the perfect time to do your part to help preserve our planet and at the same time celebrate the beauty we are surrounded by with a wonderful meal that mother earth has to offer us that those before us enjoyed and preserved so that we too could do so.
I hope you have an opportunity to taste these morsels either in a restaurant this spring or by snapping some up at the market and maybe if you are lucky, harvesting your own.
I'm off to shoot more delicious food for the cookbook that is coming right along.  I make a point of doing something for it near every single day so it is a labour of daily love that is slowly emerging.  I'm so enjoying the process, a little in denial that time will run out, but not panicking yet.  I'll save that for later!
Happy Earth Day to you.  I'd love to hear what you are up to and what you might be cooking if you are celebrating in some way.
Cheers!
Julie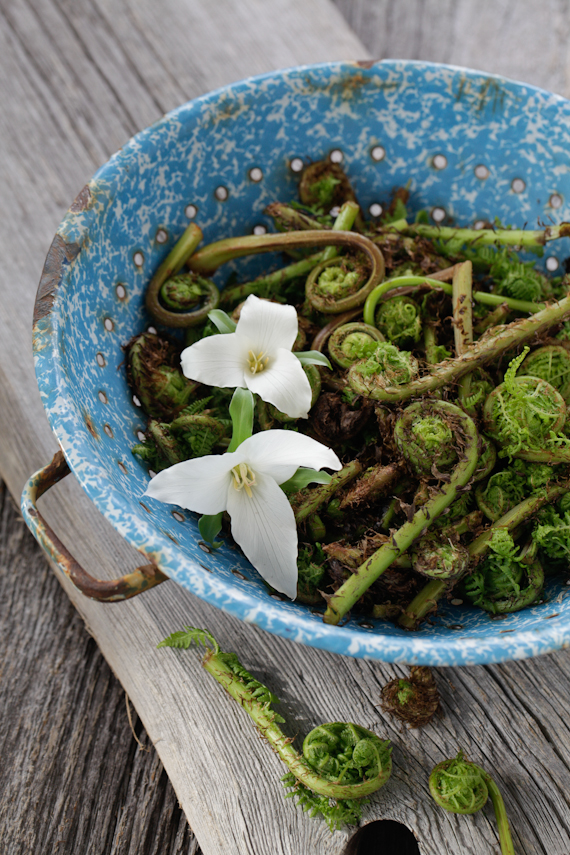 Pin It