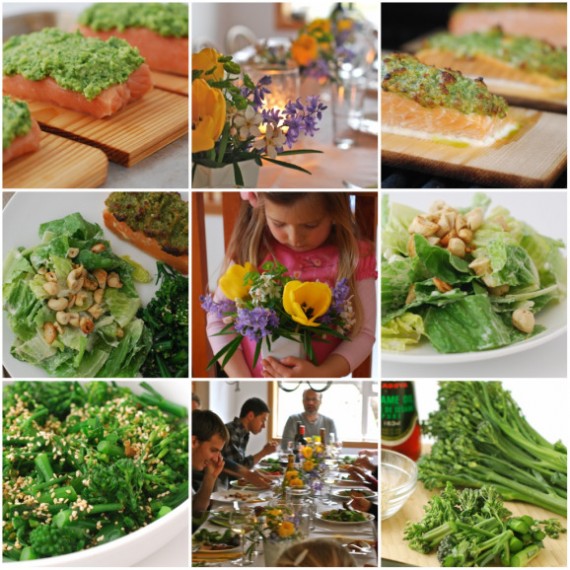 Today marks the first post of our new monthly column Entertaining Alkaline Style.  I am so excited to share the photos of our last healthy feast!  I love to cook especially for a crowd who appreciate healthy yummy food.  My favourite part of entertaining is setting the table–so much so, that sometimes I even do it the night before when "not a creature is stirring"–except me!  My background as a designer has me constantly craving creative activities so I get my fix by styling my food shots, searching for special pieces new and old to present my recipes and of course setting a gorgeous table with flowers.  This is an opportunity to share with you how I put it all together while inspiring some great entertaining ideas and recipes.  So stay tuned for this monthly feature and let me know your thoughts.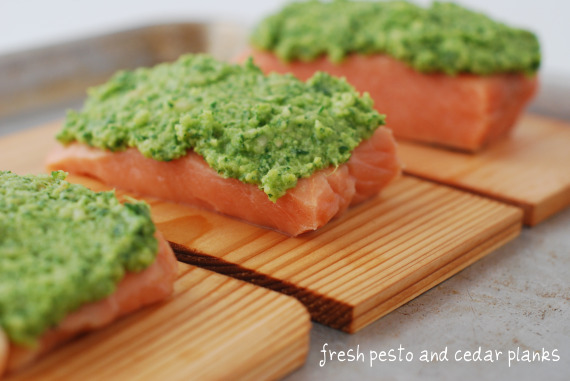 When I plan an alkaline meal I follow the rule 20-30% of healthy protein or grains to 70-80% warmed veggies and salad.  To incorporate healthy food combining I don't serve proteins with grains ie. meat and potatoes or fish and rice.  I always serve a protein or a grain with non-starchy veggies.  And I don't ever JUST serve a bowl of pasta–it would always be accompanied by a large salad.  The burden on your digestive track is much less when you supply live enzymes from the raw vegetables to assist in breaking down the protein.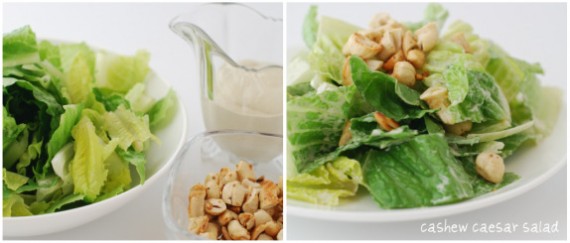 I found that it was difficult to entertain and serve guests a non-alkaline and non-food combined meal as it sent the wrong message to my family and we were flipping back and forth between principles.  What I have now discovered is that our guests are intrigued by our meals, they ask a lot of questions, they love the food and feel great after dinner.  So it's the only way for us now.  That's not to say that we are perfect.  We do our best in a restaurant and when at other peoples homes for dinner.  Usually you can make do or just eat a  little and then nibble healthy bits at home.  However, if we are away on holiday we make the most effort possible to order raw veggie plates at lunch and dinner for everyone and we eat salad as much as possible so that we might enjoy the odd treat– dessert or a glass of wine.  But inevitably we feel rather sluggish and low energy if we decide just to go all out.  We've become accustomed to a nice healthy regime that our body tells us when we are out of line so we do our best to listen.  The biggest benefit is the fact that we feel more energized and we are almost never sick.  I can't tell you how much more I enjoy food now because I have the added pleasure of knowing that the incredibly delicious food I eat is highly nourishing for my body.  Just knowing this makes the food taste 10x's better!  When I eat something that I know is clogging my body vs cleansing my body I don't feel so great about it and I really don't enjoy it very much.  Thus I am motivated to eat the healthiest I possibly can and I feel great for it.
Sorry for such wandering post, I just can't help myself some days.  Lets get started with the menu.  Today I have for you a delicious combination.  A cedar planked salmon topped with zesty lemon pesto served with a vegan cashew ceasar salad and a chopped broccolini dish tossed in a tasty sesame dressing.  First lets get the side dishes ready to go.  But oh yes, if you to decide to use cedar to grill on now is the time to get it soaking in some water so it won't flare up on the grill.  At the very least soak it for 30 minutes with a weight on it– and longer is better.  You may get more than one use if you soak extra long, say for 1-2 hours.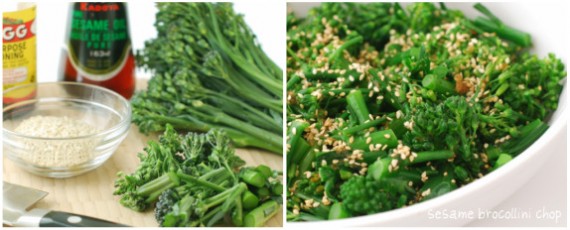 Cashew Ceasar
yield: serves 6
1 head of romaine lettuce washed and chopped
1/2 c olive oil
1 tbsp hemp nuts
2 tsp raw sesame seed tahini
1.5 tbsp braggs liquid aminos
1/2 small zucchini peeled and roughly chopped (approx. 1 cup)
1 clove fresh garlic
3 tbsp fresh lemon juice
pinch of celtic sea salt
Method
Combine all ingredients except lettuce in Blender, scrape down sides and mix well, adding additional drizzle of olive oil if needed for consistency.
For the Cashew Croutons
1/2 c raw cashew nuts
1/4 tsp of celtic sea salt
1 clove garlic crushed
1 tbsp olive oil
Method
•Place all ingredients in small saute pan and saute until cashew are lightly browned.  Place in small serving bowl and set aside.
•When salmon is finished on the BBQ toss salad and offer cashew croutons for guests at the table
Broccolini Chop
yield: 6 servings (approx 3/4 c each)
5 cups broccolini chopped into to 1″ pcs
1 tbsp celtic sea salt
4 tbsp raw sesame seeds
2 tbsp raw sesame oil
1 tsp toasted sesame oil
2.5 tbsp braggs liquid aminos
Method
•Lightly toast sesame seeds in saute pan for a few minutes-watch closely to avoid burning, set aside.
•Combine both sesame oils, and braggs, set aside.
•Bring large pot of water to boil, add sea salt, (when salmon is done is the time to cook brocolini)  and then cook broccolini for max 2 minutes.  Drain and place in serving dish.
•Drizzle sesame-braggs mixture over broccolini and gently toss. Sprinkle with sesame seeds and serve.
*Note For Raw Foodies: Massage the broccolini for 3-5 mins and toss in dressing-season w/ sea salt if desired.
Lemon Pesto Salmon
Yield: 6 servings
6 fillets of wild salmon with skin on
2- 12″ long cedar plank soaked for 30-60 mins in water (it may be cut into 6  pcs prior to soaking if desired for serving)
1  1/4 cups roughly chopped parsley
juice of one lemon juice
zest of 1 lemon
2 cloves garlic roughly chopped
3 tbsp olive oil + bit more for consistency if needed
pinch sea salt
1/2 c raw nuts (pine, walnut or cashew or a combination) I've tried them all with great success!
sweetener- 2-3 drops liquid stevia or 2 tsp agave
Method
•Combine all ingredients in a blender or food processor, scraping down and combining until well mixed and of a nice texture, not pureed.  Pesto should not be runny, but thick and textured.
•Prepare the salmon by rinsing and patting dry.  Remove cedar plank from soaking tub and lightly pat surface dry.  Place salmon on plank skin side down.
•Spread pesto generously on the top surface of the fish. Place planked fish on pre-heated bbq grill with lid closed and grill until it flakes and a butter knife inserted in center portion is hot when removed-approx 10-20 mins depending on size and thickness of fish.
•Remove from grill and then from plank and allow to stand for a couple minutes while cooking the broccolini and tossing the salad.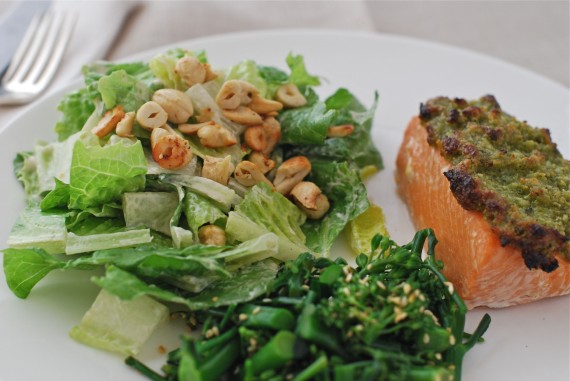 This casual plated meal, served buffet style, is how I keep it simple.  With 16 guests I tripled the recipes above leaving a bit of room for 2nds.  If I were to offer additional menu items for a meal they would include other salad variations and perhaps a healthy appetizer such as a yummy artichoke & bean dip with crudites.  This delicious, yet easy meal, leaves you feeling satisfied and full of energy which is my goal for most every meal.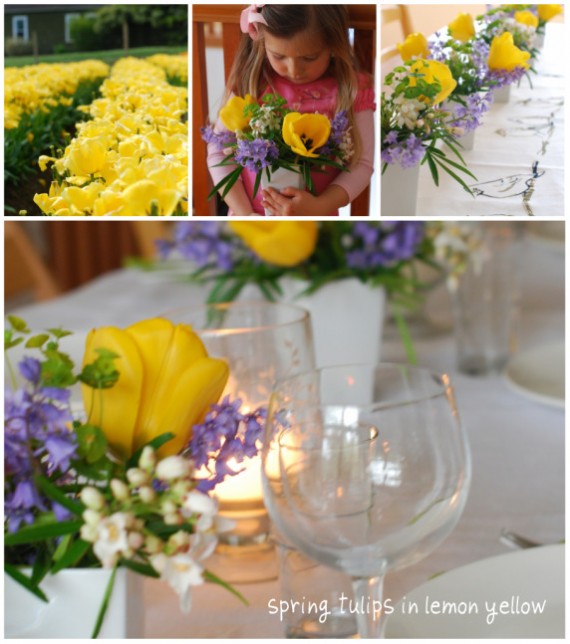 For the table I like to keep the arrangements low, under 8″ in height so that you can easily see over them for comfortable conversation.  I also love the repetition of similar containers holding similar coloured flowers. For this 14 foot table I did 5 arrangements with 4 candles in between. Don't be afraid to trim stems of larger flowers and mix in some greenery from your garden to fill up the container and give it some volume.  Using clear glass for drink ware and candle hurricanes or votive holders is also very pretty as it reflects the candle light.  I entertain with my all white Maxwell & Williams dishes as I love how food looks on white.  My table linens are white for this table setting but this is where I sometimes like to have fun with the napkins and the table cloth.  I have a linen cupboard full of cloths as I have a bit of a fetish for them. (pls forgive the tulips in July- I have been prepping this post for too long and sometimes life and travel get in the way- imagine some lovely mini sunflowers in their place with blue cornflowers)

A wee bit on more the food combining thoughts.  Our digestive track was created with a plan in mind. Animal proteins are not easily digested and of all foods take the longest to process.   Carnivorous animals have short straight intestines that quickly and easily process meat where ours are long and squiggly, designed more so for a plant based diet. Thus pairing raw veggies especially greens that are high in enzymes with small amounts of animal proteins is incredibly helpful, aiding in digestion.  In contrast consuming the typical meat and potato or pasta and chicken meal is an enormous burden on our poor digestive track and encourages the sugars (from the potato & the pasta) to ferment the protein which over taxes our organs making you sluggish after this kind of meal, taking as long as 9-15hrs to break down.  Emptying our systems becomes difficult and our colons take the brunt of it making it difficult to eliminate the protein.  This kind of diet, lacking in raw veggies can lead to crohn's disease, irritable bowel syndrome and many more ailments of this manner.  Consuming a fish and salad meal leaves you feeling much lighter and highly energized.
About 6 years ago I began food combining after reading Suzanne Somer's books where she explained the theory.  I instantly felt great, and energized after eating a meal and the full, kinda stuffed feeling never bothered me again, unless of course I strayed and sure enough I would have that uncomfortable full belly syndrome.  It just all made sense and I noticed the difference immediately.  I also lost a few pounds in the process-bonus!  It may take you a while to convert but once you do and you start noticing how great you feel after a balanced and properly combined meal you'll be hooked.  In our family we limit our animal protein intake to hormone & antibiotic free chicken 1- 2x's per week.  We don't eat red meat.  I only eat fish right now and prepare it 1-2x's per week.  More often, we will have vegan meals such as a fresh pesto (rice) pasta and a nice large hearty salad with a slice of spelt garlic bread.  Sometimes it's just "veggie night" and we steam broccoli, roast asparagus & garlic potatoes and serve along side a kitchen sink salad–heaping with veggies and a variety of greens that is!  A raw veggie plate is always on our dinner table and as we linger and chat after our meal we often nibble on these or we all nibble on them as we are preparing the meal.  The big question we are often asked is where's the protein on veggie nights.  Well, if you add up the small individual amounts of protein in a nice variety of vegetables from the salad,  the veggie plate and the steamed veggies you will end up with more than the recommended days intake of protein.  This chart here indicates the individual protein measurements for vegetables. We also use hemp nuts, very high in protein, in many of our dressings, salads & smoothies.  So I don't fuss too much over the protein question as we get our fair share and more.
I hope you enjoyed this first alkaline entertaining post even though I managed to wander a bit.  The simplest of meals can be made to be gorgeous and special with a little bit of time spent on fluffing the table.  How often do you entertain for a crowd?  What do you do to simplify so that you are still able to enjoy your guests?  Do you serve as a buffet or family style at the table?  I am curious so please share and also let me know how you like this new series.
Psssst…… You might get lucky and see a few extra entertaining columns this summer (versus only monthly) as I can't resist to set a table and cook with all this gorgeous produce about!

Pin It