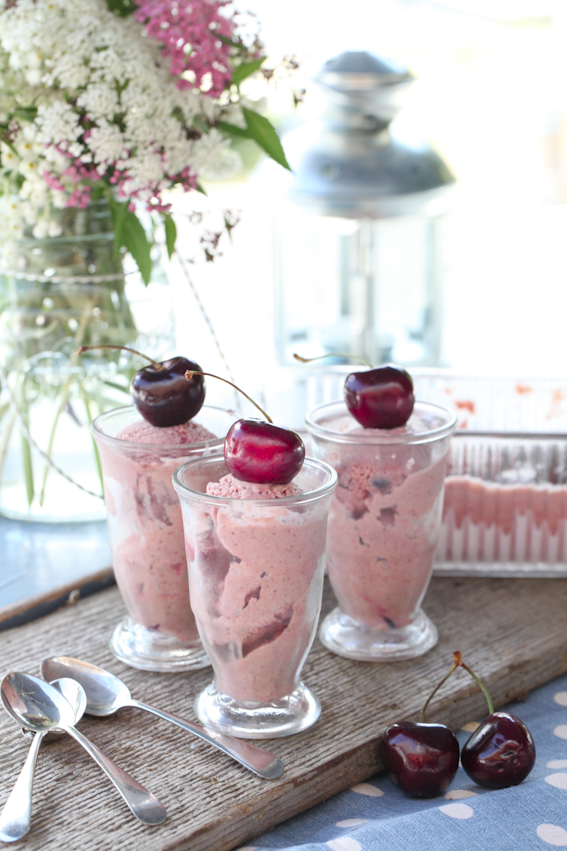 I hope you don't mind that I've posted two dessert recipes in a row but I couldn't help it since these gorgeous fruits are in their prime and one must capture the moment, since we won't see them this fresh and abundant again, until next year.   It's also a really great excuse to indulge in another little healthy treat!  A treat it is, since it does have a good handful of sweet dates to round it out, but again, a healthier ice cream option than most any other, especially since I decided to add the avocado!  I don't make ice cream often but it is a fun thing to make and the kids enjoy the anticipation of it all.  I picked up this fun ice cream maker at Pottery Barn Kids and they had a blast mixing up the mixture as it froze surrounded by ice and rock salt.  I decided to further freeze the mixture for this post but we could have enjoyed it right out of the container as a soft serve ice cream.  Our next creation might be a fresh peach sorbet!  What's your favourite ice cream recipe that you have made?   Do you have a favourite combination that you'd like to share?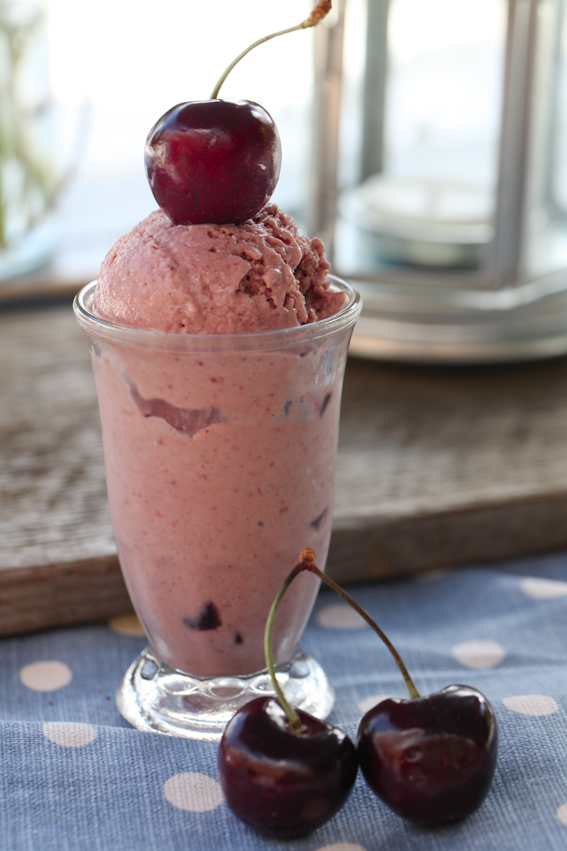 Now that summer has finally arrived in our neck of the woods, this treat was sooo refreshing.  I like to serve up nice small parfait sized servings, just enough to cool you down.  Hanging out here at our lake house, we've needed the cool down.  It's been a lovely week with some incredibly warm days that make us happy. We've been riding bikes, walking local trails, lounging on the dock, boating amid twinkling waters, swimming and laying on floaties to cool down.  We've even played bocce ball, badminton, and… I Spy!  We've enjoyed the pleasure of company with family and friends and some yummy, healthy food.  It's been my dream to be able to create these summer memories for my kids since I always yearned to have had these memories from my own childhood.   I am grateful to have this free time with my kids this summer with few distractions, since I closed my retail shop this past spring.  All in all we are lucky to be enjoying a lovely summer. How's your summer been?  Have you taken a little time to enjoy the season?  What's been the highlight of  your summer thus far?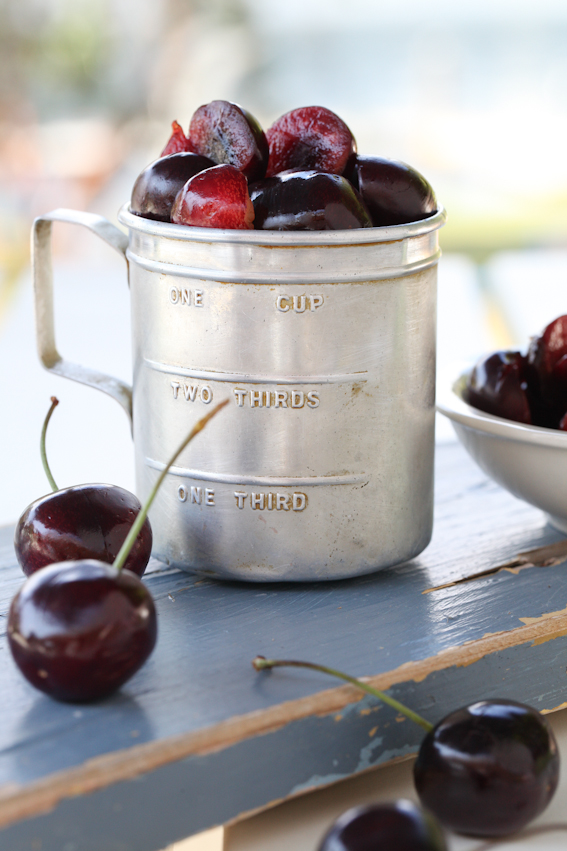 Dairy Free Cherry, Coconut & Avocado Ice Cream
Yield: 5 cups
2 cups cherries pitted, + 6 cherries finely chopped
1  400ml/14oz tin organic full fat coconut milk
1/2 large avocado, or one small
1/3 c cashews, soaked 15-30 mins, rinsed & drained
2/3 cup filtered water
juice of 1/2 lemon
10 soft dried dates, pits removed
2 tsp agave syrup, optional
finely chopped organic dark chocolate, optional
2 tbsp beet juice, optional for colour
Method
In high speed blender, place 2 cups cherries, coconut milk, avocado, cashews, water, lemon juice and dates.  Blend well til creamy, testing for desired sweetness, adding agave syrup, if needed.  Stir in chopped cherries and optional dark chocolate.  Pour into ice cream maker and process as per manufacturers directions.  Freeze further for firm ice cream or enjoy as a soft serve texture.  Garnish with fresh cherry.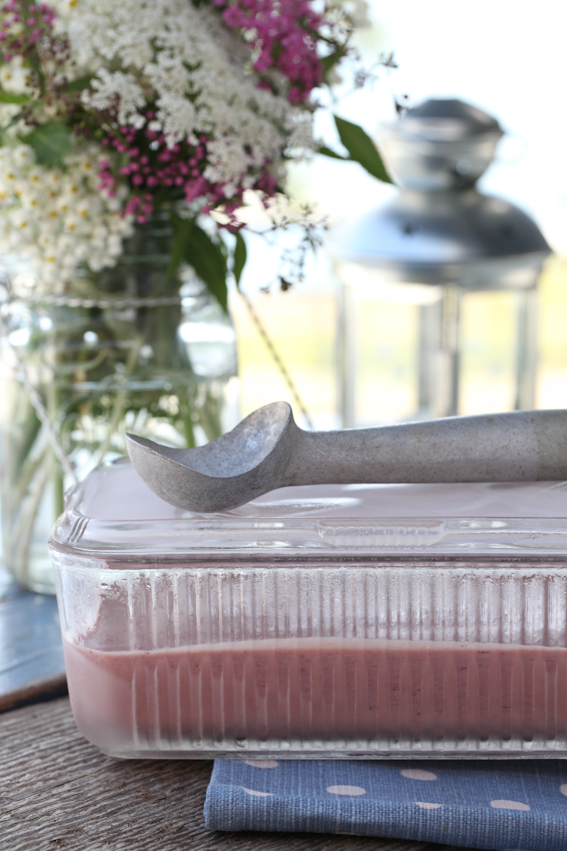 This is half of the frozen mix.  I added the chopped dark chocolate and chopped cherries to the remaining mixture, which was a nice addition if you like dark chocolate.  If you don't have an ice cream maker…. you can just freeze the mix in a container and stir it often to encourage it to freeze in smaller particles versus shards, which will make it creamier.  Ideally the ice cream maker moves the mixture constantly, allowing very small particles to freeze, while creating the creamiest results, but it all tastes the same and it all eventually melts, so don't panic if you don't have a fancy appliance.  You could also pour this mixture into popsicle molds and make iced treats on a stick.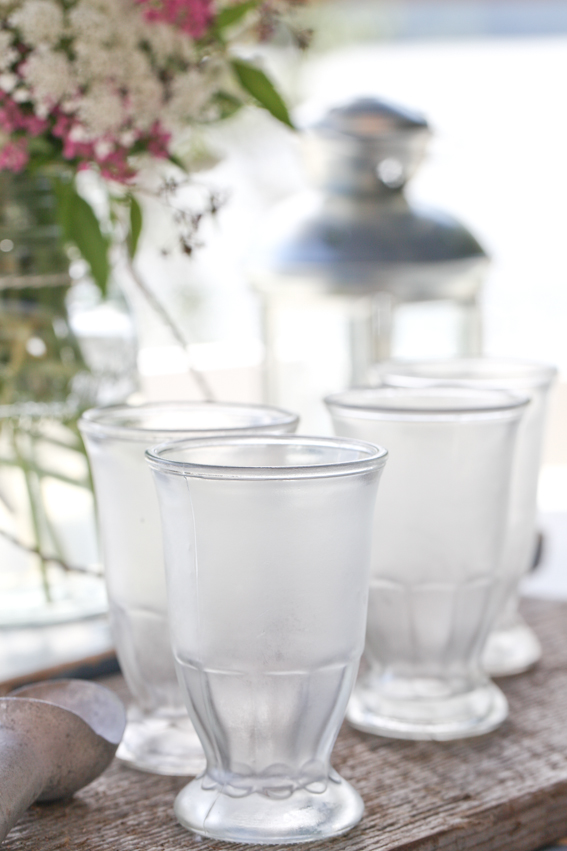 If you have the luxury of a little space in your freeze you could freeze your dessert glasses or bowls and it will keep your dessert frozen a little longer while you scoop and serve, depending on how hot it is where you are.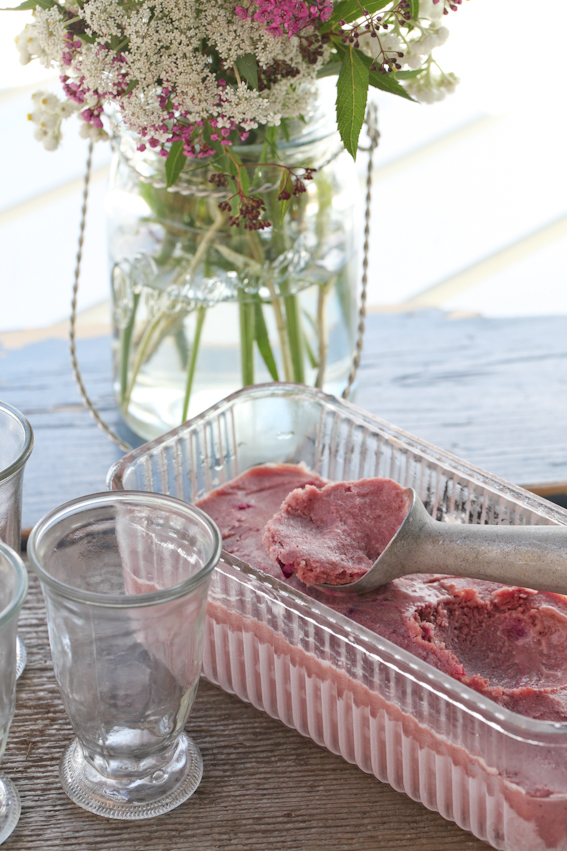 I think you'll agree that the guilt factor with this ice cream is pretty low since it even has a dose of healthy avocado in it.  The fresh cherries are packed with antioxidants that help repair damaged cells.  Cherries also contain queritrin and ellagic acid both of which are powerful anti-cancer agents. POH or perillyl alcohol is also found in cherries and is known to deprive cancer cells of crucial proteins they require to grow.  Cherries are also an anti-inflammatory food, easing any symptoms, aches or pains you may have and they also promote a good nights sleep as they contain an abundance of melatonin that our body naturally produces, but may be low in.   And get this, they also fight against premature aging!! as they can assist in clearing out the effects of oxidative stress-that is too much exposure to too many free radicals-and hence slowing the aging process. You gotta love that, hey!  And by avoiding dairy in this recipe you eliminate a whole host of clogging organisms by replacing it with the full fat coconut milk which is packed with good saturated fats; these medium-chain fatty acids are unique, as they are effortlessly digested molecules of fat that are sent directly to your liver, where they are immediately converted into energy, unlike other saturated fats that raise cholesterol levels.  Of course the one down fall of this recipe is that it is sweet, so again I must stress that one needs to be cautious of their daily sugar intake and keep it low or down to zero especially if you are fighting disease, candida or symptomology of any sort or trying to reduce your weight.
But remember, we all like to enjoy a tasty treat now and then, so why not make something that you know will nourish and satisfy your craving for a sweet treat.  This is one recipe that you will enjoy and can be adapted to be used with a variety of fruits.  Why not try strawberries, raspberries, blueberries or blackberries.  All these berries are low in sugar and are full of antioxidants too!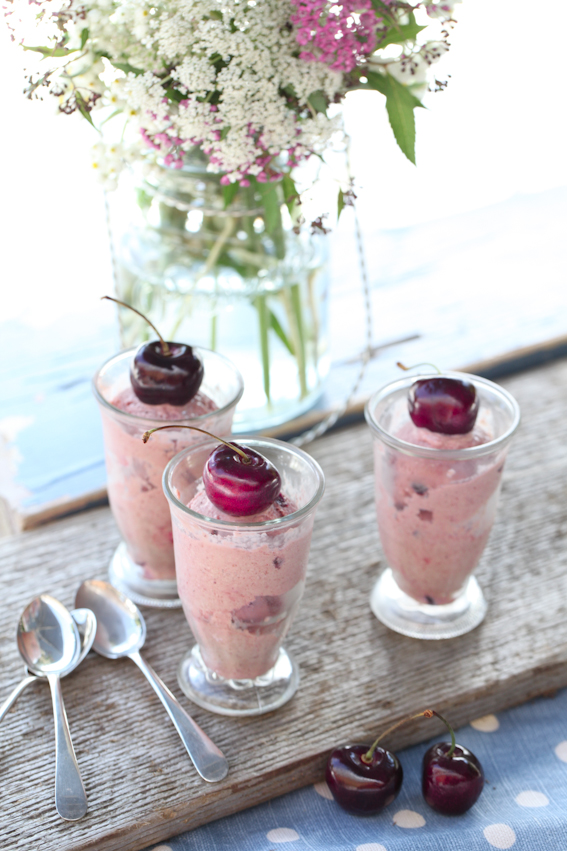 If you can get out to the cherry farm and pick your own this just makes the cherries taste even better!  Be sure to ask if the farmer avoids sprays as cherries that are not organic, are Not recommended.  Here's the new dirty dozen list.  If you have young children, their small body frame will be much more sensitive to pesticides than adults as their toxic reservoir is smaller and will over flow sooner, resulting in signs of toxicity and allergic reactions.  I avoid the dirty dozen with my 5 year old Amelia at all costs because it just isn't worth it to me.  We make other choices at the grocery store or the market if the organic choices are not available and she understands this all too well.
Now I would say you need to run, not walk to the cherry farm cuz this season is soooo short that you could miss it, if you haven't already!  Our local crop is extremely late this year since we've seen so little of the sun.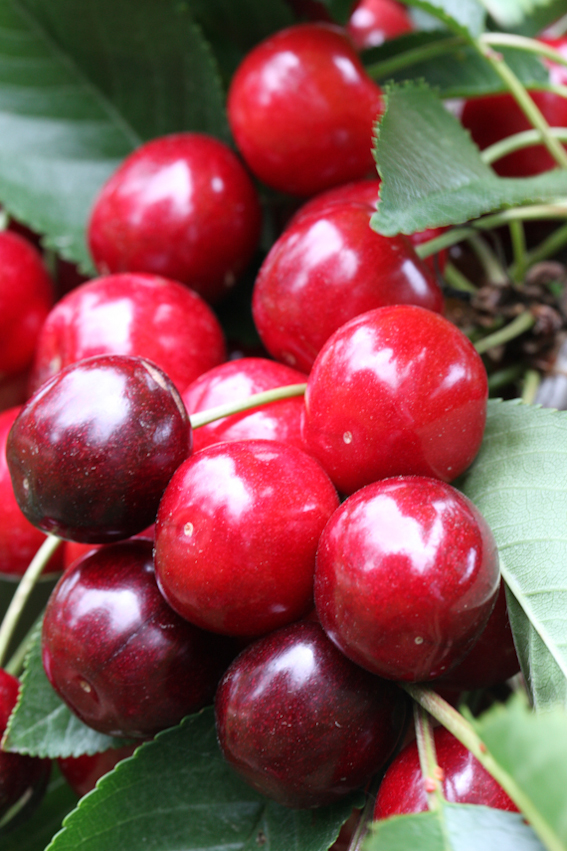 Doesn't this just make you want to bite the screen?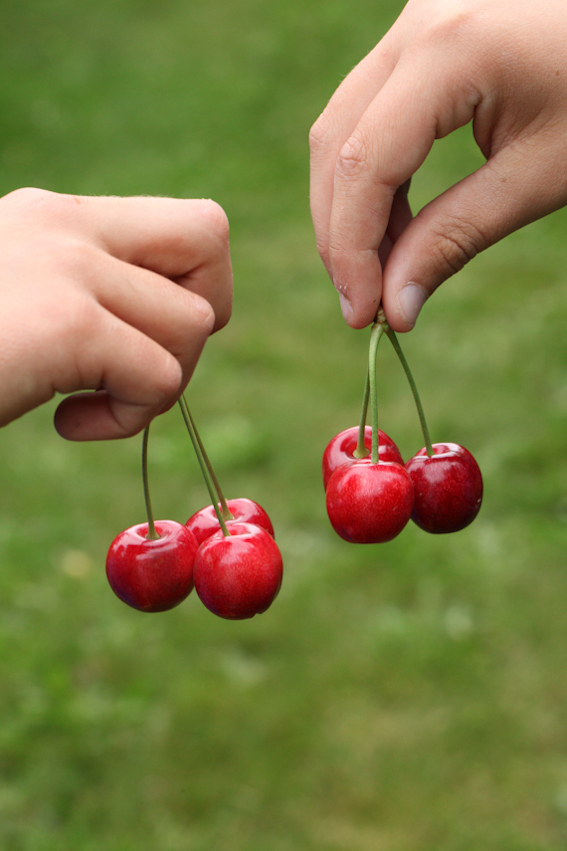 The kids had such a fun time hiding between rows and filling up their baskets the fastest.  I know they'll have fond memories of this summer tradition.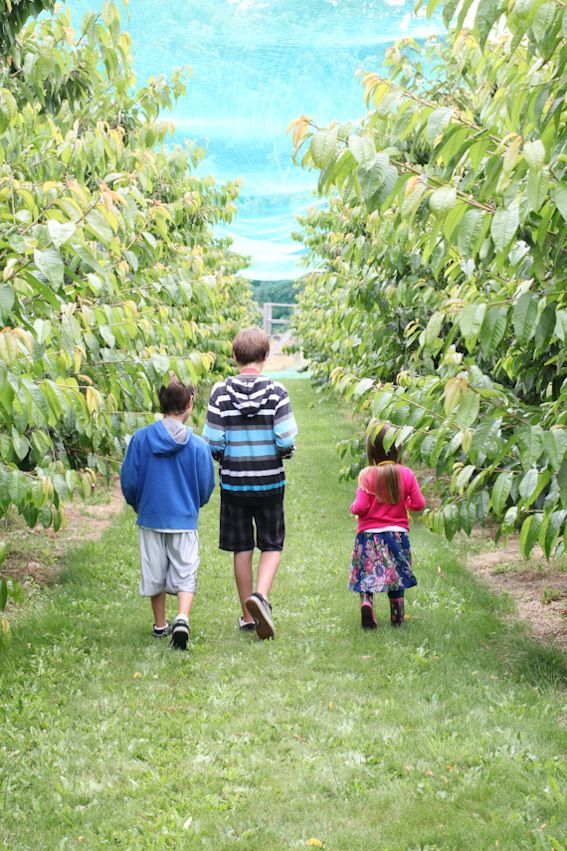 I hope you get a chance to enjoy the quiet and the beauty of your local farmer's efforts.  It was a wonderfully, relaxing experience.
Have a great week.  Stay cool!
Julie

Pin It