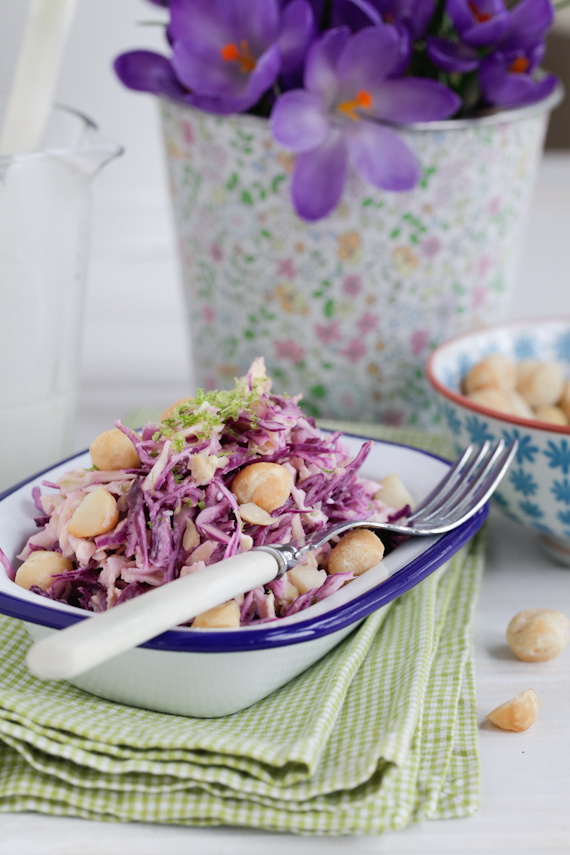 My goodness, where does the time go?  Have you also found that it's ticking by too quickly?  I'm glad it flies by quickly in the winter since I'm not fond of the cold so "Yay" I'm Glad it's spring-my favourite time of year!!  –but I always want time to pass by slowly when I think of my kids since it's such a short time that they are young, so sweet and adorably innocent.  I want it to last longer so I can really savour it. But with my plate heaping full of 'to do's' I always feel like my days are far too short and time has not allowed me to accomplish enough, especially here on the blog!  Perhaps it's better time management that I need, a skill that I'm not that clever at.  I always cringe at the thought of a 'system or a calendar' since I tend to keep most of my 'stuff' in my head, which honestly, can be dangerous some days! However between the cookbook writing and my family duties…I managed to get this post completed for you so here we are, enjoy!
It's a yummy dish you can make in a jiffy with only a few simple ingredients at most any time of year.  Cabbage is usually available year round so this recipe is one you can always count on being able to whip up.  And it actually tastes just as yummy the next day, which is not always the case with coleslaw.  I used the purple cabbage since it is more alkaline at +6.3 than the white at this time of year which is only 2.0 but still, both are great options.  I combined it with a savoy cabbage which has an alkalinity of 4.5.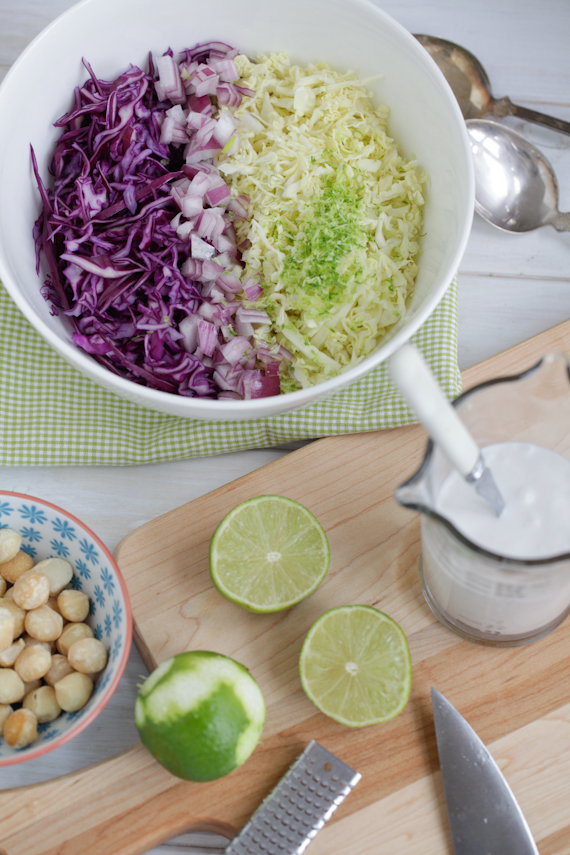 Cabbage is such a nutritious veggie chalk full of goodies.  It's rich in antioxidants to help balance free radicals within the body, and is also an anti-inflammatory food.  The red cabbage is especially high in Vitamin C (a measure of antioxidant capacity) measuring nearly six to eight times higher than that of green cabbage- and it's way prettier too, right?  The rich purply red color of red cabbage reflects it concentration of anthocyanin polyphenols.  These are partly why red cabbage is so red, containing considerably more protective phytonutrients than green cabbage. Phytonutrients are what protect the cabbage plant from disease, injuries and pests and in turn do so for our bodies when we consume it–they form part of the plants immune system and also help to protect our bodies from disease.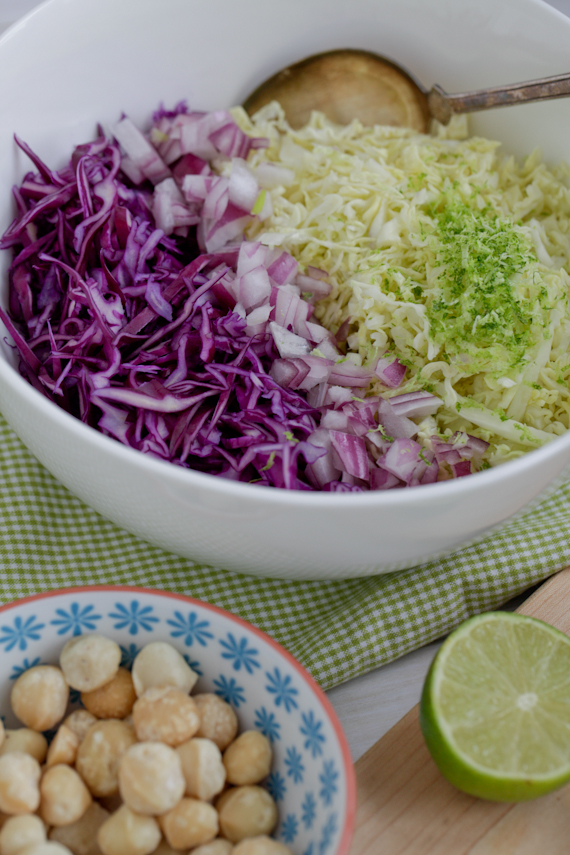 A little bit of red onion is punchy in this salad and the macadamia adds a crunchy creamy element.  I can't seem to get enough of the dressing of coconut and lime that is deelish on it's own so be generous or serve extra on the side.  What I love the most about this salad is that it's not smothered in mayonnaise like most coleslaw.  I've never been a mayo fan so I don't miss the mayo but even if you are a mayo fan perhaps you will be able to open up your taste buds to this new version of a crunchie coleslaw.  It's far more nutritious and is usually a crowd pleaser- I tested it out on my class mates for a potluck last spring and it was approved!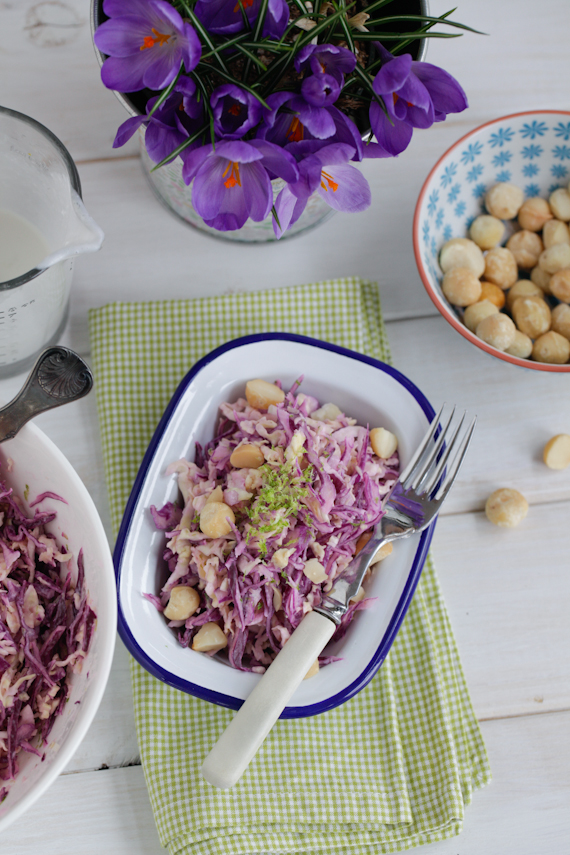 Coconut, Lime & Red Cabbage Coleslaw w/ Macadamia Nuts
Yield:  6 small servings
2 cups thinly shredded red cabbage
2 cups thinly shredded savoy cabbage
2 tbsp finely diced red onion
2 tbsp lime zest
juice of one lime
1/2 cup coconut milk (not light)
3-4 drops stevia
pinch of himalayan salt
1/2 cup raw macadamia nuts, roughly chopped (optionally you could try cashews too)
Method
In a large bowl combine both cabbages, onion, and lime zest.  Wisk together lime juice, coconut milk, stevia and salt.  Coat cabbage mixture, tossing well, using part or all of the dressing as you may.  Top with chopped macadamia nuts.
Note: cabbage is most ideal if it isn't really cold otherwise the coconut oils set up.  Any chilled left overs are best if allowed to warm up a wee bit before serving for this same reason.  This is a yummy dish alongside another salad, quiona pilaf or legumes. I enjoy it along side roasted veggies of almost any sort.  You can even tuck this into a wrap and jazz it up as you may.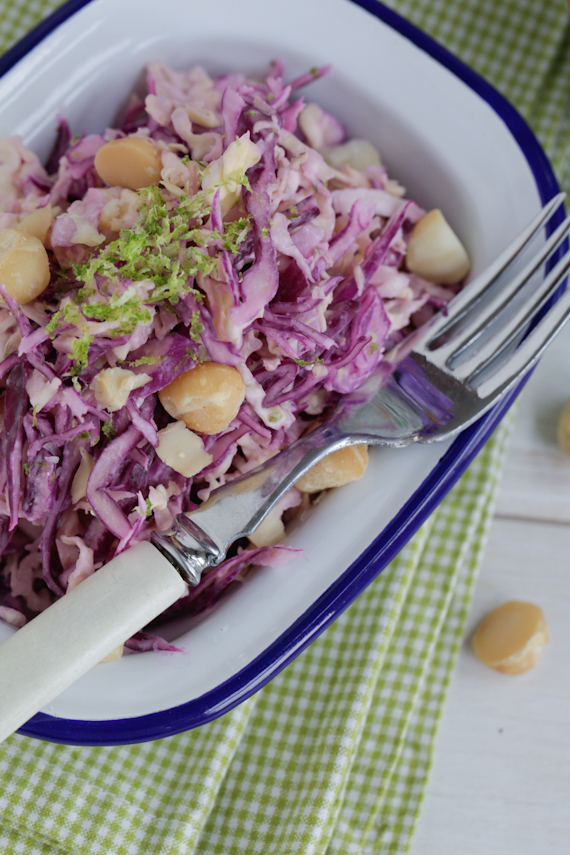 I'm so excited for all the spring flowers that are poking their heads thru the dried leaves and brightening up our yards.  These crocuses have such happy little blooms with their almost neon centers.
I hope this post finds you well and following a healthy journey that serves your body and soul.  Be good to yourself over Easter, enjoy the festivities but be sure to find ways to balance it all out– drink your water daily, squeeze in those salads and some green juice or a green smoothie for breakky.  You'll be glad you did.
Happy Spring, so glad you stopped by.
Julie xo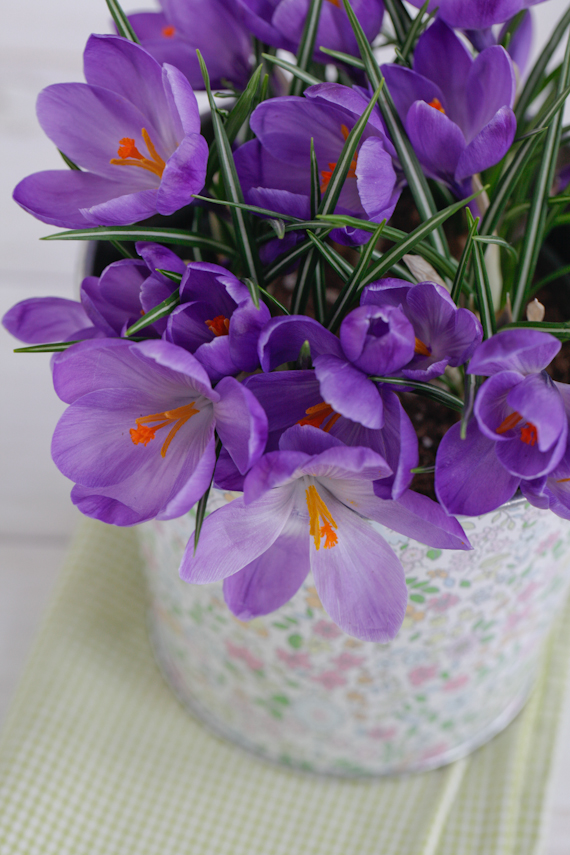 Pin It