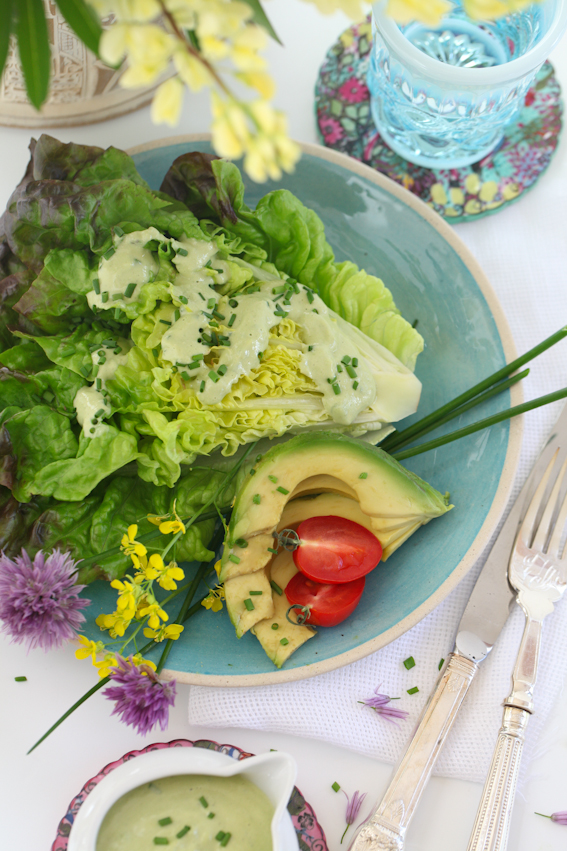 Most every evening when preparing our family meal, the one thing that is pretty much a constant is the task of creating a tasty dressing that will make our salad delicious and different from yesterdays, tantalizing the palate with yummy flavours.  I have made soooo many different concoctions I can hardly recall them all and I wish I were better sometimes at keeping notes cuz there are a few good ones that I think got away for the sake of not recalling what I did and what made it so yummy.  But no worries, I'll create something new all over again, and hopefully note the proportions and the ingredients much more carefully.  You probably do the same, No? Do you have a favourite combo you can share?
To make your salad dressing event easier I wrote some basic notes for you and compiled my repertoire of dressing recipes all in one post here below this salad recipe.  I hope you'll refer to this often over the summer, let me know how you like it-and please share your special concoctions!
The chive dressing featured here is one that was inspired by our recent cruise to Alaska and I had a heckling for the flavour once I returned home so I fiddled and created my own creamy version.  As long as a salad dressing tastes absolutely delicious there's no need to get to complicated with the actual salad fixin's.  And with summer markets open again, local greens are easier to come by and there's nothing better than a simple plate of young tender greens gently dressed with homemade goodness.  I love adding an avocado to get my daily fix but you can certainly enjoy gorgeous greens completely alone.
Not only are the greens lovely in the summer but the wild flowers and herbs present themselves so irresistibly that I can't help but incorporate them into my posts these days.  This week my obsession belonged to the lupins and I loved the sunny chive blossoms too!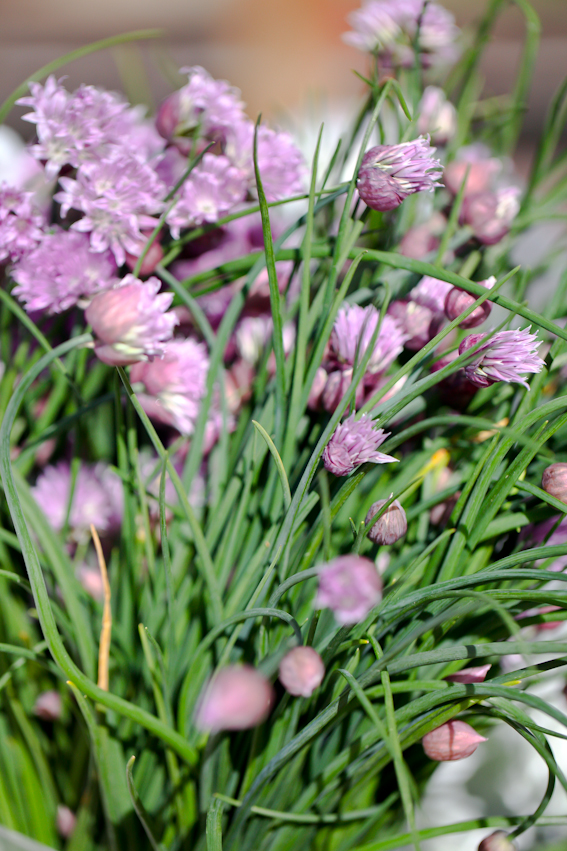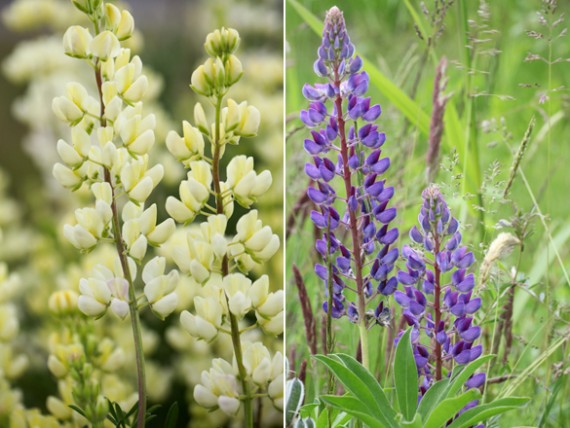 Sadly, the municipal mower came along and completely obliterated the lovely blue lupins along the roadside.  At least I got the shot but it makes me sad that these blooms already have a short life and then are snipped before they finish their show.  This happens every season so I learned quickly to stop when I see these lupins in their prime and snip a few.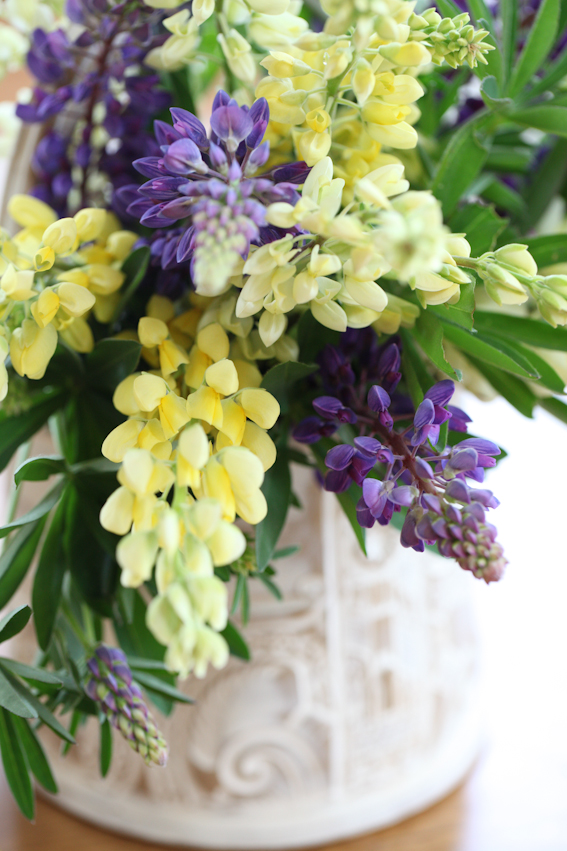 Flowers bring me so much joy thus I make a habit of always having fresh blooms sprinkled around the house, even if it's only a single stem in a small recycled bottle.  And you?  Do you fancy being surrounded with fresh blooms thru the year? What's your favourite flower?  Florist variety or the roadside bouquets or wild flowers you can pull over for? I absolutely love a road side flower stand in the middle of summer with mixed bouquets from someones garden.   I keep saying that one day that I'll have my own road side flower stand to pick flowers for just for the pure enjoyment of gathering, arranging and presenting gorgeous posies for passersby.  I guess this means I'll need an excellent picking garden, awe but one day….. I can only dream….as right now as my yard isn't big enough and my drive by traffic isn't condusive.  If I find a few great bouquets this summer, I'll be sure to share them.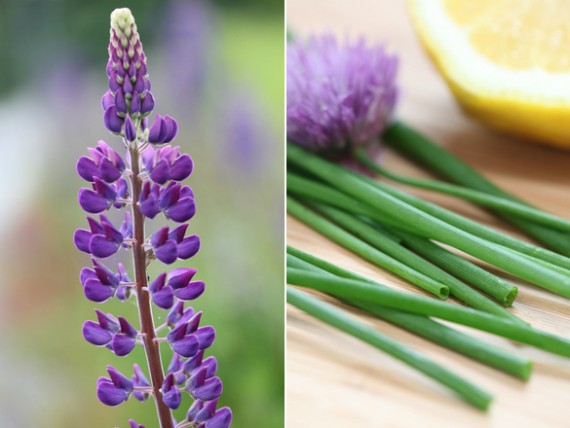 Chive Dressing Simple Salad
Yield: salad for two
1 nice head of your favourite lettuce, I chose butter lettuce, sliced in half lengthwise
1 avocado, halved and sliced, some for dressing, remainder for salad
3 chive flowers, two for garnish, one for dressing
few cherry tomatoes, sliced in half
for the dressing
1/3 cup olive oil
juice of one half lemon
1/4 tsp fine Himilayan sea salt
1/4 tsp braggs liquid aminos
1/4 avocado
2 tbsp sunflower seeds, soaked for 10-15 mns
4 tbsp filtered water
2 tbsp chopped fresh chives, 1 fresh chive flower
Method
Lets start with the dressing so the flavours can mingle while you prep the salad. Soak sunflower seeds in filtered water for at least 10 mins.  Then place remaining ingredients in blender and combine till creamy.  Check for seasoning and let rest.  Place lettuce halves on two plates ,add avocado and tomato.  Garnish with chive flowers, arugula flowers and drizzle with dressing, offering additional dressing when you serve.
I usually wash, tear, and spin my lettuce for salads but aboard the cruise ship I was served my salad as shown above and I rather enjoyed the presentation as well as cutting my salad up as I nibbled.  In this case, it's best to plunge the entire head into a sink of cool water to wash well and allow to drain and pat dry before slicing lengthwise. It's nice presentation when you have guest over and is fast and easy to prepare.  Just choose the best and prettiest heads of organic lettuce you can find.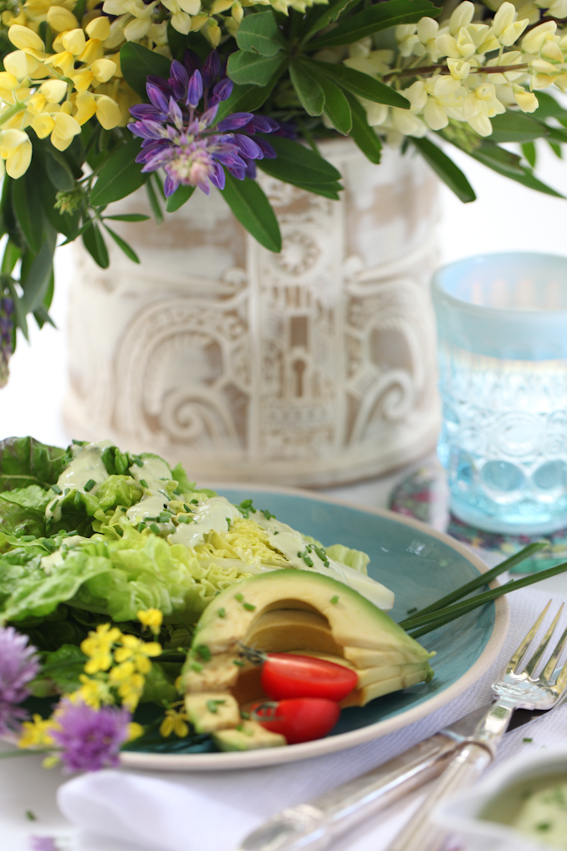 Aren't the lupins amazing, especially these soft yellow ones!  Hope you find time to stop and smell the 'roadsideeaah' this summer!  The wild roses are also out now and their fragrance is intoxicating!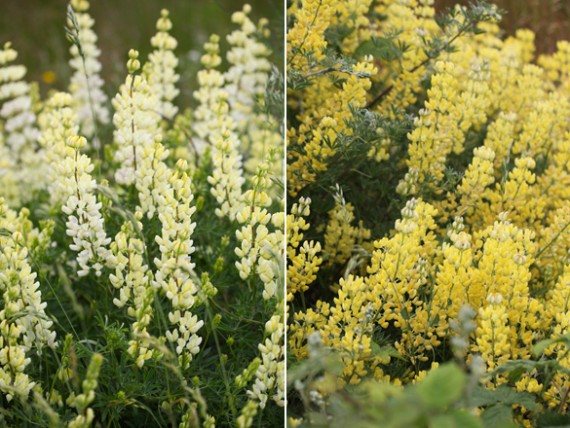 Salad Dressings 101
With summer here we'll be enjoying lots of salad so I thought I'd gather my favourite dressings in one post for you to make it easier for you to choose which one to make for your salads each day.

I'm a believer that we need to curb our intake of processed foods and that includes salad dressing even tho you are pouring it over raw veggies and it really encourages increased veggie consumption–using it as an occasional crutch is okay but not everyday and not forever!  Making your own salad dressing is such a cinch and only takes a few minutes and it can enormously increase the health benefits of your salad with the right ingredients.
Vinegar is a fermented ingredient so I prefer not to use it, although my kids do like the occasional balsamic dressing and I use it to entice certain salads now and then.  Vinegars are fermented and are full of fungus, that which contributes to acidity and disease so I avoid it when possible.  Certainly I'm not perfect like I was when I was chronically ill- I didn't ingest any whatsoever-but now sometimes in restaurants I let it go as most use vinegar.  You can ask for olive oil and lemon wedges and use this instead which I still like to use depending on the salad offerings. But at home it's sooo easy to 'jazz it up'!
Here are my 101 Basics:
-Use lemon or lime to replace all vinegars
-Use raw zucchini, avocado, nuts, seeds or hemp seeds to make a dressing creamy, carefully adding filtered water for consistency if required
-Use fresh herbs when possible or allow dried ones to mingle in dressing before serving.
-Go crazy with spices as they can really make it yummy- chipotle, curry, Italian, chili, etc.
-Use organic, extra virgin olive oil and taste test naked for preference as so many are way to peppery or acidic in the back of your throat and may not be the flavour you are looking for.  Buy the best olive oil you can afford, it will make all the difference in the flavour of your recipes.
-Accent your salads with healthy raw unrefined oils like almond, avocado, sunflower seed, pumpkin, walnut, hazelnut, olive, flax seed, etc. knowing that olive oil is the healthiest unsaturated oil alongside coconut oil.  Add in omega oil combinations like Udos for extra good measure!
-Avoid altogether canola, corn oil, vegetable, safflower oil… the not so good oils.
-Always be careful and use toasted oils esp. sesame in serious moderation as they do have carcinogens present in them.
-Always use fresh garlic and ginger, best grated on a rasp, no excuses here!  Freeze your ginger and then grate as needed and you'll always have some handy!
-Raw nut butters are quick to add for flavour and creaminess
-Use healthy salts; tropical sea salt, Himalayan, Celtic
–Braggs liquid aminos is a great flavour enhancer esp. for Asian recipes (soya sauce replacement)
-Use fruit and natural sweeteners like agave & stevia in moderation to minimize tummy upset when combined with greens-moderation is key
-A blender is handy for combining nuts and seeds, or wisking is fine for liquid only dressings.
-If your oil smells off it's probably rancid- Do Not use!  -very toxic if it is old.  Check your oils often and store nut oils in the fridge.
-Most dressings will keep for 2-3 days in the fridge but not longer.
-Get creative and make up some of your own, but keep notes!!-and share your successes here!
Here we go…..my favourite salad dressings…

Mexican Salad Dressing
Yield: 1 cup dressing
1/2 cup olive oil
2 tbsp flax oil-optional
1 tbsp hemp oil-optional
2 tablespoons fresh lime juice
2 tbsp lemon juice
2 tbsp agave syrup
1/2 tablespoon celtic salt or sea salt
1 – 2 cloves minced garlic
1/4 cup chopped fresh cilantro
1/2 tablespoon ground cumin
1 tsp ground black pepper
1 teaspoon chili powder
cayenne pepper to season at serving time
Method Wisk together and let stand 10 mins before serving.  Great for any salad with beans and greens.
Lime & Ginger Salad Dressing
Yield: 3/4 cup dressing
juice of 1/2 lemon
juice of 2 limes
1/3c sunflower oil
fresh very finely grated ginger
1/2tsp honey dijon mustard
pinch salt
pinch of fresh ground pepper
sweeten with agave til desired- approx 1-2 tbsp.-using a 2 drops of stevia in combination will reduce your amount of agave.
Method Combine all ingredients and shake or wisk and store in refrigerator for up to 3 days. This sweet lime dressing is lovely with any greens and adding things like mango or papaya with avocado and some nuts  (I have even added shrimp) is really nice and will certainly impress guests.  You can bump up the omegas in this by adding a 1-2 tablespoons of flax oil or hemp oil or even Udo's 3-6-9 Omega oil. Always taste your omega oils first before adding to a dressing so you know if they will complement the flavour.  Once I had a lemon flavoured omega oil and didn't realize and it didn't mix with the flavours I was creating- kinda messed up my plan.
Triple Citrus Dressing
Yield: 1 cup dressing
juice of 1 large grapefruit
juice of 1 navel orange
juice of 1 large lemon
1/3 c raw cold pressed sunflower oil (or flax or olive oil or a combination)
1 1/2  tbsp agave syrup – or to taste
1/4 tsp honey mustard
pinch of Celtic sea salt
1/4 tsp fresh grated ginger
Method Combine the above ingredients in a measuring cup and wisk well.  Great with greens, avocado slices, grapefruit, walnuts and a stack of sprouts on top.
Ceasar Dressing
yield: 1 1/2 cups dressing
1/2 c olive oil
1 tbsp hemp nuts
2 tsp raw sesame seed tahini
1.5 tbsp braggs liquid aminos
1/2 small zucchini peeled and roughly chopped (approx. 1 cup)
1 clove fresh garlic
3 tbsp fresh lemon juice
pinch of celtic sea salt
Method Combine all ingredients in blender, scrape down sides and mix well, adding additional drizzle of olive oil if needed for consistency.  Best on romain but nice on mixed garden salad too.
Asian Dressing, great for coleslaws
yield: 1/2 cup dressing
2 tbsp braggs liquid aminos
2 tbsp extra virgin olive oil-cold pressed organic if possible
juice of 1/2 lemon
1 tbsp toasted sesame oil
2 teaspoons grated ginger
2 tsp raw sesame tahini
Celtic sea salt to taste
Method Wisk all dressing ingredients together in a measuring cup. Try this slaw combination.
Ginger & Hemp Dressing—My all time Fave- considered liquid gold!
Yield: approx 1 cup
juice of 1.5 lemons
1/2 c extra virgin olive oil-cold pressed
3 tbsp Udo's oil (or more if you like)
1 tbsp tahini -preferably raw
2 tbsp braggs liquid aminos
1 tbsp filtered water
1/3 c hemp nuts
1 tsp finely grated ginger
Method Blend all ingredients well in a high speed blender, scraping down sides to incorporate.  Pour into a salad dressing bottle and enjoy.  This dressing will keep well for up to 3 days  if it lasts that long!  My 5 yr old daughter has been known to drink it! This is great on any mixed veggie salad.
Thai Sweet & Sour dressing
Yield: approx 5/8 cup
3  3/4 tbsp fresh squeezed lime juice (approx 1 large lime)
4 garlic cloves,minced or crushed
4  1/2 tbsp braggs liquid aminos
1 tbsp agave syrup
1  1/2 tsp finely minced jalapeno pepper
Method In a measuring cup mix all dressing ingredients well, test for balance of sweet, salty, sour and spicy, then let stand 5-10 mins for flavours to meld.  Best with this salad recipe.
Creamy Lemon Pepper Dressing
yield: approx 1 cup
1/2 cup diced peeled zucchini
1/3 cup raw Brazil nuts
1/3 cup extra virgin olive oil
juice and  zest of one lemon
1 very small garlic clove
1/2 tsp agave
1/4 tsp Himalayan sea salt
1/4 tsp fresh ground black pepper
Method Place all ingredients into blender and combine well.  For consistency you may add a tbsp of filtered water if needed.  I rather like it thick and creamy but it will further thicken because of the nuts.  Nice with walnuts, grapefruit and greens.
Sweet Slaw Dressing, great with peppers & jicama
Yield: Approx  3/4 cup
1/2 cup cilantro, chopped or snipped
juice of one lime, approx 3 tbsp
1/4 cup extra virgin olive oil
2 tbsp agave syrup
1 large clove garlic, crushed
1/2 tsp cumin
1/4 tsp cayenne or to taste
1/8 tsp sea salt
Method To allow flavours to mingle, prepare dressing first by combining cilantro lime juice, olive oil, agave, garlic and spices.  Stir well and set aside.  If you wish, the agave can be replaced partly or completely with approx 1/3 cup fresh pressed apple juice as a sweetener. See recipe for slaw here.
Chipotle Dip or Dressing
Yield: Approx 1 1/2 cups
1 cup raw almonds, soaked 30-60 mins if you have time
1/4 to 1/2 tsp chipotle pepper spice, the more, the hotter
1 1/4 tsp smoked paprika
1 clove garlic crushed
3 tbsp fresh squeezed lemon juice
1/2 cup filtered water
2 tbsp olive oil
1/2 tsp Celtic sea salt
Method Combine above ingredients in blender and combine til creamy and smooth, adding 1-2 tbsp additional water for consistency only if needed.  Use as spread inside wraps and serve extra along side cuz it's sooo yummy!   This makes a nice salad dressing if you thin this a wee bit more with either almond milk or additional water.
Creamy Mint & Lime Dressing
Yield: Approx 1 1/4 cups
1/4 cup extra virgin olive oil
juice & zest of one fresh lime
juice of 1/2 lemon
5 stems fresh mint, leaves and stems
1/2 avocado
2 tsp agave or as you may (I like to replace 1 tsp with 3 drops liquid stevia)
pinch sea salt
2-3 tbsp filtered water for consistency
Method Place all ingredients in a blender and combine until mint is pureed.  Mmmm… this dressing is sooo yummy! I like it with papaya and greens too–try it with some of your favourite salads.
Creamy Sesame Sauce
Yield: Approx 1 3/4 cups-makes a lot!
3/4 cup tahini, preferrably raw but either will do in a pinch
1/4 cup braggs liquid aminos
1 tsp freshly grated ginger, optional
juice of 1-2 lemons or 1/4 cup
1/2 tsp toasted sesame oil, optional (this isn't raw)
1-2 tbsp filtered water
Method Combine ingredients except water in a measuring cup and stir well, adding filtered water a bit at a time until smooth and creamy.  Thin to desired consistency.  This is really great on veggie noodles like spiral zucchini–see this recipe here
With all these delicious options at your fingertips jammed with healthy ingredients, I hope you are even more convinced to take a few extra minutes to whip up a salad dressing that will make you love your summer salads even more and impress your house guests!
Until next week, happy first week of summer! Yay!
Julie
Style Props this week
Turquoise water glass & ceramic coasters, Anthropology
Turquoise plate, from a Japanese Homewares shop in NYC, I'll add the link when I find it!
Silver plated antique cutlery, Copenhagen antiques store
Pressed clay Frohreich Barn Bucket vase from Cannon Beach, Oregon, art shop, sorry no link at this time.
White open weave cotton & linen fabric, Purl Soho, NYC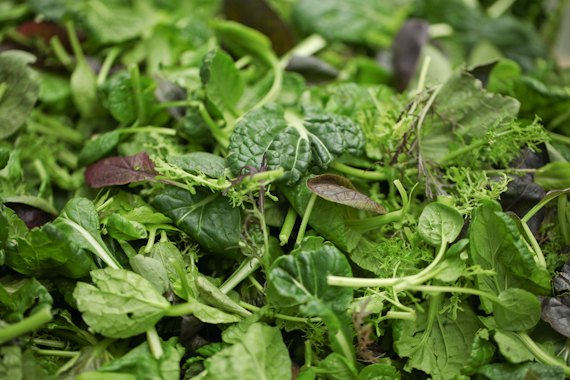 Pin It