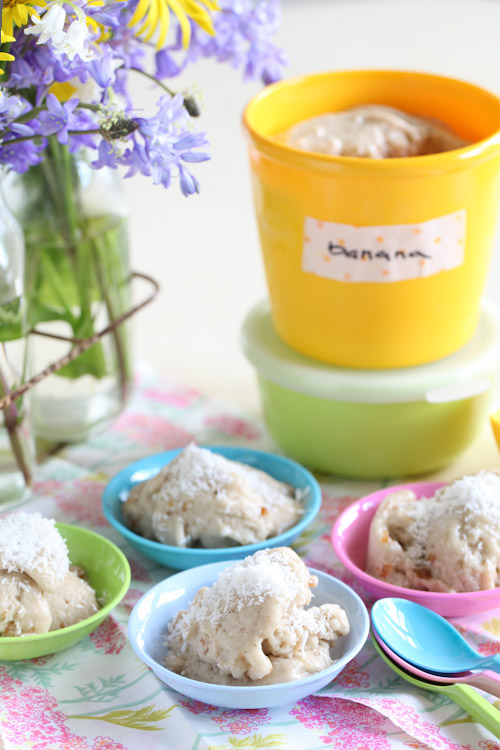 When easy, no fuss, healthy ice cream tastes this friggin' good there is No excuse for buying the nasty stuff that hurts our bodies!  Even my kids agree that this is mama mia great tasting yumminess!  And really… it's a cinch to make!  Wanna know the secret ingredient? Ready….frozen bananas!  That's it, plus a few extra goodies for good luck!  This is no new concept that I have developed but I tweaked it a bit to make it a little richer tasting.  Most raw foodies know this recipe but some of  you may never have come across it so I had to share.  We make this for a special treat since bananas do contain a lot of sugar, so go easy-don't eat the entire tub, share a little.  But if you can't stop yourself, at least you won't be dealing with a toxic hang over!  You can really play with this since you can't ruin it as far as I'm concerned.  Dark chocolate, nuts, and frozen fruit will all make it taste a little different each time you get creative.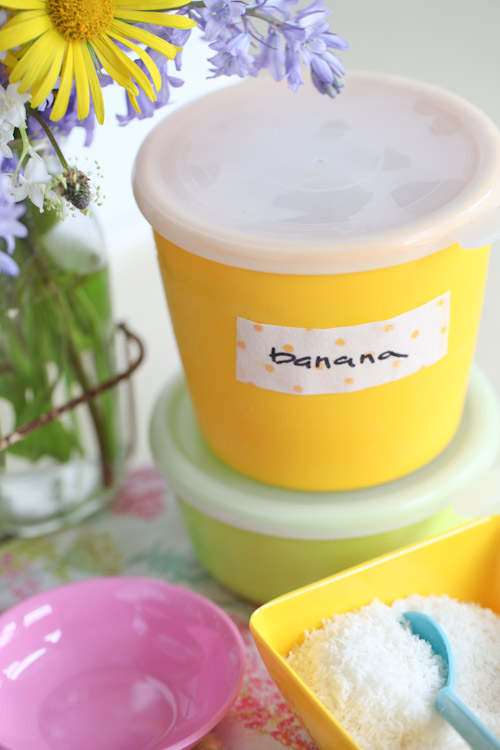 You can also have fun with toppings such as berries, raw nut butters, a drizzle of melted dark chocolate, maple syrup or dried coconut like we used.  Why not try a raw banana split? Hmmm I should have thought of this earlier as I could have done one up to show you!  Another time.
Banana, Date & Coconut Raw Ice Cream
Yield:  Approx 3 cups
3 bananas, chopped
2 dates
1 cup raw young coconut meat, chopped
1/2 tsp vanilla
unsweetened finely shredded organic coconut
Method
Spread chopped bananas and coconut meat on cookie sheet lined with parchment or waxed paper and freeze for 1-2 hours, until completely frozen.  Place frozen banana and & coconut meat in food processor with remaining ingredients and process persistently until a creamy mass forms.  Serve immediately, however, if it softens too much during processing, scoop into container with a lid and freeze for 1-2 hours.  Serve with coconut or your choice of yummy toppings.
*Note:  if your bananas are little more on the ripe side but not blackened at all it will be creamier and minus the slight bitter taste of a young banana.  You must process it until it is the consistency of soft ice cream for it to be like ice cream and this can take a bit as it needs to gently warm up a smidge- a dribble of almond milk can make this go faster if needed.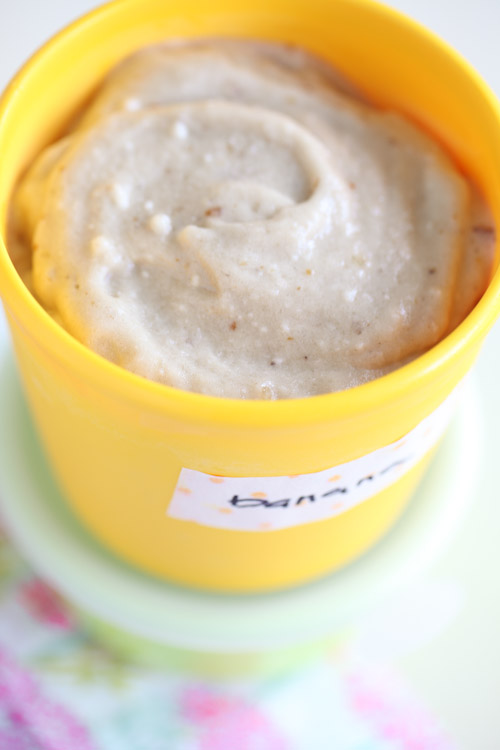 You can see the texture here is pretty creamy with the dates and fresh coconut meat still visible.  A food processor is ideal for this preparation but one could try the blender if the bananas are cut small before you freeze them, but you will have to work at it.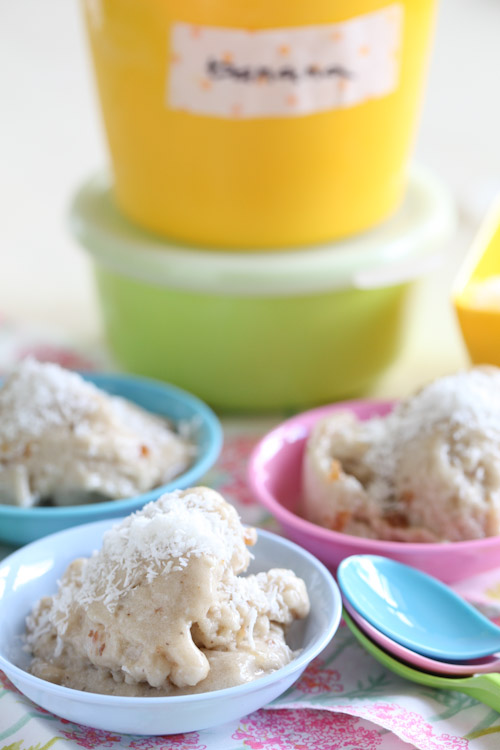 This would be really yummy served inside half a piece of fruit such as papaya or pineapple or maybe even a half coconut.  What do you think? Have you made this before, if so what did you add and how did you serve it? If you haven't made this let me know how you do and what you jazzed it with or if you just enjoyed it pure and simple.  Keep in mind that this fruit is best eaten as an afternoon or mid morning snack since fruit doesn't combine well with other foods except greens.  If you have it for dessert after a dinner salad that's fine but if you've had proteins or grains do be sure to wait til you give that a few hours to process before you pile the fruit on top so it doesn't ferment.  You want the full benefit of the food you are nourishing your body with.  If you food combine you'll have less tummy upsets and will metabolize the nutrients much better.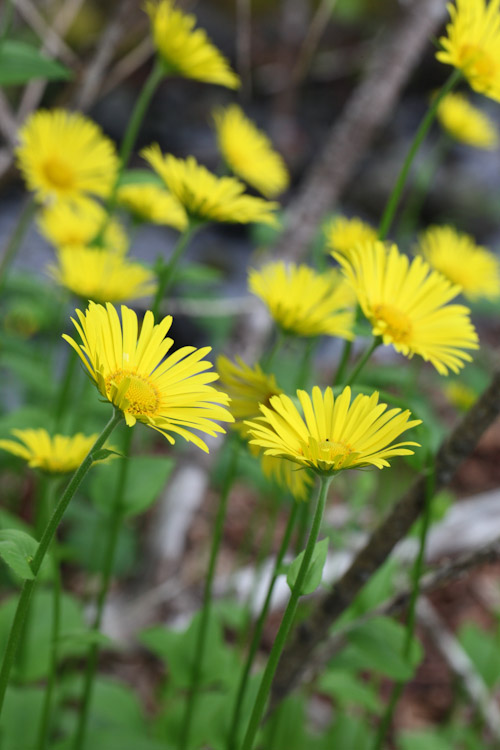 This past weekend was a perfect weather for a walk in the park to enjoy the stunning performance that spring is presenting Right now!  If you blink you may miss it, it's sooo short lived.   Being an Aries this is my favourite time of year. I love watching the progression of the young tender greens of the leaves on trees and shrubs as they unfold and contrast against the evergreens and then show their pretty blossoms.  The flowers are also works of art and a pleasure to enjoy especially the wild ones that blanket the park that I am so lucky to live near, just a stone's throw away.  It's a little slice of heaven to tip toe thru the pretty blossom carpet that sprawls thru the meadows of the Garry Oak tree filled park, called Gore Park.  If  you live in Victoria B.C. you can check it out with directions here.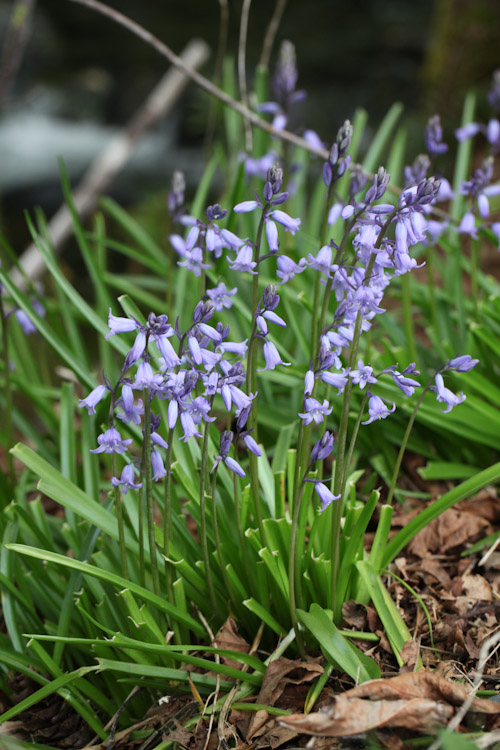 The deer have had a nice snack of the tender greens here before the blue bells made their way up thru the leaves.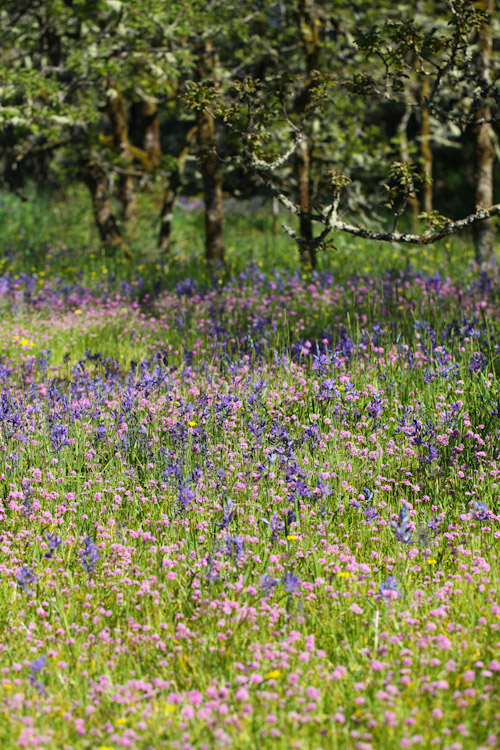 See why I love Gore Park!!  It's a dream to walk thru here but it like I said it is very short lived so you have to act now!  The wild, cobalt delphiniums will bloom next after the blue camus is finished but there aren't as many, but still stunning!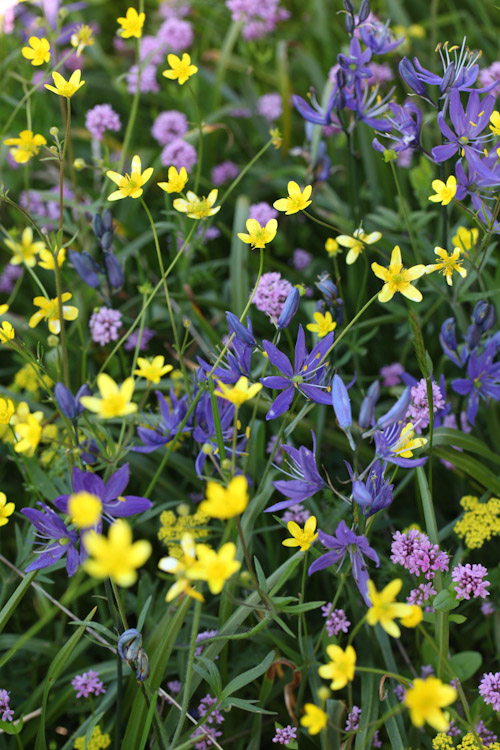 The butter cups sprouting between the camus is just amazing to me cuz I love blue and yellow together, don't you think?
Here's a close up of the blue camus.  You aren't supposed to pick the wild flowers and even if you do the camus drips a very blue sap from the flower as soon as it is finished which the blooms on the stem only seem to open one or two at a time each day and only last the day.  How can you tell I've picked them before- ha! But I have them in my own garden under the Garry Oaks in our yard, so I'm off the hook!.  It's tempting but not really worth it.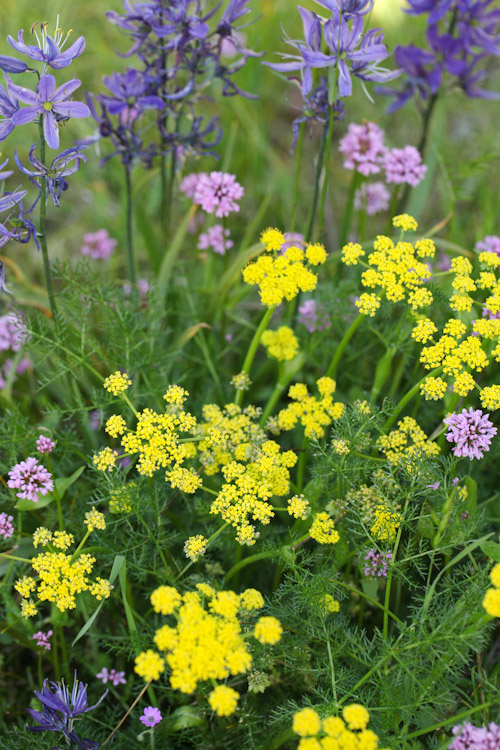 Isn't this just dreamy!  I wish it was out my window in my very own yard so I could enjoy it for as much as possible while it blooms.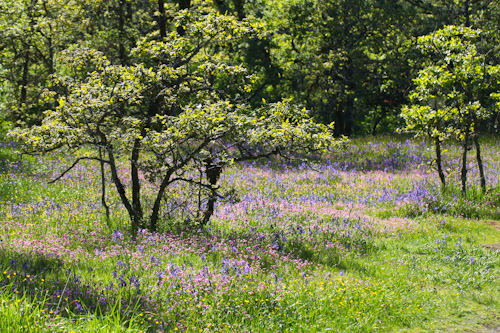 Well instead I just plant my very own pretty garden in containers.  These plants are for our house up at the lake so that they can delight us all summer long.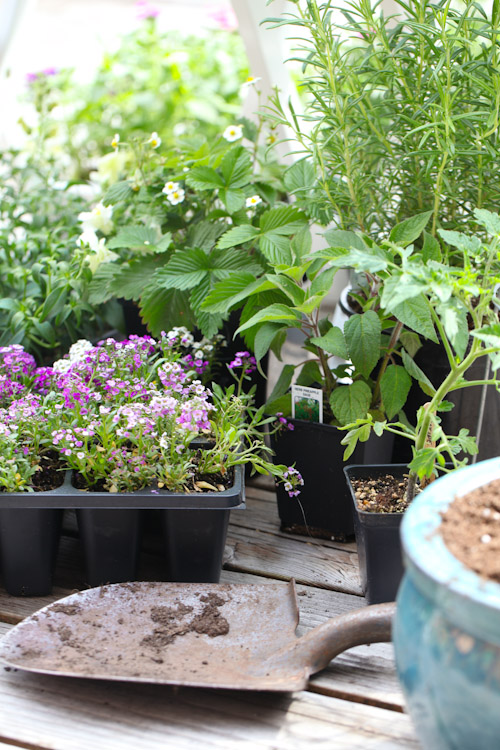 It was a big job planting all the containers but with some music by a gal I'm friendly with, Jessie Farrel, that I just adore listening to, makes it sooo nice to garden especially on a sunny day!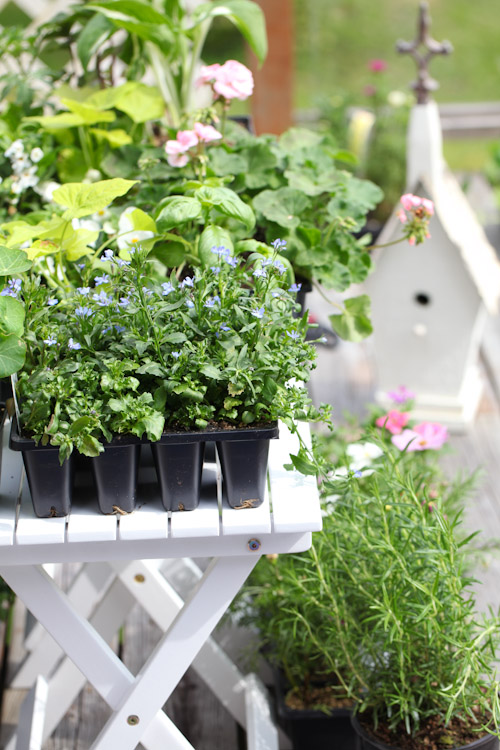 Here's the finished garden, tomato plant and all!  I selected plants that bloom in corals, purples, blues and whites combined with herbs for cooking.  I'll show you how pretty it becomes once it's had a little summer sun to really put on a show for us.  Oh and how do you like the pretty bird house? I just couldn't resist it at the garden shop!  And Amelia chose the frog!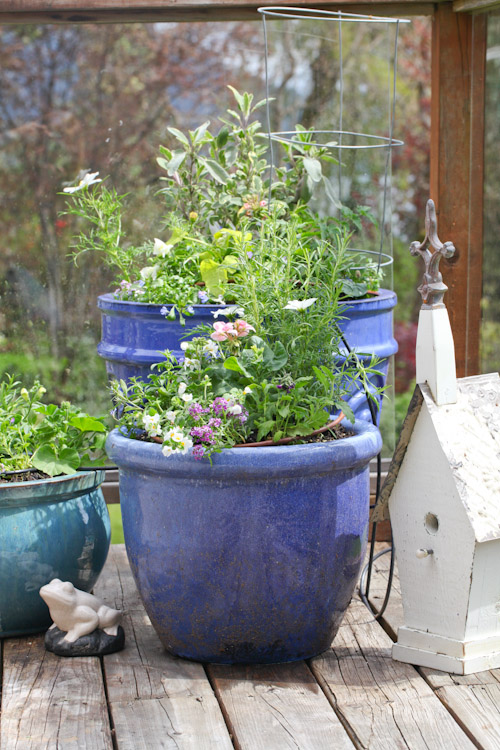 Glad you popped in today.  Wish I would have had this post up earlier this week but I had a project that really consumed my week more than I imagined.  Give the ice cream a try if you have some bananas on hand.  Just pop them in the freezer before you head to bed and try the recipe out tomorrow.  You'll love it I'm sure.
Have a great weekend:)
Julie

Pin It