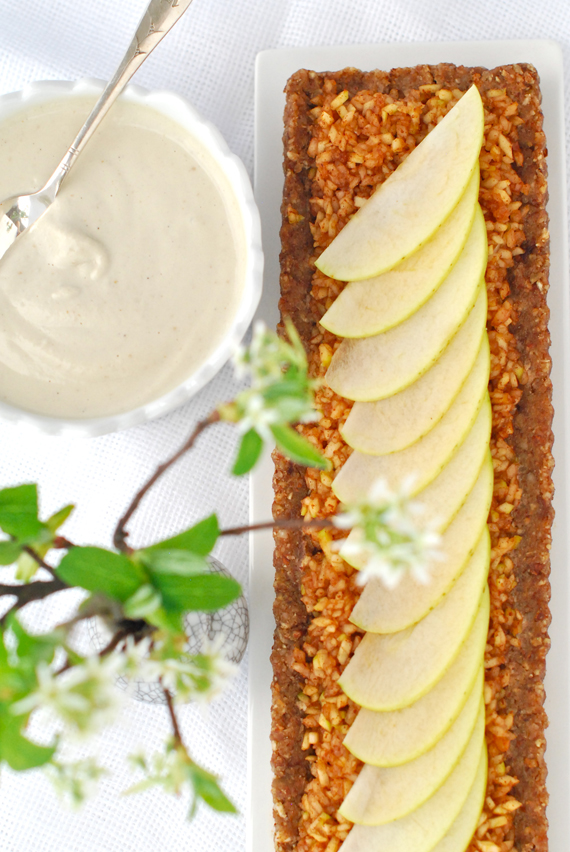 This morning I awoke with inspiration for making a delicious raw tart that is made from wholesome living ingredients.  I love that as indulgent as it is with natural sugars, it is still rich with nutrients that I wouldn't find if I chose just any old sweet treat.  As I pondered the recipe in my mind, that has been constantly filled with endless swirling thoughts of those suffering in Japan, I decided to theme this post as a united gift of hope for the outpouring support that is being sent physically and thoughtfully to this country in desperate, desperate need.  This week I was one proud mama when my 9 year old son came home to announce his idea to raise funds for the Red Cross effort in Japan by setting up a collection with two of his classmates at their small Montessori school. All on their own initiative they requested to send a group email to all school families and by 3pm the very next day they had raised over $400.00!!  They plan to continue their fund raising efforts after the spring break.  The sadness of this heart ache across the globe has touched so many that wish they could do more, including small children.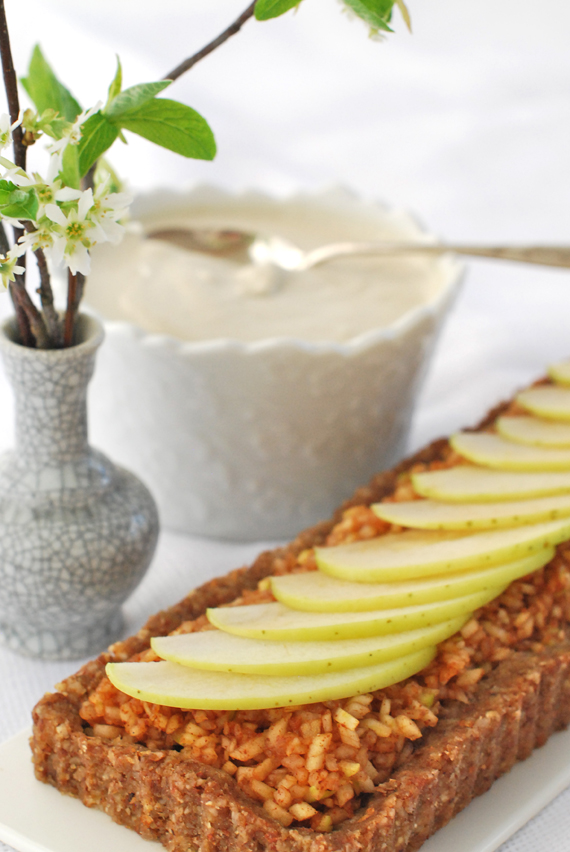 A blend of Asian pear and green apple, where East meets West, in this tart is a symbol of how we can unite in the efforts to ease the suffering and offer our support to this wounded country.  If you haven't yet been drawn to the media images by curiosity and deep concern you may feel quite compassionate after a peek at these aerial shots of the before and after landscape that are executed with precision to really illustrate the seriousness of the devastation that occurred.  If this makes you feel like you can offer your support I urge you to follow this Red Cross link for instant on-line donations.  There are a number of ways to donate including all of the major Canadian banks that will accept donations across the country.  Perhaps you may even start or have already begun a fund raising event or crusade of your own, as so many have.  If you know of any that you would like to mention or link to, you are welcome to include them in the comments below.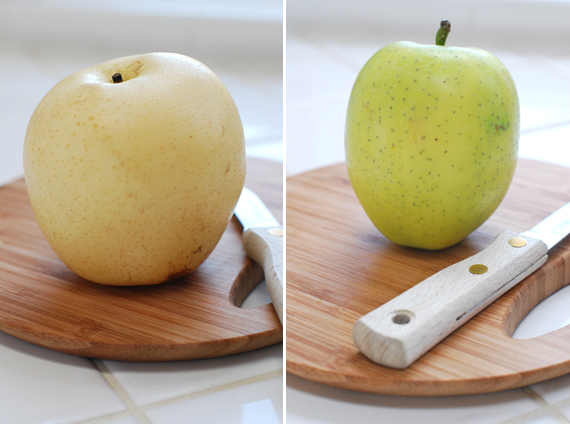 The Asian pear on the left is a slightly sweet, very crunchee, watery fruit and the green apple is slightly tart but still sweet and delicious.  The blend of the two is a wonderful flavour combination for this tart and all the yummy spices.  It's a flavour sensation when you pair the raw with the spice.  Sooo yummy and unique.
Below, Amelia is using our handy dandy lemon squeezer,one of our favourite gadgets, to juice the lemon for the apple cream.  This is so simple to make yet soooo incredibly yummy that you may find yourself whipping it up to top all kinds of tasty treats.  It could even be frozen for an ice cream.  It's as simple as blending the ingredients up in the blender.  I pulsed the cashews a wee bit before adding the other goodies but it's not even that necessary.  This comes out really nice and creamy.  You may have to scrape down the sides and adjust the water amount but all in all it's a fantastic vegan replacement for whip cream with a lovely apple flavour.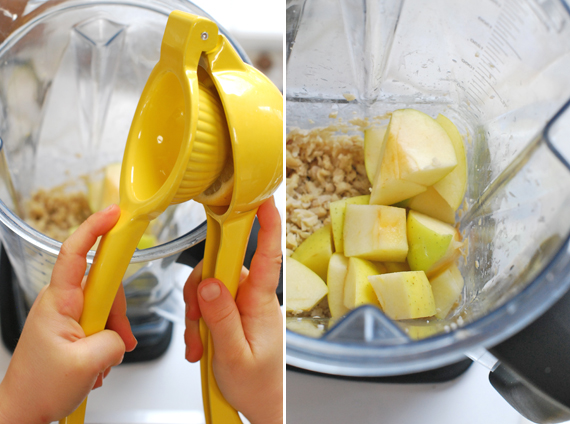 Asian Pear & Green Apple Raw Tart w/ Apple Cream
Yield: Serves Approx 6-8
For the Cashew Apple Cream
1 cup raw cashews, soaked for 30-60 mins
1 green apple cored and chopped
juice of 1/2 lemon
5-7 tbsp filtered (alkaline) water (add the last 2 tbsp only if needed)
1 tbsp agave syrup or use part stevia liquid drops ( a blend of both is nice and reduces the agave amount)
Method
Place all ingredients in blender or food process and blend until fine and creamy scraping down sides to combine well.  Transfer to a small bowl and refrigerate while preparing tart crust.  This mixture is soooo delicious spooned over the tart or drizzled from a squeeze bottle perhaps as a nice pattern on the top of the tart.
For the Tart Shell
1 1/2 cups pecans, soaked 60 mins
1/2 cup raw almonds, soaked 60 mins
8 soft dried organic dates, pitts removed
1/4 tsp nutmeg, freshly grated nutmeg if you can
pinch ground cloves
2 tsp ground cinnamon
1 tsp vanilla
1 tbsp almond oil, or other nut oil
1 -2 tbsp filtered water, if needed for combining the above
Method
Combine all ingredients except the water in food processor blending with S blade until the mass begins to clump together adding the water if needed to combine the mixture resembling the image below.  Press mixture into a tart pan of choice (fluted 10″ round or oblong) or free form a tart with a bit of a lip to hold a shallow layer of filling. Chill the crust while you prepare the filling.
For the Pear & Apple Filling
1 large Asian pear
2 green apples
juice of 1/2 lemon
1/2 to 1 tsp ground cinnamon
pinch of nutmeg, freshly grated nutmeg if you can
pinch of allspice
1 tbsp agave syrup
Methods
Squeeze lemon juice into medium sized bowl.  Using a mandolin or your knife skills, finely dice the Asian pear and apple resembling the image below,  placing in bowl of lemon juice, coating as you chop.  Add spices and agave syrup and stir.  Allow to stand 10 mins, then strain off the liquid and save for your smoothie tomorrow!
To complete the tart spoon the filling into the tart shell, leveling it, using up all the filling.  Top with finely sliced apple.  Enjoy!
Tart is best eaten same day but will keep in the fridge for one or two days.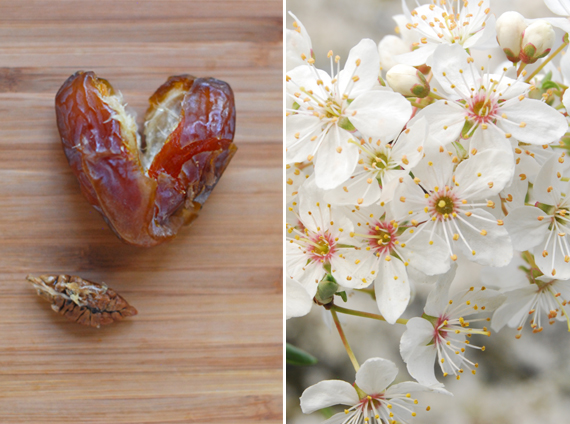 With my 5 year old helping with this tart, we opened the the dates to remove the seeds, and Amelia noticed this precious heart shape that the date formed so we had to share.  She often sees special shapes in ordinary things so we usually snap a photo of them.  For me, it was also to capture the feelings I have for Japan in my heart this little date heart that she noticed, had triggered once again.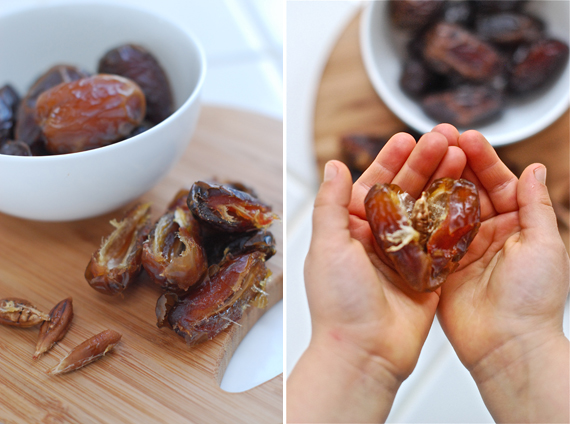 For the tart crust, a good soak of the nuts will make them easier to digest and more nutritious, the longer you soak them the better.  Using a food processor makes this crust possible–without it you are hard pressed to get the same results.  The recipe for this crust can be used to make raw snacks if you roll them into balls.  You may even find yourself nibbling on it as you put this tart together cuz it's sooo darn yummy!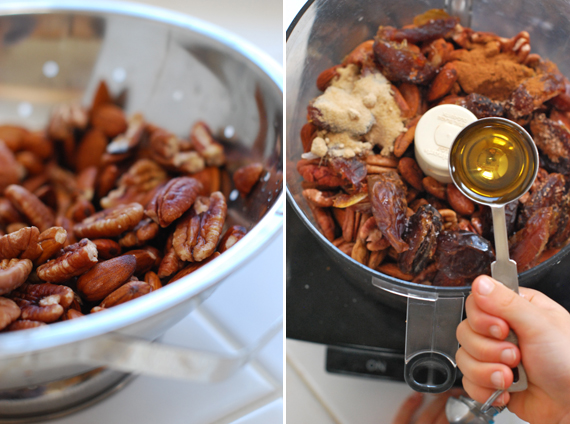 Try for the consistency below on the right.  Don't worry if it's not uniform as the dates do a really great job of holding it all together.  This base lends itself nicely to other fillings as well such as sliced bananas, chopped strawberries, berries.  You can go crazy with ideas, maybe just adjust the spices if you like and be sure that the mixture isn't really wet.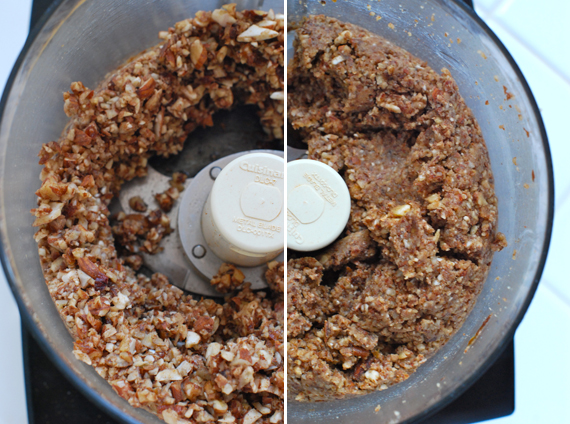 If you are lucky enough to have a mandolin for slicing and chopping it makes light work of the mincing.  I picked up one for $50 and find it to be a very handy dandy tool in my kitchen especially with the volume of fruit and veggies we consume and  a desire to make them look and taste different all the time.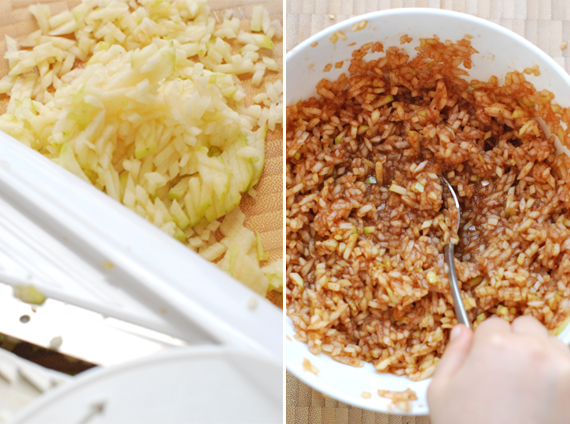 If you don't have a tart pan, don't fret.  I managed to shape this by hand with the 'easy to work with mixture' into a perfect tart on my long sushi slab that is about 4″ x 10″ with the help of our wiggle cutter.  You can also just use a large knife or a cleaver for a smooth edge.  Do build up a little edge with a dip in the middle for the filling. Any left overs make great snacks or mini tarts.  This mixture also freezes well.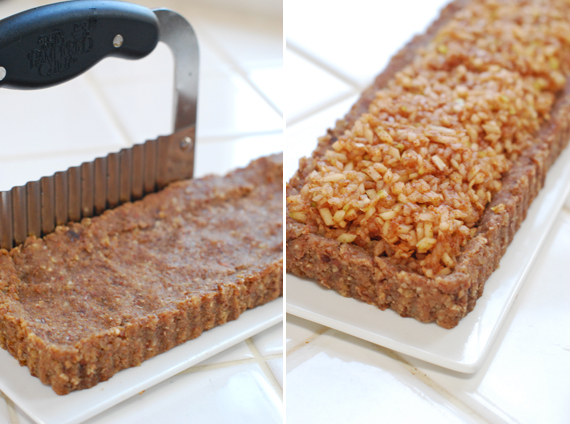 Next, pile the filling in the tart smoothing it to a level top and decorate with thinly sliced layers of apple.  And  there you have it, served up with the delicious apple cashew cream.  Give it a sprinkle of cinnamon and you'll look like a gourmet chef!   I like to serve smallish pieces as it is a special and rich dessert and all you need is a nice little slice to enjoy with a cup of tea.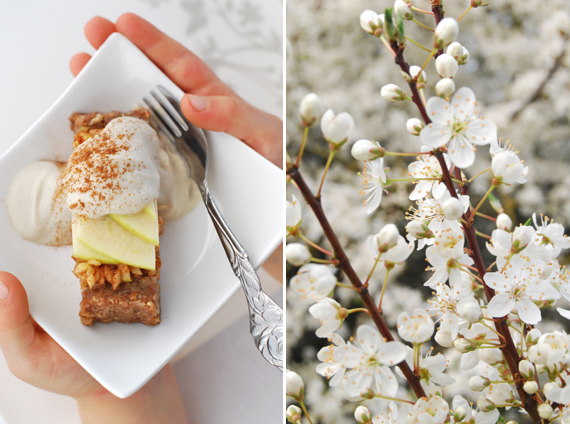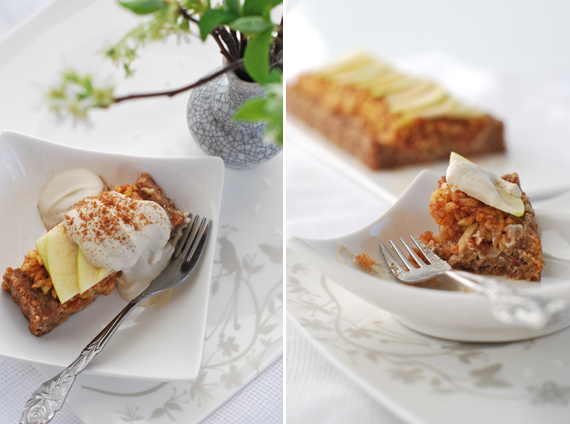 As we try to grasp an understanding for the overwhelming magnitude of devastation and suffering in the wake of this tragedy we must know that there is hope and compassion that will lead to generosity that will slowly rebuild this the beautiful country of Japan.  Any gesture big or small makes a difference including  prayers.  This photo below represents the hope and the beauty of Japan that will be, once again.
Warm wishes,
Julie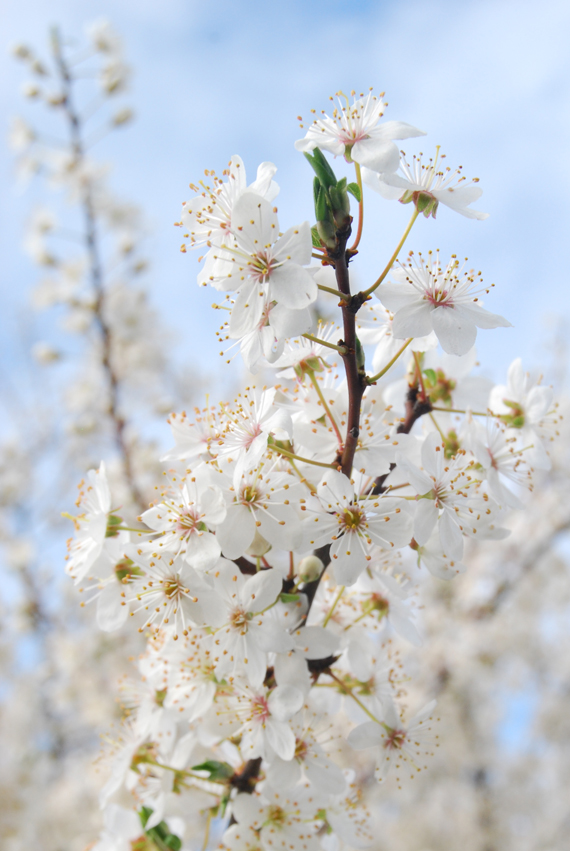 Pin It