My Story
Welcome!  Hi, I'm Julie, your Alkaline Sister!  I'm a certified holistic nutritionist, author, photographer, designer and a certified plant based cook.  My passion is to inspire and energize you for life. I hope to set you on a journey to better health and a clear understanding of how food affects our bodies, through delicious recipes, tips and the latest alkaline lifestyle information that is inspired from my personal health experiences that you can read about below in My Journey.
As a trained interior designer and retail shop owner for many years, my passion for healthy living has lead me on this wonderful food blogging journey that lead to studying holistic nutrition and now publishing a book!  I find that my creative design juices filter thru my all of my nutrition work with exciting style props and vivid photography hopefully making you run to the kitchen to eat healthfully, and inspired to create a beautifully laid table!
My alkaline sister Yvonne is passionate for the care and attention to detail of our site behind the scenes and is a great recipe tester which is great support for me as I finalize the details on my first alkaline cook book which is due out in Early Spring 2016. Her story is incredibly inspiring too so I included it below for you to peek at.
I look forward to sharing, inspiring and teaching!
Julie's Journey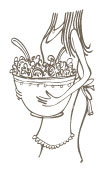 Who Knew? – that because of a herniated disk I would be motivated to change my diet & lifestyle radically to eat completely alkaline and some how convince my sister to join me in this journey. Eeeek-she had no idea what she was in for and nor did I. After 18 months of on and off terrible sciatica pain and despair from a lack of relief no matter what external treatment I tried, having exhausted almost every option I could from, chiro, physio, acupuncture, aqua therapy, osteopath, surgery, cortisone shots, on-line exercise programs and some serious medications for pain, I finally realized that I needed to heal from the "inside out – NOT the outside in". This realization arrived in the way of a CT scan that I had to practically beg for. It showed my disc as unchanged from the 1st CT scan 18 mos prior with a 13 mm bulge- this is a huge bulging disc! Regardless of all the therapies, my body had not gone into action to begin repairing the bulge- it was incapable of improving the health of my disc because my inner terrain was obviously very unhealthy.
With a reference from a friend to a local alkaline lifestyle facilitator I was lead on a journey that began with a 3 day juice cleanse- really a "feast for your body". Upon the realization of the radical shift I would have to make to my diet I felt desperate for camaraderie to be sure I would stay on track and have a support person- who better than my sister- who willingly embarked on this journey with me that neither of us knew would be so profound.
It was nearly 8 years ago we began. Initially we ate 100% alkaline leading to where we are currently eating 80% alkaline foods & 20% Acidic foods.  The results have been astonishing and the education has been life changing. I am no longer in any pain with my disc and have been pain free for 8 years now as I have eliminated all the inflammation surrounding my disc that was caused by an overly acidic body and I also stopped taking every medication I was on for pain. I lost 30 lbs that I couldn't shake with various other fad diets which also helped relieve pressure from my disk. My energy soared & my overall well being improved ten fold leaving me free of colds & flus. My sister has lost almost 50 lbs and is on a journey to return to her pre-pregnancy figure and is almost there. She has also experienced a complete shift in her well being.
Who Knew? We began with very little idea of what we were committing to and it has completely changed our lives and we can't help but want to shout it out all over the world. So here we are with our new blog site, sharing what we have both become incredibly passionate about. It has brought us closer together and we have the comfort of knowing that we understand each other and we both crave and want to cook the most healthy food possible for our bodies and our families. So here's to The Alkaline Sisters .com and to inspiring you and many others to choose a healthy alkaline lifestyle that will change your life. Our goal with our blog is to share our continuing experiences, the process, ideas, recipes, products, courses and resources. We look forward to your participation, feed back and success.
Yvonne's Journey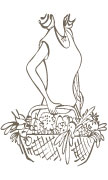 My name is Yvonne and my story is very different from my sisters. I grew up being more or less average height and weight. Of course compared to my sister, who was always very petite and small boned, I was the bigger sister (not older though). When I was in high school, and through my twenties, I maintained my weight around 125 – 135. I am 5'6" so this was just right for me.
As I got older, and had children, the pounds started to creep on. I began to yoyo diet. I have tried everything from Herbal Magic, Sure slim, Weight Watchers, drugstore diet pills, Isagenics, Slim fast shakes, boot camps, plus tried many others via books like the GI-Diet, Suzanne Summers Diet, etc. you name it, I have done it. I did have overall success from Weight Watchers, and Sure slim as they had basic meal plans I could easily follow for the most part, plus regular weigh ins and I did lose about 30 pounds – which took months of total dedication as I was only losing 1-2 pounds a week. But before long, I would get comfortable again, and go back to my "old eating habits" gaining all the weight I lost plus more, and then I would have to diet all over again. I was a great procrastinator and had a real hard time starting a diet, as I knew my commitment level was all or nothing and hated the thought of depriving myself of all those yummy fattening foods and drinks. This propelled the problem of my weight gain as I would eat the things I knew I wouldn't be able to eat when on a diet.
I was 197 pounds again, and stuck. (I figured as long as I was under 200 that was OK) I was at a comfort level with my weight and although I wanted to be slimmer, I guess I didn't really want to change anything I was doing so avoided thinking about it. I hated having my picture taken as I would have to face the fact that was actually me, and I was fat.
My children and husband bought me a WII fit for my Birthday in June of 08. I had gone to Jamaica with my husband in May, and after looking at photos, I realizing how big I looked. I thought it was a good idea to start to exercise. I am not too big on exercise. I hate to sweat. When I got on the WII, I had to create an profile of myself. My little WII that started off looking slim ballooned out and said, "You are obese!" I never considered myself obese. I was 215 pounds! I was the fattest I had ever been. You can imagine that it took a while before I faced that fat WII character again.
I went through the summer knowing I had to do something, but what? I was not very motivated. I was actually going through some depression as the economy was turning and my business was in the financial industry and things were slowing down and money was tough.
My sister was suffering from a very very bad back. She could not stand or sit for more than 5 minutes and spent most of her day lying on the floor. She had been in this terrible condition for over a year, and had gone to great length to do everything in her power to fix it to no avail.
It was September and she told me about these two sisters that she had begun to see. They tested her blood, took hair samples, and began to advise her on how she could heal her body from the inside out. The process started with a cleanse and some kind of a new diet. Our families had dinner on the Labor day long weekend, and she kept saying that this was the last binge before she started this new way of doing things. I never thought anything of it, as it was her doing it not me.
Well, the following week, she asked if I could help her do all this juicing as she was starting this detox. She said it was only for three days, and I should do it with her if I am going to help her. I love my sister, so I was happy to help her, and thought it couldn't hurt. I had done cleanses before, and understood how good they were for you, and it was only three days. I had no intention of starting any kind of diet, nor had I even given it any thought. I went to my sisters every day first thing after taking my children to school, and juiced a feast with her daily, for three days. It was a bit of an event when I look back. I was there until mid afternoon juicing and home in time for my children after school. I made sure I took home enough juice to last me till the next morning when I would go back and help her more. It was definitely a detoxifying cleanse.
At the end of the third day, my sister told me that the next part of her program was 3 months long and would I support her and stay on it with her. I thought it was going to only be for three days! 3 months? The juicing was over, and now stage two. Hmmm…. I had just endured the hardest part she said, and she reminded me in a very supportive kind way, that I would probably lose some more weight as I had already lost some, so it couldn't hurt. I thought, well, by Christmas it would be over and I could manage till then if it would help her. I liked my wine on the weekend and I had to give that up, but thought heck, I can do that for 3 months… I did it for much longer when I was pregnant and nursing. I agreed to do it and support her.
I had no idea of the journey I was about to embark on. Ok, no Alcohol, no meat – oh my, and then no dairy…plus eating raw… hmm this wasn't the kind of diet I was thinking of. However, it was not a diet. It was an understanding of a different way of eating that feeds your body and gives you energy and restores your health. After I had been on the "Diet" for two weeks, we went to see Tony Robins in Vancouver. I was surprised and fascinated by his one day of health and that cemented in the facts that I was on the right track and doing the right thing. It just made so much sense to me after that weekend.
I followed it religiously, and lost 30 pounds by Christmas. I had become educated on what food does to you and that completely changed my ideas about food, not wanting to eat the old way anymore. Yes, I had some spirits at Christmas, but I never went "OFF" my diet… as I wasn't on a diet. I had adapted a new conditioning around food and have easily managed to continue on the journey, loosing another 10 + pounds and I feel great. My little WII Character says I am over weight now instead of obese and I understand food and how my body deals with it verse counting calories and portion sizes. I learned it's ok to zig and zag a little as long as you keep a balance and it works.
I would still love to get down to the weight I was when I got married, at 130 pounds, but this was never about weight loss. That has been a big benefit of course, and I am very glad. The bigger benefits are I feel energized and healthy. I haven't been sick since I started, although the normal colds and flus have run through my family, I have not been affected.
I have an excellent understanding of the alkaline lifestyle and am doing what I can to implement it into my families diet as well. More importantly, my sister's health has been a true inspiration. She is almost 100% now, and although she cautiously goes about things, she is virtually pain free and able to function normally. I am a true believer that a PH balanced body can mend itself from the inside out, and she is testament to that. I can go through life knowing that I will not die of cancer, nor any other disease. I have the cure inside of me, as the saying goes, "You are what you eat!" couldn't be more true!
In our journey, we have developed a passion to share our knowledge with others that maybe discovering this new way themselves in hope that we can give back and add value to your life and your health!

Pin It