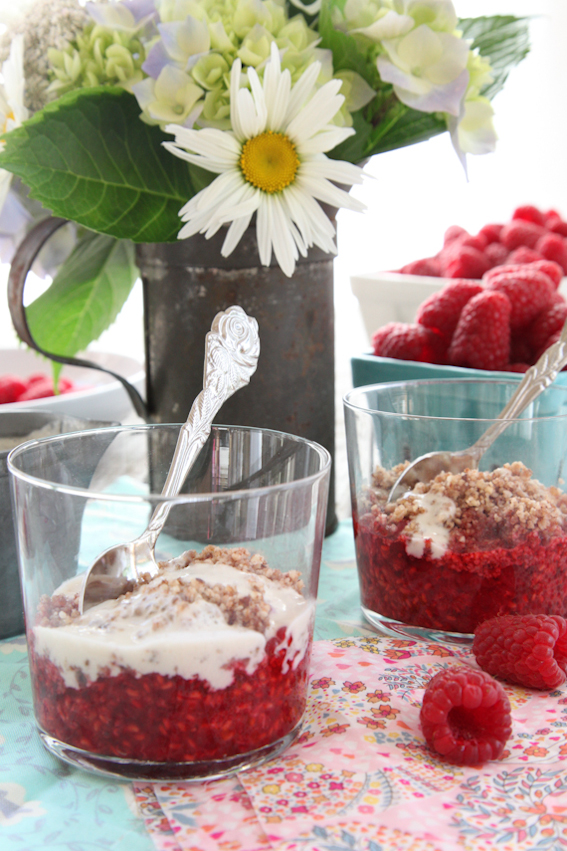 With almost record low days of sunshine so far this summer our raspberry season is a wee bit behind but this past warm sunny weekend gave the raspberry canes a boost and they delivered gorgeous, plump, sweet berries that are utterly divine!  I could easily consume a pint or more in one go–they are so yummy and the perfect guilt free indulgence, right?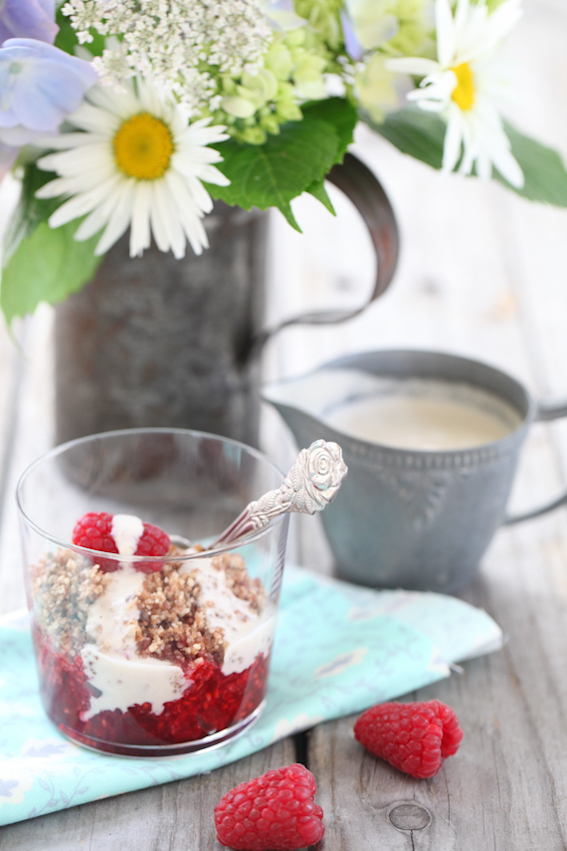 All too often we end up turning these delicious berries into a cooked something or rather that can be awfully tasty, sometimes quite complicated to make, that really in the end doesn't honour or resemble the true flavour of raspberries.  To bring us back to the simplicity of the fresh raspberry I created this easy recipe that is bursting with the slightly tart yet balanced sweetness of the summer raspberry.  Enjoying the raspberries raw also has the added benefit of maintaining the nutrient value.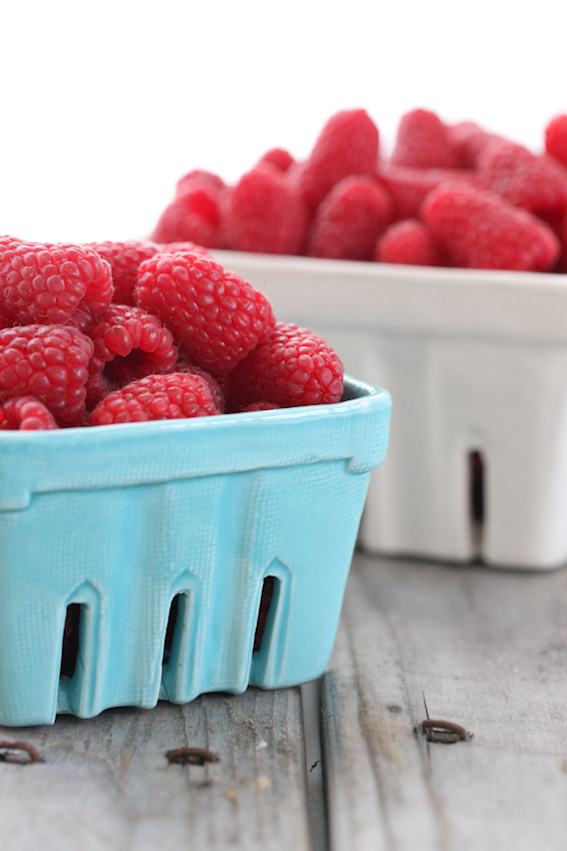 The raspberries are chalk full of antioxidants and are naturally low in sugar thus a minimal impact on blood sugars.  They are a good source of manganese, potassium, copper, vitamins B & C, and an excellent source of fiber.  Raspberries have almost 50% higher antioxidant activity than strawberries, three times that of kiwis, and ten times the antioxidant activity of tomatoes.
The variety of nuts in this recipe offer a wide variety of essential minerals including magnesium, calcium, potassium, iron, phosphorus, and manganese.  They also contain fiber, iron, potassium, phosphorus, vitamin E and manganese.  They are an excellent source of protein and are rich in monounsaturated fatty acids like oleic acid and an excellent source of antioxidants. Regular intake of raw nuts in the diet are a healthy fat food for heart patients. And because of their high levels of monounsaturated fatty acids, they also help support healthy levels of low good (HDL) cholesterol.
Soaking nuts increases their nutritional value as the nut sprouts and comes alive providing your body with living energy.  Soaking also allows your body to  absorb the nutrients more easily.  However in this recipe, except for the cashews, I have not soaked the nuts in order to achieve a dry crumbly mixture versus a softy doughy mixture but…. you could also try this.  Soak nuts for 1-2 hours or over night, drain, rinse, process in food processor and then dehydrate for a few hours til dry and crumbly.  This is the ultimate way to make this recipe but there is much more prep time required which of course is worth the time if you are organized to do so.  This recipe is also gluten free, an added bonus of using raw nuts versus oats with flour for the crumble.
The dried dates are a also good source of potassium, iron, magnesium, copper, manganese, and B vitamins.  They are low in fats and cholesterol and high in dietary fiber and carbohydrates.  Though their sugar content is high 63.4 grams/100 grams,  it is still considered a healthy snack, owing to its plentiful vitamin content.  However, I highly recommend consuming natural sugars in moderation and explain in further detail after the recipe in this post on raw tarts.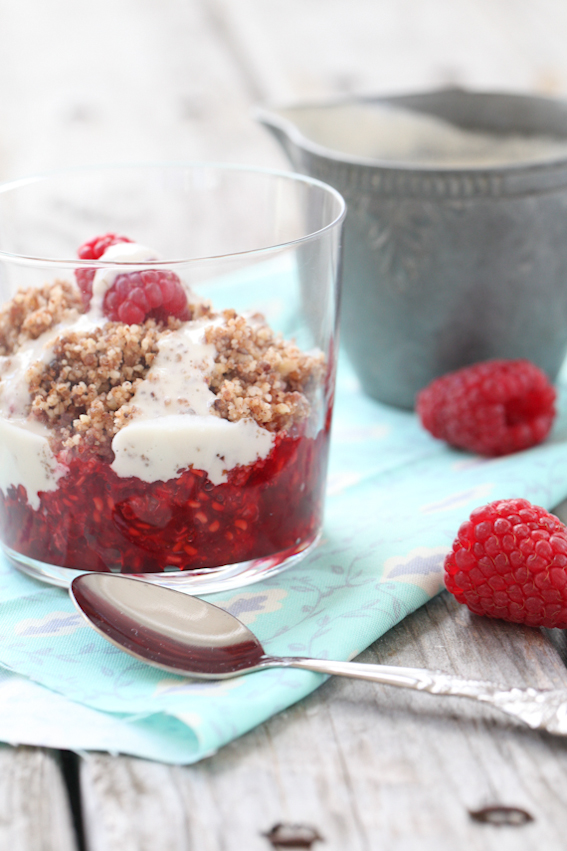 The nice thing about this crumble, like a baked crumble, is that it can be made with a variety of fruits.  Berries are a nice choice as their sugar content is low, although I did splurge on a smidgen of maple syrup in the vanilla sauce and there are a couple dates in the crumbs.  Managing your daily sugar intake is important and the less the better, no matter the source–fruit or sweeteners.  If you are cleansing, detoxing or concerned about candida, sugar should be avoided altogether.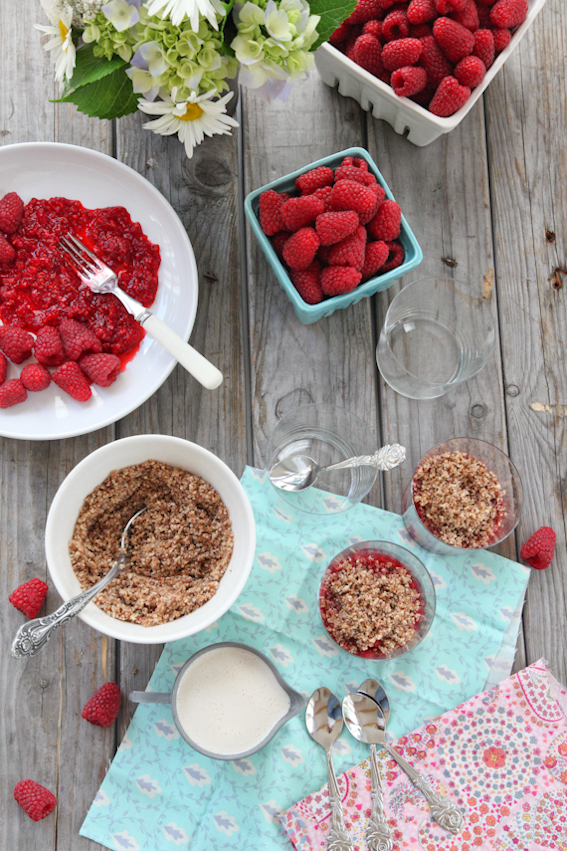 Raw Raspberry Crumble
Yield: up to 8 servings
1/2 cup each of raw almonds, pecans, Brazil nuts for a total of 1 1/2 cups of raw nuts
6 soft dried dates
1/2 tsp ground cinnamon
1 tsp fresh lemon juice
1/2 cup cashews, soaked 10-20 mins
1/2 cup filtered water
1/2 tsp pure vanilla, preferably alcohol free
2 tsp maple syrup
3/4 c fresh raspberries per person, gently crushed
Method
For the crumble: yield 1 1/2 cups crumble
Place the almonds, pecans, Brazil nuts in food processor and process until finely ground.  Add dates and cinnamon and process until dates are thoroughly mixed in.  Set aside.  This crumble keeps well if chilled.
For the Vanilla Sauce
Place cashews, water, lemon juice, vanilla & maple syrup in blender and blend until creamy and very smooth.  Pour into creamer for serving.  This cream keeps for up 2 days if chilled.
To serve
Crush the berries right before serving and spoon into individual dishes, top with two tablespoons or more of the crumble mixture, garnish with a couple fresh whole berries and drizzle with vanilla sauce.  Enjoy!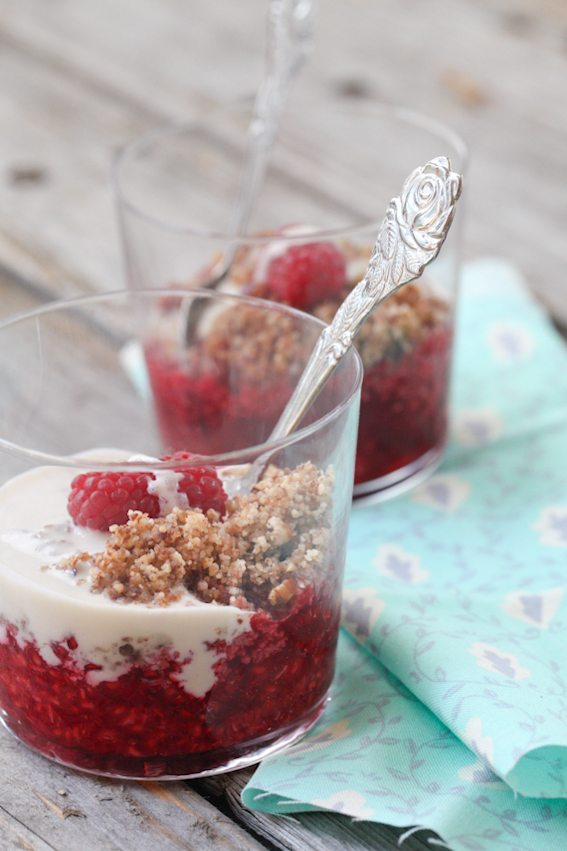 I wish that more and more restaurants would adapt the option of creating special yummy after dinner treats that didn't make you feel guilty for a week after indulging!  If this crumble was on a menu I think I'd skip dinner and order 3! That would be my zigging and zagging- and really it's a pretty innocent indulgence in comparison to what one could choose.  I'd be energized, guilt free and not feeling the heaviness in my gut, especially if I had made a choice to have an hearty salad for my dinner.
Now here I am again, raiding the roadside for the wild flowers that bloom there.  Queen Annes lace, and wild shasta daisies.  Add a few young, mop hydrangea blooms and you have summer in a tin pitcher!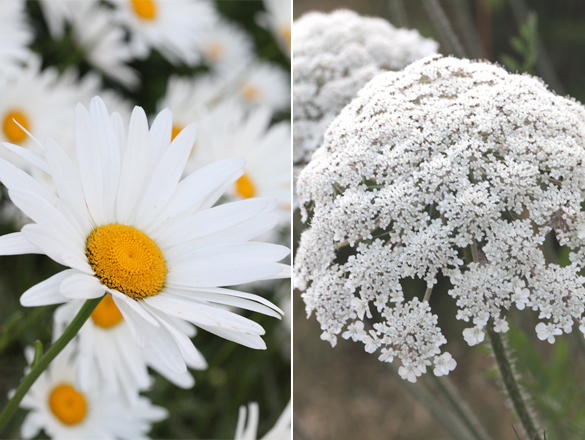 And then top that off with a farm visit to gather raspberries.  We had a delightful afternoon.  This is what summer dreams are made of.  These memories will be vivid in my mind when the sun is low and the trees have turned and I dig thru the deep freeze for my smoothie ingredients–frozen raspberries of course!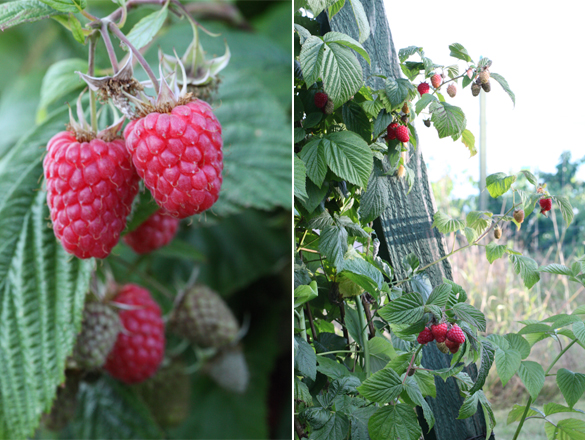 We couldn't get enough of the nibbling on the berries and now that they've all been sent to the deep freeze I think we'll have to head back for more berries, so we can really get our fill before the season ends.  I've made this recipe twice already and may need to whip up another batch tomorrow for guests here at the lake.  I think I'll try a berry medley and see how that tastes.  I also can't wait until peach season to give this a go with juicy fresh peaches–what do think?  Can you imagine how you might like to try out this recipe?  Fresh figs perhaps?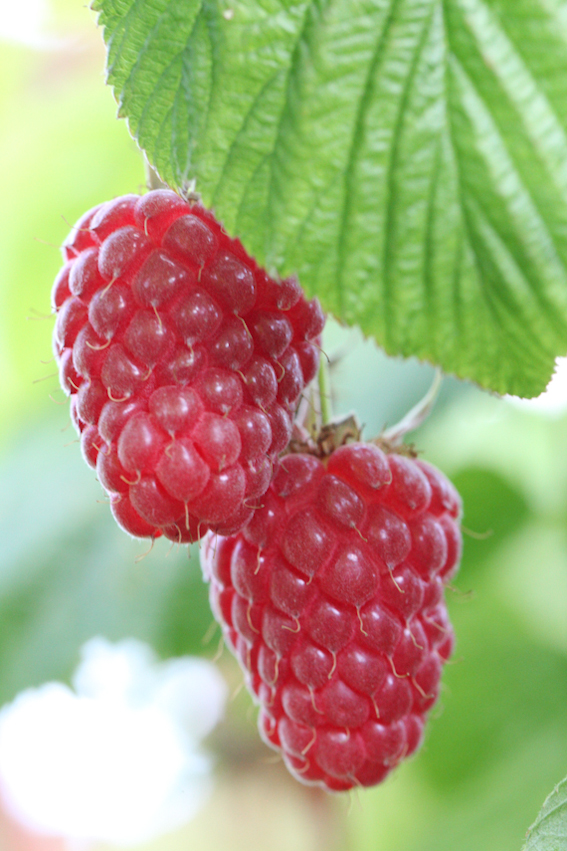 And here's my Amelia, checking out the vintage tractor with her chosen wardrobe, all on a warm summer's day–Gum boots!  She has her own personal style that's for sure!  and I love it, I wouldn't change a thing, don't you agree?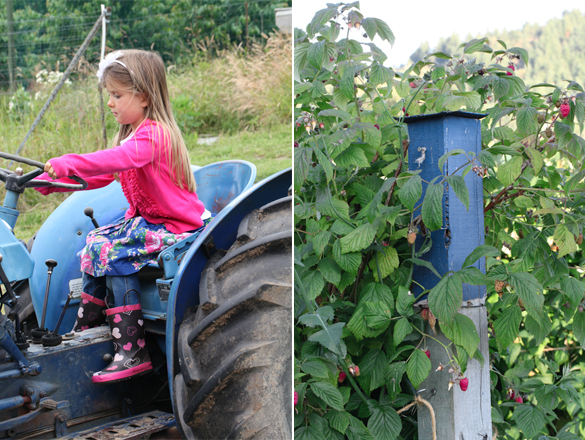 I hope you have a chance to enjoy the fruits of the season, where ever you live, hopefully from the farm where they were grown, if you are lucky.  Connecting with the land in this manner somehow makes summer richer.  Creating the memories for my kids is my top priority as well as helping them to appreciate the difference between fresh from the farm and store bought goods.  They learn from example and the more of us that support the farmers the greater the chances that our options for fresh organic produce will continue to expand.
Have you been to the farm yet this summer to source fresh produce? There's nothing like it, is there? Or have you grown your own patch of goodness? We have  a few veggie boxes but our space is very limited.
Have a great week, see you back here soon!
Julie

Pin It