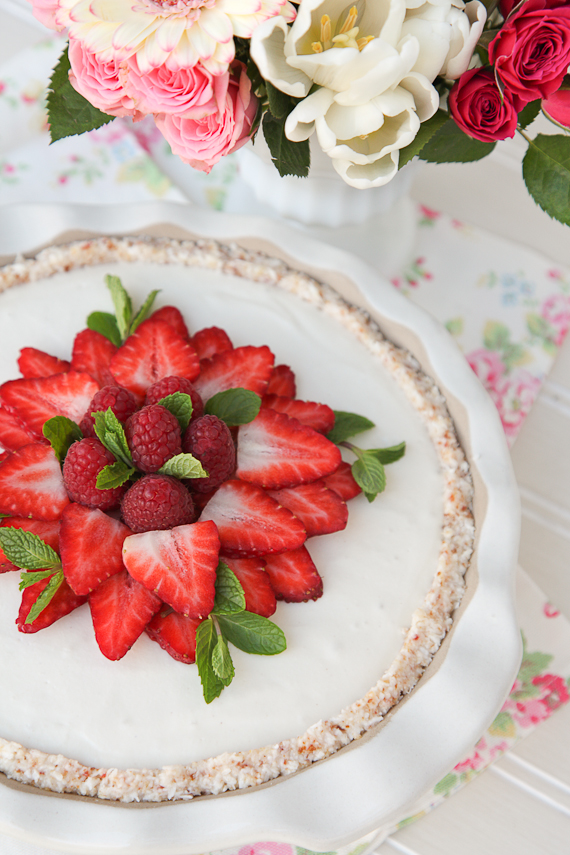 With Valentines day upon us once again I wanted to share a wonderfully delicious pie that is filled with love and healthy ingredients that you can shower upon the special people in your life.  It feeds a crowd–small pieces are recommended as it's very coconutty and richly deeelish! -but not overly sweet at all.  You can also slice it up and freeze individual pieces that you can then take out once in a while when you need a special something with your tea–nice idea, don't you think?
I was inspired to create this tart after indulging in the amazing OMG (coconut pie) that my instructor at IHN, Preet,  has created for his restaurant Organic Lives.  My ingredients are similar but with a few variations.  Although I've never seen his recipe I think I managed to replicate a similar dessert filled with lots of fresh young coconut meat.  However, if you aren't up to wrestling with a coconut you can either stop by Organic Lives and enjoy  a ready made version or you can pick up some of his extracted coconut meat, coconut water and some gorgeous sun dried fine coconut for the crust and whip up this amazing dessert.
This pie not only tastes great, it's pretty darn good for you with all that coconut in it!  Coconuts are rich in lauric acid which is an antiviral, antibacterial and antifungal which of course are always good to include in your diet especially if you have an imbalance of bacteria like yeast going on but is also very healing for symptoms such as abscesses, asthma, nausea, skin infections, ulcers, and toothaches.  Lauric acid has also been known to improve the immune system and reduce inflammation.
I love to use fresh coconut water in my recipes especially for smoothies as it is one of the highest sources of electrolytes known to man and is considered natures Gatorade.  As for the fat of the coconut, many have scorned it but only for a lack of understanding that the saturated fat in coconuts is largely made up of medium-chain fatty acids, which are much better digested than animal fats and are used by the body for energy (we need good, healthy fats in our body), say researchers in the June 2006 issue of "Ceylon Medical Journal.
As for the gentle sweetness of this pie, it is a combination of sweet from dates, maple syrup and the coconut water, all of which are whole food sources of natural sugar.  It's still sugar… but at least nutrients accompany these sugars which makes them have less of an effect on blood sugar levels as there is fiber to minimize the effects.  But this doesn't mean that it's okay to over indulge, right? Keeping your sugar intake really, really low, natural or not, is important to maintain optimal health but….. if you are ill you must completely avoid sugar of all kinds as it is acid forming, feeding bacteria and cancer cells, allowing them to multiply.  Sugar is considered a poison as it can do tremendous damage, so do be cautious.  For more info on sugar you might like to read the Sugar Blues.
Believe it or not, I managed to include a vegetable in this recipe!  Zucchini is great for creating creaminess and is quite neutral tasting with a nice moist quality so I decided to toss some in and it worked quite nicely-what a bonus for those that don't get enough veggies-our secret, okay!!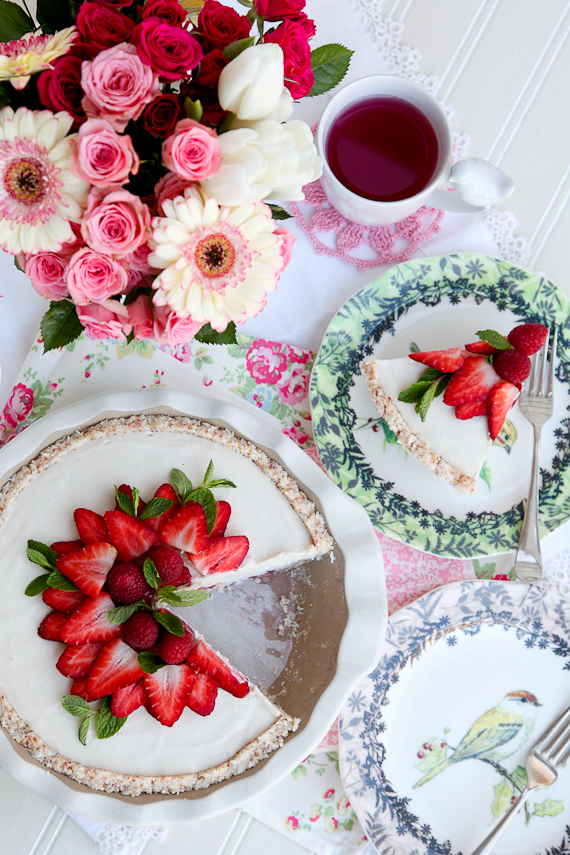 I'm grateful for all the nods of approval I received after testing this dessert on all my class mates!  No body refused a bite and no one complained about the flavour, in fact they were drooling upon sight and couldn't wait to dig in!  I LOVE my class mates, they are all sooo enthusiastic about healthy, yummy food that it's such a delight to include them in some of my recipe tasting.  So this recipe is dedicated to them. "Thanx A-Team!"  Most of them have also tasted the OMG, thus they know how close I got to the original!  In fact some said they enjoyed it even more, I think it's the berries that lifted it up to the next level.  However, I know Preet doesn't include berries since the pie will freeze better with out them.  I believe he makes pies up ahead of time and freezes them for convenience since they freeze so incredibly well.
Do you sometimes like to get creative with recipes like this? By swapping out the berries with other fruits like sliced bananas or pineapple on the bottom or even a layer of gorgeous melted dark organic chocolate (maybe mix it with a little coconut oil to make it softer) you can personalize the recipe.  The possibilities are endlessly delicious!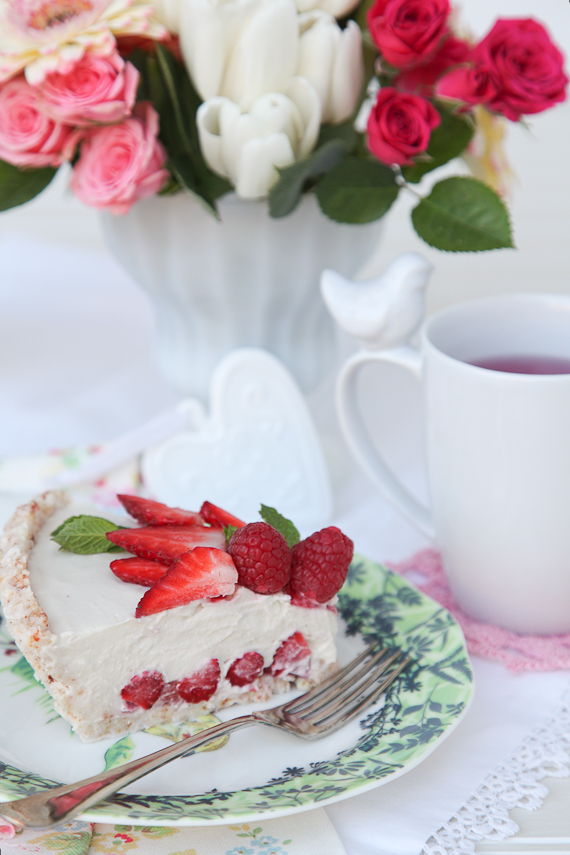 Raw Coconut Cream Pie 'n Berries
Yield: 10-12 servings
For the Crust
2 1/4 cups dried shredded organic coconut
1/3 cup extra virgin coconut oil
2 dates, pitts removed
1 tbsp maple syrup
1 tbsp alcohol free organic vanilla
2 cups finely diced organic strawberries, to line the crust
Method
Place all ingredients, except strawberries, in a food processor and combine well until coconut oil is evenly distributed and the mixture is beginning to bind together.  To ensure easy removal of pie from pan, you may cut a disc of parchment paper and place in bottom of pie place.  Scoop crust mixture into a deep 10″pie plate.  With a spoon, gently allocate the mixture up the sides of the pan, guiding it toward the top but not pressing down until the mixture is evenly distributed.  Then using the back of the spoon, press mixture down and smooth out the surfaces ensuring no holes in the crust approx 1/4″ thick.  Chill for 30-60 mins.  Spread diced strawberries on the bottom of the crust just before pouring the filling in.
For the filling
2 cups young coconut meat (approx 2 coconuts opened, scooped and diced)
1/2 cup diced, peeled mini zucchini
1/2 cup cashews, soaked 30 mins & drained
1/3 cup virgin coconut oil-the best oil you can afford!
1 1/4 cups fresh young coconut water (from 1-2 coconuts depending on size)
1 1/2 tbsp alcohol free organic vanilla
2 tbsp maple syrup or to taste
6 strawberries sliced, for decorating the top
6 raspberries, for decorating the top
fresh mint sprigs, for decorating the top
Method
Place all ingredients (except berries and mint) in a blender and process until smooth, repeatedly scraping sides down to encourage complete mixing, reaching a smooth, silky, creamy mixture that is still very thick.  Refrain from adding more moisture and persevere if it is very thick in order to maintain a stiffness that will make the final result hold together well.  If you have a Vitamix use the poker that inserts in the lid.  A blender seemed to reach a much smoother mass than a food processor but experiment if you may.  Pour into strawberry lined chilled crust.  Chill 4 hours or over night. Shortly before serving, decorate the firm pie surface carefully (try not to relocate your slices after setting them down as it may mark the surface) with the sliced strawberries, raspberries and mint as per image (directions below) or in your own creative manner.  Enjoy:)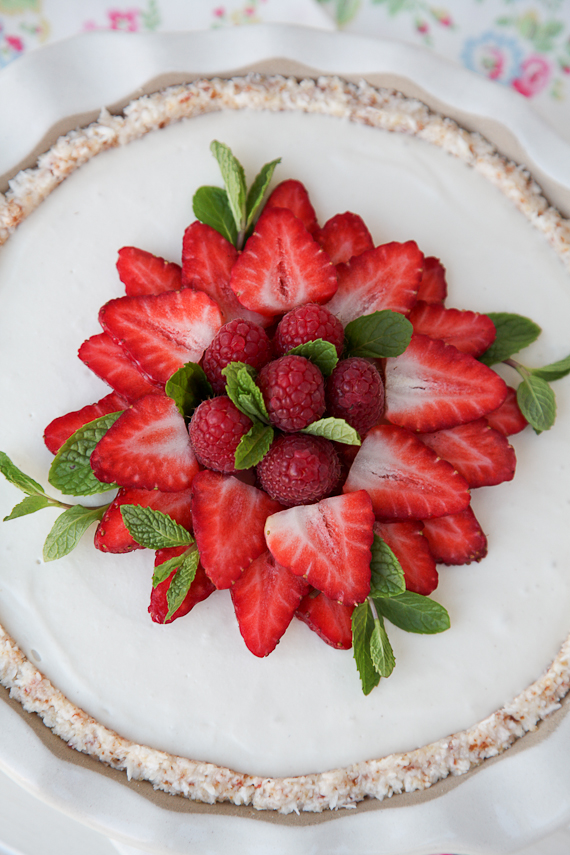 Curious as to how I made this design? Well, I started with a large outer circle leaving a nice empty center, then added another layer of slices directly on top of the first, offsetting these with slices between the first row.  I only used the nicest slices and discarded the tiny edge slices for the best results.  To create more dimension, I added the third layer on top of the circle layer bringing it in slightly toward the center and placing slices between previous slices.  Next, I placed raspberries to fill the center hole and accented with mint sprigs. Voila! Pretty…. isn't it?
I hope you have a chance to make this either for Valentines or there after as it's just divine.  It can be made most any season as you can usually find young coconuts year round and then can swap out the berries for other seasonal fruits.  It's not exactly strawberry season here on the west coast of Canada in February although I wish it were but we are fortunate to be able to find organic California berries.  Ideally, one would stick to local and in season which I'm sure many of us strive for but with a special day or a deep craving I cave when I see those glossy berries at the market that traveled far and wide to get there that are just begging me to take them home and do something spectacular with them like this pie!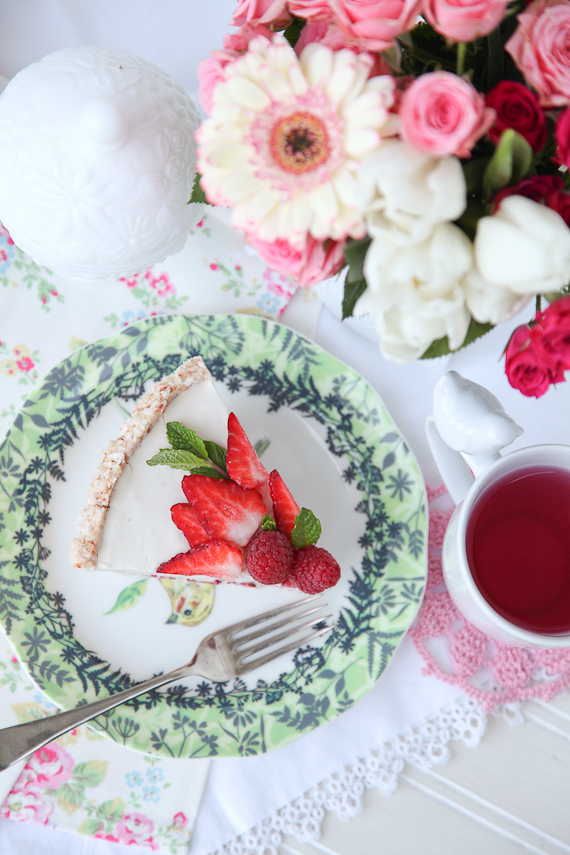 Are you are planning a special Valentines meal? If so, it's always nice to add fresh flowers. I can't resist them even when I'm not entertaining.  I've officially decided that I need to be surrounded by pretty things especially those things that bring me such joy as flowers do as does the process of styling them in a favourite vase.   My tip for the flowers is to not be afraid to cut the stem short, even those extra long stemmed roses.  For our last years Valentines Celebration you can see the roses I cut short in this post to set the pretty table.  In this bouquet below I used a combination of flowers but the idea is to bunch the same flowers together for more impact versus spreading them thru the bouquet especially with the smaller blooms.  For the largest blooms, the Gerbera daisies, I placed some of them further apart.  And of course you need to trim the stems short enough so that the flowers are bursting out of the container and none of the stems are visible.  The leggy stems will detract from the fullness and will allow the flowers to spread out further creating gaps between your blooms which then need more flowers or require greens to fill in.  There are practically no greens in this bouquet except for the rose leaves which I tucked in here and there, but that's what makes this bouquets so lush and decadent, perfect for a romantic setting.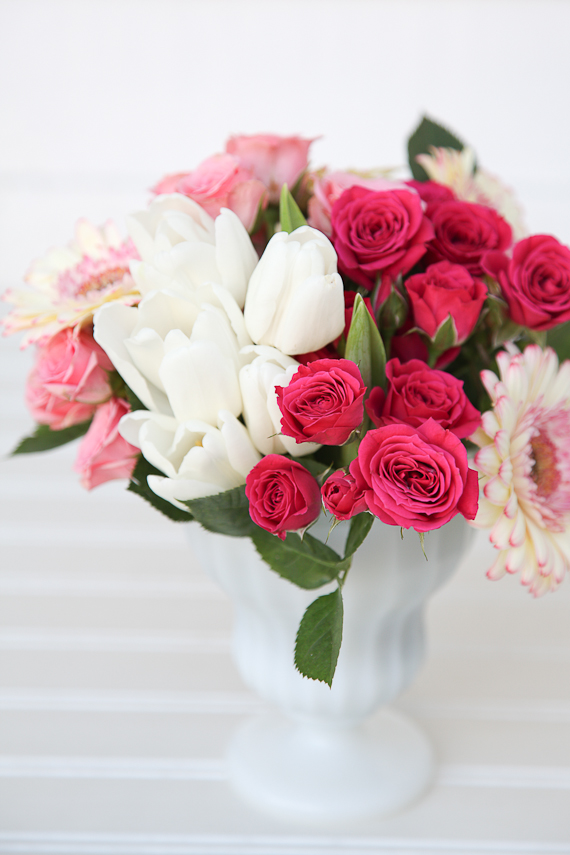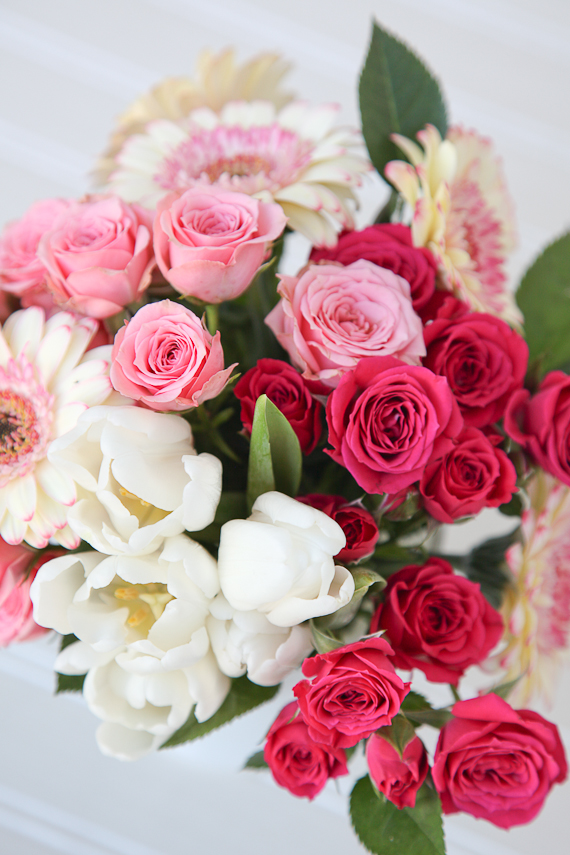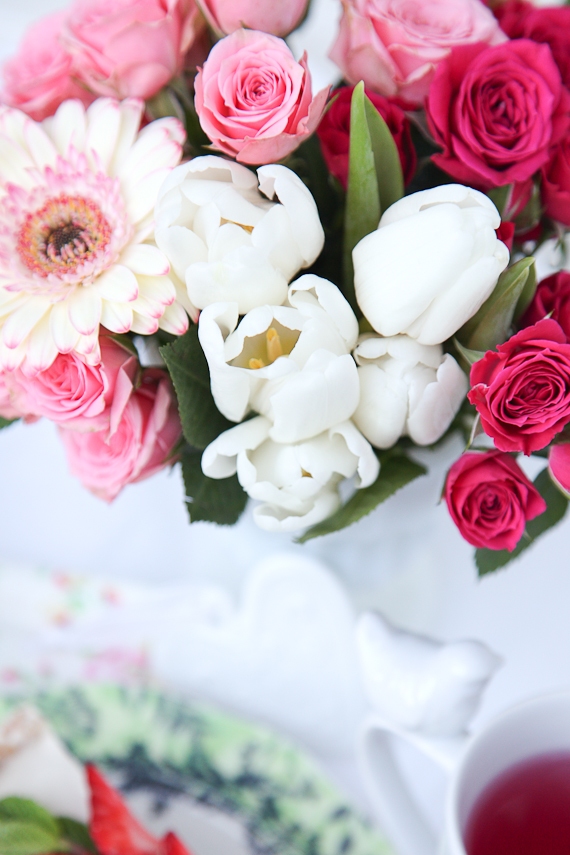 Of course one needs pretty plates to present such a lovely pie.  I happen to have these lovely bird side plates that I curated a couple years ago for my lake side cottage (from Anthropology of course-their home page is really cool right now).  They are usually found attached to the wall with a plate holder but today were part of a special dessert course, here at the lake.  Nice to be able to multi-purpose things like this, right? Below I included one of my Instagram shots showing the plates on the wall at the cottage.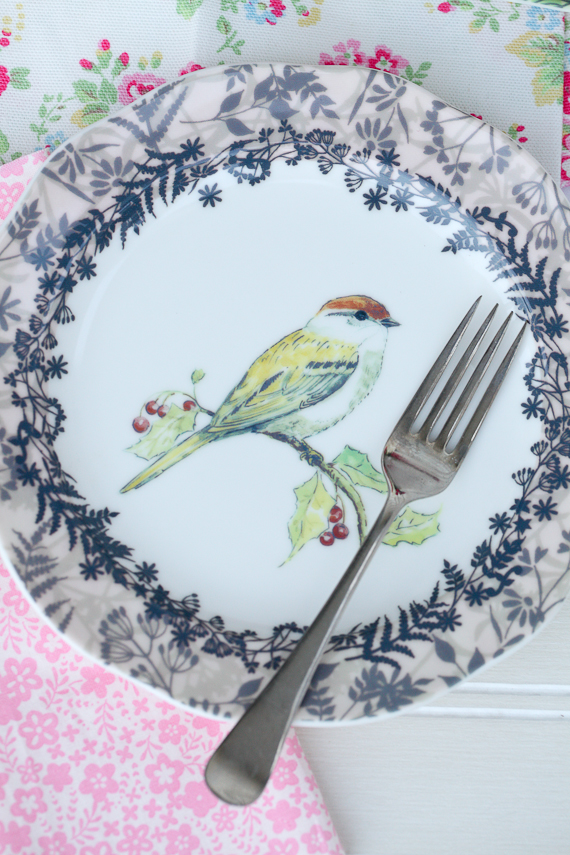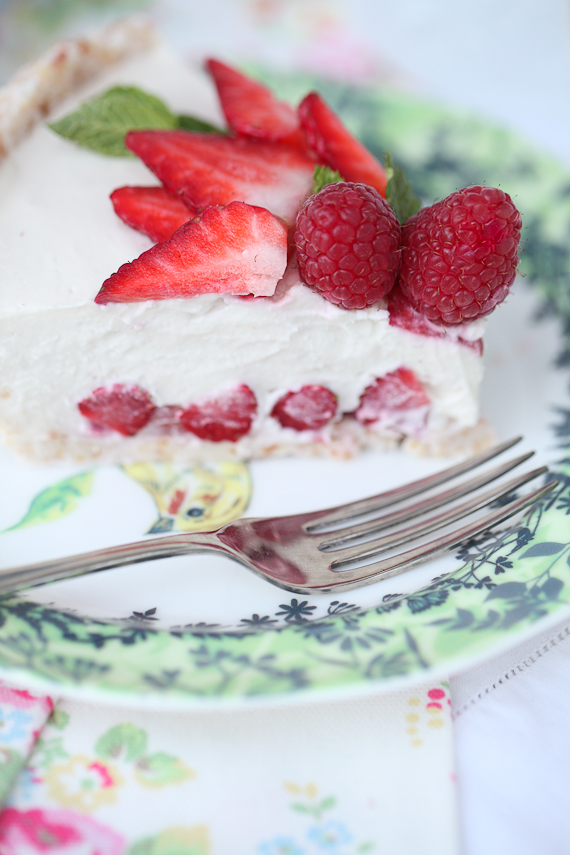 Do you use Instagram? If you are an iPhone user and don't know about Instagram you might be in for a treat if you like to take pictures or even just look at pretty pictures.  I discovered it back in June last year and I'm still thoroughly engaged (kind of addicted perhaps) and loving the Instagram world.  Essentially, it's like a miniature facebook but just with photos.  People follow you,  you follow them to view, comment or just 'like' their shots.  It's my little indulgence to myself as well as being a place to share what I do here on the blog.  My on-line feed is here at Followgram but you can install the free app for your iPhone which is where it all happens.  It's one of my favourite pass times when I have a few free idle moments.  It's very inspiring as sooo many folks take the most incredible photos on their iPhones (some upload DSLR shots) and the editing going on is out of this world too!  I edit with an app called PhotoForge2 and I shoot with Camera+.  I also just got an Olloclip lense that attaches to the iPhone that is way cool for doing some extreme close ups, fish eye or wide angle shots.  Soooo much fun to get creative with!  And yet, really….. I have so little time to play with all these goodies but it's my eensy weensy way of fitting a little creativity into the corners of my life right now when studying is the priority as you only need a few minutes sometimes to whip together a pretty post.  My friend Leslie of A Creative Mint is also an Instagrammer as is Holly Becker of Decor8 who did a little post on Followgram a while back that might interest you.  If you check out their feeds, you might enjoy following for inspiration.  And, if you love food bloggers I have an online friend, Aran of Cannelle et Vanille who also has a wonderful feed.  In their profile you can see whom they or I follow and you may find some really lovely feeds to inspire you.  Here's a few of my IG shots, one of the cottage with the plates on the wall.  The yellow door is my inspiration from London, way back in June, that reminds me to consider this scheme when we paint the exterior of the cottage.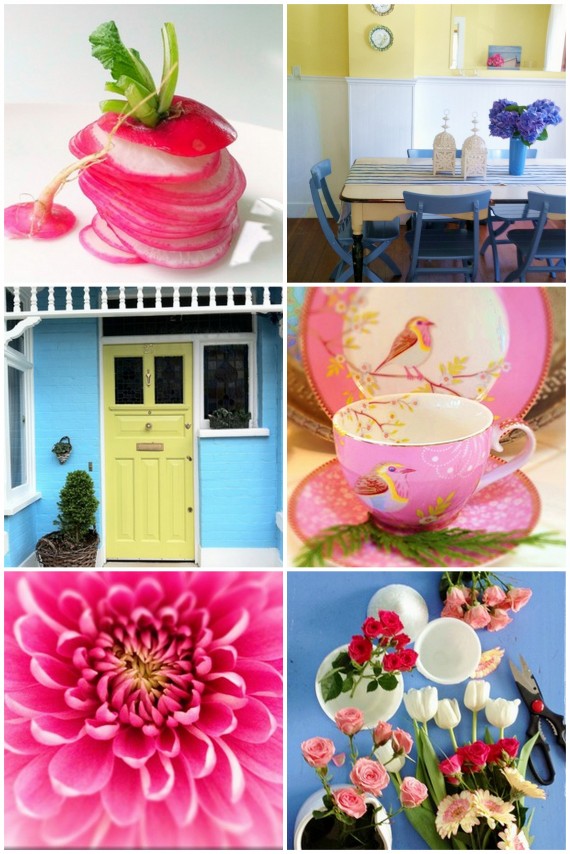 It seems Instagram has nearly, but not quite, replaced my magazine fettish since it provides me with fresh new ideas and inspiration right in the palm of my hand at any given moment and is ever changing, every second.  Add to that, I've met some wonderful people from all around the world that I've had chats with that share the same passion.  If you decide to join the fun be sure to say hello, I'd love to hear from you:)
If you celebrate Valentines Day I hope you have a lovely time and that you are surrounded by love.
If you aren't into the Big V Day, I hope you find occassion to make this yummy dessert for a loved one.
Have a wonderful week and I'll be back in between my studies of Anatomy.
Julie
psst. thank you for indulging me with your time to view all these photos of this pie!  I honestly couldn't contain myself in shooting the prettiness of it nor could I resist posting too many shots cuz I couldn't decide between the many lovely images of the hundred or so that I took!!  Crazy I know, but the colours and the flowers were so wonderful to work with I kinda lost my mind!  I truly must have needed the creative escape- it served me well after all my hard work at school!  Hope you enjoyed the post:)

Pin It