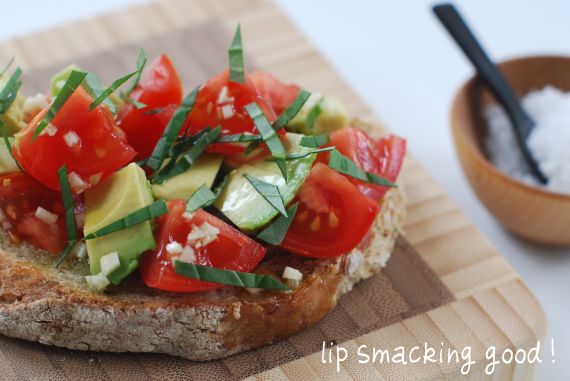 I am grateful that I can zip down to the local hot house in my neighborhood Sun Wing Tomatoes and find myself some local tomatoes to sink my teeth in.  Jeanette took me into the green houses for a peek at the tomatoes and boy oh boy are they gorgeous!  The fragrance of the tomatoes and the fresh basil was intoxicating.  Take a look.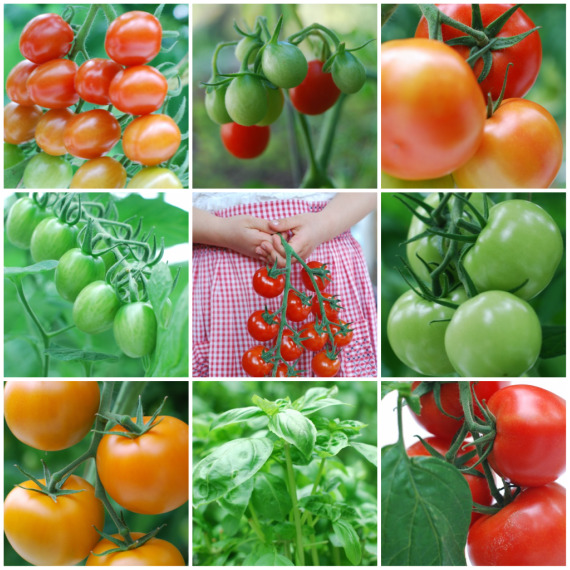 The next best thing is when the tomatoes are harvested in July from vines grown directly in sunlight–Mmmmm I can almost taste their sweet juiciness now.
But for the meantime, these hot house tomatoes that are pesticide free using ladybugs and other insects for optimum produce works for me.  One of my favourite ways to eat tomatoes is with basil.  I think it stemmed from the 2 week trip to Italy years ago where the delicious, authentic tomato basil bruschetta was our daily snack.  Now I often add avocado (please forgive me these avocados are not locally sourced but a necessary health ingredient) to this favourite mixture and pile it on sprouted grain toast or spoon it in a sprouted grain wrap with leafy greens.  It's making me hungry for it as I write.  This very simple recipe is an easy lunch or perhaps an appy when surprise guests pop by on a summer afternoon.
Tomato & Avocado Toast or Wrap
6 small sweet juicy tomatoes diced in 1/2 inch pieces
1 avocado chopped in 1/2 inch pieces
4-6 large basil leaves snipped in slivers
1 clove garlic minced
2-3 tbsp extra virgin olive oil
1 tbsp flax oil
celtic sea salt to taste
4 slices sprouted grain bread toasted
Method
Combine tomatoes, avocados, basil, both oils, and season with celtic salt.  Let stand for 5-10 mins for flavours to meld.   Spoon onto toasted bread and enjoy immediately.  Alternatively for a wrap, lay leafy greens on wrap then spoon tomato avocado mixture down the middle.  Roll up and enjoy immediately.  The key with this salad is to be sure to eat it when it is freshly made.  The avocado won't stay nice for long so it's a fix it and eat it kinda meal.  But boy is it yummy!  I sometimes just make a salad of it and pile this mixture on a bed of baby greens.  I have even chopped it slightly smaller and enjoyed it as a salsa on simple grilled halibut.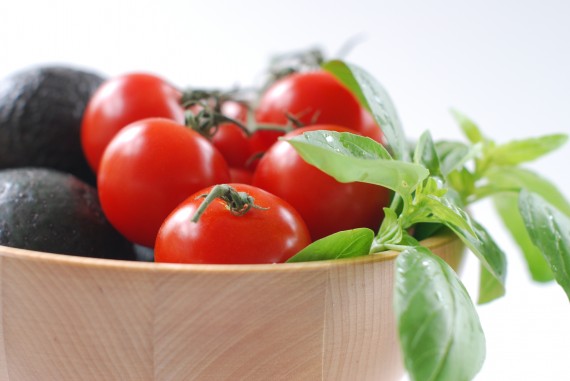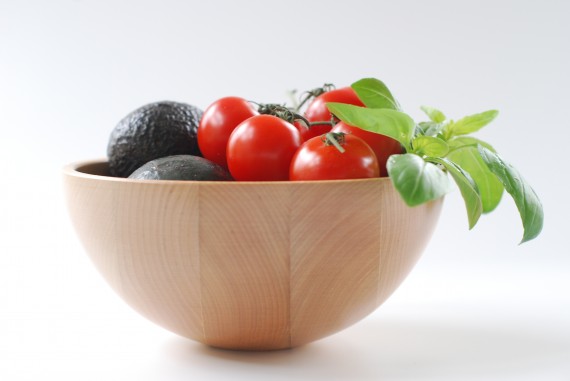 Do you find it difficult to source wholesome, real (organic) and local food in season? I sometimes do especially in the winter. I usually manage to stick to my goal of buying 65% local in winter and 95% in summer although it can be tempting to stray considering all the other items available in the grocery store.  But hey, summer is coming soon, yippee! It wasn't that many years ago that eating this way was the norm and it wasn't a struggle to find such food.  It was a given. With summer approaching I am filled with excitement for the markets that will provide our food for the next 6 months and make my weekly shopping a dream!  This snapshot below is from an LA market last summer where I absolutely lost my mind as I drooled over the incredible selection of California produce that I often only ever find in a grocery store.  If you live in a warm climate like LA or Florida your are so blessed to have markets available to you all year long.  Here in Canada I survived the cool market-less winter & spring which can be so tricky especially on an island where our supplies are limited and our palate is so accustomed to a variety of flavours.  I find I am sometimes hard pressed to maintain my food goal.  Compromises for non-local or non-organic sometimes have to be made but are done so with such reluctance.
I truly believe that with the growing awareness of the importance of choosing organic while supporting local farmers,  a shift will happen.  It will be easier to shop and eat this way as long as we keep voting with our food dollars and keep telling our local shops that we value this and are willing to pay for it.  It is certainly better for our health to choose as such but it is sooo much better for the environment…and it really tastes better too.  If you are so lucky to have a yard growing your own veggies is very rewarding.  I just spent the weekend with my family improving our soil and planting some veggies that we can watch grow and then harvest together.  Last year my kids absolutely loved eating what they grew and were so proud that they were sharing eensy weensy carrots around the neighborhood!  I believe it is imperative that we teach our children about growing our own vegetables while helping them understand the need for organic produce, in turn sharing wisdom to save our planet.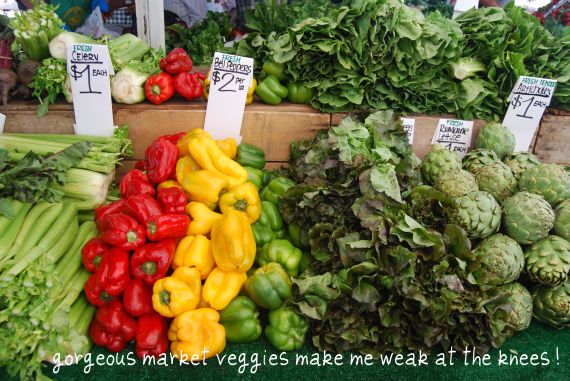 Choosing responsibly is becoming common ground. Realizing our responsibility,  being aware of where our food comes from and being conscious of the sacrifices that were made to get it on our plate is where we are slowly waking up.  Jamie Oliver is making great progress in his message to the world with his recent episode on his show "The Food Revoloution" titled Fowl Dinners.  If you eat chicken you may want to read his recommendations for choosing the healthiest and the most conscious products.  He's won awards and made quite an impact with this TED presentation in his effort to educate the value of real food for our health.  Check it out here if you haven't seen it.
I would like to encourage you, if you don't already, to buy the most local produce you possibly can.  If you can also bump that up to being as much organic produce and hormone & antibiotic free meat as possible you will be doing your body a big favour.  I follow these guidelines in this printable PDF pesticide guide from EWG (Environmental Working Group)  that you can tuck in your wallet.  There's an app for it as well right here.  It may not feel like it's making a difference but over a period of time your body becomes over burdened by the toxins you ingest and symptoms as precursors to serious disease appear.  Wouldn't you like to lengthen your stay on this planet and enjoy your stay disease free?  If so you need to consider what choices will make this happen.  I featured this book Healthy at 100 back in February right here.  John Robbins explores how small pockets of the world's population are managing to stay vibrant & healthy past 100 years of age.  Wouldn't you like that to be you and your loved ones?  Check it out and let me know how you liked the toast recipe!
ps. I am attending Food Blogger Connect this weekend in London, England–so excited to be inspired and learn tips from the gurus of food blogging-YEH!  But that means that I will be a little occupied.  I am carrying on to other European cities as well as Scandinavian cities for a wonderful adventure with friends and some family visits.  I can't wait to share, and you know I'll have my camera in tow, so stay tuned for my travel update when I am back in a couple weeks.  Until then my friends, be healthy and be well.
Julie

Pin It